---
Jets Soar To 2nd Straight Men's National Title; Sunflowers Make It 5 Women's Crowns In  A Row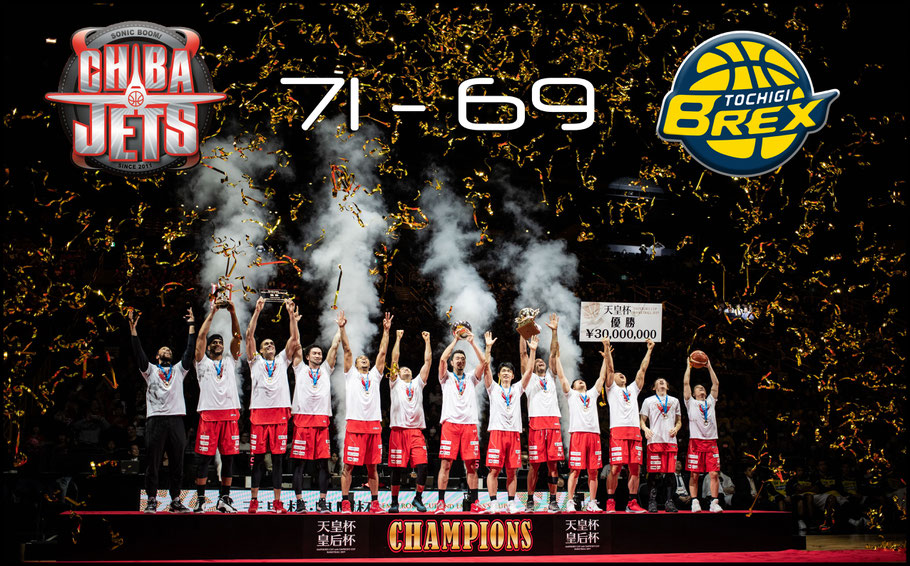 It was as if Takashi Ono had added rocket fuel to a commercial airliner, the way he propelled the Chiba Jets to an insurmountable lead and eventually a second straight national championship.
 Ono sank three 3-pointers early in the third quarter, sparking a run that turned a two-point lead into a 22-point gap that the Jets rode to an 89-75 victory over the Sea Horses Mikawa in the men's final of the All-Japan Basketball Championships on Sunday at Saitama Super Arena."They had left me open, and once I hit the first one, I knew I had found my range," said Ono, who finished with 18 points. "I was confident of making them."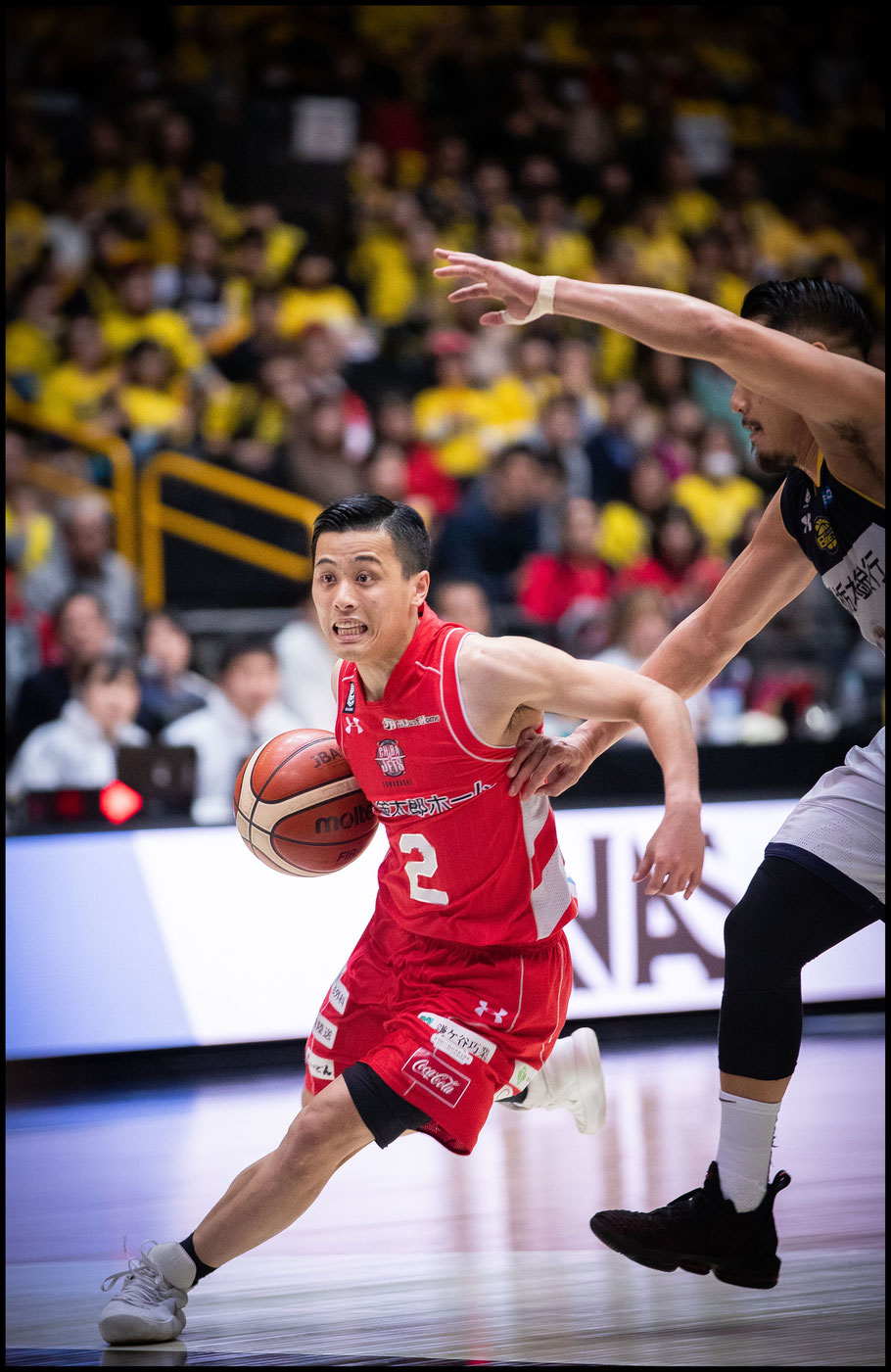 The Jets' victory capped a momentous day for Chiba Prefecture. Earlier in the women's final, the Kashiwa-based JX Eneos Sunflowers rolled to a fifth consecutive championship and ninth in 10 years by routing the Denso Iris 84-62.
 While the Funabashi-based Jets do not yet have the resume of their prefectural neighbor - the Sunflowers now have 22 national crowns to their name - they have shown they are on the right trajectory.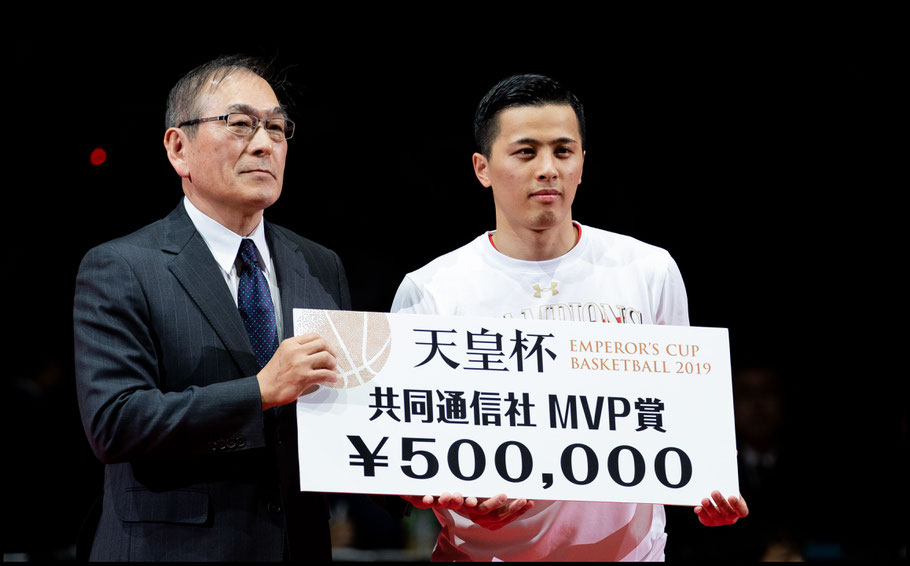 Their victory in the 2017 All-Japan, also referred to as the Emperor's Cup, gave Chiba its first-ever major title, and already the team has achieved a repeat.
"Going back to back, it feels different, just because there were a lot of expectations," Chiba forward Michael Parker  said. "The first one was, not a surprise, but we just did it. The second one, we were aiming for the title, so then we actually got it. So it feels good to accomplish something."
Chiba earned the top prize of 30 million yen despite missing star playmaker Yuki Togashi, who suffered a leg injury in the New Year's Day game against Alvark Tokyo. The Jets lost that game badly, 67-49, causing concerns going into defense of the All-Japan title.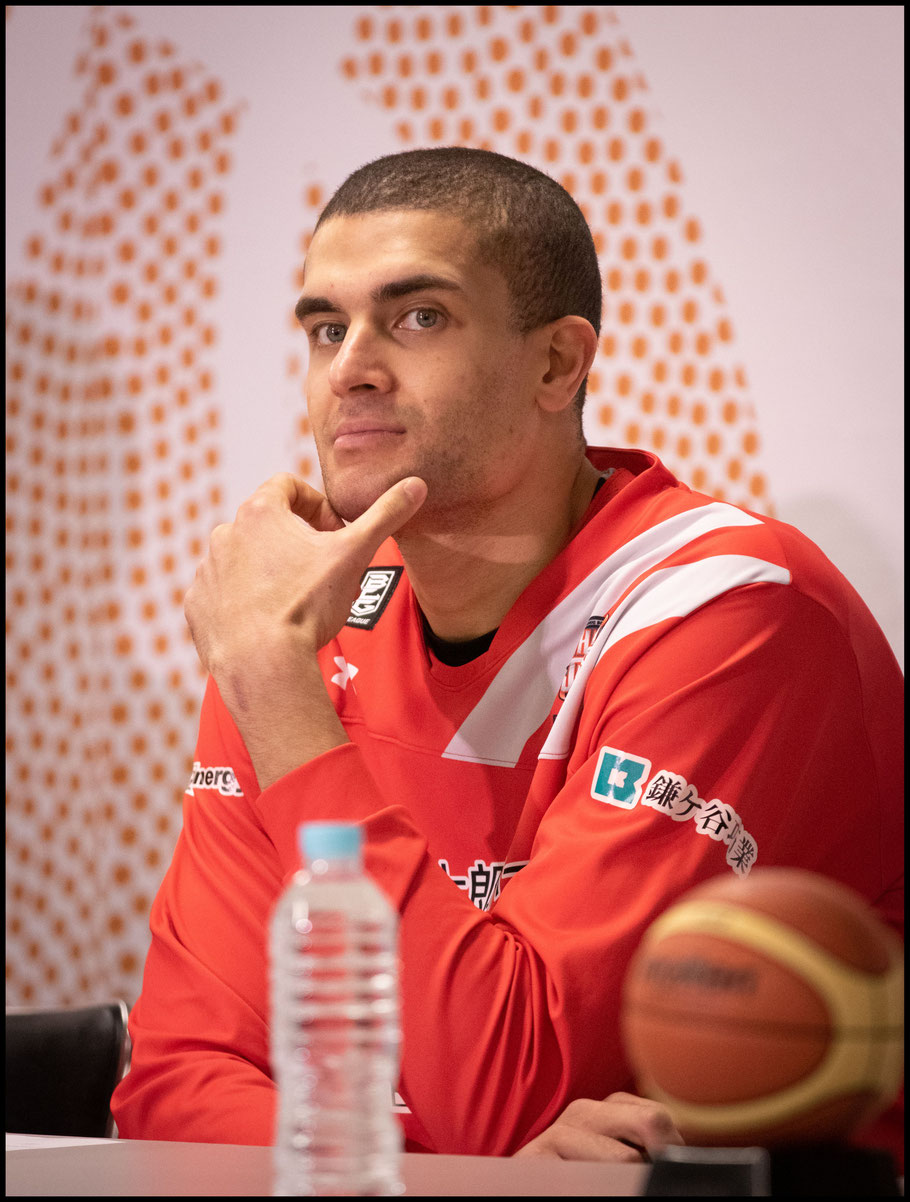 But with veteran Fumio Nishimura, who was not at 100 percent himself, admirably filling the role of point guard, the rest of the team picked up the slack with grit and hustle. The players remained in constant motion on both offense and defense, piling up 28 assists and 11 steals while forcing 18 turnovers.
"It changes our team a little bit, because we have to do certain things a little different," said Parker, "but it doesn't change us where we feel like we're under the gun because Fumio's in, because he's very good."
Longtime Mikawa center JR Sakuragi said the absence of Togashi meant less familiarity with the Chiba attack, which worked in the Jets' favor.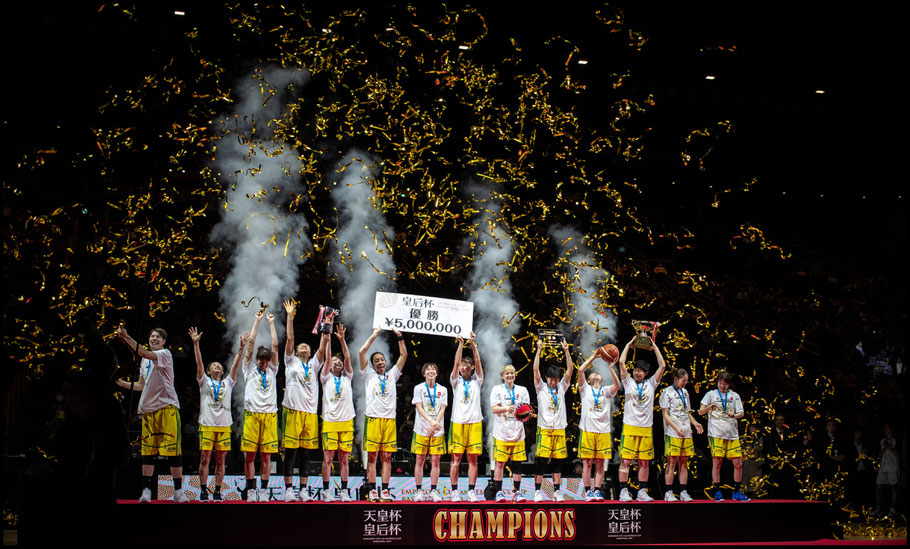 "They had a different look because Togashi didn't play," he said. "So now you have five guys trying to be aggressive, which is even more dangerous than him holding the ball the whole time and trying to create. I'd rather have him holding the ball, and just two people trying to score instead of five attacking us."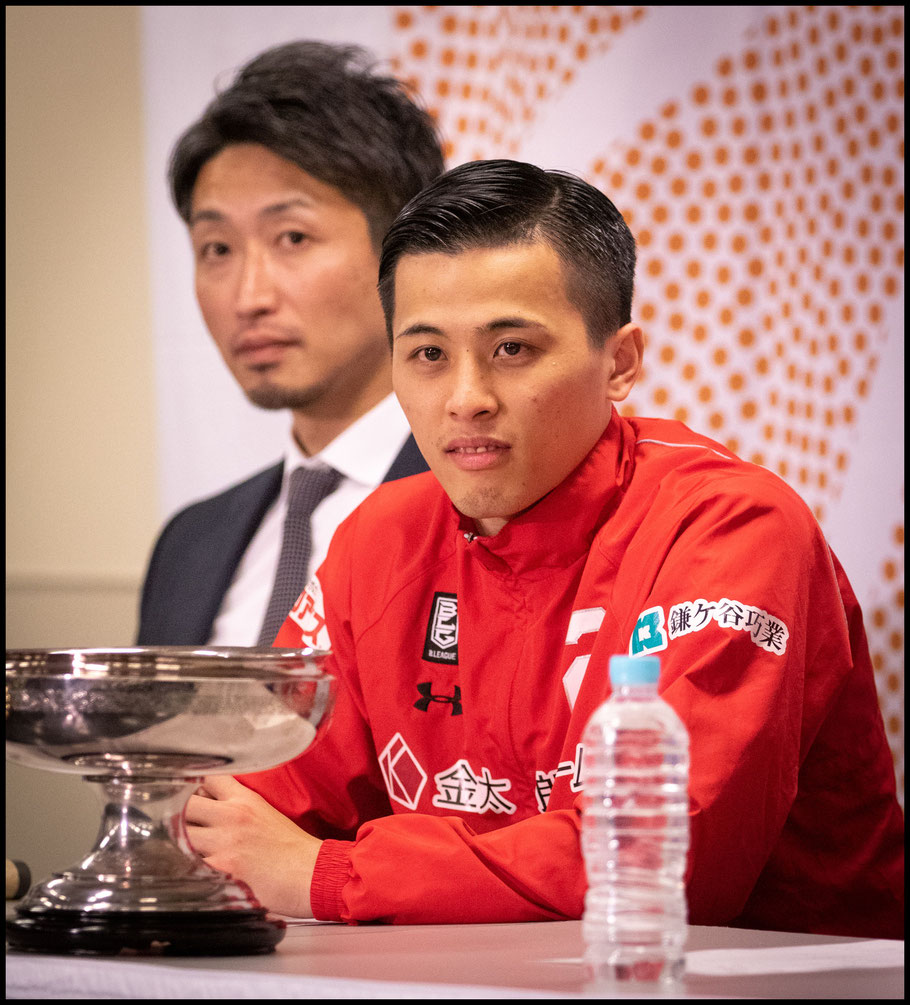 Including Ono, the Jets had four players finish in double figures, led by Gavin Edwards with a game-high 20 that helped earn him the tournament MVP award. Parker added 15 points and Nishimura had 10 as well as nine assists.
Edwards, Ono and Nishimura were named to the tournament Best V team, along with Mikawa's Daniel Orton and Makoto Hiejima.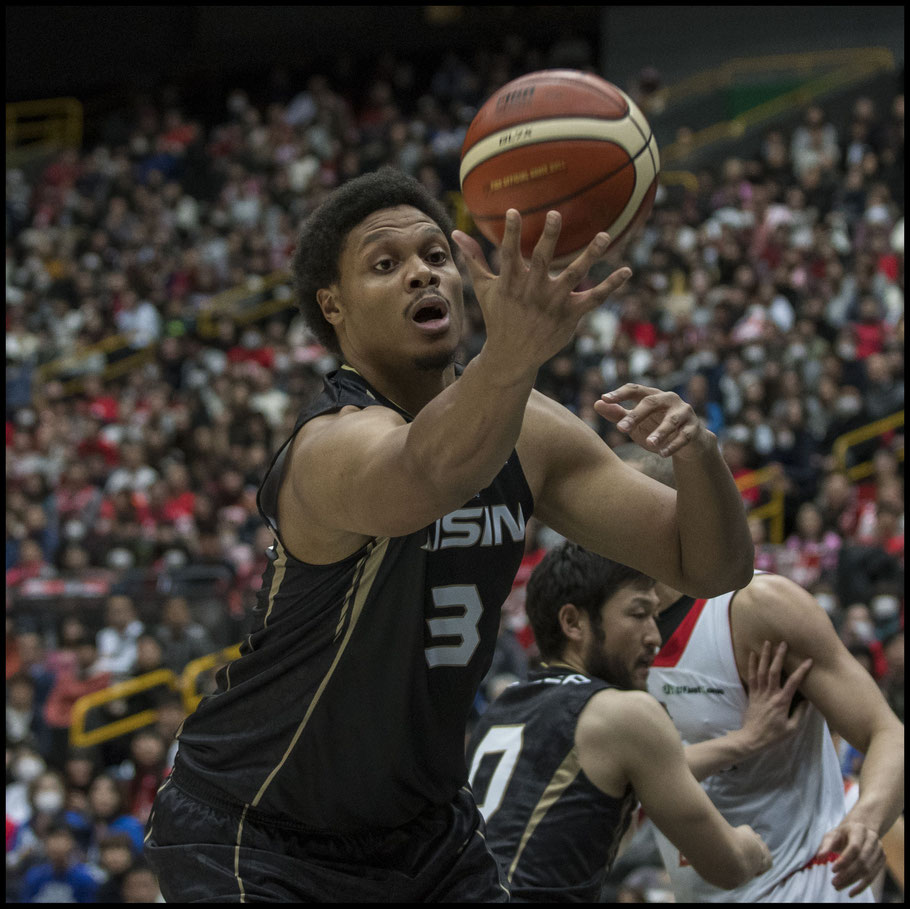 After a back-and-forth first quarter that ended with Mikawa leading 22-21, Chiba got back-to-back 3-pointers midway through the second quarter from Aki Chambers and took a 47-42 lead into halftime. That gave little indication of what was to come after the break.
Ono's first two 3-pointers of the third quarter came in response to treys by Orton and Hiejima, who finished with 16 and 19 points, respectively. But the second one sparked a 20-0 run, which coincided with Sakuragi drawing his fourth foul.
"They thrive off turnovers and transition and trying to get something early," Sakuragi said. "Gavin runs the floor hard, spaces the floor, and they all spot up. That's what they do. You turn the ball over, you don't have a good chance of winning."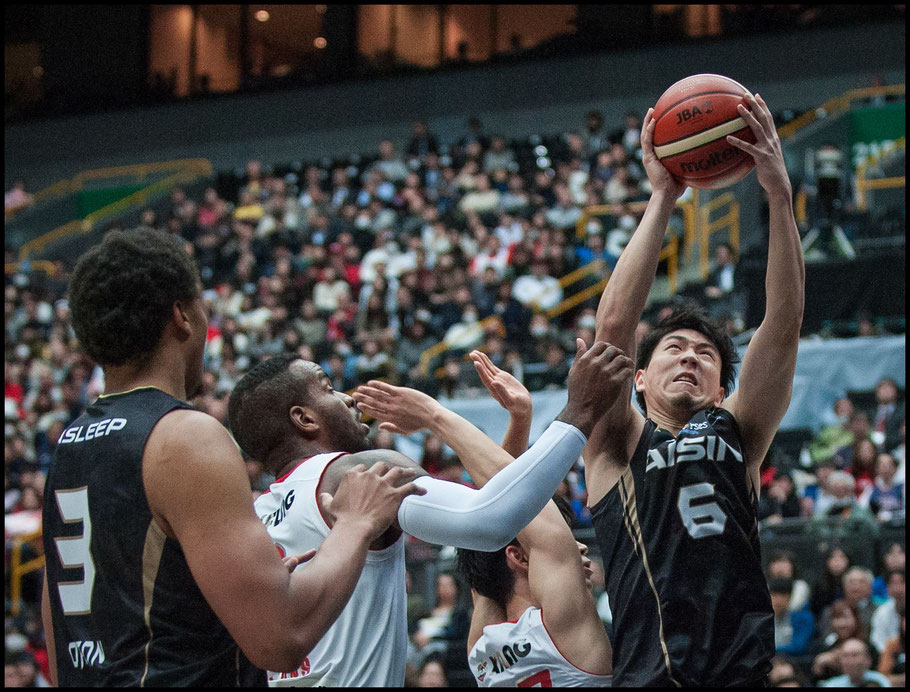 That opened the door and Parker, in particular, took advantage to score 10 of his 15 points down the final stretch of the quarter. Just before the buzzer, Ono drove to the basket before dishing off a slick pass to a cutting Parker, whose easy layup sent the Jets into the fourth quarter up 76-54.
"We just wanted to seize the opportunity, and I started scoring after that because the match-up was [good] for me," Parker said. "Captain [Ono] hit his 3s and kept going, [JR] got the fourth foul, so then we grabbed our opportunity and didn't let up."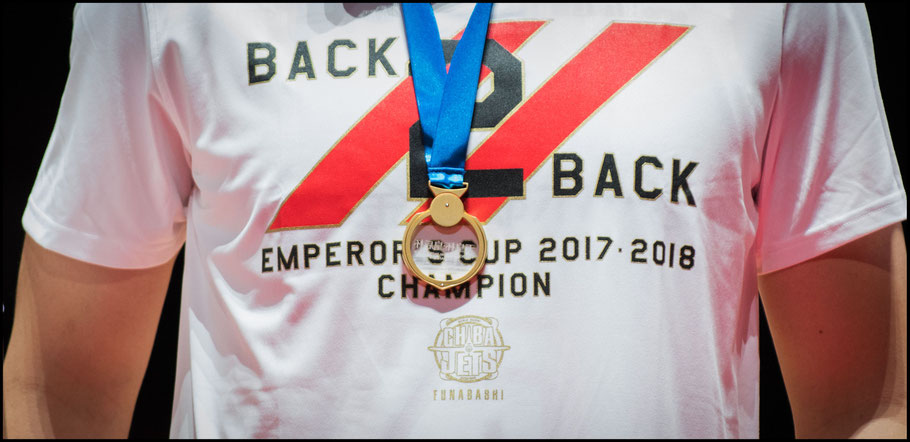 For Sakuragi, who was limited to six points in just under 21 minutes on the court, what would be a tough day started with him grabbing an apparent offensive rebound seconds into the game, only to be called for contact. 
"My first foul [set] the tone," said the 41-year-old product of UCLA. "I didn't touch him at all. Parker's laughing, and I'm like, well, here we go. Because that would have started us off with an easy basket and momentum, instead it turns it around. I'm getting fouls and they're getting momentum."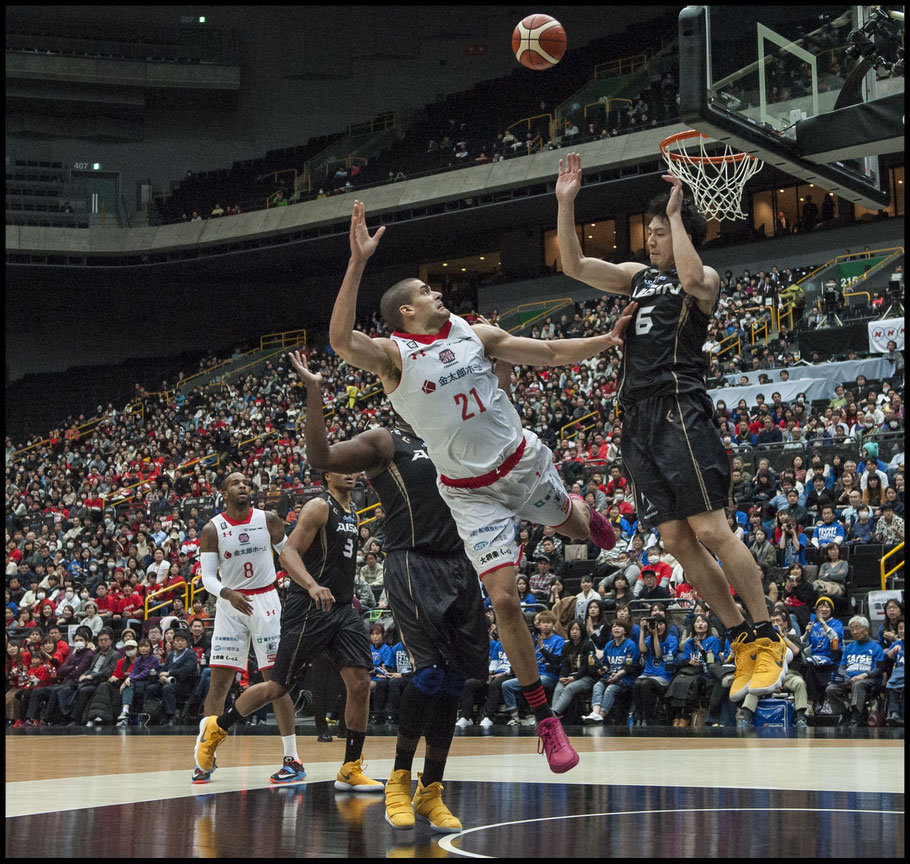 The Sea Horses pared the lead to 16 points with a 7-0 run in the fourth quarter, but when Orton, a former NBA No. 1 draft pick out of Kentucky, frustratingly fouled out on an unsportsmanlike foul, any hopes of a comeback fizzled out. They took home 10 million yen as runner-up.
"They committed a few fouls in transition, they got their big men in trouble," Edwards said. "I think that was the turning point of the game when they had to go a little bit smaller, JR and Daniel couldn't really play as much. That really kind of hurt them."
Still, Edwards said it wasn't until the final minutes that he considered the victory in the bag.
"They started hitting a couple of shots and we weren't scoring as much as we had been," he said. "You don't really overlook a team like that, because they have a lot of great players, a lot of scorers. I didn't really feel that we really had it until the last minute and a half."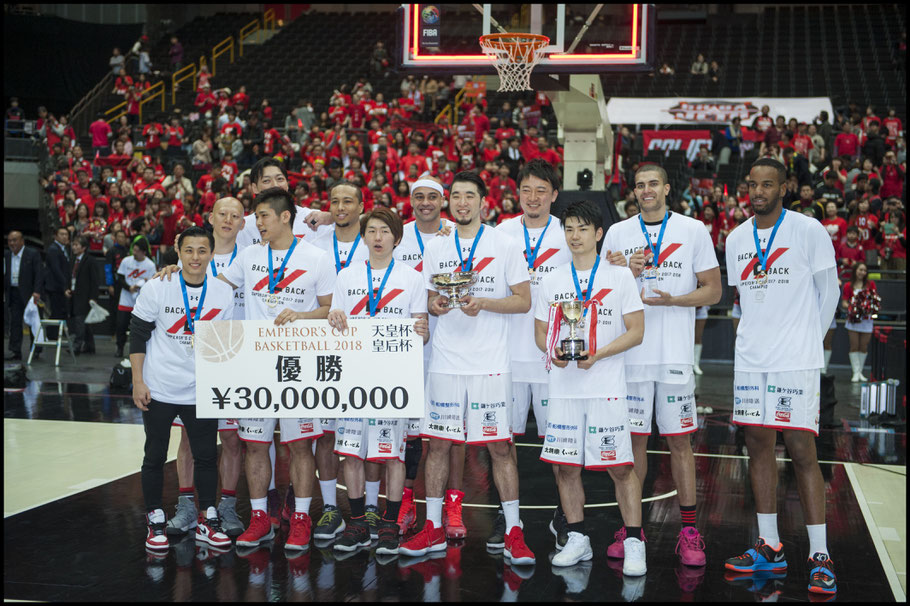 For Edwards, the victory over Mikawa held special significance. He had spent four seasons with the Sea Horses, helping them win the 2016 All-Japan title, before moving this season to Chiba. He was reluctant to give specifics on the move, saying only that it was a "business decision," but whatever grudge he might have harbored, he was determined not to allow it affect his play.
"Definitely exciting, because everybody loves to play against an old team," Edwards said. "I just didn't want to overdo it, trying to prove a point. Because I think the best point you can prove is beating them. I didn't want to come out too excited, or do too much or do any of that stuff. Just play my game."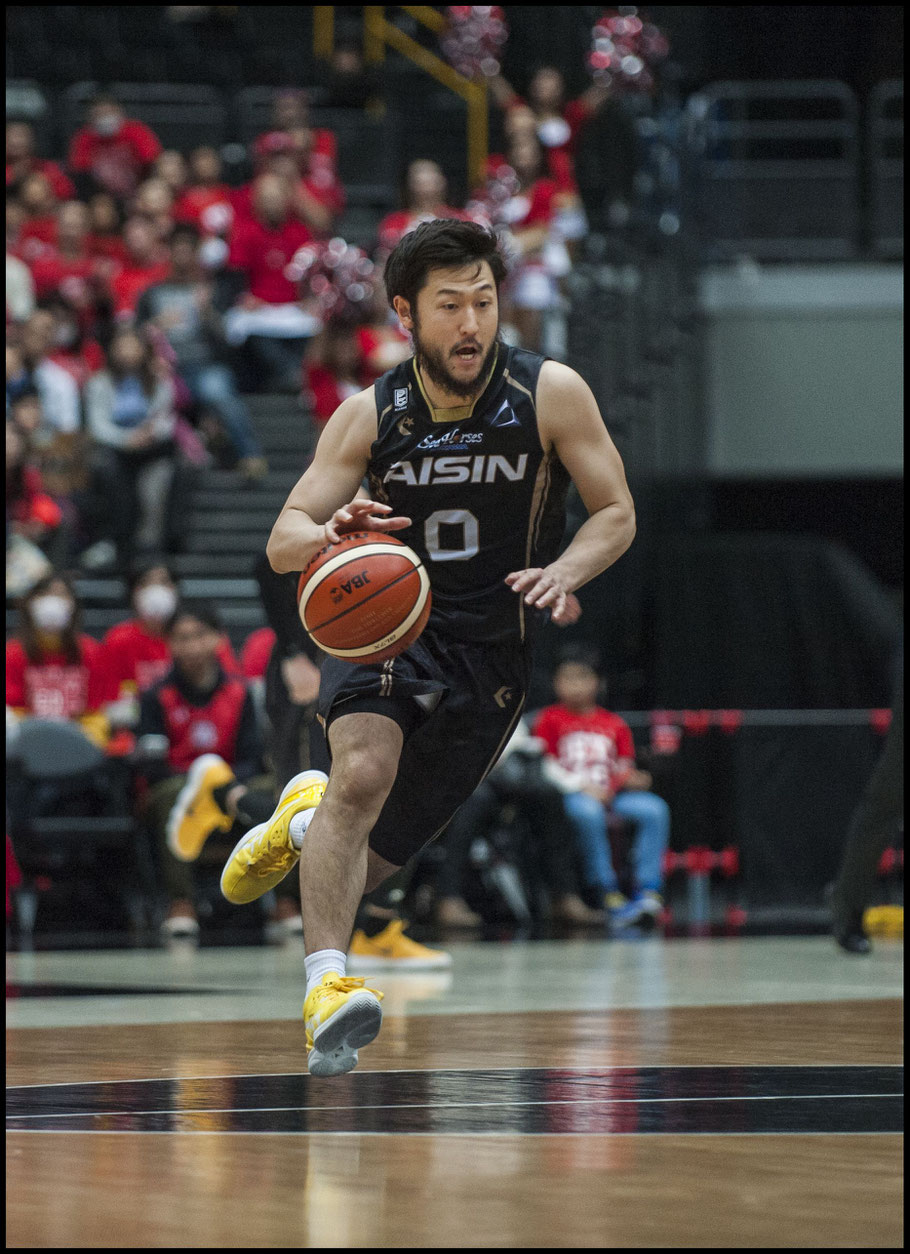 Sakuragi, a member of the Sea Horses team that as Aisin won four straight national titles from 2008 to 2011, said the inability to get into a rhythm led to their downfall.
"We just couldn't get into what we wanted to do. Our game plan, what we've been doing all season. We're No. 1 in the league, we've scored the most points in the league. We could do that, but it's just a matter of getting into it.
"Key turnovers and key calls against us kind of just kept putting our heads down. It's just one of those days. If this is another day, we're probably up 20."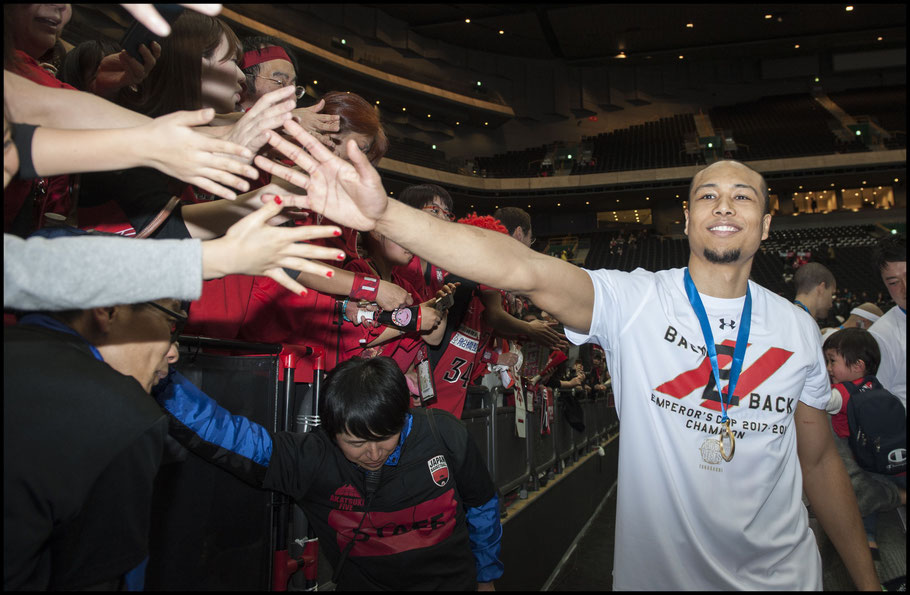 Mikawa will get its shot at revenge when the two teams meet for the first time this season in the B.League in April. The Sea Horses, currently 22-6, are running away with the Central Division title, while Chiba is second in the far-more stacked East at 19-9.
So formidable is the East that five of the six teams have winning records, with only the defending champion Tochigi Brex, at 13-15, below .500.
Edwards sees the depth of the East as providing good preparation for a one-and-done tournament like the Emperor's Cup.
"Any night is a tough night because just about any of the teams in our division would be first or second in any other divisions," Edwards said. "All of the teams are great, top to bottom. It kind of reminds me of the Big East back when I was in college. You just have come to play every day, and I think that helps us in a situation like this, because you can't really take a game off."
---
---
Sunflowers Blossom After Sluggish 1st Quarter
In the women's final, JX Eneos faced a similar situation as Chiba in that it trailed after the first quarter. The big difference in their victories was that the Sunflowers made their surge one quarter earlier.
Yuki Miyazawa scored nine of her 19 points in the second quarter, when JX Eneos turned a five-point defict into a 40-29 lead to deny Denso a first-ever championship for a fourth time in seven years.
"In the first quarter, our offense stopped moving, and against their offense, we weren't helping out on defense," said head coach Kiyomi Sato, who took over the helm this season when Tom Hovasse left to become the national women's team coach.
"From the second quarter, we played our style of basketball, and this was the end result. Throughout the tournament, we were able to beat every team by 20 or more points, so in that light, it was a good performance."
Last season, the Sunflowers became the first WJBL team to go undefeated in all competitions, finishing 38-0 by sweeping all of their regular-season and playoff games in the league while also winning the All-Japan tournament. 
Their hopes of repeating that feat ended with a 81-75 league loss to the Toyota Antelopes on Dec. 9, which snapped a 53-game winning streak and left them 15-1 heading into the break. Revenge came quickly, however, as JX Eneos knocked Toyota out of the All-Japan with a 78-52 rout in the semifinals.
"It's not that we feel we always have to win, we just don't like to lose," said star center Ramu Tokashiki, Japan's most high-profile women's player, who finished with 17 points. "Just do what we have to do, that's how we go into every game."
Denso, currently 13-3 in the WJBL, had made it to the All-Japan final three previous times, in 2012, 2015 and 2016, and each time lost to the Sunflowers. 
Iris hopes centered on veteran Maki Takada, whose game-high 27 points were not enough to halt the high-powered JX Eneos attack, leaving Denso to have to settle for the 3 million yen prize as runner-up.
"We played our basketball in the first quarter, but after that, the difference in level become apparent," Takada said. "We were aiming to become No. 1, so it was disappointing to finish as the runner-up.
"As a team, we have seven new players, and for them to face JX in the final in their first year is an invaluable experience. If they don't learn from that experience, though, it has no meaning. As the team leader, I will make sure we start afresh back in practice."
Yuka Osaki  scored 16 points and veteran point guard Asami Yoshida  chipped in 10 with nine assists for JX Eneos, which earned 5 million yen. Sayaka Okamoto had four of the team's 10 steals.
Miyazawa, emerging from the long shadow cast by Tokashiki, was named the tournament MVP, and made the Best V team with Tokashiki, Osaki, Takada and Sakura Akaho, the older of two sisters on the Denso roster. 
"It hasn't really set in yet, but I'm happy we could win a fifth straight title," Miyazawa said. "But in the first quarter, they got rebounds off me, so that's something I have to work on."
For Tokashiki, who spends her offseason playing for the Seattle Storm of the WNBA, the location of the victory added significance to what might otherwise have been just another in a long line of championships.
The game marked the first time in her life for the Saitama Prefecture native to play at cavernous Saitama Super Arena, the site of the 2006 men's world championships and a venue for the 2020 Tokyo Olympics.
"I was surprised by how big it is," Tokashiki said. "It's great to play is such a big arena. I hope more people come to the Tokyo Olympics."
- Ken Marantz: January 7th 2018