---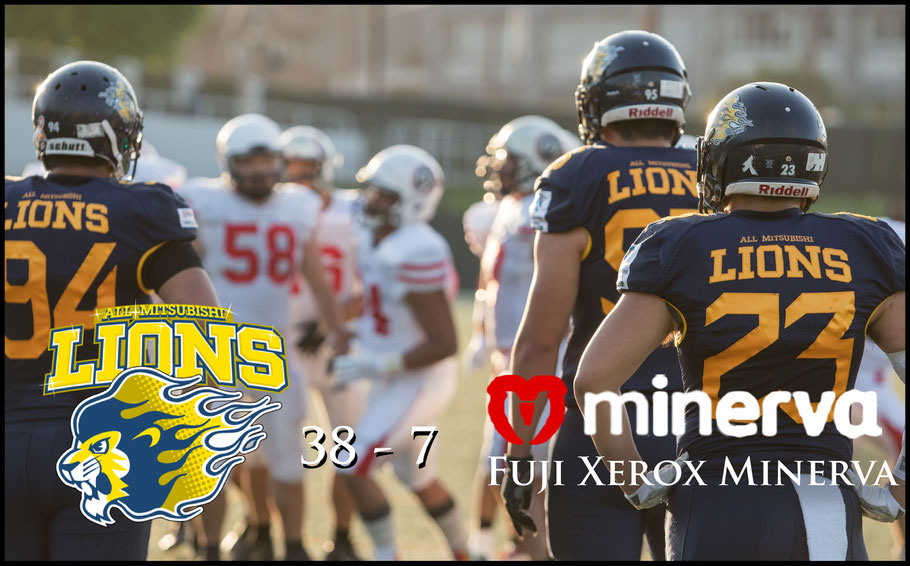 All Mistubishi Lions and Fujitsu Xerox Minerva kept it close early on in the second Pearl Bowl game played in May 4th. The Lions had a ten point edge at the half, but distanced themselves in the second period, winning 38-7. This was the sixth game of the 2017 Pearl Bowl and the only game so far where the mercy rule* was not used.
All Mitsubishi did however run 25 more plays than their opponents and gained 469 yards on offense to Minerva's 95.
Despite 300 yards combined through the air, a windy night meant there were five recorded INTs as well three other interception opportunities dropped.
The player of the game was Lions QB Kurama Tanaka who manned the team in the second half. On his first drive, he kept a snap and ran 29 yards to pay dirt to put The Lions up by a comfortable three scores. He also threw two touchdown passes including a beautiful intermediate throw to WR Kota Wakabayashi who took it in for a 65 yard touchdown strike. Tanaka though also threw two picks - one of which was a real head scratcher - but The Lions' stout defense made sure that Minerva couldn't convert any of the miscues. The Lions are not one of the favored teams in this Pearl Bowl, but an upset of group D favorite Lixil Deers is not impossible. That matchup will certainly be one of the most intriguing before the semi-finals.
Dez Bryant-esque Play of the Day:  Lions receiver Kosuke Yoshida gave us the most dazzling touchdown catch of the Pearl Bowl thus far. Yoshida ran his rout perfectly towards the corner and turned around to catch the ball he knew was coming his way. The defender Yuya Kato didn't turn his head and ran straight into Yoshida's body as Yoshida went for the catch. The ball had been slightly underthrown forcing Yoshida to wrap his arms around Kato's and catch the pass behind the defender's helmet before toe tapping to stay in bounds for the score.
Aaron Rodgers-esque Play of the Day: Lions QB Kurama Tanaka drew the defense offside with a hard count and used the free play to throw a 20 yard strike into double coverage. The offensive line was very disciplined, not moving a muscle despite both edge rushers jumping offside.
*In the Pearl Bowl if a team is down by 50 points at half time or 30 points at the end of the third period a running clock is implemented in the fourth quarter.
- C.J. Ryan: May 4th 2017
---
All Mitsubishi Lions (38) - (7) Fuji Xerox Minerva AFC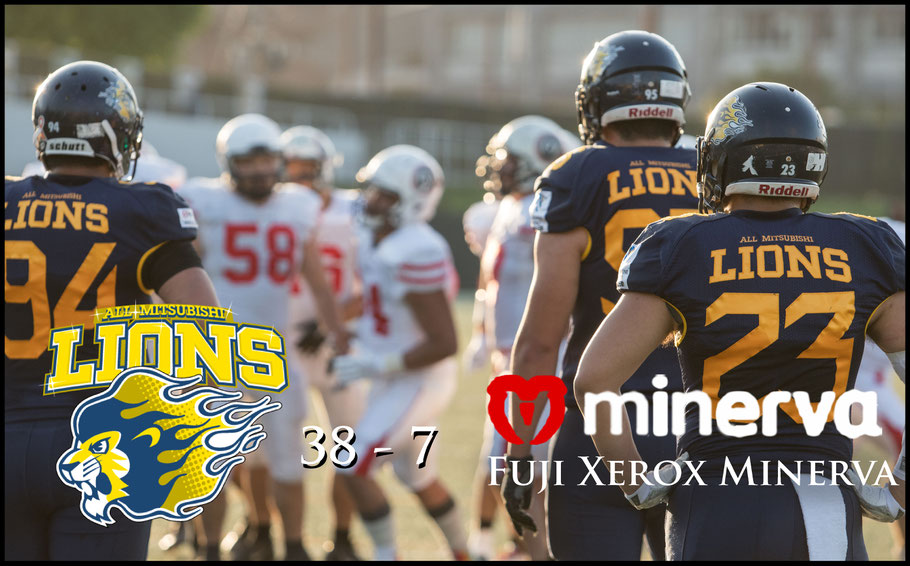 Photos: John Gunning - May 4th 2017: Fujitsu Stadium
---
N.W.A (Nojima With Attitude) - Rise Hammer The Police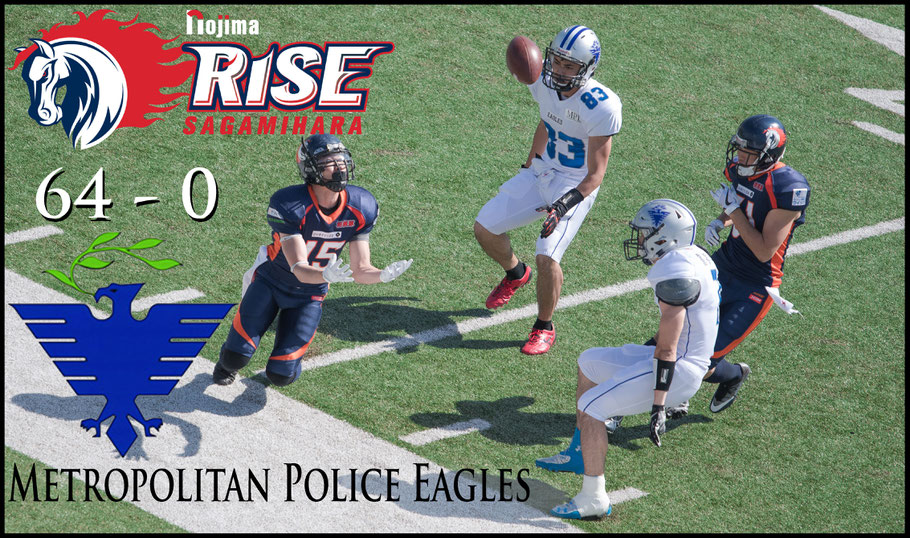 Nojima Sagamihara Rise made a statement in their Pearl Bowl opener, pounding the Metropolitan Police Eagles 64-0. The first play from scrimmage was a pick six by Rise DB Tai Kawaishi and from there Nojima never looked back.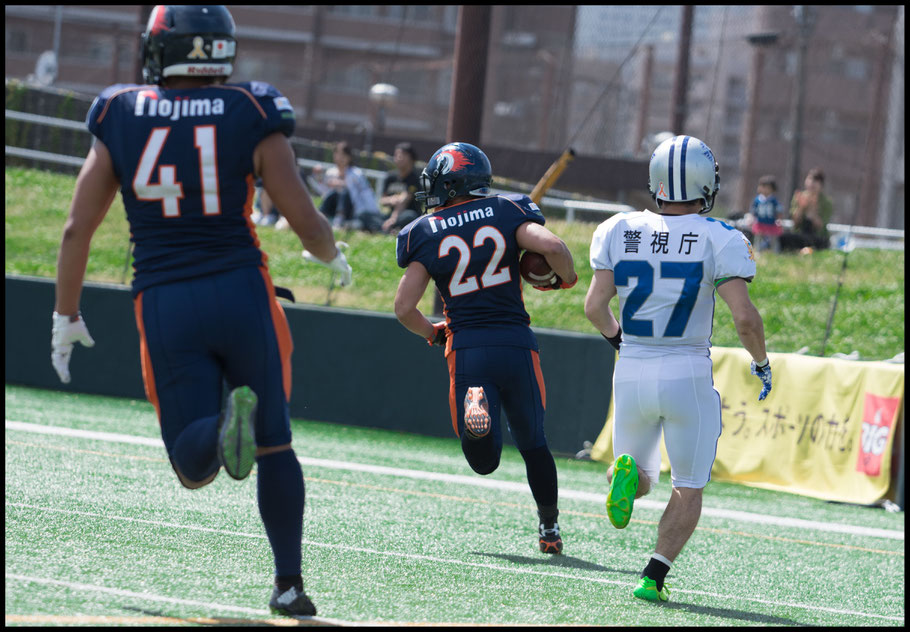 Devin Gardner led the Rise offense to four touchdowns on five drives looking poised in the pocket and only missing one mid-range throw that was a sure-fire touchdown. The focal point of today's blitzkrieg, however, was starting running back Takashi Miyako who scored three rushing touchdowns including one from 63 yards out. The elusive back only ran the ball four times, but he made each count managing 76 yards of offense.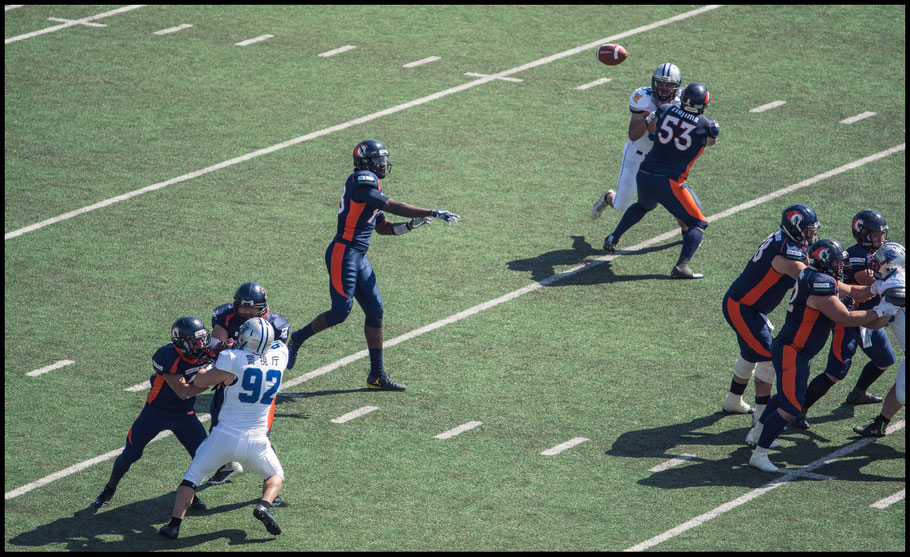 The Rise defense, looked impressive throughout especially on an Eagles mishandled snap that was taken back 65 yards by linebacker Riku Arima. While punter Nanami Ariwa only had one boot on the day, kicker Kouhei Ichimori showcased an accurate leg going seven of eight on point after tries and kicking a 34 yard field goal on the Rise's only stalled drive of the first half.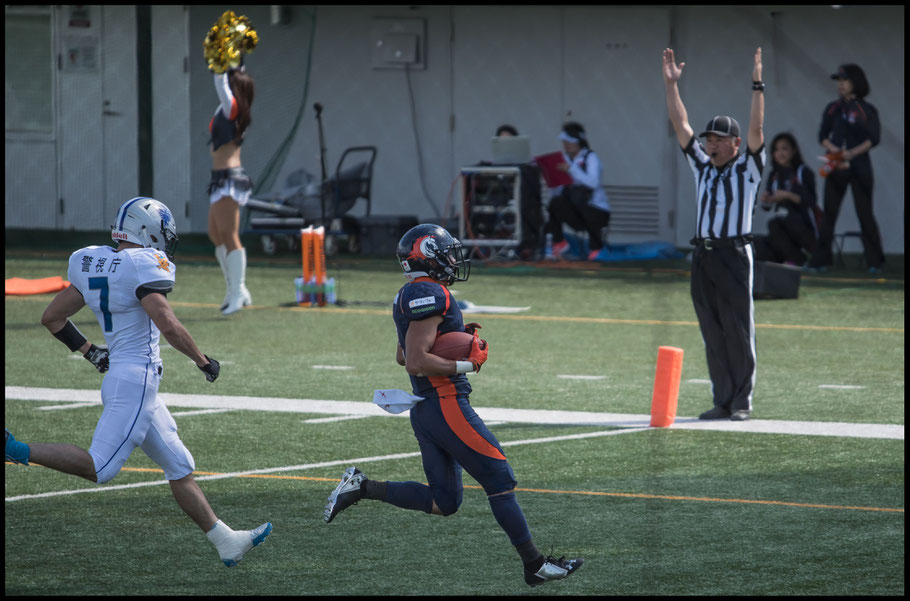 In their two Pearl Bowl games so far The Metropolitan Police Eagles have surrendered 113 points which exceeds their yardage total for this game by 43. Despite having 42 snaps under center, the Eagles could only produce four first downs. The highlight of their day, though, was a heads-up play made by their CB Yusaku Nukui. Nukui was able to undercut the receivers route and intercept a poorly-thrown ball by backup QB Shinobu Saitou in the endzone. He wisely knelt down for the touchback and saved his team from the most lopsided loss of the Pearl Bowl thus far.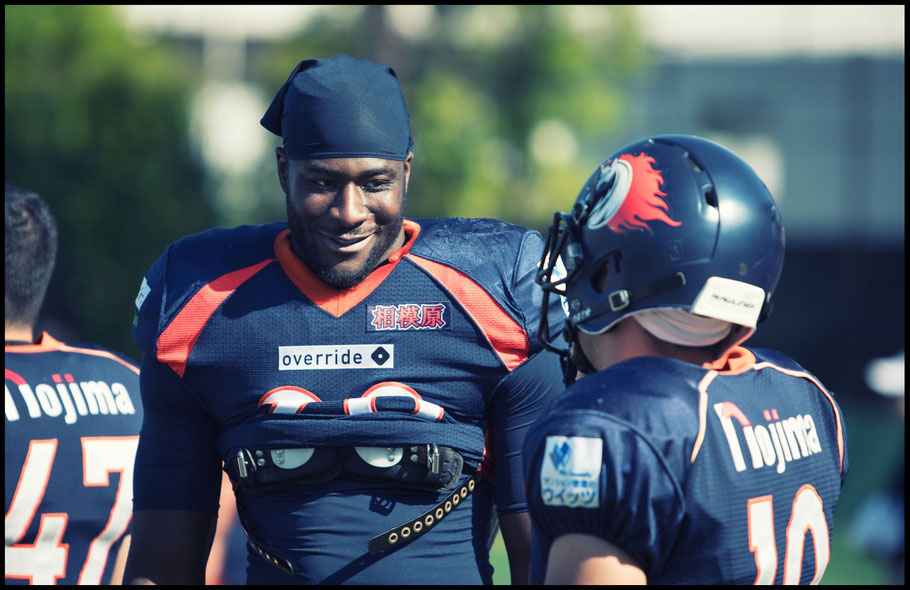 Deion Sanders-esque play of the game: DB Tai Kawaishi, on the first play of the game, jumped a curl route and had to be more surprised than anyone to find that the ball landed right into his lap. Without hesitation he sped untouched, past the shocked offense, into the endzone.       
- C.J. Ryan: May 4th 2017
---
Nojima Sagamihara Rise (64) - (0) Metropolitan Police Eagles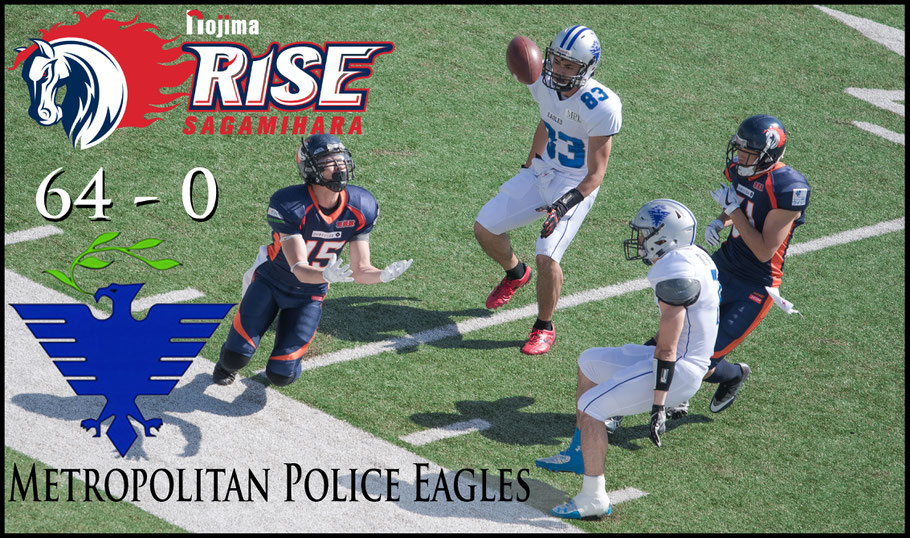 Photos: John Gunning - May 4th 2017: Fujitsu Stadium
---
Obic 's Beatty Memorable On The Field, Unforgettable Off It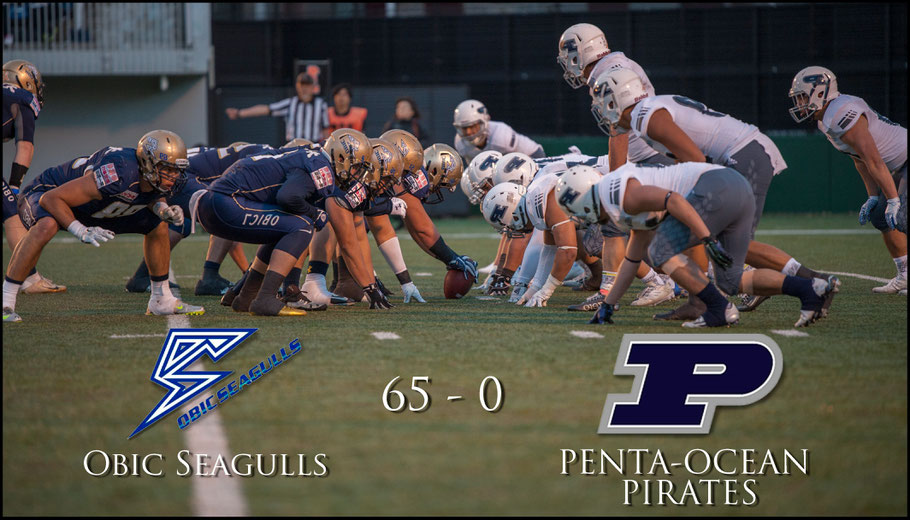 Obic Seagulls soared passed the Meji Yasuda Pena Ocean Pirates 65-0 with an excellent performance by countless members in all three phases of the game. Newcomer Ikaika Woolsey replaced Jerry Neuheisel under center and burst onto the scene with four passing touchdowns and an 11-yard scamper for a score. The defensive line, led by the ferocious tandem of Kevin Jackson and BJ Beatty, bullied their opponent's offensive line and raided the Pirates' backfield with five sacks, two batted balls, and 3 tackles for loss.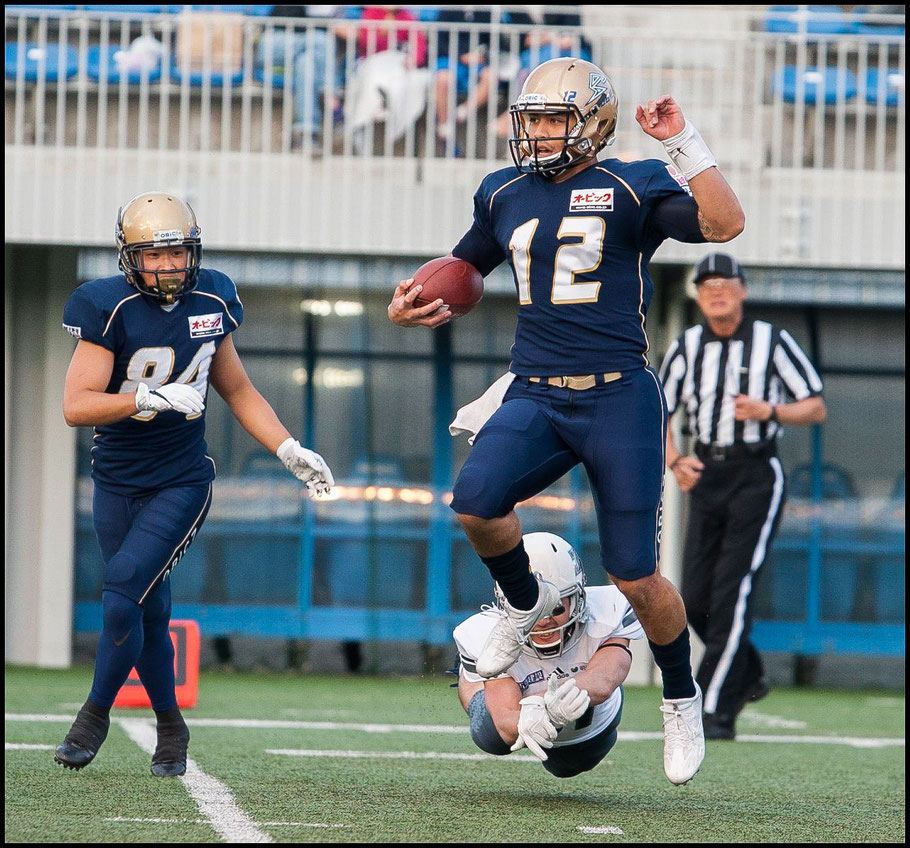 The star of today's game was unequivocally DE Beatty who not only dazzled football fans with play after play, but allowed his teammates, fans, and members of the press to join a special moment. After the game, Seagull's gave Beatty his team MVP award for the 2016 season and asked his girlfriend to present him with flowers . After she did so, his teammates huddled around him chanting 'MVP' as fans cheered and his girlfriend applauded. The team broke away and BJ was down on one knee with a ring in his hands. He made a bilingual proposal that brought his girlfriend to tears and the crowd and team erupted in joy as she accepted and embraced him.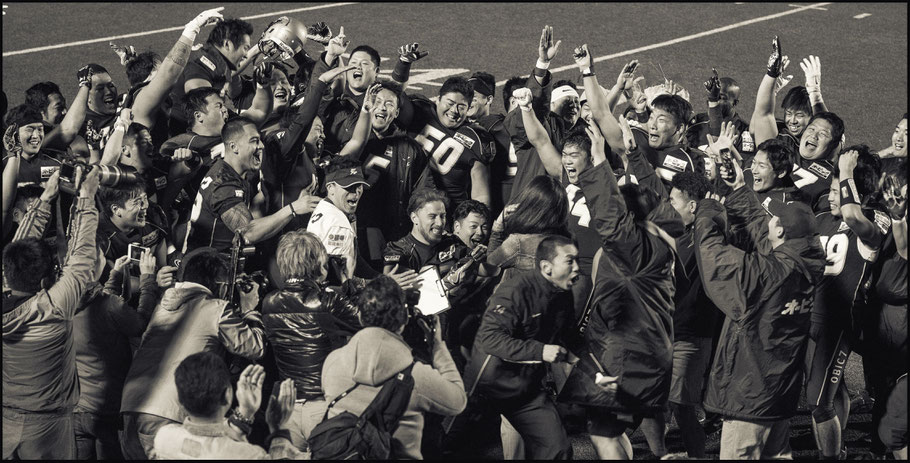 Afterwards, with a large smile on his face, he said "I kept seeing her in the stands and I would have to look away to keep myself from laughing… she was definitely surprised. I'm sure she is a little angry with me right now."
With that he shook a few more hands and beaming from ear to ear trotted off the field towards his new fiancee.
- C.J. Ryan: April 23th 2017
---
Obic Seagulls (65) - (0) Meiji Yasuda Penta Ocean Pirates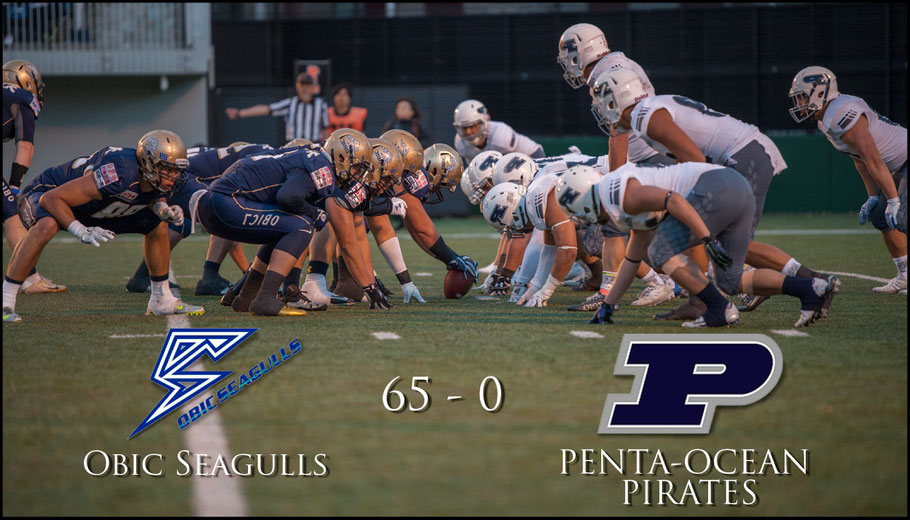 Photos: Chris Pfaff - April 23rd 2017: Fujitsu Stadium
---
Frontiers Cruise to Victory By Blanking Metropolitan Police Eagles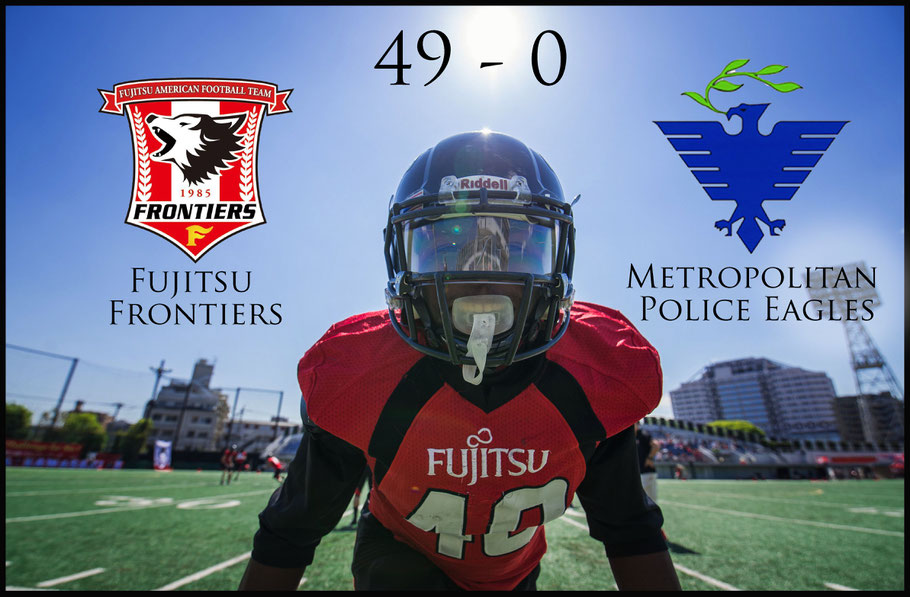 The Fujitsu Frontiers opened their Pearl Bowl campaign with a 49-0 rout of the Metropolitan Police Eagles in a seven-touchdown performance that showcased all the elements which made them national champions last season. WR Yoshimasa Iwamatsu led the high-octane offense with three touchdown receptions including a 37-yard strike from Shibasa Takagi. Takagi and Keiya Hiramoto alternated series under center, but neither missed a beat as the Frontiers found pay dirt on seven of nine drives. Fujitsu stayed creative and relentless in all three phases of the game recording over 426 yards of offense and had an interception return for a touchdown by starting DB Al-Rilwan Adeyemi for the play of the game. The Frontiers had a whopping 60% third down conversion rate, but even more remarkable is the fact that they were only in third down five times in nine drives. More touchdowns than third down attempts shows just how well-oiled the Frontier's offense is.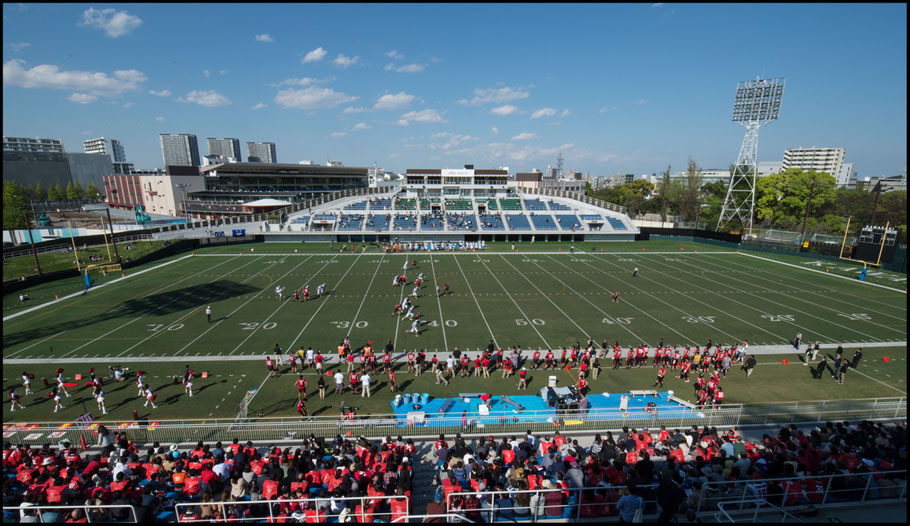 The Metropolitan Police, conversely, only managed a total of 93 yards on 37 plays. What especially hurt the Eagles today was having only 11 yards to show for 22 carries on the ground. Despite putting together an impressive drive in the first half (gaining 33 yards on 9 plays) they were stopped less than a yard shy of a first down and about 15 yards shy of a reasonable field goal try. The Eagles punted on fourth and short but hopes of pinning their opponents deep in their own territory were dashed as the muffed kick sailed out of bounds netting less than 15 yards. Despite the setbacks today, the team didn't let up and the fans that came to support the metropolitan police stayed loud and encouraging until the end.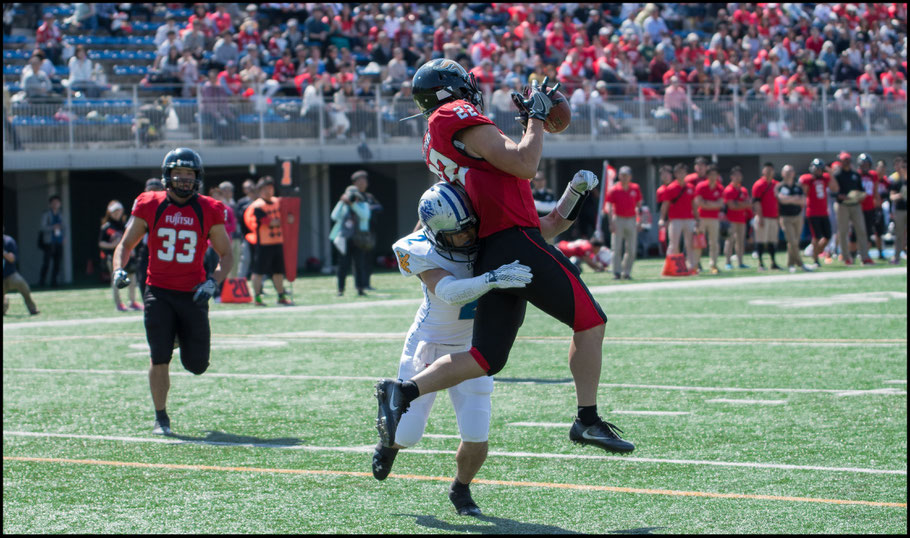 Ed Reed-esque play of the day: Fujitsu DB Al-Rilwan Adeyemi snagged a ball and glided in for the 43 yard touchdown return to put the Frontiers up by two scores.
Peyton Manning-esque play of the day: Fujitsu's aptly numbered (#18) QB Shibasa Takagi noticed his receiver was one-on-one with no safety in the area and launched the ball down the field. The ball was a bit underthrown, but the corner never turned his head and the receiver adjusted to the ball and took it to the house for the longest offensive play of the game.
- C.J. Ryan: April 23th 2017
---
---
Fujitsu Frontiers (49) - (0) Metropolitan Police Eagles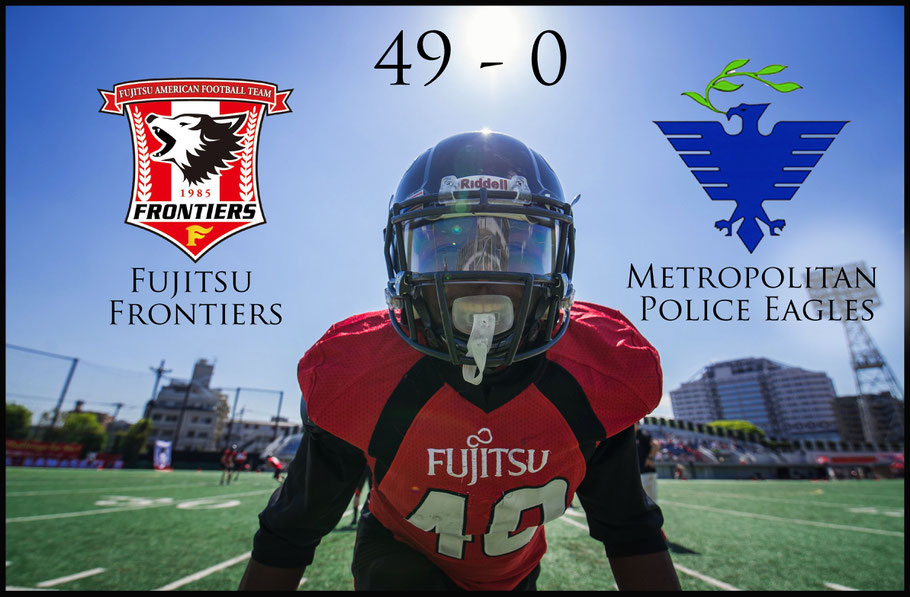 Photos: John Gunning - April 23rd 2017: Fujitsu Stadium
---
Deers Trample Minerva In Romp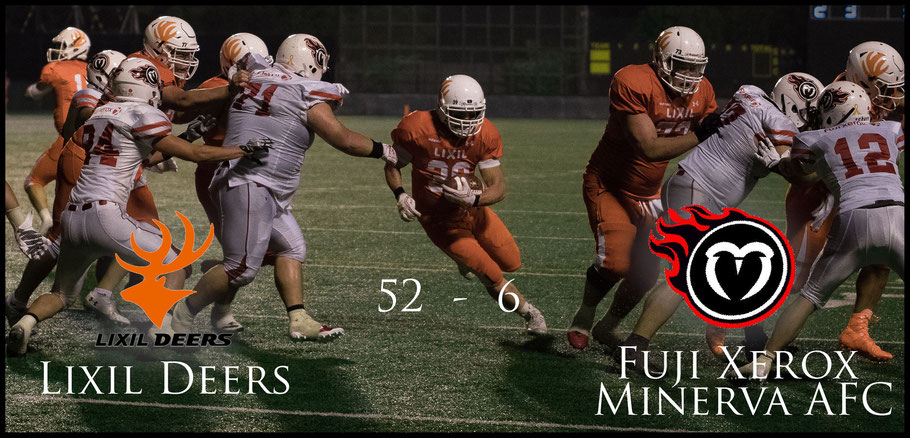 Lixil Deers stomped all over Fujitsu Xerox Minerva in a 52-6 win that was a throwback to the games of yore. Both teams combined for 151 yards through the air as this game was decided the old-fashioned way with a ground-and-pound approach. Lixil got the best of the Minerva as they rushed for 262 yards to Fuji Xerox's 90 despite only running the ball three more times. Even those who pounded their tables and screamed at Kyle Shannahan to run the ball when up three scores in the Super Bowl would have found Lixil's game plan conservative. But head coach Hajime Tominaga held fast to what all our grandfathers have been telling us for years—if it ain't broke, don't fix it. The Deer's running game certainly didn't need fixing as five different players ran for touchdowns and threw in a shovel pass for a score to keep critics from calling them "one-dimensional."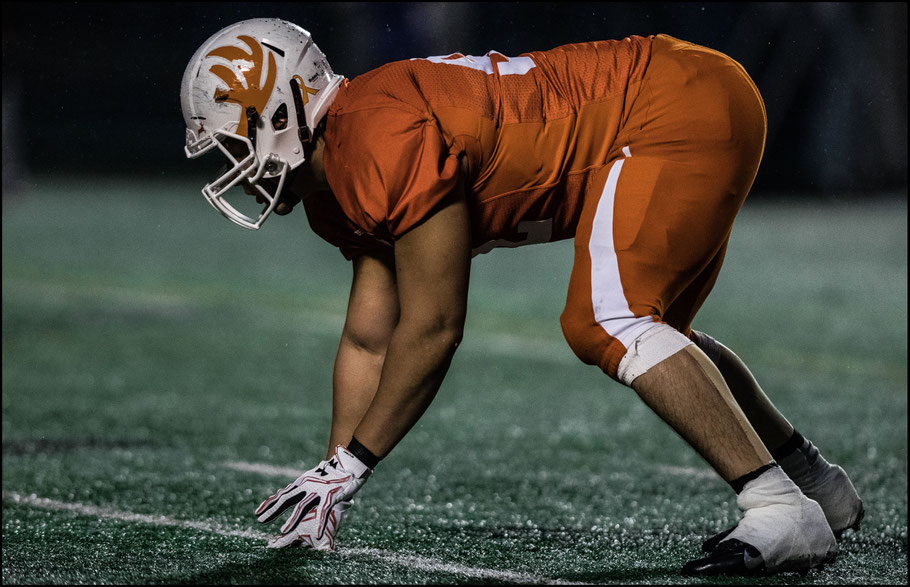 Despite allowing 56 points, Minerva's defense outplayed its offense and special teams in the game, getting off to a great start with back-to-back sacks on Lixil's opening drive and a fumble recovery on the second drive at Lixil's five-yard line. It took four downs however before the Fuji Xerox managed to punch the ball into the endzone on the ensuing possession. Unfortunately for Minerva that drive would be indicative of the rest of their evening as they finished the game with only 137 yards of offense on 54 plays for an abysmal 2.5 yards per play average. What was even more concerning was the nearly 2:1 ratio of run to pass plays despite being down by multiple scores for most of the game. Still, some heads-up plays were made by Minerva's defense, and if the offense and special teams can rise to the level of the defense, this team has a chance of stealing a victory from an unprepared opponent in the future.        
- C.J. Ryan: April 22th 2017
---
Lixil Deers (52) - (6) Fuji Xerox Minerva AFC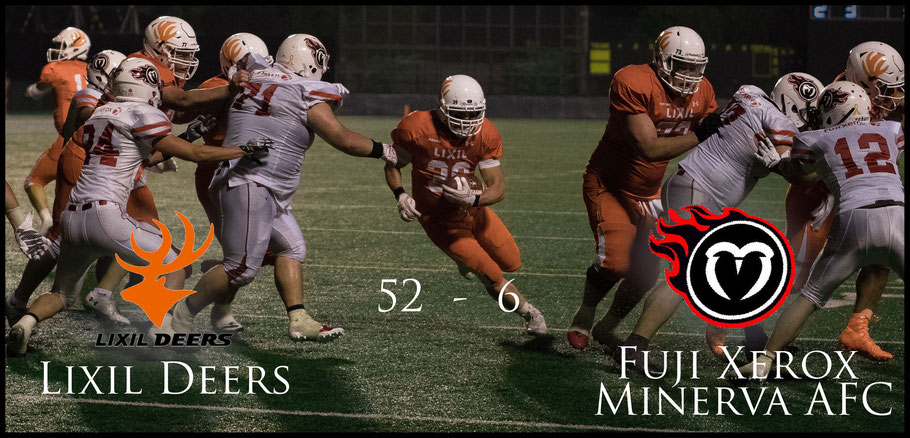 Photos: John Gunning - April 22nd 2017: Fujitsu Stadium
---