---
Gardner, Nojima Overpower Frontiers To Book Spot In Semi-Finals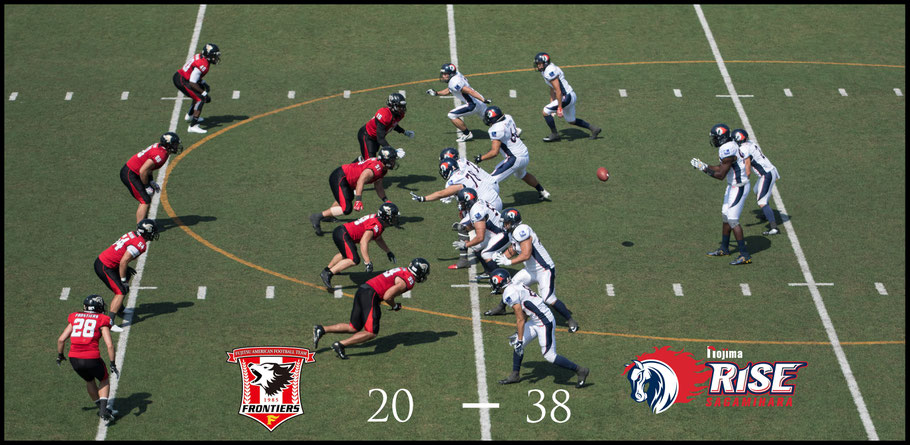 A couple of weeks ago, we said the 2017 Nojima Sagamihara Rise team had "attitude" and after watching them beat the favored Fujitsu Frontiers 38-20 it's clear that this team is on a mission. Some Frontiers' starters saw very limited action and QB Colby Cameron didn't play at all but given the way Devin Gardner performed, it's questionable whether their presence would have affected the outcome. Gardner single-handedly willed his team to the first upset of the 2017 Pearl Bowl.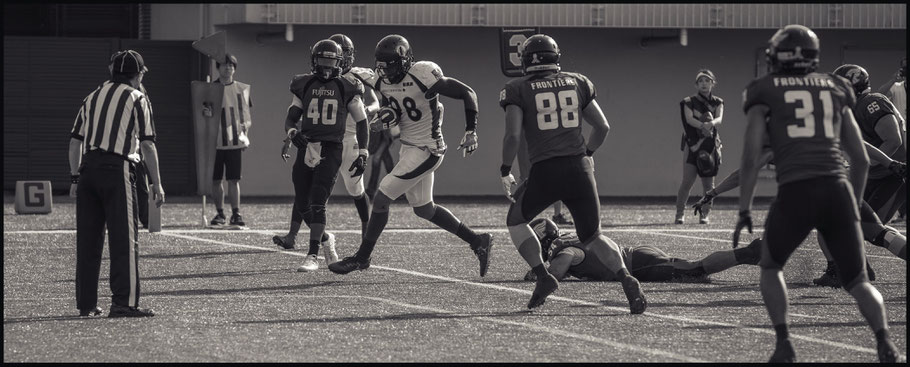 Fujitsu never led and their defense was overwhelmed by the Nojima onslaught. Play after play Gardner was able to escape the pocket and run for a first down. He was never sacked despite Fujitsu defenders periodically in his face, and he stood tall and delivered three pin-point passes before being decked on three different plays, one of which was his touchdown throw to Kento Suzuki. The former Michigan Wolverine added four rushing touchdowns on the day and did his best Superman impression on a 60 yard QB run, dropping his shoulder and steamrolling the only DB fast enough to challenge him. If he plays against IBM Big Blue with the same intensity, there is a good chance we will see this team in the finals.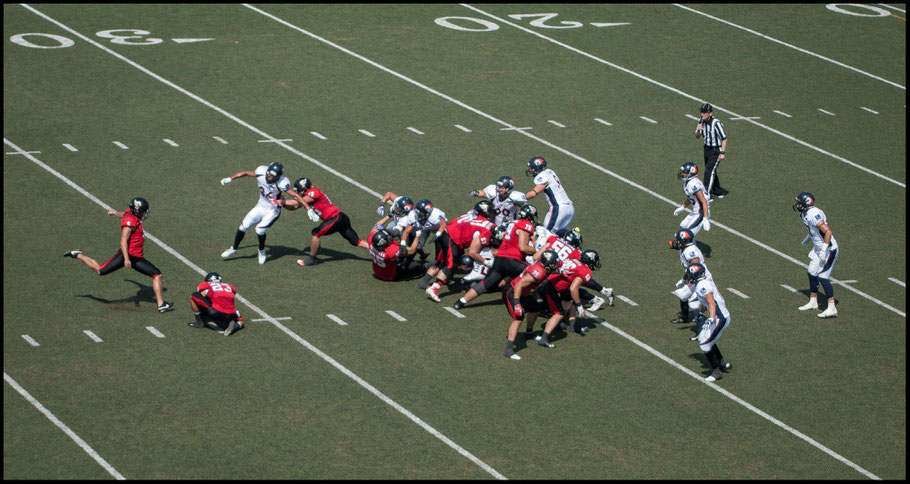 National Champions Fujitsu exited the Pearl Bowl early but treated their (packed) side of the stadium to some dazzling plays. WR Kyohei Morita had a circus-like catch in the end zone and the most athletic defensive play of 2017 so far came courtesy of safety Keisuke Okuno. As the receiver went to catch a well-thrown 20-yard ball up the seam Okuno smashed into him so hard you could hear it in the press box. What was more impressive was that he somehow kept his concentration and grabbed the interception. In the end, however, Fujitsu's few spectacular plays weren't enough to counter the barrage that Nojima unleashed upon them. The Rise moves on to the semifinals, which will be played on June 4th in Fujitsu Stadium. The Frontiers won't see serious action until the autumn, but that won't trouble them too much. They went out in the group stages last year as well and then went unbeaten through the regular season and playoffs.
- C.J. Ryan: May 21st 2017
---
Nojima Sagamihara Rise (38) - (20) Fujitsu Frontiers
Photos: John Gunning - May 21st 2017: Fujitsu Stadium
---
Seagulls Smash Silver Star En Route To Semi-final Spot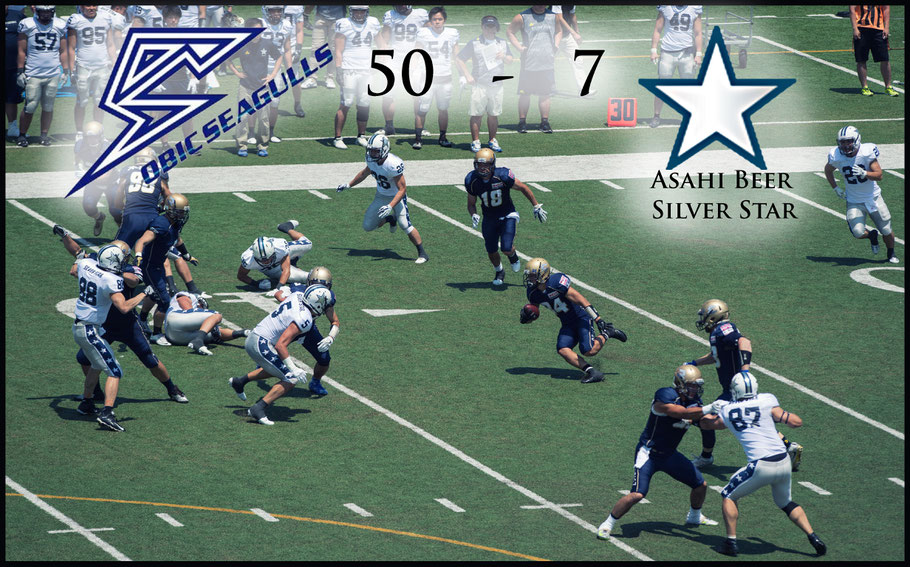 Obic Seagulls scored 28 second quarter points cruising home in a 50-7 victory over Asahi Beer on Sunday The win in front of 2,062 in Kawasaki saw Obic reach the Pearl Bowl semi-finals where they will meet last year's runner-up Lixil Deers. The Seagulls' offensive line had an exceptional game today giving up only one sack and a tackle for loss. The offensive game plan saw three different quarterbacks with very different body types and playing styles under center as well as three different running backs toting the ball. It didn't seem to matter who was behind the line of scrimmage today, as the big men up front kept all the backfield's jerseys clean. The Seagulls only scored a single touchdown in the second half, but that was largely due to a running clock in the fourth and a couple of interceptions.
Silver Star put on a great show against the Pirates a few weeks ago but were outmatched against the seven-time national champions. One bright spot was the continued good play of wide receiver Yuta Hayashi. Hayashi recorded 115 of his team's 157 passing yards with a touchdown to bring his Pearl Bowl total to nearly 300 yards and five touchdowns.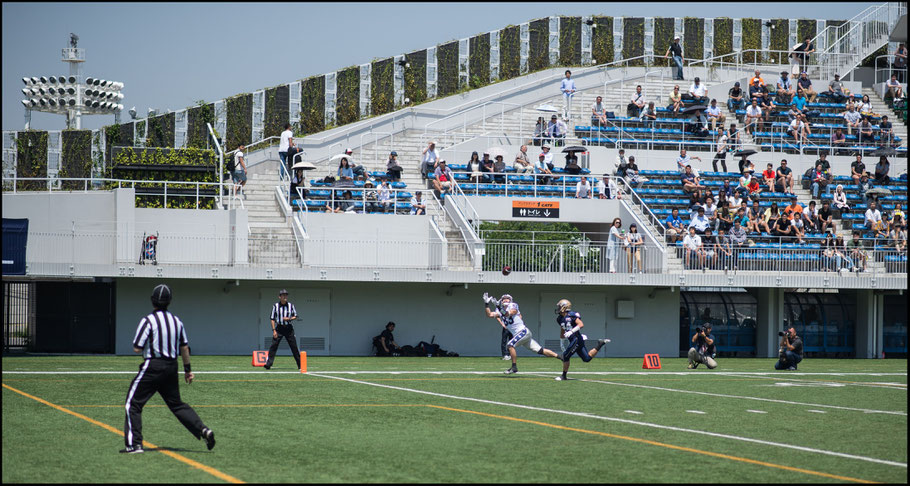 Those numbers are more impressive when you realize that the Silver Star only scored five touchdowns in total in the Pearl Bowl, every single one of them a pass to Hayashi. If Asahi can acquire a few more talented players like him, they could start knocking on the door of serious contention.
Jim Brown-esque Play of the Day: Obic running back Asaki Mochizuki is not afraid of contact. He barreled his way to 104 yards on only eight carries. He was brought down by the first defender on only one of those runs. On his first carry of the game, Mochizuki took the ball from the I-formation and dropped his shoulder into the Silver Star DL crashing the edge, knocking him to the ground and storming down the field. The safeties tackled him, but he carried both of them an extra five yards before finally being taken to the ground for a 25-yard run play on 1st and 15.
- C.J. Ryan: May 21st 2017
---
---
Obic Seagulls (50) - (7) Asahi Beer Silver Star
Photos: John Gunning - May 21st 2017: Fujitsu Stadium
---
Lions Miss Chance To Pull off Upset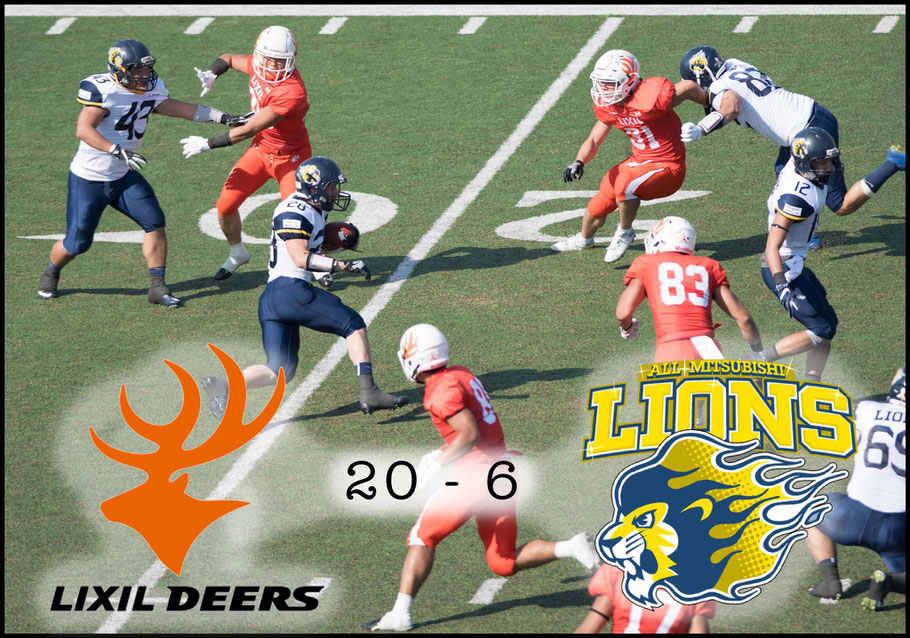 Lixil Deers bested All Mitsubishi Lions 20-6 in the most tightly-contested game of the Pearl Bowl so far. Both defenses played well and yardage and time of possession were practically equal. The major difference in the game was Lixil's special teams play. After the Deers went three and out on their first drive, Daisuke Aoki hit a twisting punt that Lions return man Shoji Nagata couldn't bring into this body. Before it was knocked from his hands and recovered by Lixil for a 35-yard gain allowing them to kick a field goal after they again couldn't move the ball.
All Mitsubishi held on for most of the next two quarters until the big play that shifted all the momentum in Lixil's favor towards the end of the first half. The Lions drove down the field and were deep in the red zone when WR Ryunosuke Saeki dropped a wide-open, perfectly-thrown ball on third down that would have given the Lions the lead. To make matters worse, on the ensuing chip-shot field goal, Lixil's special teams unit came through again, blocking the field goal, recovering the ball, and advancing it 20 yards. The Lions team was stunned and Lixil QB Shohei Kato took advantage of that. He caught the defense reeling and connected with WR Naoki Maeda for a 60 yard completion and then a six yard touchdown throw to Yasuhiro Miyamoto on consecutive plays.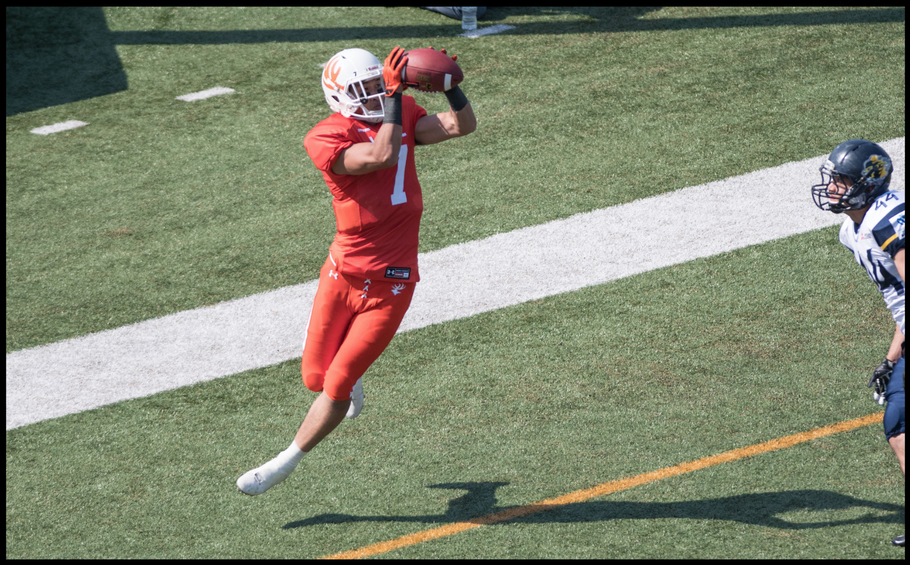 In the span of four plays, the Lions went from a potential 10-6 lead, to a potential tie game, to being down ten points. All Mitsubishi would never recover in the second half and Lixil bled the clock to ensure their victory.       
While it came as little surprise that the Deers pulled this one out, they played a sloppy game with eight penalties costing 75 yards and four first downs. Make no mistake, today's game was very physical on both sides of the ball, but Lixil's defense will need to play with more maturity and discipline if they plan to make a splash in the Pearl Bowl. They will be facing the Obic in the semi-final and the Seagulls are not a team that you can gift first downs to and expect to come out on top. 
- C.J. Ryan: May 20th 2017
---
Lixil Deers (20) - (6) All Mitsubishi Lions
Photos: John Gunning - May 20th 2017: Fujitsu Stadium
---