---
Champs Face XLeague's Hottest Team In Pearl Bowl Final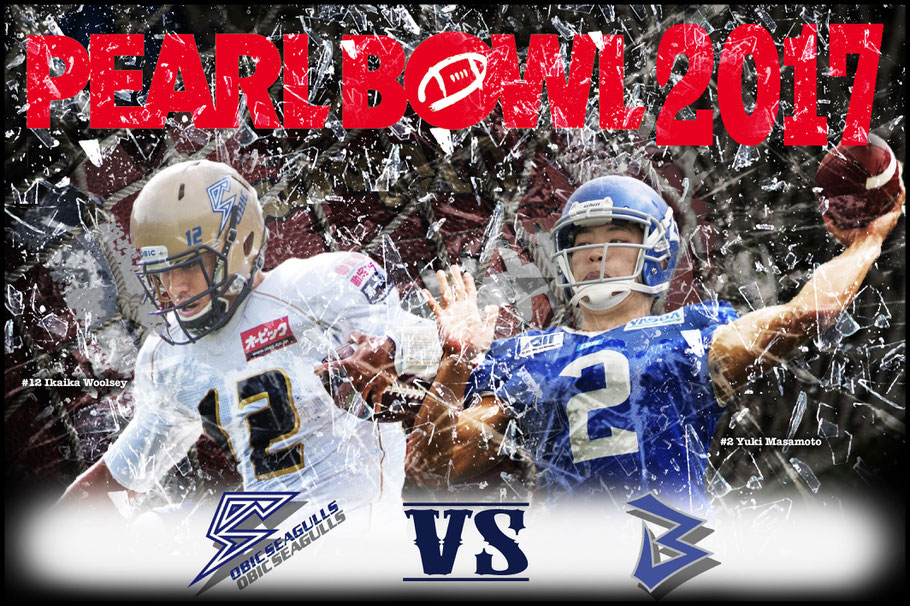 The 2017 Pearl Bowl at Tokyo Dome on Monday at 7pm sees defending champion IBM Big Blue take on a Seagulls team boasting both the #1 scoring offense and defense. Obic put up 150 points and allowed only 14 en route to a 3-0 crushing of their competition in the Pearl Bowl thus far. IBM, while not as statistically dominant has looked solid in their three victories.
Seagulls' rookie starting QB Ikaika Woolsey after his stellar performance against Lixil Deers in the semifinals indicated he would be taking the snaps in the championship game. IBM conversely have had both quarterbacks - Kevin Craft and Yuki Masamoto - play significant time in each game thus far, but Masamoto seems to have been given to nod to start on Monday. Craft though has proven the more reliable thrower and with IBM likely needing all the offensive power it can muster to keep up with the Seagulls, he is sure to see the field at some stage.
While intrigue surrounds the quarterback position, the most interesting battle in this game will be fought in the trenches. IBM Big Blue's defensive front is arguably the best overall unit in the X-League having held Nojima Sagamihara Rise QB, and potential MVP, Devin Gardner, to 19 points. They are playing with a pride and ferocity that seems to only intensify with each game. That said, they have yet to face an O-line as powerful or as disciplined as Obic's. One of these sides will have to give ground and it may be up to Woolsey to create the plays that give his line the edge. When possession flips, the battle  up front is no less fascinating as Obic bookends BJ Beatty and Kevin Jackson have terrorized opposing offensive lines. While IBM's O-line hasn't played to the level of Obic's, Kevin Craft has been able to make up for it by staying poised in the pocket and extending plays for big gains. Regardless of which team wins on Monday night, we are primed for a classic between two efficient teams that regularly make big plays.
- C.J. Ryan: June 17th 2017
---
Seagulls Beat Deers To Advance To Championship Game Behind Rookie QB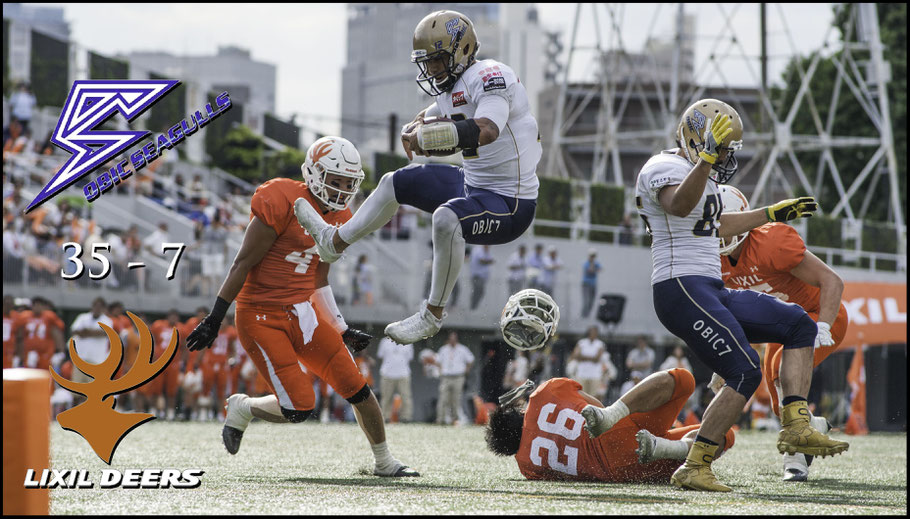 The Obic Seagulls advanced to the Pearl Bowl championship after handedly defeating the Lixil Deers 35-7. Today marked the first time newcomer QB Ikaika Woolsey played a full game, and what a debut it was. Woolsey ran for 59 yards and two touchdowns as well as going 16 of 24 for 281 yards with two TDs against one pick. He distributed the ball nicely between his receivers, finding Taro Mizuno on three key third downs. Mizuno finished the game with 100 yards and one touchdown. The running attack was by committee with five different players receiving multiple carries. The highlight was a 70-yard lightning-quick run by Keita Naruse for a score. The offensive line had an excellent game for the second week in a row and didn't allow a single sack. The matchup between Obic's offensive line and the defensive line of IBM will be the key clash in the championship game.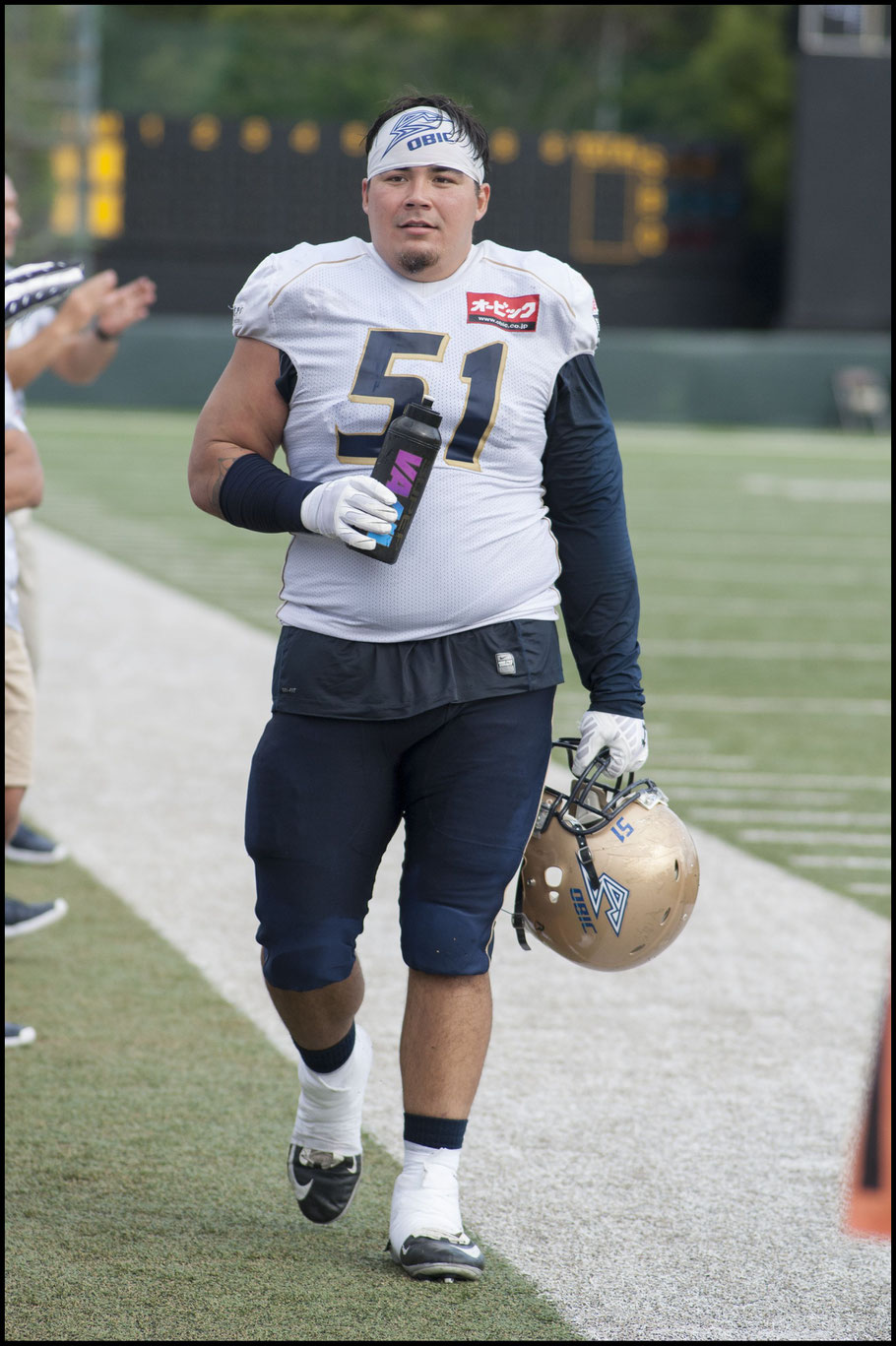 Lixil stuck to the characteristic conservative play they've displayed throughout the Pearl Bowl, but found Obic's defense too much to handle. The Deer's ground attack, their usual bread and butter, was completely neutralized gaining only 19 yards on 24 plays. Obic tallied nine tackles for loss and Lixil's game plan had any answers. One particular head-scratching series came right after Lixil's play of the game when Kodai Okamoto made a great read to break on the ball and intercept an otherwise well-thrown ball. That set up his offense in Obic territory. At that point, Lixil was only down two scores and a solid series would bring them right back into the game. Instead, Lixil ran the ball three straight times for a total of two yards and then punted. They opened up the playbook once they were down three scores, but couldn't recover. Their lone score didn't come until two minutes remaining in the game.     
Andre Reed and Wes Welker Players of the game: #83 was represented well by both clubs today. Obic's #83 Taro Mizuno caught three balls, all on third down, for 100 yards receiving and a touchdown. The TD came on a particularly athletic play by Mizuno catching a mid-range ball, giving three defenders the shake and bake, and winning the footrace to the end zone. Not to be outmatched, Lixil's #83 Satoshi Ishige caught six balls for 109 yards including both of Lixil's third down conversions.   
- C.J. Ryan: June 4th 2017
---
Obic Seagulls (35) - (7) Lixil Deers
Photos: Chris Pfaff - June 4th 2017: Fujitsu Stadium
---
Big Blue Edges Rise In A Classic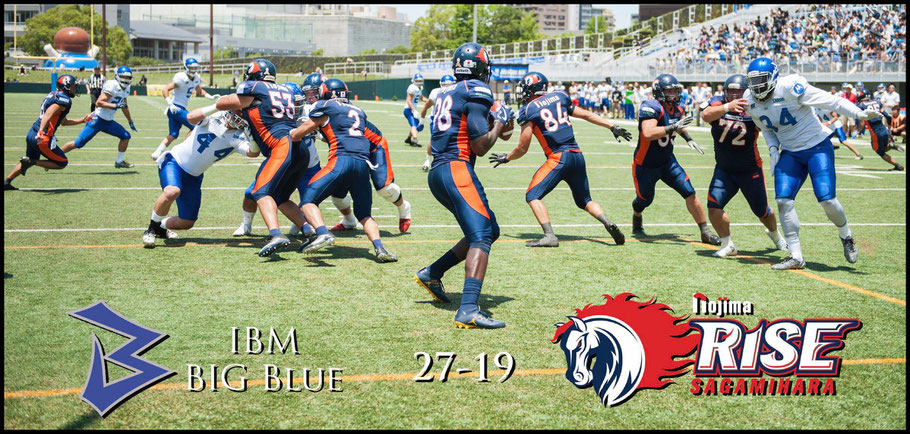 IBM Big Blue advanced to the Pearl Bowl championship game after defeating the feisty Rise 27-19 in the first game in the competition decided by a single score. Play after play was made by both sides of the ball for IBM but Rise QB Devin Gardner put in a spectacular performance. Gardner accounted for 400 of his team's 422 yards by making spectacular plays between the twenties but couldn't put enough points on the board due to poor kicking and a monstrous four-down goal line stand by IBM's defensive line.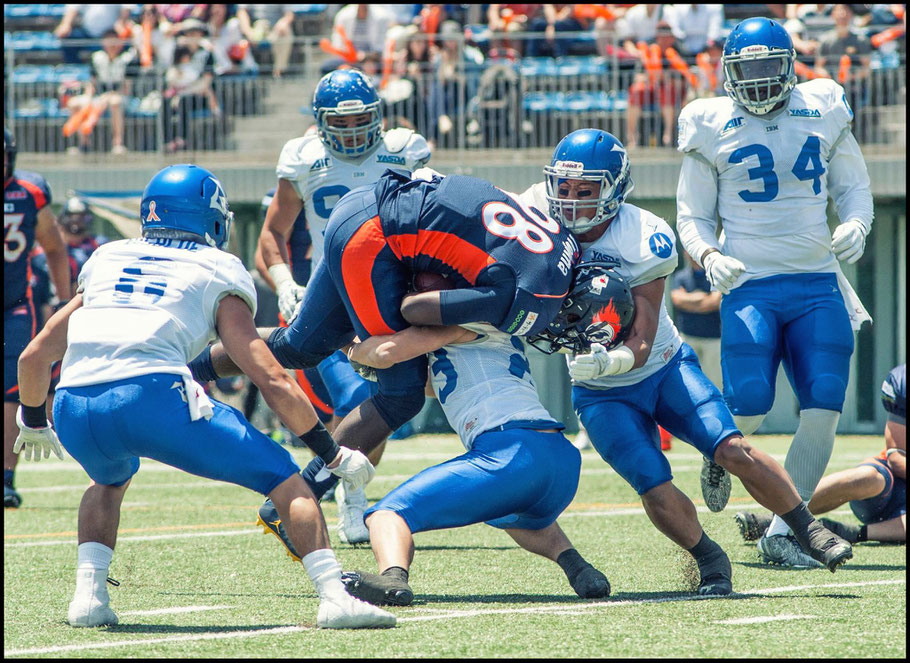 It may seem odd to praise IBM's defensive line after giving up over 400 yards of offense, but those numbers only show how magical a talent Gardner is, and not how well IBM's big men up front played. That front seven recorded two sacks and seven other tackles for loss. They were led by a highly motivated James Brooks who batted two balls and recorded five tackles for loss. Brooks and the rest of the DL, including debutant Richard Ellerbie who recorded one sack, continuously bullied Nojima's offensive line and it would have been a very different day for the Rise offense if any QB other than Gardner had been back there.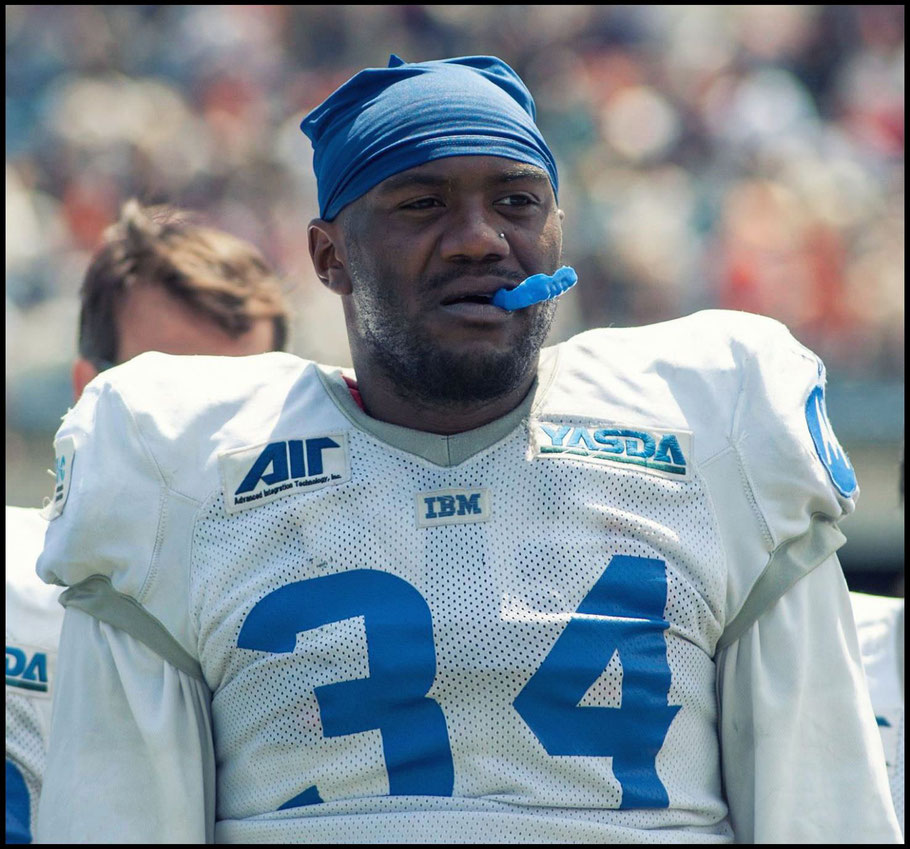 After the game Brooks praised both Gardner and his own DL teammates in equal measure. Throughout the game those two forces traded blow after blow like heavyweights in the ring. When the dust settled on the 4th down and 1 attempt in the waning minutes of the fourth quarter, Gardner had been stopped just shy of the end zone and the D-Line went home victorious, having cemented their team's place in the final as well as emphatically stating the case for IBM's defensive line being the best unit in the X-League.

IBM QB Kevin Craft saw little game action. In his stead Yuki Masamoto put together an efficient afternoon going 10 of 18 for one touchdown and one pick along with 45 yards on the ground and a rushing score. IBM gained 300 yards of total offense against a very tough Nojima defense. It will be interesting to see if Craft will start for IBM in the championship game or if he will share snaps with Masamoto as he has throughout the Pearl Bowl. Until today, IBM had played error-free football, but they had a few missteps today which will be a concern as they get set to face Obic Seagulls who boast the Pearl Bowl's top ranked scoring defense, allowing only two touchdowns in three games.    
- C.J. Ryan: June 4th 2017
---
IBM Big Blue (27) - (19) Nojima Sagamihara Rise
Photos: Chris Pfaff - June 4th 2017: Fujitsu Stadium
---