---
Seahorses' Hiejima Gets Emotional In Winning B.League MVP A Month After Mother's Death
Makoto Hiejima has skillfully made his way past zone defenses and agilely made his way around screens. But when faced with the image of his late mother, it was all that he could do to make it through his acceptance speech.
The Seahorses Mikawa guard was named MVP of the B.League for the 2017-18 season at a gala ceremony in Tokyo on May 29th, and as he humbly gave thanks for the unexpected honor, he began to choke up and was suddenly fighting back tears in a poignant and emotional moment.
"Receiving this special award on this wonderful stage is something I would have liked my mother to have seen," Hiejima said. "But I am sure she is watching, and I'm sure it made her happy."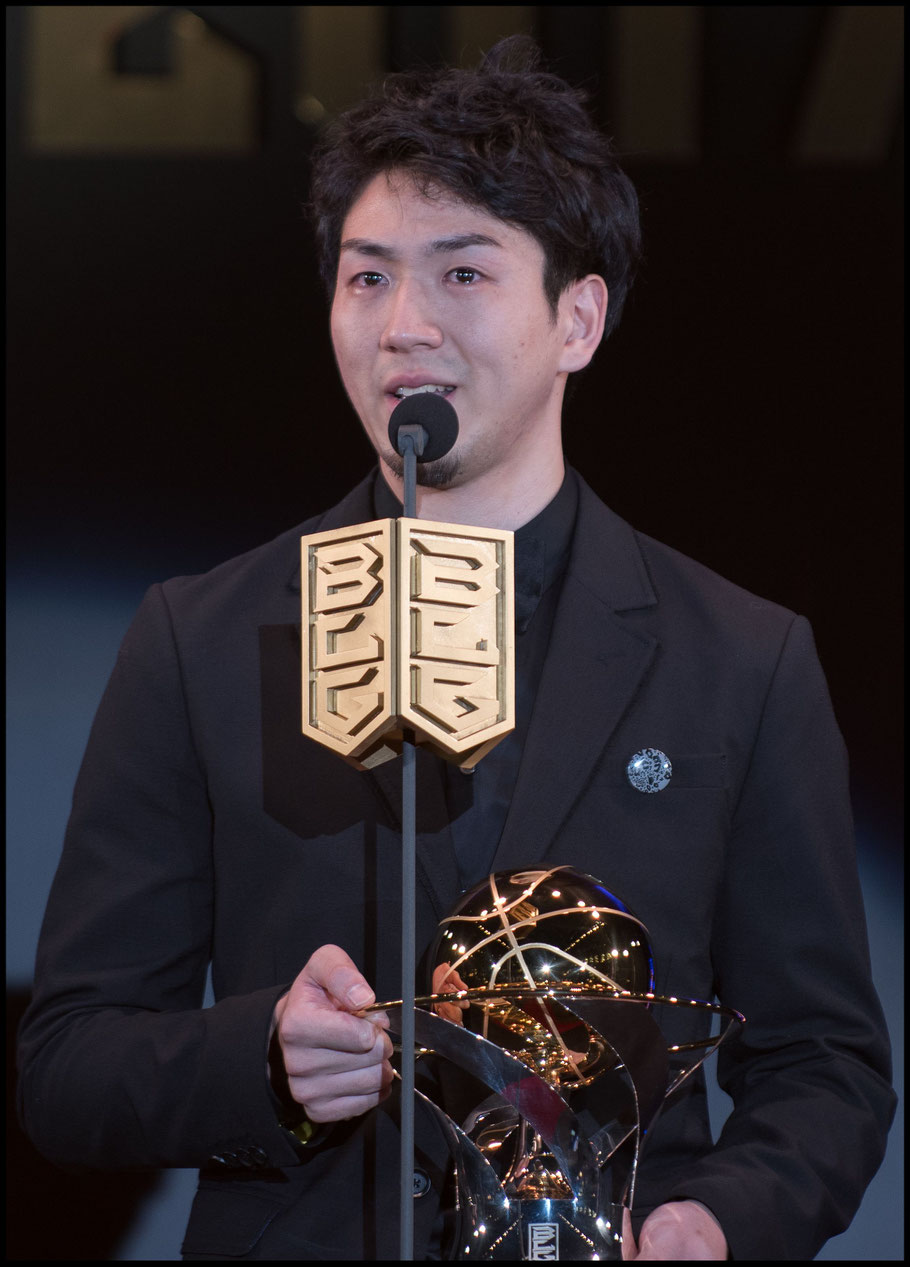 Prior to the announcement, a video was shown on the large screen next to the stage, in which coaches throughout Hiejima's career - which has included championships at every level possible in the nation - recorded tributes along with his older brother Akira. 
There were also photos of him and his mother Junko, who not only raised him alone at their home in Fukuoka, but was also his greatest fan and supporter. She died on April 21. 
"I never expected that," Hiejima said later of the video tribute. "I saw my brother yesterday and he never said a thing. And to have my coaches from university, as well as junior high school and high school, was a real surprise to see in the video. To hear the various heart-felt comments. It brought me to tears. There were tears of joy as well, but it brought back many memories."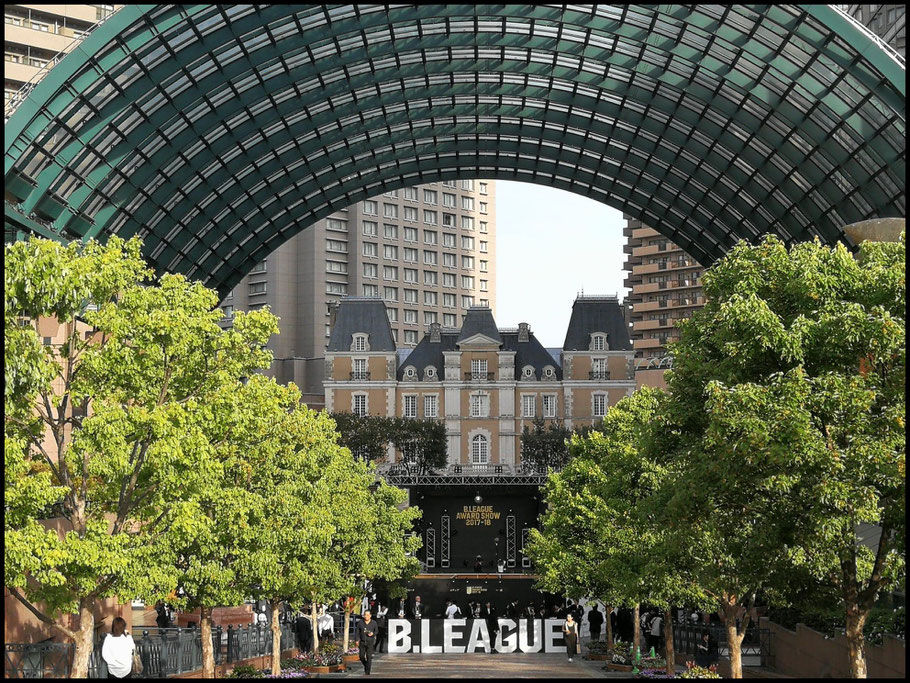 The awards ceremony for the second year of Japan's new pro basketball league was held in the courtyard at Ebisu Garden Place with hundreds of fans looking on from the upper floors. Some called out 'Ganbatte, Makoto' as he struggled to continue his speech.
That capped an otherwise light night of festivities, and was preceded by the naming of the Best Five team.
That was an instant replay from the previous season, as Hiejima and the four other selections all made it for the second year in a row.  
Joining Hiejima on stage again were shooting guard Daiki Tanaka of newly crowned B.League champion Alvark Tokyo and point guard Yuki Togashi of the runner-up Chiba Jets Funabashi, along with Mikawa teammate guard Kosuke Kanemaru and Kawasaki Brave Thunders center Nick Fazekas.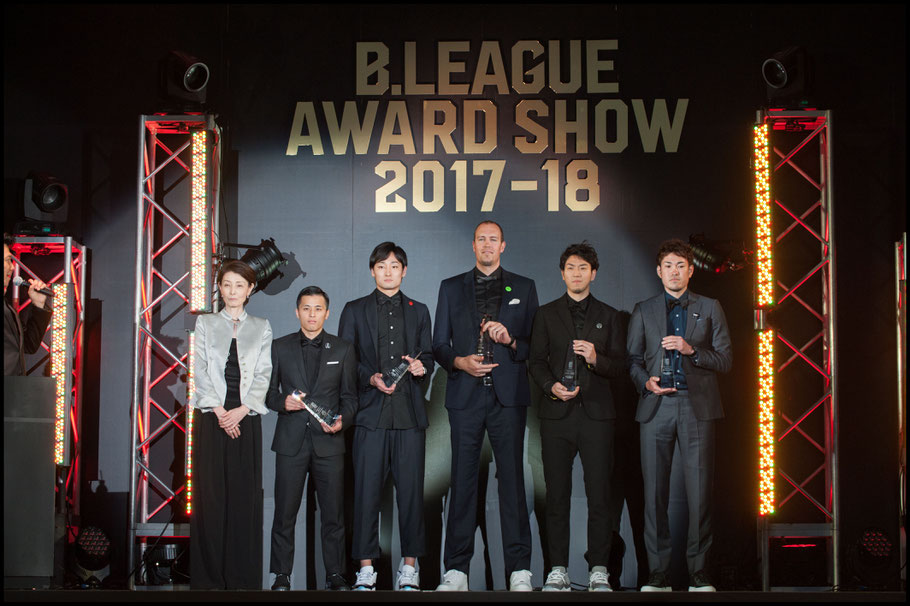 Alvark forward Yudai Baba overcame missing several months of the season due to injury to take home the Rookie of the Year award, while Mikawa's Ryoma Hashimoto was named the Defensive Player of the Year and Kawasaki's Yuma Fujii was the Best 6th Man.
Fazekas had been the MVP in the inaugural season of the league, but had no qualms about relinquishing that honor to the 27-year-old Hiejima.
"Hiejima is a great player, he definitely deserved it, he definitely had a great year," Fazekas said. "Mikawa had a great year. I really hope he can continue to grow. He's young, he's got a lot of room to get even better. So that's kind of the scary part for everyone else in the league. Congratulations to him and I'm very proud of him."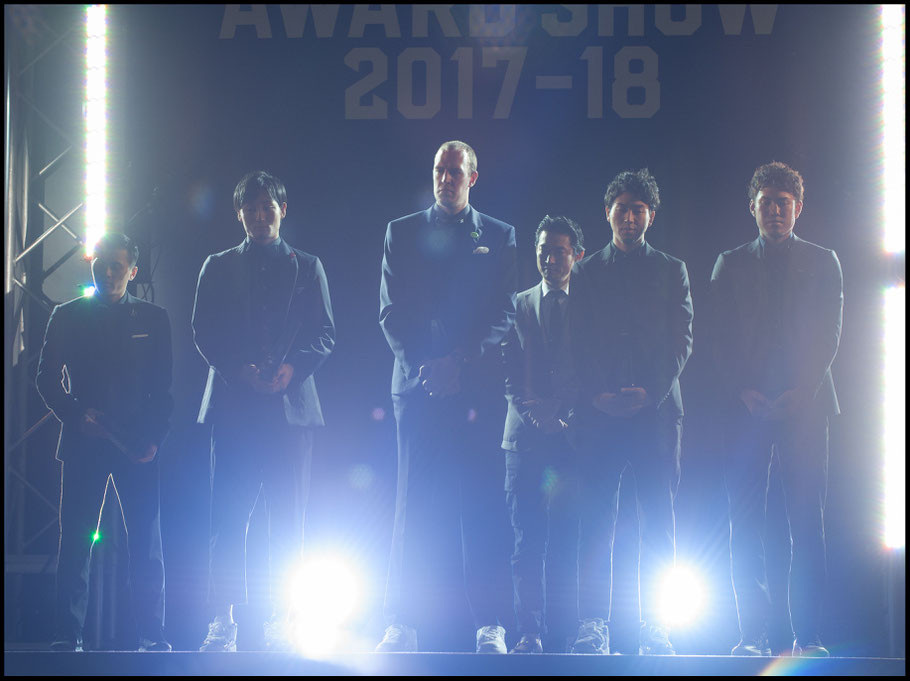 Hiejima, Kanemaru and Hashimoto were key players on a Seahorses team that cruised to the Central Division title with the league's best record of 48-12. But the Seahorses' bid to upstage the more powerful East Division and win the title ended with a loss in the playoff semifinals to Tokyo. 
In the quarterfinals against the defending champion Tochigi Brex, Hiejima sank the decisive basket in the final seconds of an 80-75 win in Game 2 on May 13. He pointed to the heavens after the shot, a moving tribute to his mother who had died less than a month before.
She had been a constant presence as he won national championships at the elementary, junior high school, high school, college and pro levels, and even traveled to Belgrade to watch him play for the national team in the qualifying tournament for the 2016 Rio de Janeiro Olympics.
His mother encouraged him when Hiejima decided to leave Fukuoka Prefecture, a hotbed of Japanese high school basketball, to attend Rakunan High School in Kyoto, where he felt he would get more playing time. He led the school to three consecutive Winter Cup titles.
---
---
Hiejima continued his winning ways at Aoyama Gakuin University, leading the Tokyo school to national championships in his sophomore and junior seasons.
Joining the Aisin Seahorses of the NBL, the predecessor of the B.League, he earned a league title in the 2014-15 season and an All-Japan crown in 2016.
Earning the MVP award this season provided some consolation for falling short of a championship.
"I didn't win a championship, but it's an award in which I was selected by the fans who voted, and was chosen by rivals that I compete against," Hiejima said. "That makes it quite an honor, and one that I can say is probably the happiest moment of my life."
Hiejima, who averaged 12.9 points and 4.1 assists per game, acknowledged he was as surprised as anyone when his name was called. 
"I didn't expect to be selected as MVP. Who was it going to be? If I was asked, I would have said I don't know. It was a surprise.
Well, honestly speaking, I thought my chances were about 1 or 2 percent. But to actually get it? I was really surprised."
Relinquishing one title, grabbing another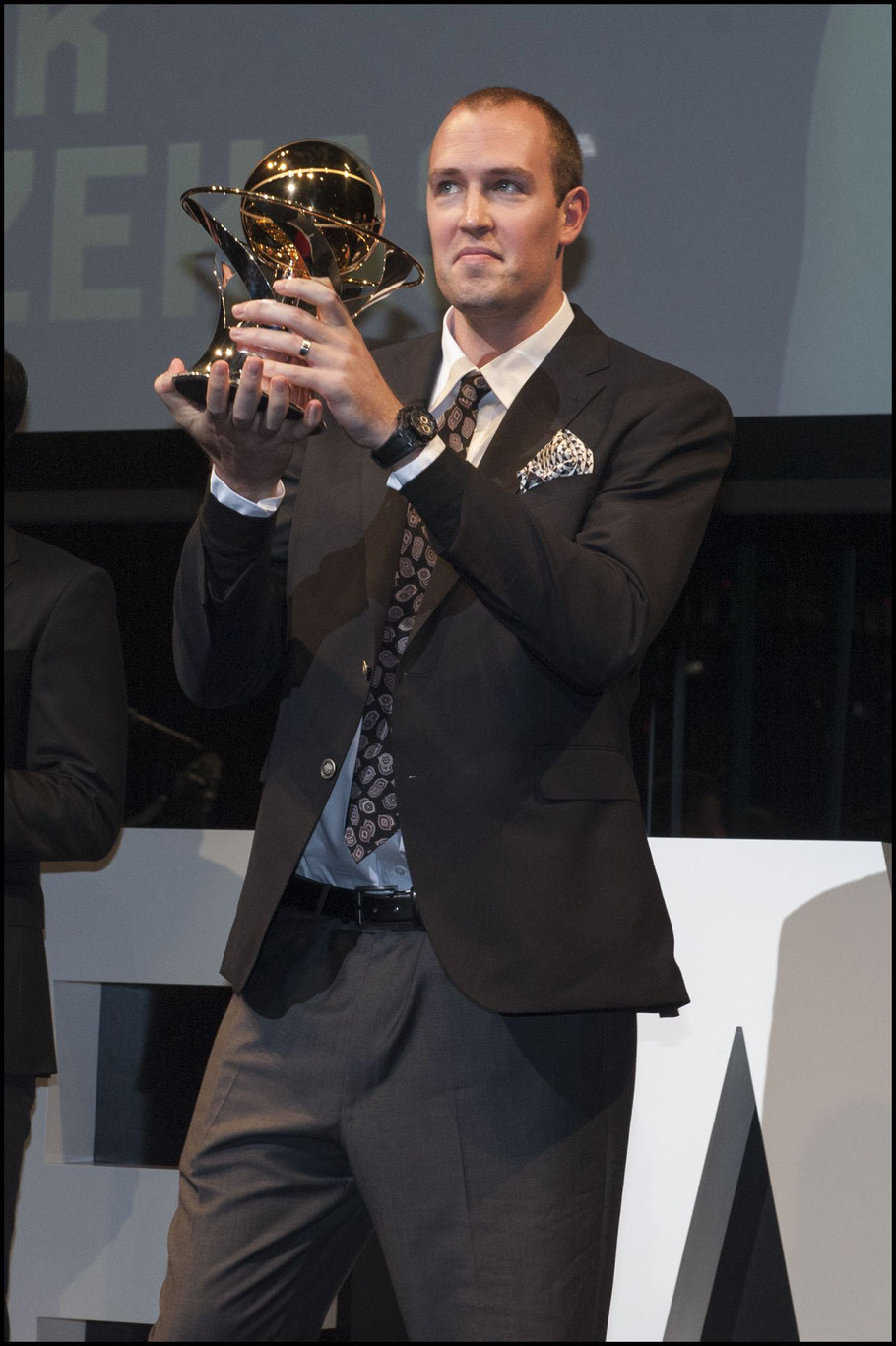 In the area of league leaders, Fazekas came away with an individual title again - just not the one he gained last season.
Fazekas, last season's scoring leader, was topped for that honor this time by Niigata Albirex BB center Davante Gardner, who averaged 28.7 points per game, with Fazekas second at 25.3.
Instead, Fazekas established himself as the leading rebounder in the league, pulling down 10.9 per game to edge out Mikawa's Isaac Butts and Levanga Hokkaido's Marc Trasolini.
Fazekas joked that part of the credit for winning the rebounding title goes to the players who failed to make shots.
"My teammates helped me and the guys on the other teams helped me by missing a lot of shots," he said. "Rebounding is a lot of effort, something you can drive from the heart and soul. It's not so much a skill, I guess you could say, as much as like scoring. I kind of credit my energy out there."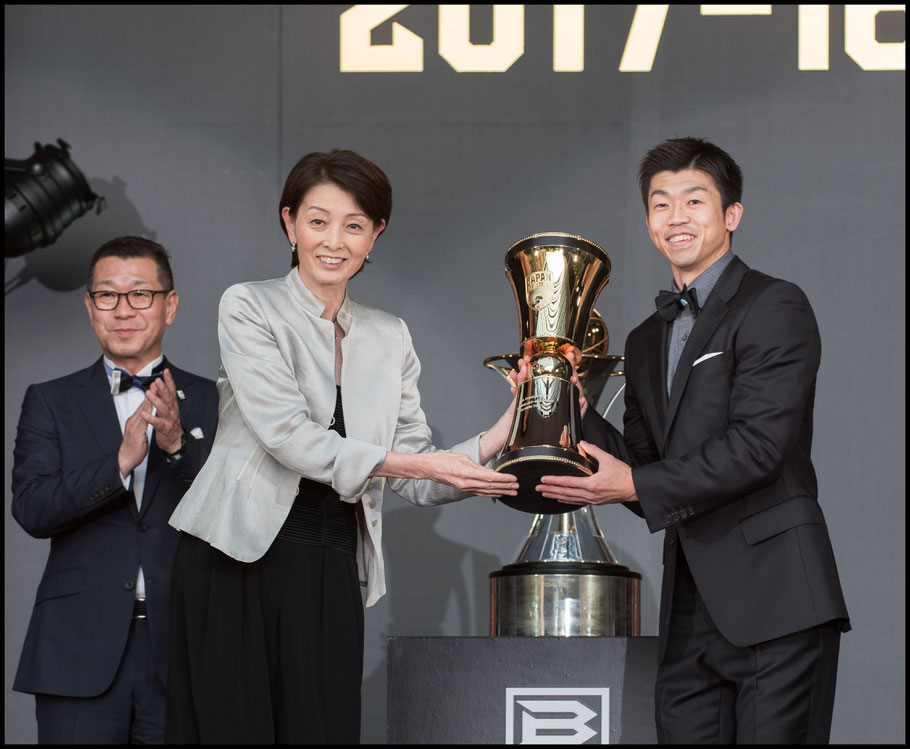 ---
"I just think that, if I have a vote, you got to change the playoff format. I think the playoff format is really silly right now, and I think there's a lot of people who agree with that. Personally I think if the B.League wants to get to that next level, I think they need to change that. 
"Because this season, with a 25-point blowout in the championship, it's probably not what the fans wanted to see. It's just really hard to figure out who the best team is when you're only playing one game."
---
While that remains a point of contention, in general the league does provide an entertaining product. 
And in the case of one team, one player went beyond the call of duty. 
A special award titled "Break the Border", which recognizes efforts to think out of the box, went to Levanga player / president Takehiko Orimo.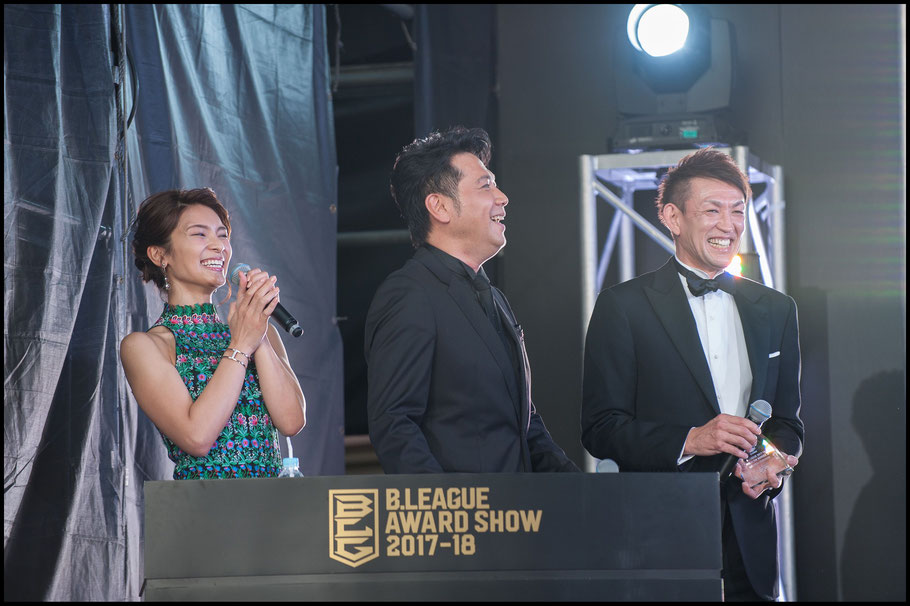 It was during the occasion of his speech that the league added a surprise guest act - his point guard Yoshitake Matsushima performing a halftime dance that he performed during the season, which mimicked the dance style of the bubble-era 90s. He was even accompanied by tight-skirted women like those that shimmied on the platform at Juliana's.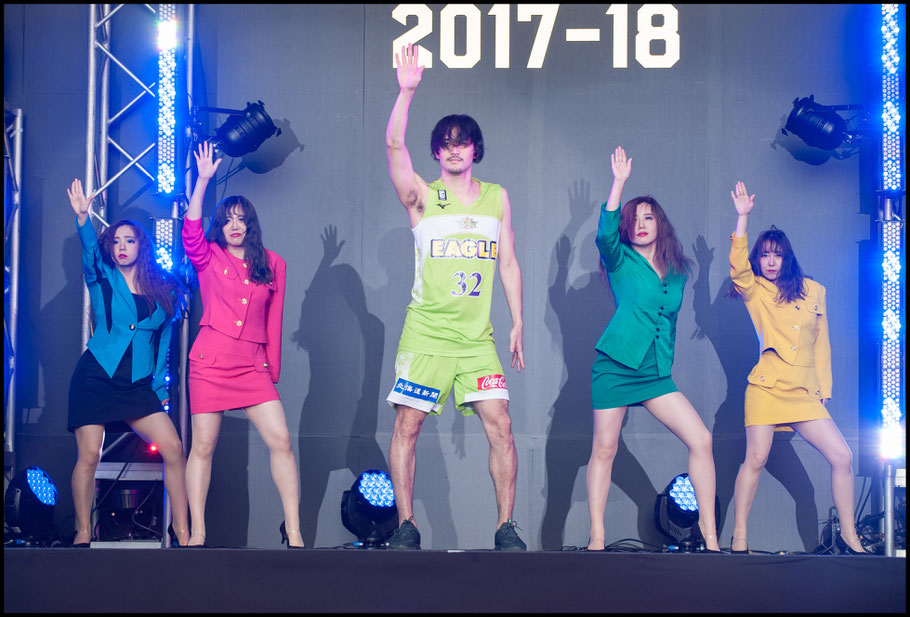 Asked to comment on the performance, Luka Pavicevic of the champion Alvark quipped: "When I saw the Hokkaido point guard dance, I just realized why we lost three games to them."
- Ken Marantz: May 29th 2018
---
---