National Champions Frontiers See Nine Players Selected To All-League Team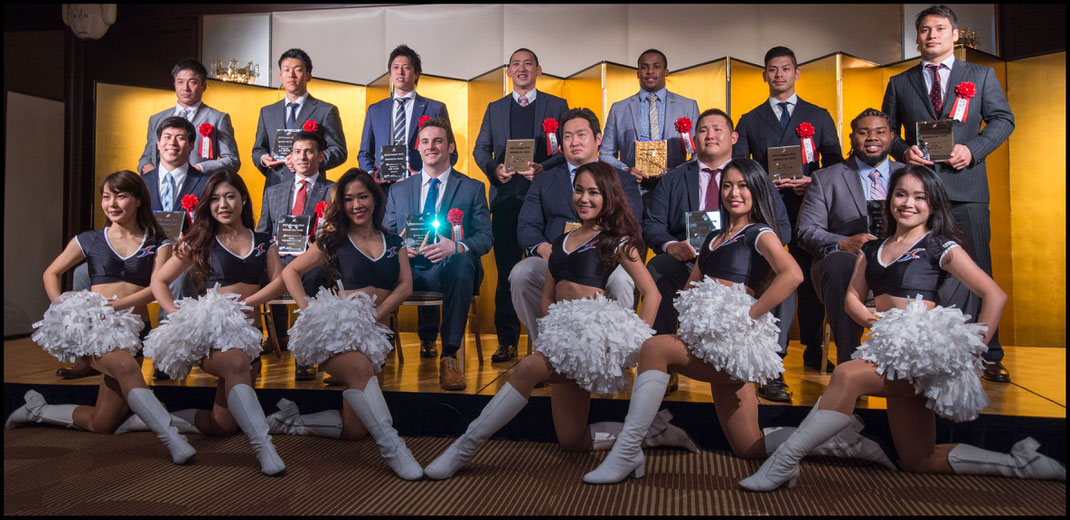 Japan's National Football Association held its annual awards show at a central Tokyo hotel on Jan 28th
National champions Fujitsu Frontiers led the way with nine players selected to the All X-League team. Runner-up Obic Seagulls had six and Semi-finalists Panasonic had four apiece.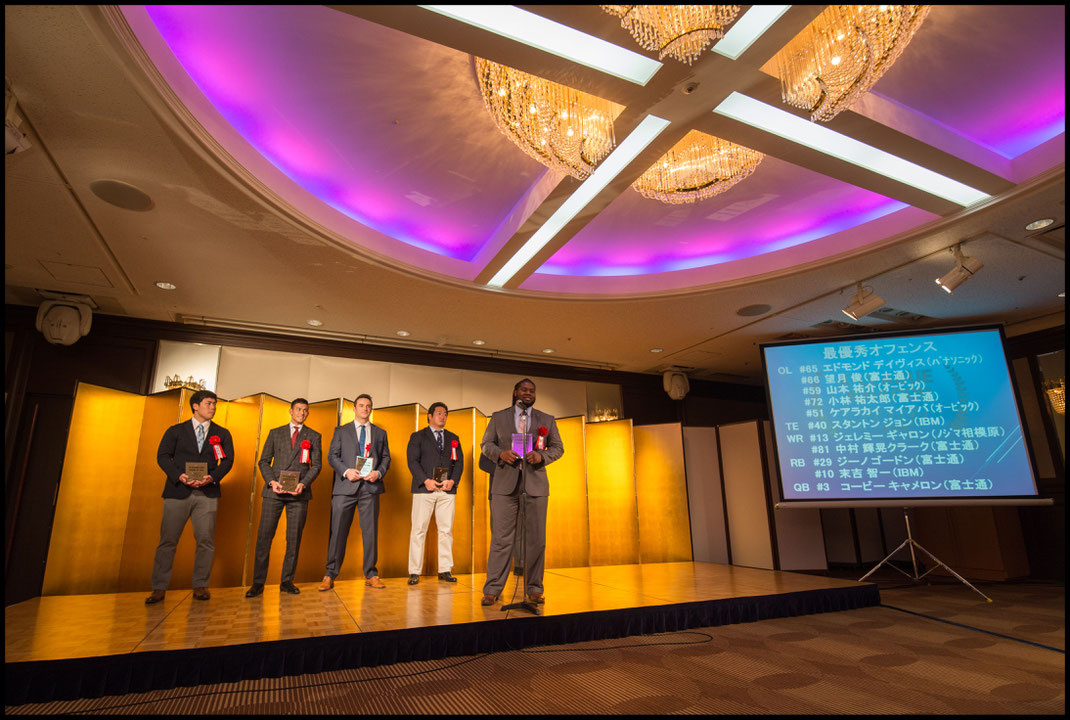 Tokyo Metropolitan Police Department Eagles took home the "Fair Play" award, while Colby Cameron (Louisiana Tech) was named league MVP and Michigan's Devin Gardner got Rookie of the Year.
In total 25 players were named to the All X-League team. Eleven each on offense and defense and three on special teams (kicker, punter and returner). Despite this being the era of passing football the positions named wouldn't have been out of place in the 1980's.  Two receivers, one tight end and two running backs made up the offense while the defense was a 4-3. 
The players in attendance each gave a short speech and only Noriaki Kinoshita deviated from the standard "thank you / I'll do my best in 2017" script. The former Atlanta Falcon seemed nonplussed to win as a kick returner, still seeing himself primarily as a wideout.  The 2017 fixtures were distributed at the event both for the Pearl (Kanto area) and Green (Kansai area) Bowls which will run in the spring, and the League proper, which starts in August.
The first games of 2017 will be on April 22 at Fujitsu Stadium. IBM Big Blue takes on Bulls Football Club at 2pm followed by Lixil Deers versus Fuji Xerox Minerva AFC at 5pm.
---
2016 All League Awards
Photos: John Gunning - Jan 28th 2017: Tokyo
---
Frontiers Soar Past Fighters To Rice Bowl Victory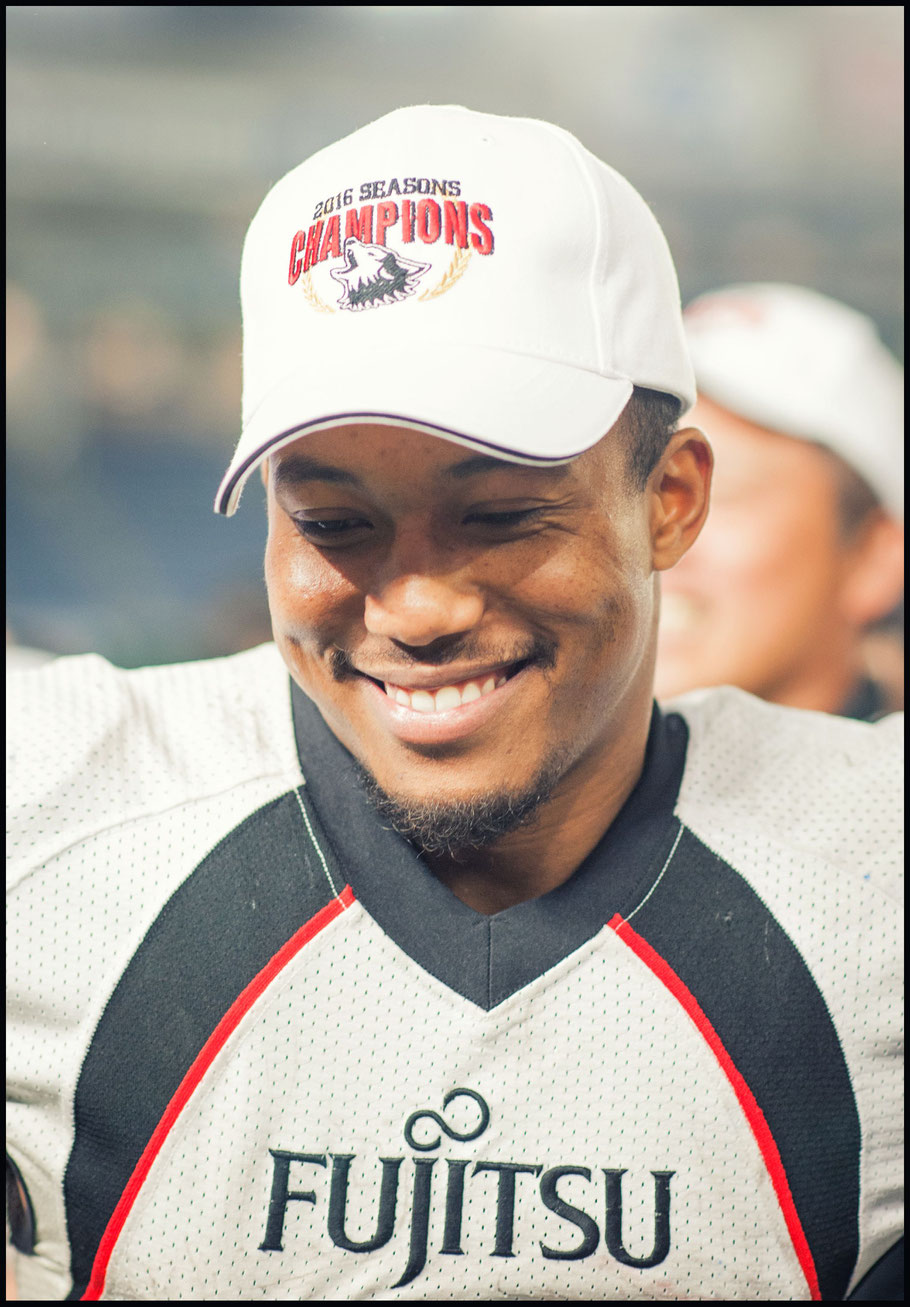 XLeague champion Fujitsu Frontiers led by American QB Colby Cameron defeated Japan's collegiate champion the Kwansei Gakuin Fighters on a surprisingly warm and sunny day in front of over 33,000 fans at Tokyo Dome on January 3rd 2017 in the 70th Rice Bowl. The Frontiers beat Kwansei through the air and cruised to a 30-13 victory that never felt that close. Fujitsu QB Colby Cameron was named the game's MVP as the Frontiers locked up their second Rice Bowl victory in three years.
Coming out of the gates red hot the Frontiers scored three times to go up 13-0 before Kwansei University recorded its first first down with 1:10 remaining in the first quarter. By halftime Colby Cameron found his favorite target of the day, WR Nakamura in the endzone for a pair of touchdowns bombs. The Frontiers kicked a field goal on their opening possession of the second half to go up 23-0. Kwansei never gave up, though, and showed life in the second half. After the Fighters were given great field position due to a short kickoff, their O-line started opening up big holes in the middle of the field. They smashed the ball down the field with a ferocious run game that ran for 165 yards on the day capping the drive off with a touchdown by RB Hashimoto Seiji. The subsequent failed 2 point conversion however allowed the Frontiers to keep a three score advantage over the Fighters that they would never relinquish.
Colby Cameron earned his MVP award showing poise in the pocket and displaying accuracy at all levels of the field. He started the afternoon hitting receivers repeatedly outside the numbers for intermediate gains and first downs before going vertical and dropping dimes into his receiver's hands from 30, 51, and 37 yards out. His day was done after a 37 yard touchdown strike to WR Fukui at the end of the third quarter when backup Hiramoto stepped in. In total, Cameron completed 20 of 27 passes for 311 yards and three scores.
Even if the Fighters couldn't get on the scoreboard early, they dazzled the audience with some memorable trick plays. On their second drive after another three and out their QB hiked the ball for an apparent fourth down try; however, instead of throwing the ball, he booted it and the surprised Frontiers had no one ready. The ball rolled all the way to the 13 yard line and pinned the Frontiers deep in their own territory. On another fourth down, with the punting unit on the field, they ran a sweep through the formation with the player snatching the hiked ball in front of the punter and taking it for an 8-yard gain and a first down.
Though there were three Fighters injured in the field of play and two offsetting unsportsmanlike conduct calls on a pair of lineman, it was a clean game with only one turnover and few penalties. The packed stadium was awash with thousands of fans in Frontier red and Fighter blue. The Fighter's half of the stadium never stopped cheering and Kwansei's marching band put on an excellent halftime show. The Frontier reds never had a reason to stop cheering as they watched their team dominate. It was great to see so many fervent fans watching an American Football game in Japan. The Rice Bowl is a treat for anyone who loves the game.                                      
- C.J. Ryan: Jan 4th 2017
---
2017 January 3rd: Tokyo Dome. Rice Bowl 70
Fujitsu Frontiers (30) -v- (13) Kwansei Gakuin University Fighters
---
The last game of the Japanese football season sees College champion Kwansei Gakuin Fighters take on X-League winner Fujitsu Frontiers in the Rice Bowl on Jan 3rd
The National Championship decider, which kicks off at 3pm Tuesday in Tokyo Dome, is a rematch of the 2015 final which Fujitsu won 33-24.
Kwansei continued its recent dominance of the university football scene in 2016. Making its sixth Rice Bowl in the last seven years, the Osaka-based college is a perfect 9-0 on the season and 17-0 overall since April. It has only won once in ten trips to the Big Game though, and that sole victory came 15 years ago.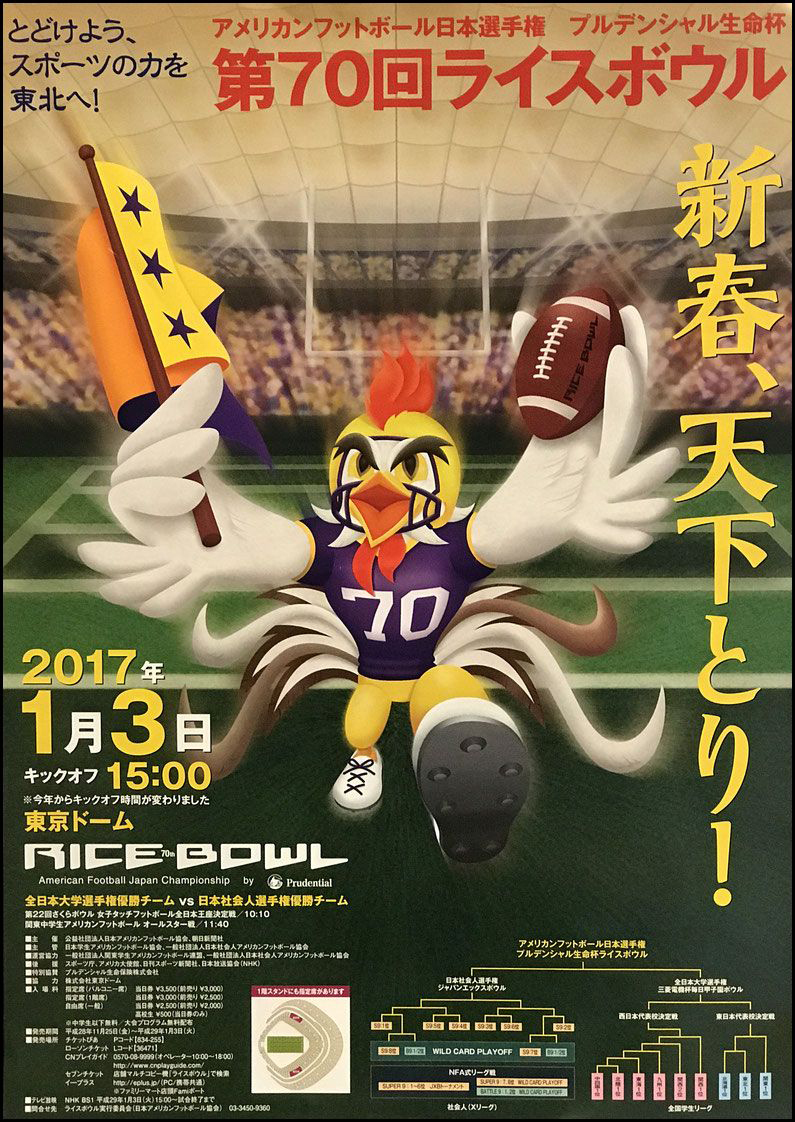 Fujitsu likewise has a single National Championship to its name but that's because before 2015 the Frontiers had never even made it to the Rice Bowl.
The Kawasaki-based club has made big strides in the past few years however and the December 12th win over Obic Seagulls was their fourth straight Japan X-Bowl appearance.
A big reason for the Frontiers recent success has been the quality of their import players. The four Americans on the rooster are all dominant at their respective positions.
Although the team has big names on the offensive side of the ball, it's the "D" which has been the real strength of the team this season. IBM were the only team to score more than 13 points against Fujitsu, and in five of nine games, opponents managed 7 points or less. Linebacker Trashaun Nixon continued his outstanding season blowing up three straight Seagulls plays inside the one-yard line in the X-Bowl to help the Frontiers beat the eight-time champions. Cornerback Al-Rilwan Adeyemi was in on one of those Nixon tackles and the Nigerian-born ballhawk who forced a fumble in the game is a serious threat to pick the ball off anytime a quarterback makes the mistake of throwing at him.
Kwansei will try to made headway against that formidable defense by ramping up every college team's traditional heavy use of trick plays in the Rice Bowl. At a press conference on December 21st Head Coach Toriuchi told the assembled media that his team had installed 30 "special plays" (as trick plays are called in Japan) especially for Fujitsu. "Wow, that's a whole playbook" said Adeyemi when told of the pronouncement.
The veteran wasn't overly concerned though, adding "In terms of the amount of trick plays they plan on running, it comes down to assignment football. It's as simple as doing your job. If we all focus on our assignments and do it the best of our ability we'll be okay; when we get in trouble is when we begin to try to do other people's job."
With Toriuchi telling the press to make sure they wrote down the number of plays it may just be long-time coach playing mind games with the opposition. Regardless, Kwansei is sure to go for it on fourth down more than often than usual and the Rice Bowl is traditionally the place where the most interesting football of the year is played, even if the X-League sides have had the better of it in recent seasons. It's not only the college teams that rely on trickery however with Panasonic needing a dramatic deep hook and ladder to win last year's game
 In essence though the Rice Bowl can be viewed as a battle pitting superstar players against ultra tight teamwork. This year with a dominant college power trying to translate their success into a win against a newly powerful club side with an aggressive top class defense and a dangerous scrambling QB, half close your eyes and you could almost imagine you are watching Alabama against the Seattle Seahawks
---
2016 December 12th: Tokyo Dome. 30th Japan X-Bowl
Fujitsu Frontiers (16) -v- (3) Obic Seagulls
---
The 30th Japan X Bowl kicks off at 7pm on Dec 12th at Tokyo Dome. Unbeaten Fujitsu Frontiers face Obic Seagulls (also 8-0) in a repeat of the 2013 final.
Despite the rising level of play and increasing parity in the X League over the past few seasons, Monday's game will continue a run of eight years with one or both clubs reaching the final.

Fujitsu will be making their fourth appearance in a row but have a dismal 1-6 overall record in the big game. Obic are back for the first time since their own four straight titles from 2010 to 2013. The Narashino-based outfit always seems to step it up on the big stage and their eight championships is a record in Japan. In fact their only loss in the X-Bowl came 21 years ago, back when they were still known as Recruit.
Despite that however Fujitsu go into the final as slight favorites. In a Facebook poll of Japanese fans, 51% picked the Frontiers to win. On Twitter it was 57%. The semi-final results probably account for that edge with Fujitsu putting up 28 points against a fearsome IBM pass-rush and Obic only overcoming Panasonic 9-6. Monsoon-like conditions in Osaka for that game however played a large part in such a low score with Seagulls DE BJ Beatty describing the scene as "movie-like".
Obic's Jerry Neuhiesel struggled in the rain but the rookie QB has been showing more and more command of the offense as the season has progressed. On going up against the Frontiers he said "It's my first year but as soon as I got here everyone said Fujitsu Fujitsu Fujitsu so for me it's exciting to finally get a chance to play them" The ex UCLA man will face his biggest challenge in the X League to date however as, according to Frontiers DB Al Rilwan Adeyemi, the Frontiers have "playmakers at all levels". That starts up front where Trashaun Nikon jointly led the league with four sacks (for minus 52 yards). Nixon hasn't just been a force in the passing game though. His speed sideline to sideline made it difficult for any team to gain ground with outside runs.
If Obic have to air it out they won't find the going much easier as CB Adeyemi also led the league, with three INTs returned for 99 yards and a TD. The University of Diego State product plays with intensity. That baller style saw him break a tooth and get concussed early in the semi final but he is is going through the protocol and is confident of being back for the big showdown.
 One unique challenge that the Frontiers back end will have to deal with though is Obic's heavy use of two (and sometimes three) very different quarterbacks in a game. Neuheisel shares playing time with Shun Sugawara and Takushiro Hata
When Fujitsu has the ball it'll be up to Obic pass-rushers Beatty and veteran Kevin Jackson to try and slow down Colby Cameron. The former Carolina Panther has been nothing if not clutch this season. His final drive to get the Frontiers into position to kick the game winning FG in the semi final was a thing of beauty.
"When that guy gets in a rhythm it's hard to stop" according to Beatty "[We have to] just try and limit him as best we can. You can't completely stop him [but] you can't let  him completely take over."
Cameron's most dangerous weapon is probably wideout Clark Nakamura. The Nihon University man isn't the tallest but has been making spectacular leaping plays all season. Apart from his ability to get up, strong hands and a laser-like focus mean even with two or three defenders around him in tight coverage he usually comes down with the ball.
Beatty has confidence in his teammates though and senses something different this season. "For our defense [in the Panasonic game] there was just one point where we clicked. It was almost a moment of who we are as a team. I don't know if last year if we were that situation what happened would have happened. Guys fought to the end. Everybody was locked in."
The 30th X Bowl is a fascinating matchup given added intrigue by the fact the Frontiers and Seagulls didn't meet in the regular season. Monday night is likely to see a game that comes down to the wire. Will Obic extend its win streak in the final or will Fujitsu step up on the big stage?
Adeyemi said both teams have shown the ability to come through adversity. "I think at the end of the day in football you have to find a way to just strap it up and finish. Both teams in the semi final did a good job of finishing and that's why you have the two best teams playing in the X Bowl"
---
2016 November 27th: Fujitsu Stadium. Japan X-Bowl Semi-Final
Fujitsu Frontiers (28) -v- (26) IBM Big Blue
---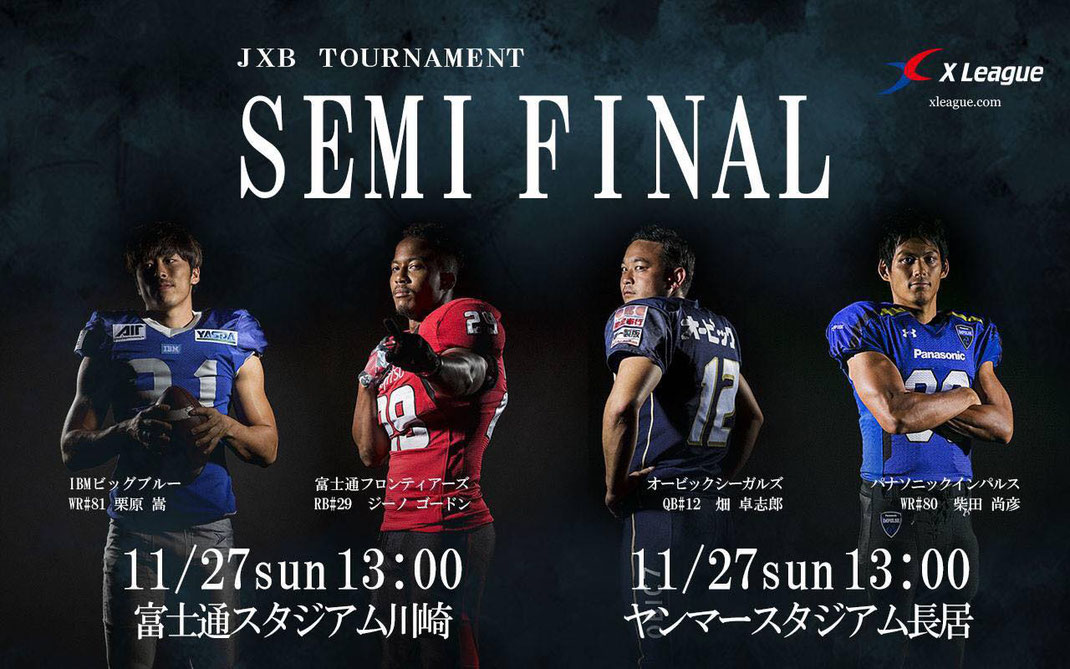 The semi finals of the Japan X Bowl kick off simultaneously this Sunday in Kawasaki, where IBM Big Blue face Obic Seagulls, and Osaka, with National Champions Panasonic Impulse taking on the team they beat in last year's final, Fujitsu Frontiers.
The games get underway at 1pm local time and feature arguably the top four teams in the country all year.
Both Obic and Fujitsu went unbeaten in the regular season before blowing out their respective opponents in the quarterfinals, but on Sunday it wouldn't be a huge upset to see either team lose as Panasonic and IBM are also coming in on hot streaks.
The Osaka game takes place in the almost 50,000 seat Yanmar Stadium, an arena which has hosted both Olympic and World Cup events in the past.
Obic, despite having the better record and being the number two seed are forced to travel to Kansai for the matchup. The Seagulls haven't been back to the X Bowl since their record fourth straight title in 2013 but seem confident ahead of this weekend's eliminator. Defensive End Kevin Jackson told Inside Sport that playing "the defending champions on their home turf [is] a challenge but we've done a pretty good job of preparing so I'm just excited to get out there and hopefully get that W"
Panasonic's only loss this season came to unbeaten number one seed Fujitsu back in week four but apart from that game (and a crazy last five minutes against Lixil) they've been dominant on defense, pitching two shutouts and holding opponents in the other games to an average of six points. With Obic scoring almost 30 points a game, something's gotta give on Sunday. On the other side of the ball, much will depend on whether Obic's dominant pass rusher BJ Beatty lines up opposite Jackson or not. Beatty was in pads on the sideline but didn't take part in the action during the quarterfinal. When both men are on the field it causes all kinds of problems for opposing offences and if he is out again this game it will be a huge boost to Impulse. Beatty says there is no chance of that happening though declaring himself "100% ready to go" and "excited to get back out there", adding that he could have gone in [against the Finies] if needed 
The second semi final also features a dynamic pair on the D-Line in IBM's James Brooks and Rykeen Yates. Brooks came back from several weeks out to play against Lixil in Yokohama on November 12th but it was Yates who set the tone that day, blowing up play after play to help Big Blue stay in the hunt for their first ever title. If Brooks has shaken off the ring rust it could be a long day for Fujitsu QB Colby Cameron.
When IBM has the ball it'll be a similar story as the Frontiers with game-changing OLB Trashaun Nixon led the league in scoring defense. Nixon has a nose for the ball and has returned fumbles for scores in both the Pearl Bowl and the regular season this year. The matchup against IBM's bruising halfback Sueyoshi will be one to watch. With snow falling in Tokyo on Wednesday and rain forecast for gameday the ability to run the ball and stop the run will likely be the key factor that decides the game.
Fujitsu will be most people's pick to win this game but Big Blue according to TE John Stanton "are hitting our stride at the right time". Stanton also feels that this team is more well-rounded in attack which allows them "to be more unpredictable and able to put up points against good defenses."
That's something Fujitsu DB Al Rilwan Adeyemi agrees with saying "[IBM] have weapons on all 3 levels of offense, their quarterback play this year has been helped tremendously by the ability to move the ball with their really good backs in [Takagi] and [Sueyoshi]. And on the receiving end of those passes are really good receivers that do a good job getting open in the seams and run after the catch."
Adeyemi though thinks that the fact that the winner plays in the championship game will keep everyone focused and his teammate WR Clark Nakamura added that the team has practiced well and now it's just a matter of executing on the field. For Nakamura the key to the game will be not allowing Brooks and Yates to distrust the offense's tempo. According to the wideout, If they can find a way to slow the two Americans down and avoid mistakes they will win.
---
---
2016 November 12th: Yokohama Stadium. Japan X-Bowl Quarter-Final
IBM Big Blue (37) -v- (16) Lixil Deers
---
2016 November 12th: Yokohama Stadium. Japan X-Bowl Quarter-Final
Obic Seagulls (35) -v- (0) Kobe Elecom Finies
---
2016 November 12th: Yokohama Stadium. Japan X-Bowl Quarter-Final
Fujitsu Frontiers (42) -v- (6) Asahi Soft Drinks Challengers
Fujitsu Frontiers (42) - (6) Asahi Soft Drinks Challengers
#9 Darwin Rodgers (TE) Post-Game Interview.  
Fujitsu Frontiers (42) - (6) Asahi Soft Drinks Challengers
#23 Paul Porras (DB) Post-Game Interview.  
---
Chris Boswell, The Pittsburg Steelers kicker who botched a rabona attempt last weekend against the Baltimore Ravens actually succeeded with a similar kick in 2013 when playing for Rice against Houston.
Paul Porras, the safety who recovered that kick will line up this weekend for Asahi Soft Drinks Challengers when they take on powerhouse Fujitsu Frontiers in the quarterfinals of the Japan X Bowl.
Porras is just one of many Americans with NFL or Div. 1 experience plying their trade in the Far East. Most of them will be on show south of Tokyo on Saturday as three of the four quarterfinals take place in Yokohama Stadium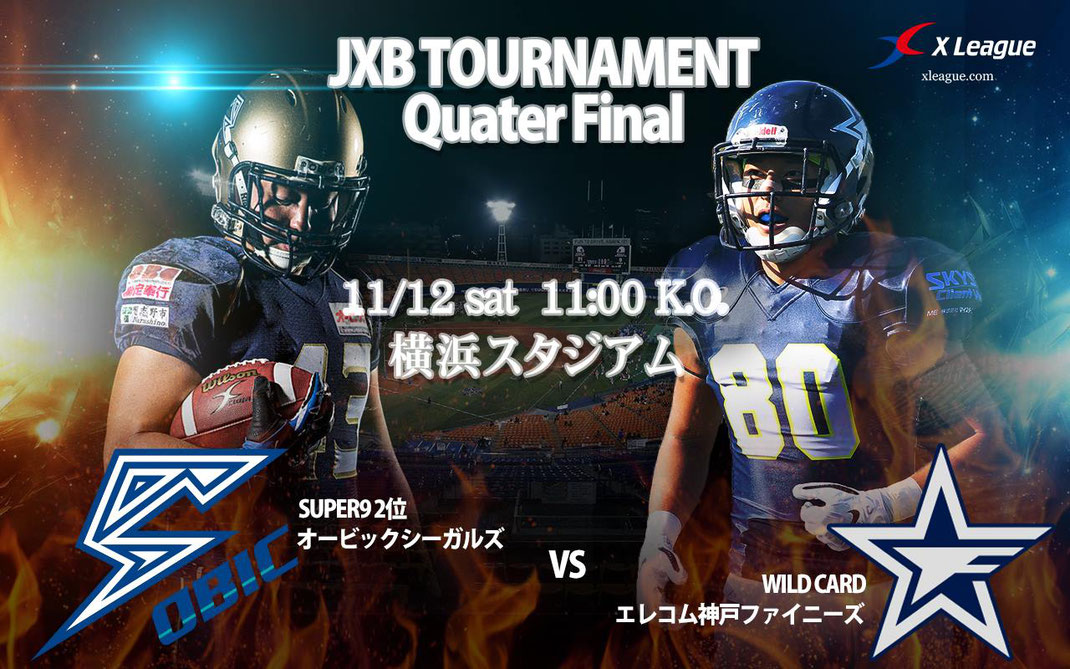 The first game kicks off at 11am Japan Time and features unbeaten Obic Seagulls against wildcard winner Kobe Elecom Finies. This is Obic's second straight game against the Finies as they beat them 20-14 in October to finish the regular season 6-0. For Obic DL Byron Beatty that fact allows the Seagulls to "adjust to what [Kobe] did against us [and] take away the plays that they were successful with against our defense." With former UCLA QB Jerry Neuheisel looking more comfortable by the week, Obic will be heavy favourites to win again and go through to the last four. Kobe however won't be overawed as they were still in the October game right until the end and actually were driving for the go-ahead TD late in the fourth quarter before an INT ended their hopes. For Beatty though the fact that the Finies "have played in 3 weeks straight and with little time to practice" give Obic an edge saying "the bye week helps us, gives us time to rest up and let guys come back from injuries"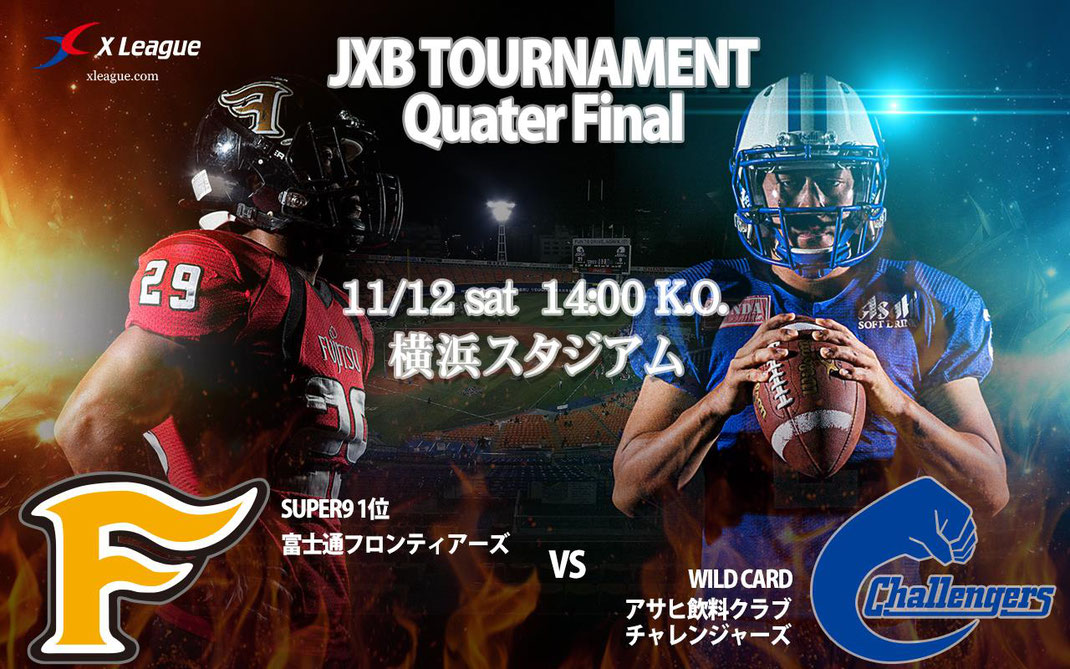 In the afternoon game top seed Fujitsu Frontiers face wildcard winner Asahi Soft Drinks Challengers. The Challengers win over Silver Star in game five got them into the playoffs but they weren't able to beat any other top division team in the regular season. The biggest reason for that was their inability to score points against stronger defenses. That'll be a challenge against a rested and well-prepared Fujitsu. It's going to take a complete team effort according to DB Paul Porras who said that in order to win the Challengers "will need to put pressure on [Fujitsu QB Colby] Cameron, win the turnover battle,score touchdowns not settle for field goals and be more consistent on special teams". Frontiers players are focused and not looking past this weekend. Cornerback Al Rilwan Adeyemi pointed out the fact that "the challengers are a very good running team and with the way the game is setup with 12 minute quarters, we've got to do a very good job stopping the run or else we'll have a very tough day". Star RB Gino Gordon agreed saying  he has "a lot respect for the Challengers. They had a real tough road to get here . We are definitely not underestimating them at all. I think the Challengers are a team that plays really hard to the ending whistle. They push teams to play their best football the whole game. I think it will be a battle in all three phases of the game." Fujitsu though like Obic have had an extra week to prepare and Adeyemi said that the Frontiers have had a good week of practice and are ready" adding that he is "confident in our coaches and our team's ability to go out and execute the game plan".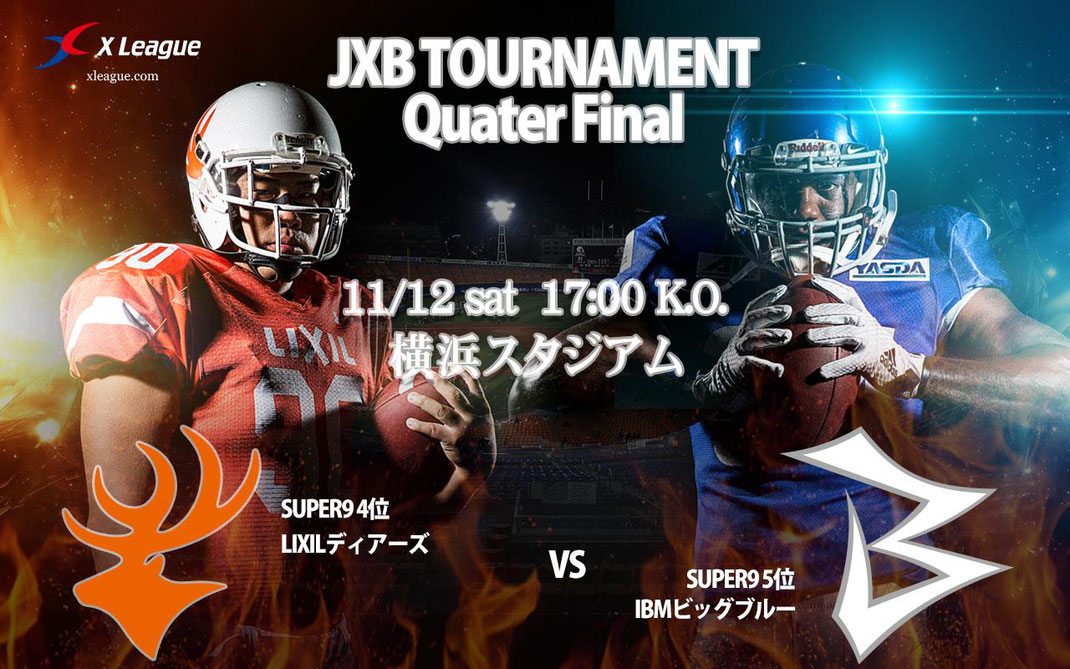 The final match of the day (which kicks off under the lights at 5pm) also promises to be the most exciting. Lixil Deers meet their Pearl Bowl final conquerors IBM Big Blue yet again. In that game DL James Brooks batted down a Shohei Kato 2-point attempt on the game's final play to give IBM their first ever title. The Deers have had the best of recent games against IBM however, knocking Big Blue out of this competition last year and winning 52-48 on a TD with the final play of the game in week 3 this year. Even that pales in comparison to the 69-54 slugfest they dealt up in the 2014 playoffs. Former UCLA QB Kevin Craft threw nine TDs that day and with standout TE John Stanton and WR Takeshi Kurihara stretching the field expect to see plenty of points again this weekend. According to IBM TE John Stanton "game-planning definitely becomes more difficult" when playing the same opponent so often in a short period of time. Stanton is a focal point of the IBM attack and Lixil know all about the threat he poses, especially in the red zone. That familiarity according to Stanton means that "when it comes down to making winning plays I think it's more about execution than scheme. We both know what to expect, but can you beat the guy in front of you to make a big play in the critical juncture of the game? We expect great competition from them [but] we are aiming for the top and they're standing in the way. Win or go home; simple". 
Lixil QB Shohei Kato led the league in passing attempts, completions, yards and TDs and the Deers can score at will when they get going. They have made a habit of winning games with stunning comebacks so even though it's the late game don't expect to see anyone heading home early.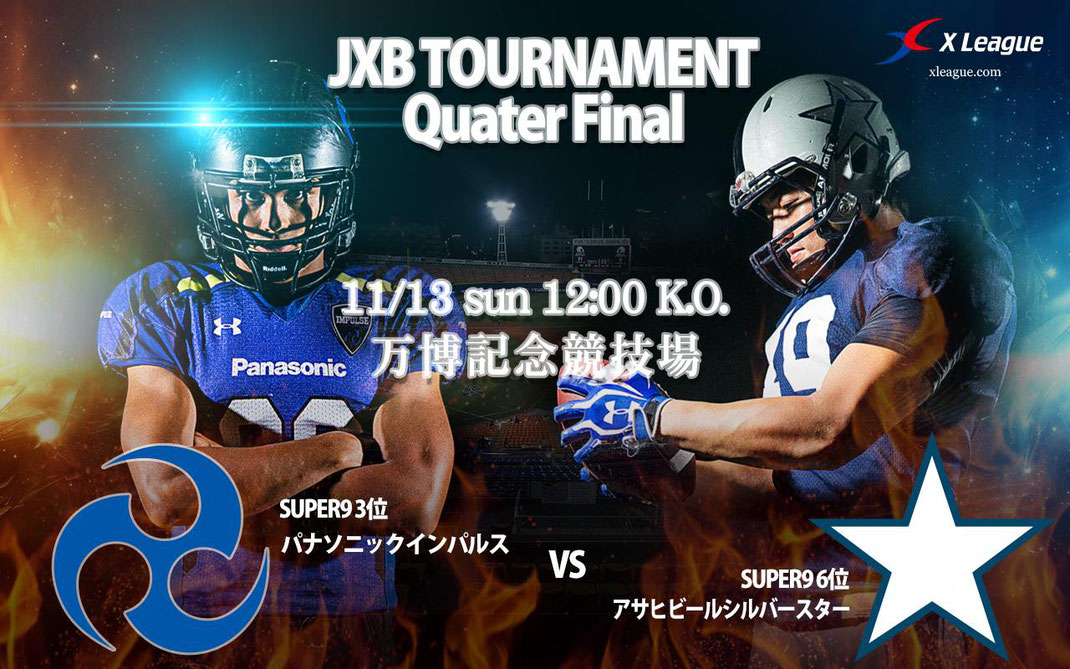 On Sunday the only game played in a different venue this weekend sees National Champion Panasonic Impulse take on wildcard winner Asahi Beer Silver Star at Expo '70 Stadium in Osaka. Panasonic finished third in the standings but are many people's favourite to go all the way again this year. Despite a scare in the last week of the season when they allowed Lixil to score three late TDs and almost steal the win, Impulse players when approached were taking a positive view of that game with DB Emory Polley calling it a "well deserved wake up call" and saying Panasonic "know we need to bring it all 60 minutes from here on out" Others talked about not allowing Silver Star QB Mason Mills time to do damage. OL Edmond Davis said he has "a lot of respect for Mills…….he's really a special player." However for Davis the way to "make [Mills] less effective is by keeping him off of the field……control the clock and finish every drive with points". Mills threw for 12 TDs in six games, a number only surpassed by Lixil's Shohei Kato (who threw twice as many interceptions). Unless the Impulse get to the QB early and often an upset could be on the cards. It's a fact that Panasonic are aware of with guard Scott Duffy saying "We know that Silver Stars are not the same team we beat 38-14 last year. Even without Roman Wilson this year, they are a better team and we can not take them lightly." That doesn't mean Panasonic players are worried though. Davis claimed the Impulse had their "best week of practice so far" and DE Carlton Jones said the key is simply "to play a complete game" adding "The Lixil game showed us that. Other games as well. We didn't play to our full potential. We managed to win all except the Fujitsu game but I feel that if we played a complete game we should have won by a considerable amount."
- John Gunning: Nov 11th 2016
---
2016 October 30th: Yokohama Stadium. Regular Season Week 6.
(3-3) Asahi Beer Silver Star (38) -v- (8) Tokyo Gas Creators (3-3)
---
2016 October 30th: Yokohama Stadium. Regular Season Week 6.
(2-4) Nagoya Cyclones (14) -v- (13) Metropolitan Police Eagles (2-4)
---
2016 October 30th: Yokohama Stadium. Regular Season Week 6.
(5-1) Panasonic Impulse (34) -v- (31) Lixil Deers (4-2)
---
2016 October 23rd: Fujitsu Stadium Kawasaki. Regular Season Week 5.
 (5-0) Obic Seagulls (24) -v- (23) IBM Big Blue (2-3)
---
2016 October 8th: Fujitsu Stadium Kawasaki. Regular Season Week 4.
 (3-1) Lixil Deers (52) -v- (48) IBM Big Blue (2-2)
---
2016 September 25th: Frontier Soccer Field Narashino. Regular Season Week 3. 
 (3-0) Obic Seagulls (27) -v- (13) Lixil Deers (2-1)
---