---
The 2018 Top League Season kicks off Friday, Aug 31st with a couple of noticeable changes from last season. 
Firstly, the number of foreign players that coaches can include in their match-day squad has been increased to six - something that will certainly raise the bar of both playing skills and spectacle. 
The second major change is that the new league format has been shortened in order to accommodate national team players' preparations for next year's Super Rugby and World Cup. 
The last day of competition is to be Dec 15th on which the league and All-Japan Champion will be determined.
The league has been divided into two conferences (Red and White) consisting of eight teams each. Defending champion Suntory Sungoliath will lead the Red Conference alongside NEC Green Rockets, NTT Com. Shining Arcs, Kobelco Steelers, Toyota Motor Verblitz, Toyota Industries Shuttles, Munakata Sanix Blues and the newly promoted Hino Red Dolphins. 
Heading the White Conference is last year's beaten finalist Panasonic Wild Knights who will compete with Canon Eagles, Kubota Spears, Coca Cola Red Sparks, Toshiba Brave Lupus, Yamaha Jubilo, Ricoh Black Rams, and the second tier Top League Challenge champion, Honda Heat. 
The pool games will run through to Oct 20th with each side playing the other seven teams in their conference. 
Then there will be a break in play for the Top League Cup - a separate competition - before action resumes at the beginning of December. 
After the pool matches, there will be three play-off rounds between Dec 1st and 15th to decide the final placings of all 16 teams as well as the 2018 Top League and All-Japan Champions. 
For the opening round, there will be four matches played on Friday night and four more on Saturday including two double-headers to be played at Tokyo's Chichibunomiya stadium and Toyota Stadium in Aichi prefecture.
---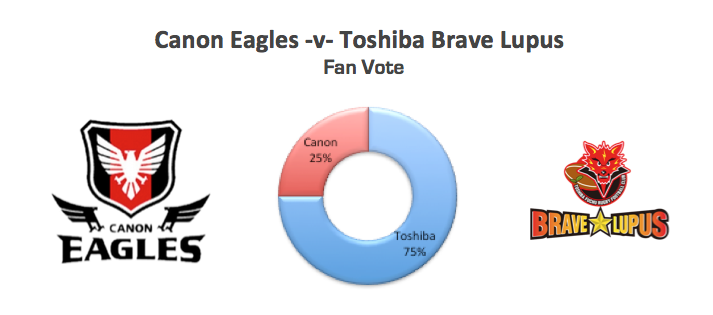 2018 August 31st (Fri) – Chichibunomiya Tokyo (19:30)
(White Conference)
These two Tokyo-based rivals have played each other just five times since the Top League began in 2003, with the Brave Lupus winning all five matches. 
Each game though has been a tight affair with Toshiba never winning by more than six points. The average score when these two teams meet is Canon 18, Toshiba 22. 
This season, the Alister Coetzee-coached Eagles have brought in some high-caliber players.
Full-back Israel Dagg who plays for Super Rugby Champion Crusaders and the All Blacks, makes his Top League debut. 
Joining him on the wings are the Saumaki brothers, Amanaki and Hosea Saumaki. The latter, known as the "Tongan Godzilla",  enjoyed a successful, bulldozing campaign in the most recent Super Rugby competition for the Sunwolves. Coetzee who coached Cape Town-based Super Rugby side, the Stormers for six seasons and the Springboks from 2016-18 has introduced a number of South African players to his team. Locks Jean de Kerk (198cm tall) and Rynier Bernado (199cms), flanker Philip van de Walt and scrumhalf Fred Zilinga.
In addition, Coetzee has selected four players from the current Sunwolves squad including Ed Quirk, Yusuke Niwai, Yu Tamura and Hosea Saumaki.
Toshiba on the other hand have concentrated their power in their loose forwards. Crowd favorite Michael Leitch is reunited with Sunwolves and Brave Blossoms' teammate Yoshitaka Tokunaga and they join Australian Ross Haylett-Petty and Henco Ventor from South Africa. 
The coveted no. 10 position will most likely be taken by Mike Harris who spent a large portion of his playing time for the Queensland Reds. Also the versatile Coenie van Wyk can play at fly-half or full-back. The captain of the side is ex-All Black and Waikato Chiefs Richard Kahui who will pair up with Johnny Fa'auli also of the Chiefs in the centers. Last season, the Canon Eagles finished in 10th place while Toshiba Brave Lupus came in 6th.  
Prediction:  
Since Brave Lupus are unbeaten against the Eagles, Toshiba should be able to hold off Canon's challenge once again and win by 6 points or less.
---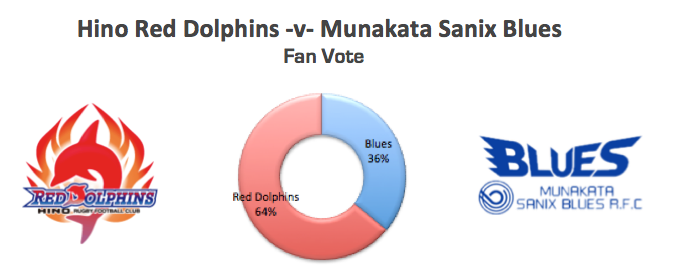 2018 August 31st (Fri) – Machida Tokyo (19:30)
(Red Conference)
The Top League Challenge Red Dolphins were promoted to the Top League after beating the NTT DoCoMo Red Hurricanes 20-17 in a play-off match last season. 
In their first match the Red Dolphins face the Fukuoka-based Munakata Sanix Blues. These two teams have never played each other before. 
The Hino squad has included a number of overseas players from New Zealand, Australia, Tonga and Malaysia. Most notable are ex-Auckland Blues and Sunwolves lock, Liaki Moli and current New Zealand National Rugby Sevens player, Gillies Kaka in the role of fullback. The Blues have a strong squad with front row props John-Roy Jenkinson and Hencus van Wyk both of whom are from South Africa. In the second row, Sunwolves' jumper James Moore teams up with Englishman Geoff Parling. Joining the centers is experienced Sharks player, Andre Esterhuizen with Sunwolves' Jason Emery, and former Hurricanes player Andre Taylor covering the outside backs. Last season the Hino Red Dolphins came second in division two whereas the Munakata Sanix Blues finished towards the bottom of the Top League table in 13th position.
Prediction:
Despite not having home advantage, with so many quality players at their disposal the Blues should beat newcomers Hino Red Dolphins comfortably by 10 points or more.
---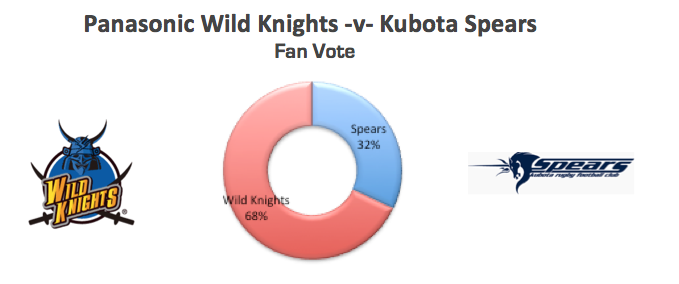 2018 August 31st (Fri) – Kincho Stadium Osaka (19:30)
(White Conference)
These two teams have faced each other 14 times since the Top League started. Panasonic have won 11 and lost three. The average score when these two teams play is Panasonic 32, Kubota 22. Robbie Deans, coach of the Wild Knights has picked the bulk of his team from the Sunwolves and current Japanese national side making it a very strong group of players on paper. The front row has Super Rugby and national team players, Tongan-born Asaeli Ai Valu, and Keita Inagaki with New Zealanders Tamura Emerson and Craig Millar in support. The war-horse Shota Horie is once again filling the role of hooker. In the locking department, there are three Australians; Rookie Ben Gunter, ex-Brumbies flanker/lock, Daniel Heenan, and Sam Wykes. Playing in the loose forwards is David Pocock who will join the team after his Wallaby test match playing duties. Another world-class fetcher in the squad is Matt Todd who plays his rugby with the Canterbury Crusaders and the All Blacks. The scrumhalf position is very well covered with both Brave Blossoms' Fumiaki Tanaka and Keisuke Uchida. The backline sees ex-Queensland Reds and Crusaders' Digby Ioane alongside current Lions center Harold Vorster. The back three all contain speedsters including Kenki Fukuoka and Akihito Yamada of both the Japanese Super Rugby side and national team and fullback Ryuji Noguchi. There has been one setback however for Deans' plans to win this season's competition. During a pre-season match against Australian opposition the Western Force, Panasonic's standout playmaker Berrick Barnes suffered a nasty ankle injury and is expected to miss the early part of the season. His replacement will probably be Rikiya Matsuda who is another Japanese national rugby team player. Kubota Spears coached by South African Frans Ludeke has called in two locks 203cm tall Ruan Botha and 200cm Jean Droste from the Super Rugby franchise the Sharks. Lappies Labuschagne, arguably the best forward for the 2018  Sunwolves, and  former Stormers and current Spring Bok no. 8, Duane Vermeulen strengthen the back three of the forward pack. Sunwolves and Brave Blossoms' center, Harumichi Tatekawa will captain the side and will link up with dynamic South African Gerhard van den Heever from the Sunwolves and ex-Chiefs winger, Patrick Osborne. Last season the Panasonic Wild Knights were unbeaten through the pool stages only to fall at the last hurdle, going down 8-12 to Suntory in the final. Kubota Spears finished 11th.
Prediction:
Panasonic just has too much firepower for Kubota to handle. As a result the Wild Knights should win by 14 points or more.
---

2018 August 31st (Fri) –Universiade Stadium Kobe(19:30)
(Red Conference)
The Kobelco Steelers have played the NTT Shining Arcs a total of eight times. The Steelers have won six, lost one and there has been one draw between the two sides. The average score when these two teams battle it out is Kobelco Steelers 33, Shining Arcs 16. This season the Kobe-based team has managed to sign the most prolific rugby test match point scorer in history, former All Black star fly-half, Dan Carter. 
Carter will make his debut in the 2018 Top League after ending a three-year contract with French club, Racing 92, which he helped win the Top 14 Final in 2016. 
Playing alongside Carter is another extraordinary Kiwi no. 10, Hayden Parker whose kicking success rate of 96% for Sunwolves was the highest in this year's Super Rugby competition. 
Andy Ellis who played 10 seasons for the Crusaders is back at scrumhalf to link up with either of these world-class playmakers. Utility backs ex-Wallaby Adam Ashley-Cooper and Super Rugby Highlander Richard Buckman will shore up the backline and one of the stars of the Sunwolves campaign, Grant Hattingh is at lock. The Shining Arcs have two New Zealand-born players, three Australians and three South Africans. The major talking point is whether Amanaki Mafi a Tongan-born naturalized Japanese will play for the Arcs or not this season. The Brave Blossoms' no. 8 was charged with assaulting another Melbourne Rebels teammate and is presently waiting for the court verdict. Until then, the team from Chiba has announced that they will suspend Mafi until further notice. Last season the Steelers ended up 5th on the table. The Shining Arcs finished 9th.
 Prediction:
Apart from last season's 28-28 draw, the Kobelco Steelers have had the rub of the green over the Shining Arcs in recent years and so should win this by ten points or more.
---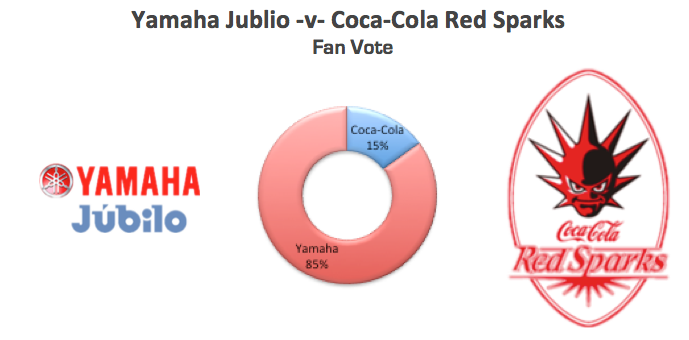 2018 Sept 1st (Sat) – Toyota Stadium Aichi (16:30)
(White Conference)
These two sides have played each other 11 times. Yamaha Jubilo has won eight and lost three. The average score when these two teams meet is Jubilo 36, Red Sparks 16. In the forwards, Jubilo has an all-Japanese front row with towering 208cm Brumbies lock Richie Arnold and Duke Krishman, who is a Malaysian-born Japanese rugby player, in the second row.  Sunwolves and national team lock/flanker Uwe Helu will play alongside Kiwi Mose Tuiali'I and South African flanker Kwagga Smith of the Super Rugby Lions. 
In the fly-half positions Jubilo has several options including ex-Cheetah Niel Marais who can also play at center or fullback. Australian rugby league convert, Matt McGahan is another no. 10 choice for the Shizuoka-based team. There are two more South Africans in the side, Gerdus van der Walt at center and Gerrie Labuschagne on the wing. The hero of Japan's famous World Cup victory over South Africa, Ayumu Goromaru is at fullback. The Red Sparks have included some Sunwolves and Brave Blossoms' players in their squad for this season. The captain Timothy Lafaele can play at either center or fly half and Will Tupou, who played center, winger and full-back for the Japanese Super Rugby team. In the locks, New Zealander Mark Abbott played 32 games for Super Rugby side, the Hurricanes. The loose forwards include three Kiwi flankers and in the backs there are two more New Zealand-born fly halves and a fullback. Last season, Yamaha Jubilo placed 3rd while the Coca-Cola Red Sparks finished 14th.
 Prediction:
Although the Red Sparks have strengthened key areas with quality players, Yamaha Jubilo should be too strong and comfortably win by 14 points or more.
---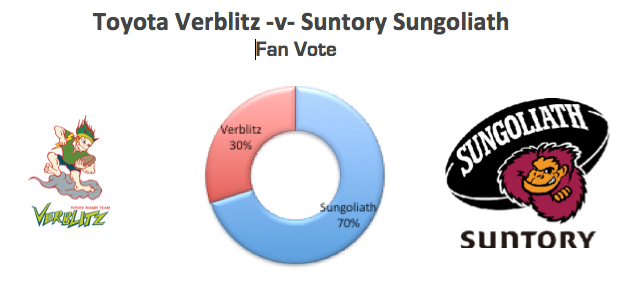 2018 Sept 1st (Sat) – Toyota Stadium Aichi (19:00)
(Red Conference)
These two teams have met 14 times. Toyota Verblitz have lost 12, won one and drawn one. The average score when these two teams play is Toyota 16, Suntory 32. 
Coached by experienced South African Jake White, Verblitz has added seven South African players, two New Zealanders and a Tongan to the ranks.  Former Cheetahs player Reniel Hugo, Bulls team member Jason Jenkins, and the first New Zealand- born player of Indian descent Shneil Singh, all provide cover at lock. 
Another Bulls player, Jannes Kristen will play as flanker and versatile Lionel Cronje, who can play both scrum-half and full-back, and ex-Stormers full-back Gio Aplon complete the back three. 
Suntory Sungoliath the defending champion has a largely unchanged team from last season. In the front row, Kensuke Hatakeyama has 46 caps for the Brave Blossoms under his belt. He is joined by Sunwolves prop Shintaro Ishihara. Australian Jordan Smiler and Kiwi Joe Wheeler make up the locks and former Wallaby flanker Sean McMahon and New Zealand-born Japanese national, Hendrik Tui are a part of the loose forwards unit. 
Sunwolves and national team scrum-half Yutaka Nagare remains as captain and he will pair up with excellent playmaker Matt Giteau who has made 100 test appearances for Australia. Ryoto Nakamura returns to the center after experiencing Super Rugby with the Sunwolves and international rugby with the Brave Blossoms. Taking the full-back position is another Sunwolves and national team player, Kotaro Matsushima. Last season, Toyota Verblitz came 4th and Suntory Sungoliath won a gripping final against archrivals Panasonic to take the Top League title.
Prediction:
With Verblitz having such a poor record against the team from Tokyo, home advantage will not come into play. The defending champions should beat Aichi-based Toyota by 10 points or more.
---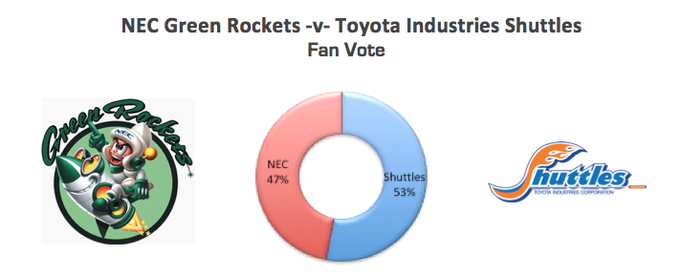 2018 Sept 1st (Sat) – Chichibunomiya, Tokyo (16.30)
(Red Conference)
These two teams have gone head to head in a total of seven matches. NEC has won six and lost one. The average score when these teams meet is Green Rockets 29, Shuttles 17. NEC sports a largely all-Japanese squad with a sprinkling of foreigners. Those include Australian Sam Jeffries who plays lock for the Melbourne Rebels and Fijian lock Sanaila Waqa. 
Samoan-born George Risale is the only non-Japanese loose forward. Stephen Donald famous for booting over the penalty that secured the All Blacks victory over France in the 2011 Rugby World Cup final is one of three fly-half choices. NEC also has New Zealander Amanaki Savieti and Fijian Maritino Nemani in the side. 
The Shuttles have brought in six Australians, three Tongans and an Englishman to strengthen the team. Lock Cadeyrn Neville from the Melbourne Rebels, Australian openside flanker Scott Fuglistaller, and former ACT Brumbies loose forward, Peter Kimlin. New boy Jono Hickey from New Zealand currently plays cricket for Northern Districts as well as scrumhalf for the Shuttles. 
In the no. 10 position Australians Sam Greene of the Queensland Reds and Christian Lealiifano of the Brumbies are two more options. At outside center, England-born Ben Saunders teams up with Tongan international player Tevita Taufu'i. Last season the Green Rockets were 8th on the table whereas the Shuttles finished on 12th position.
Prediction: 
Even though NEC has home advantage, the Shuttles look the stronger team on paper. An upset is on the cards. The Toyota Industries team should win by less than seven points. 
---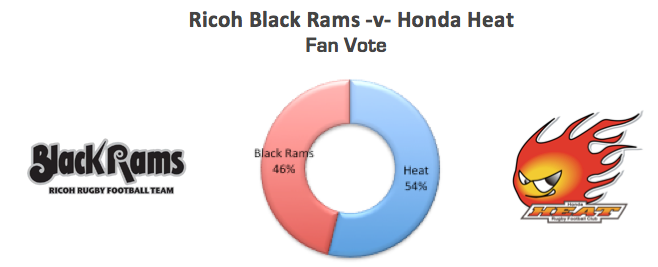 2018 Sept 1st (Sat) – Chichibunomiya, Tokyo (19.00)
(White Conference)
These two teams have played each other four times. Ricoh has won three and lost one. The average score when these two teams meet is the Black Rams 32, the Honda Heat 12. Former Wallaby Matt Cockbain, coach of the Tokyo-based Ricoh, has drafted Kiwi and Sunwolves prop Alex Woonton as well as New Zealand hooker Joshua Mau into the front row. In the loose forwards, another New Zealander Colin Bourke joins New Zealand-born Japan international Michael Broadhurst. 
The backline sees a mostly Japanese outfit with the exceptions of Korean Kim Sung-gu at center, Fijian Netani Vakayalia on the wing and Sunwolves and former Highlander fullback, Robbie Robinson. For the newly promoted Honda Heat based in Suzuka, Mie prefecture, Sunwolves and national team member, Koo-Ji-won props up the front row. In the second row, Josh Bekhuis a former Highlanders player will play alongside RG Snyman of South African Super Rugby franchise, the Bulls. 
The loose forwards contain three players from the Pacific Islands plus another Bulls player Deon Stegmann. New Zealander Bayden Kerr formerly of the Auckland Blues is one of the fly-halves and Highlander Shaun Treeby gets a shot at center. On the wings is the dangerous Lomano Lemeki who represents both Sunwolves and the Brave blossoms while on the opposite wing is Queensland Reds Chris Kuridrani. 
In the fullbacks, former Brumbies Aidan Toua makes a return to rugby after injuring his ankle in 2017. Last season, the Ricoh Black Rams came 7th in the Top League and the Honda Heat were Division two Top League Challenge Champions. 
Prediction:
The Honda heat have brought a strong team to this years' competition and intend to stay up. The Heat should win this by seven points.