It's Suntory Time (Again)
---
Sungoliath Hold On To beat Panasonic In Gripping All-Japan Final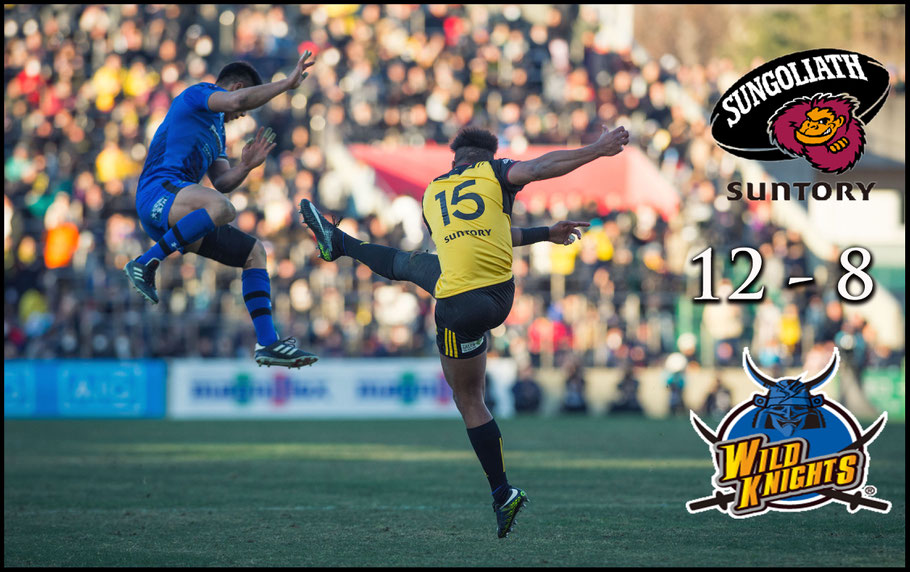 Suntory Sungoliath, defending All-Japan and Top League champions, edged Panasonic Wild Knights 12 - 8 in front of 23,416 fans at Prince Chichibu Memorial Rugby Ground on Saturday.
Suntory outscored Panasonic two tries to one and just held on at the end against a furious Panasonic assault. Wild Knights left it too late though and that, coupled with a tremendous defensive display meant Sungoliath are champions for the fifth time in the last eight years.
"I think today was the best match of the season. All year we trained harder than any other team and with this challenging game our confidence really showed. That was truly a wonderful performance," said Keisuke Sawaki, the Suntory coach.
Yutaka Nagare, Suntory's half-back and captain, agreed with his coach's assessment.
 "It was a really tough game but we were really confident that we could go the full 80. The team's spirit was strong. We all wanted to win all through our training this season. I am very happy that we have won the championship as a result."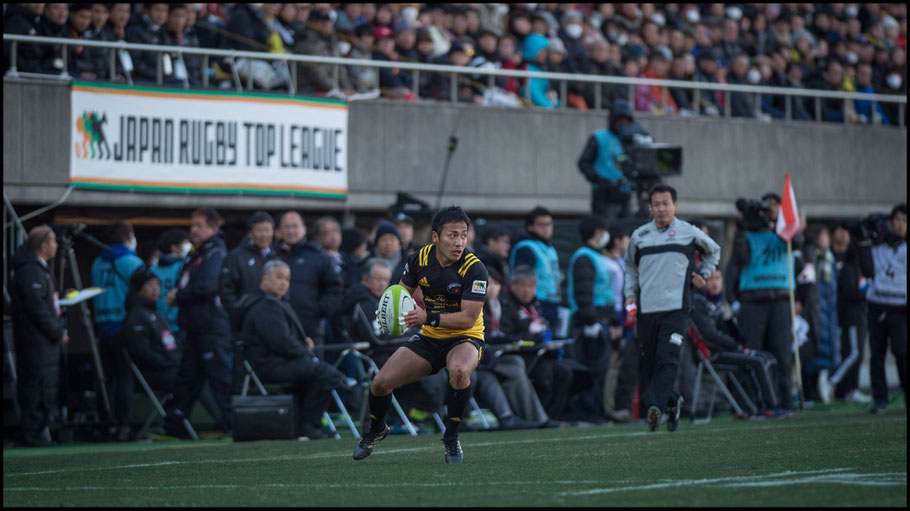 Although low scoring, the game was riveting from start to finish as each team sought to run the ball, but superb line speed in defense and all out tackling ensured a tight tactical battle. In the end it was Suntory who took their chances, sending Panasonic to their first loss of the season.
"They're a fantastic group of men who've really done the club proud. They came to play rugby and came up short today but still contributed to what was a great game, a great final," said Robbie Deans, the coach of Panasonic.
In the opening exchanges, Suntory had the better territory but their attacks were thwarted by some outstanding defense from Panasonic. It took a clever kick through two defenders by number 10 Matt Giteau to set up outside center Ryoto Nakamura close to the line for an easy try. With the added conversion, Suntory were up 7 - 0 after five minutes.
Panasonic needed a response and they got one in the eighth minute when Daniel Heenan barged over from close range.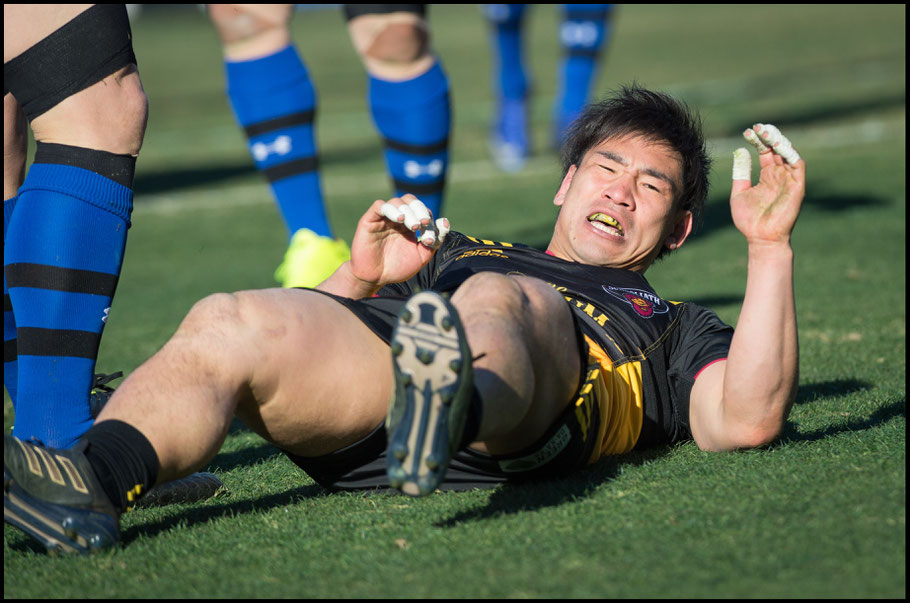 Wild Knights were a man down at that stage as Berrick Barnes had been injured in back-play. Barnes' replacement, Takuya Yamasawa was unable to convert and the score remained 7 - 5 until the 32nd minute.  
After Giteau and Nakamura combined well down the left flank to advance into Panasonic's 22, Suntory managed to spread it wide where Giteau, again in the thick of things, threw a perfect cut-out pass to inside center, Shoto Emi, who did well to plant the ball down just inside the corner flag with two defenders on him. Giteau's conversion from the side was unsuccessful, hitting the post as he had done with his penalty attempt straight out in front three minutes earlier meaning the teams hit the changing sheds with the score at 12 - 5.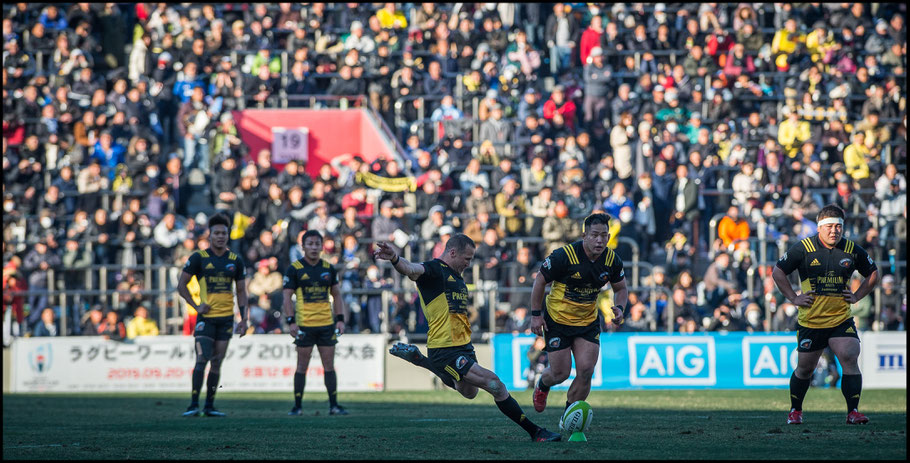 Panasonic were further hampered when David Pocock was sent from the field towards the end of the first half for a Head Injury Assessment test which he failed. He was replaced during half time.
"Once Pocock went off, we were able to take control of the breakdowns more easily," said Sawaki.
The second half started with a roar as Wild Knights pushed for their second try. However wave after wave of Panasonic attack was met with stiff resistance from Suntory who were always able to clear their lines. Kotaro Matsushima, Suntory's fullback had a blinder as he weaved, spun or kicked Suntory out of trouble time and again.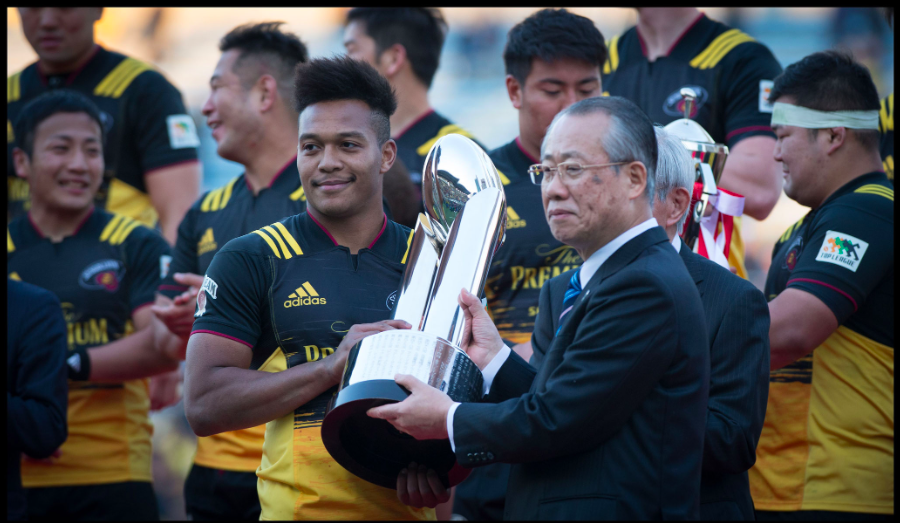 In fact, the scoreboard wasn't troubled until the 54th minute when Yamasawa slotted over a penalty awarded for Suntory not rolling away at the breakdown. That reduced the deficit to four points but would turn out to be the only score of the second half. That didn't stop the last quarter being a tense and exciting battle however.
"We've had many pressure games like this one all year" said Sawaki. "Through great management and hard work, the boys didn't panic and the communication was great."
Panasonic had chances but couldn't convert, losing possession at crucial times while deep in Suntory's half. With nine minutes remaining, the momentum shifted to Suntory as they started to pummel the defensive line of Panasonic. Without making much headway, the plan was obviously to wind down the clock but with 30 seconds left Panasonic managed to gain possession. An attacking line out 30m from Suntory's goal line resulted in another penalty against Sungoliath. This time Yamasawa kicked to the corner. Panasonic's last chance to snatch victory from the jaws of defeat wasn't to be however as the ball was knocked on from the ensuing lineout and the final whistle blew.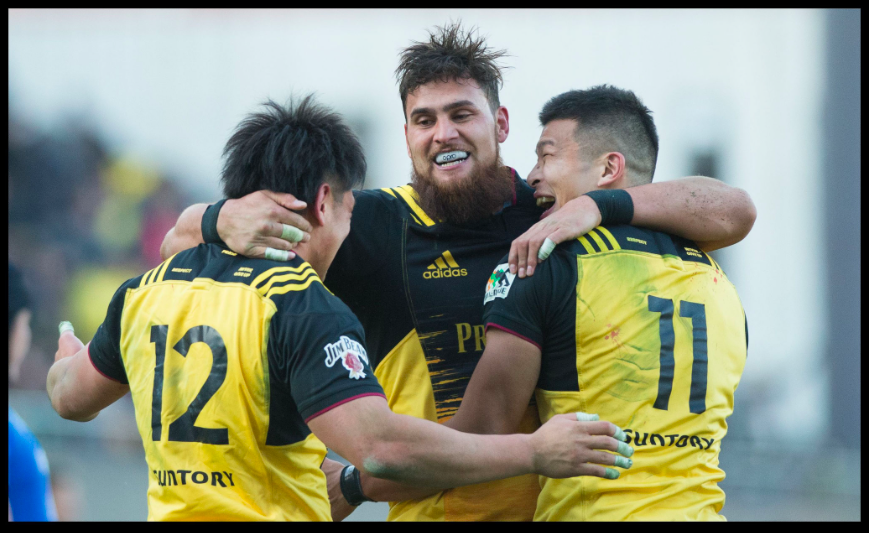 As the losing side's coach, Deans could take several positives from the match.
"You saw out there today some great Japanese rugby. The future looks bright, the future looks great for what's coming. Without a doubt, today's encounter was at a level that was beyond anything we've experienced before."
"The level's going up which will inevitably transfer to the international arena if it hasn't already."
The Suntory captain echoed those comments.
"That was an international standard game and great for Japanese rugby."
The game marked the end of the 2017-2018 Japanese Top League season and now focus turns to the upcoming Super Rugby season and a Sunwolves team that will be out to prove Japanese rugby is on the up.
- Todd Phillips: January 13th 2018