---
Popular Backrower Discusses The Sunwolves, Injury and The Future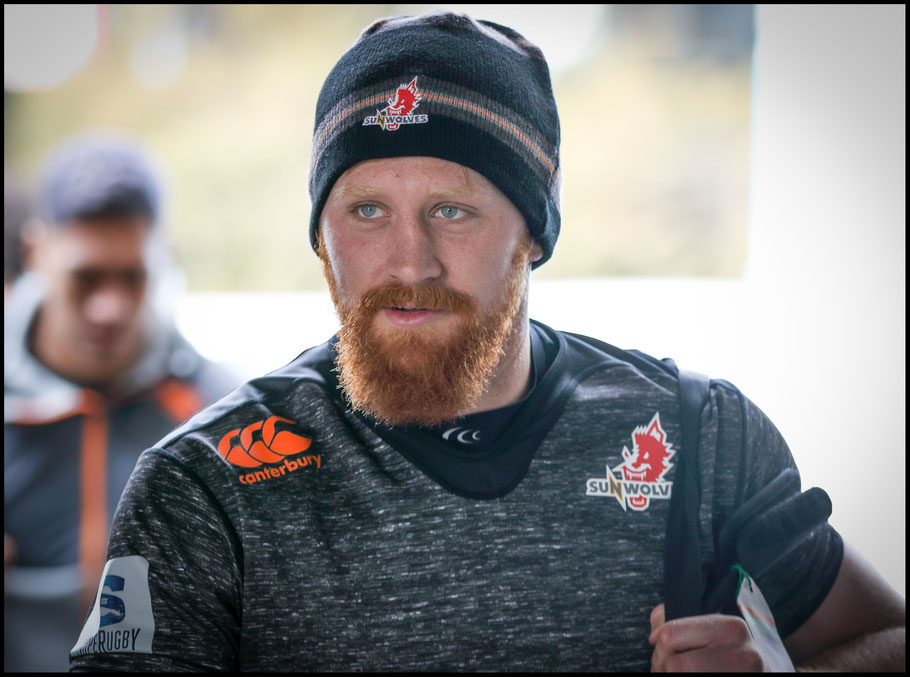 It's been over an hour since the game finished. The Sunwolves, playing at home against the Melbourne-based Rebels, just got their tails handed to them with the Australian side racking up eight tries to one in a 52-7 demolition of their Tokyo hosts. 
Yet behind the barricades, near the stadium entrance, a small crowd of fans waits, hoping to catch their favorite players. The supporters, in team shirts and hats, are still waving their red, orange and black wolf flags, full of smiles despite their team's subpar performance on the field. Minutes later their eyes light up, as a familiar figure wearing a knee brace walks towards them. He is flanker Ed Quirk the only non-Japanese player to have played all four seasons with the Sunwolves.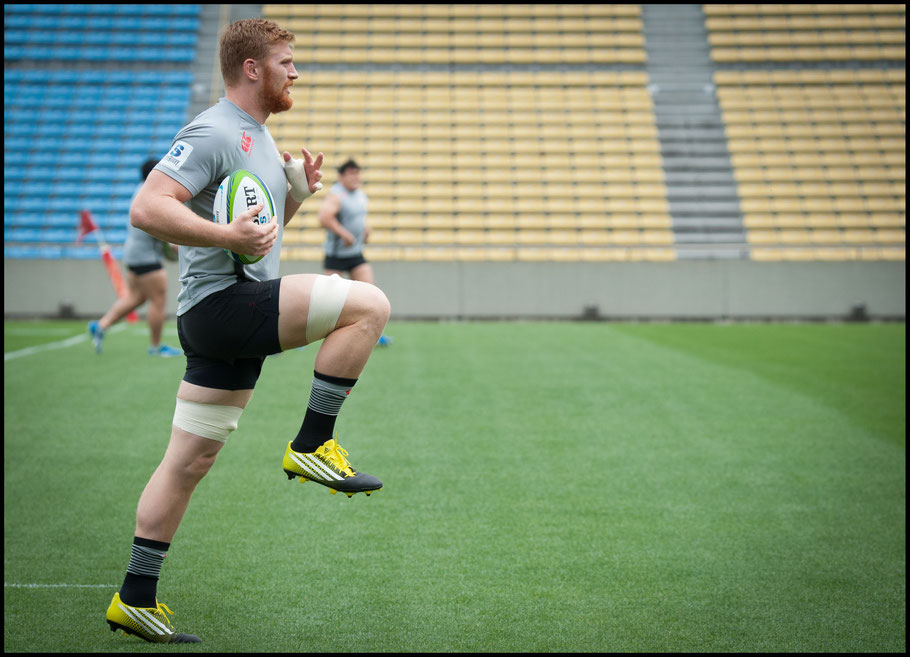 "As a foreigner it's something I've been lucky to do and I've been very lucky to be a part of each season. What I put it down to is maybe good luck I guess but it's something that I've really appreciated and really cherished and that to see the team being out next year is obviously sad."
Quirk is clearly popular among the fans, perhaps because of his unrelenting commitment to his team or maybe because of his nature. Warm, humble and gracious, Quirk possesses qualities the Japanese can certainly find resonance with.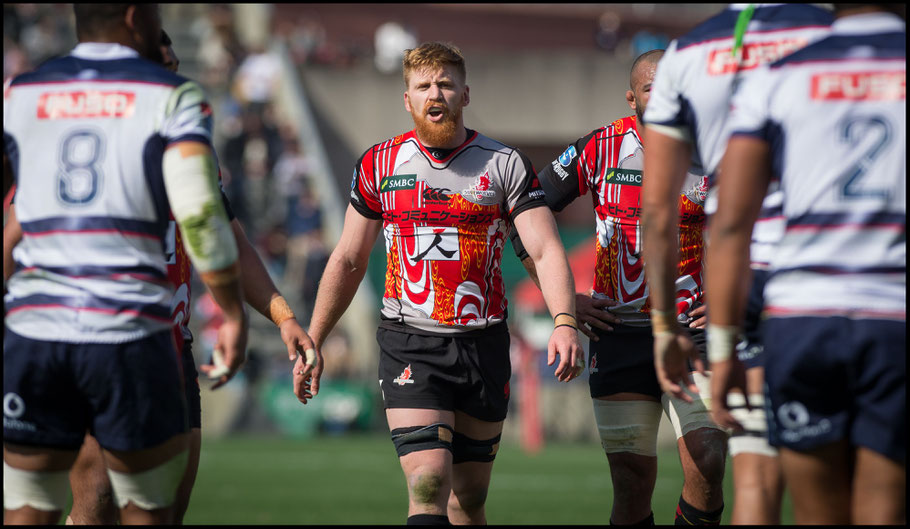 The Brisbane native's rugby career kicked off in 2010 when he joined hometown side the Reds. After playing six seasons with the Queensland team and earning 13 caps for the Australian sevens, Quirk joined the Mark Hammett coached Sunwolves in 2016 and has never looked back. 
"The first year for me - came off a big year of injury with the Reds, and Mark Hammett just instilled rugby back into me. Him and Filo Tiatia were just so relaxed and told me, "Mate, you're a good footy player. Just do your thing. There was no onus on pressure of performance or anything and I just thrived."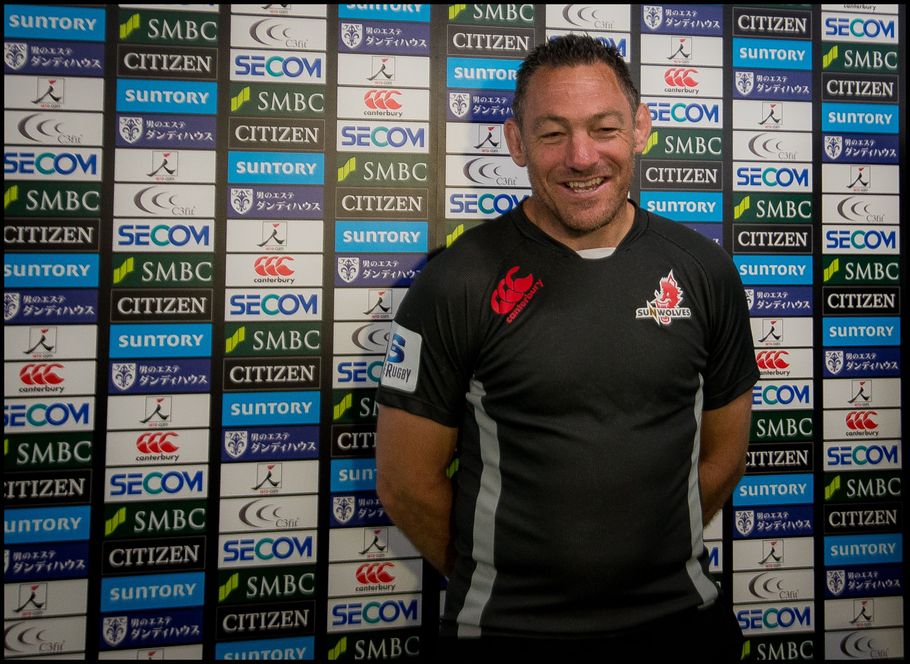 On the walk back to his hotel from the ground, fans approach Quirk from all directions and greet him like an old friend they haven't seen in a while. Quirk reciprocates, waving, bowing and signing autographs to the delight of his supporters. 
"Playing all my rugby in Aussie and that, it's been awesome but this is just a different beast over here. I did get it at the Reds but at the same time, you're getting gifts, and like a lot of these people like the guy over there, he's travelled to Africa every year, like paying all his own money to get to Africa to, you know, just support the team and I think that's something you don't get at home. These supporters, the love for the game they have, that's the thing that's made me want to come back and I've been lucky enough to come back, every year as well."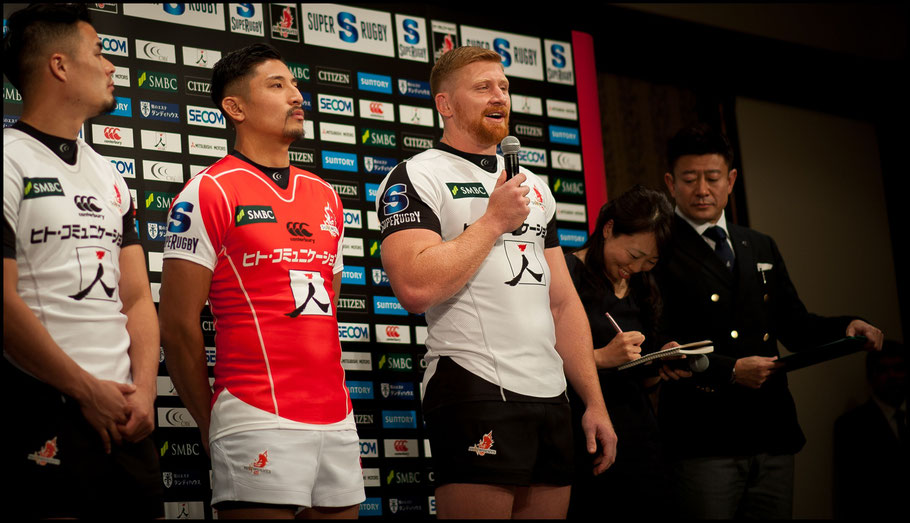 The Sunwolves' fans are unique in that they've turned out in droves to watch their home team despite suffering defeat after defeat. They have also continued to show support by spending heavily on the vast array of merchandise on offer. 
Quirk is amazed at the huge cheering turnouts, game after game, and knows how much the fans will be missed by himself and his teammates. 
"There's such a big following already. The merchandise, the fans, the people who come to the games, all this stuff. You know that's going to be cut from a weekend of what people would do like this weekend right now. You've seen today, with the merchandise and the fans and the people paying tickets and the music and all that, and it's just going to be on its head in 2021, and you know, people will move on as they do but, from a rugby perspective, it sort of just kicks rugby in Japan in the guts a little bit."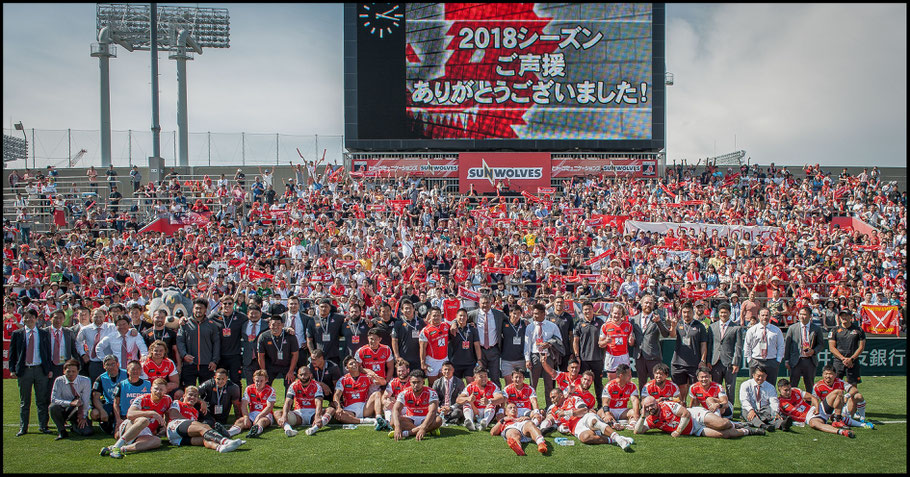 Way back in week two of the Super Rugby competition, Quirk suffered a season-ending knee injury following an illegal cleanout by Waratahs' hooker Silatolu Latu - who was later given a six-week suspension. 
"I'm pretty much out for the next 10 months. It wasn't good how it happened obviously. At the end of day, it's rugby. It's disappointing there was malice in it but there's a bit of a silver lining to it all."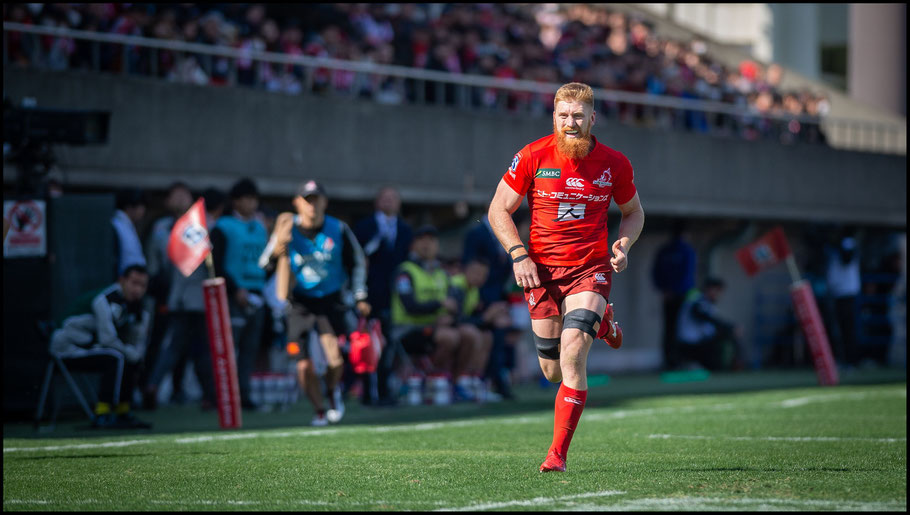 Four months ago, Quirk and his wife celebrated the birth of a baby girl and he has had ample time with her. 
"But probably one of the most disappointing things was that it was probably my last season this year just due to the Top League stuff next year being completely in line with Super Rugby." 
In order to accommodate the upcoming Rugby World Cup, the JRFU announced that the 2019-20 Top League season would run between January and May of next year.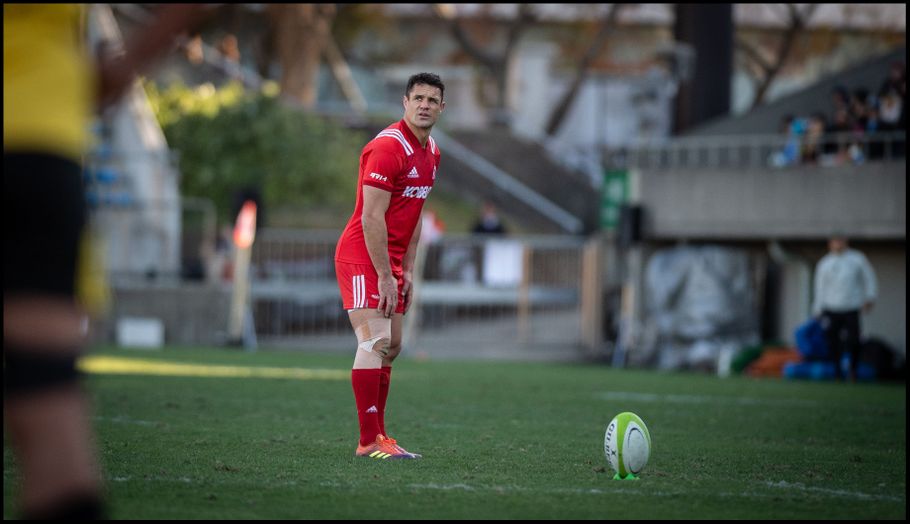 Once SANZAAR confirmed the cutting of Sunwolves from Super Rugby after 2020, the JRFU quickly gave priority to the company-controlled domestic competition. This has forced Quirk to make a difficult choice, one that will see him gearing up for a third season with the Canon Eagles.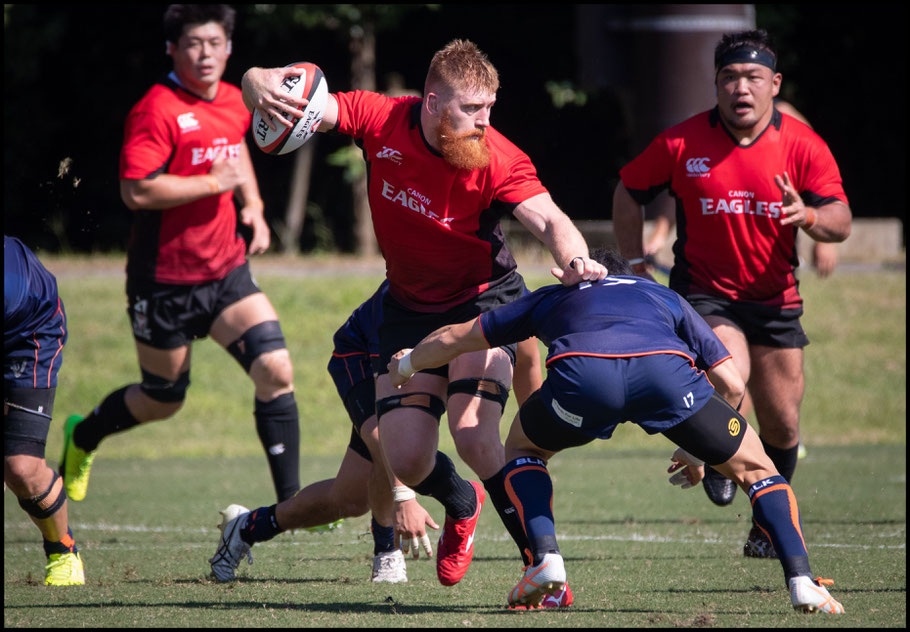 "In my eyes, I wanted to play this year, wanted to play next year and then as I'm getting older and I move on, I wanted to move back to Brisbane, catch up with the business that we've got at home and sit back and watch the Sunwolves play with a beer and the kids running around. That's what I wanted to do and that's probably, obviously not a …"  His voice trails off, deep in thought of what might have been. 
Suddenly though he springs back to life and discusses an option that somehow hasn't received proper consideration. "Oh, I believe the Sunwolves could probably jump into that Twiggy (Andrew) Forrester's comp," said Quirk, referring to the "Global Rapid Rugby" competition containing ex-Super Rugby side Western Force and teams based in Singapore, Fiji, Australia and Hong Kong.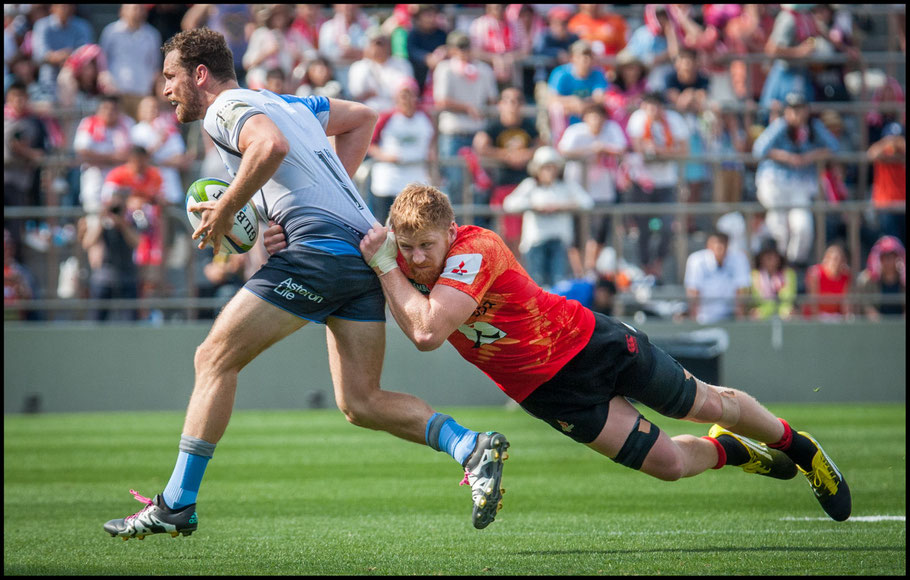 The JRFU has other plans however and its decision to implement a revamped Top League tournament post 2020 has caused alarm among many who are involved in the Japanese rugby scene. The main issue being that the competitiveness of the national team could suffer in the long run.
"I believe it needs to go; school into uni, uni into Top League, Top League into Super, Super into national, said Quirk, "that should be the pathway for Japanese players but it's not going to happen so that was the sad thing about it being taken away. I definitely believe we need something to bridge the gap because there's a lot of company players that are playing and if they want Top League to international rugby, that's a massive step-up."
2019 was another difficult year for the Sunwolves, winning just two games out of 16, with both victories coming on foreign soil (against the Chiefs in Hamilton and the Waratahs in Sydney) leaving the men from Tokyo winless at home. Unlike in previous years, the Sunwolves mostly played under an interim coach, Scott Hansen while actual head coach Tony Brown was often called away to assist with the wider World Cup training squad. Players from both groups were regularly switched out to cover for injuries or to gain valuable game time.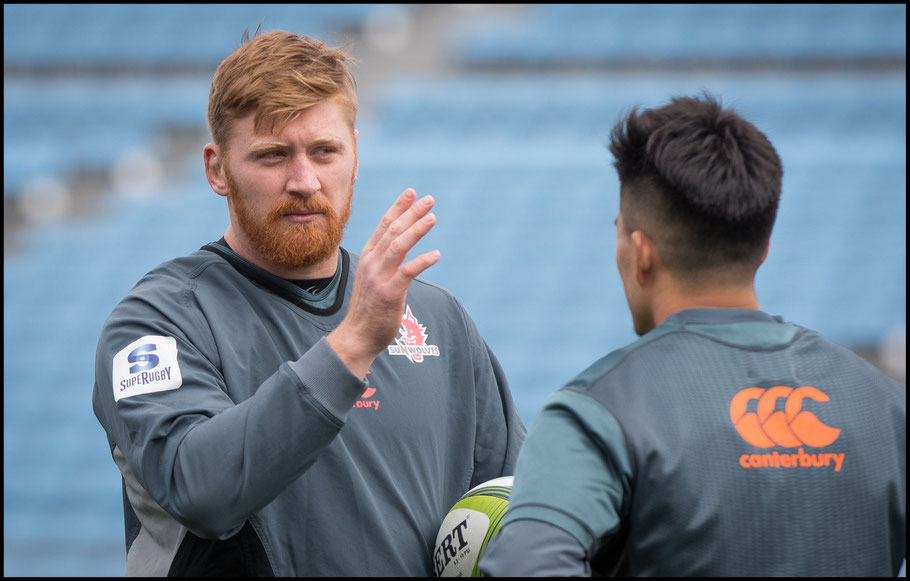 "In my four years, we've probably been blown off the park more times than won but there's been players pulled out for Japan, others put in. Like there's been four guys that are thrown in on a Wednesday afternoon and then you've got to play the Crusaders on a Saturday and you're trying to learn their names as well as trying to teach them what the Sunwolves are about; it's a hard thing to do but I still just put this team down to being one of the best teams I've ever played in. Just with the Kiwis, the South Africans, the Georgians, the Tongans, the Samoans, the Aussie guys, it's the Barbarians but just for four years and I love that, that aspect of footy."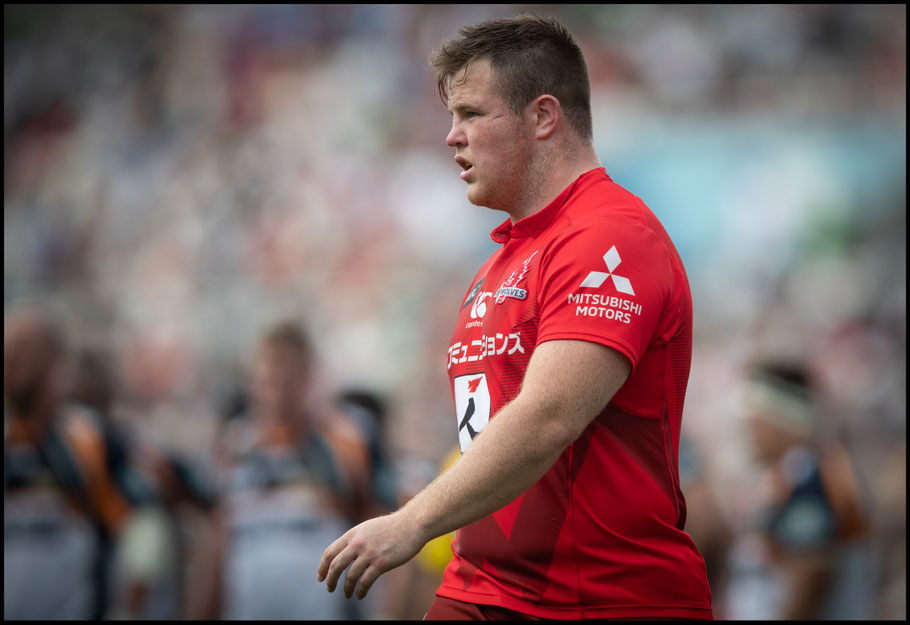 With his sights now firmly centered on Top League next year, Quirk talks about whether the influx of foreigners into the domestic league can raise the bar of the Japanese player skill set. 
"I believe it can go either way. It's one [thing if] a Japanese player is probably not going to get a lot of time with these big players coming over. But then again you've got these world-class players probably at the back-end of their careers if not in their prime, coming to, you know, a younger player and what a lot of people do, what I like to do, is like I grab the back rowers and go and try things and then to see them grow, get better as players, you know, I want to see those guys play for Japan. Like that's the end goal, that's the cool thing about it. But at the end of the day, getting game time is the main objective. That's what people need. I need it. I still need game time until the day that I hang the boots up but that's the goal."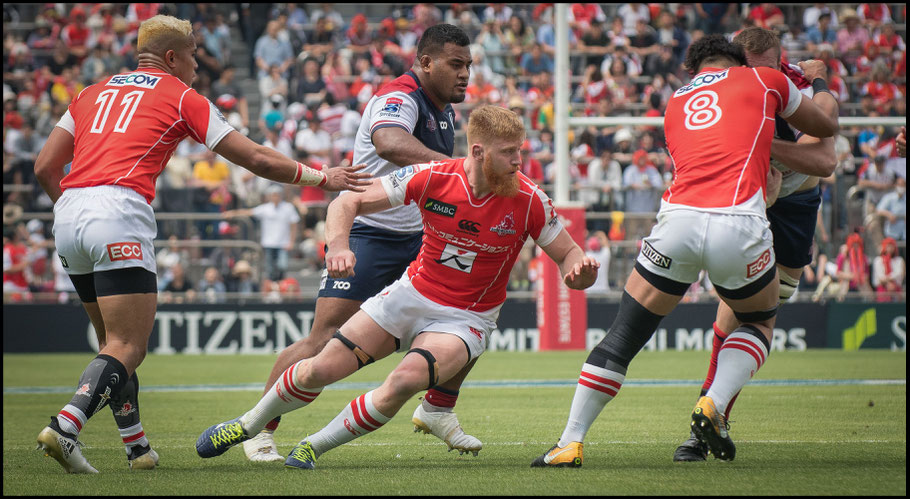 By the time July 2020 rolls around, Super Rugby will no longer be an option for Japan to develop and showcase its unique brand of rugby. Quirk like most people feels that will negatively affect the national team.
"To be honest we've had four years of Super Rugby, there are a lot of Japanese players and Japanese eligible players as well that are in position for World Cup spots and I think there's potential for them to do better because all those guys now have been playing Top League, been playing Super."
"When you look back to the last World Cup, there were just Top League players to be drawn from so where do you get your game time? Where do you get your knock-around games? You know, they've only been playing against Fiji, Tonga and that. How do you get your tier ones? Super Rugby is tier one in my eyes because you've got the best of the best from South Africa, Australia, New Zealand, Argentina all playing in the one comp. This is where Japan Rugby needs to be, and to see it go is really sad." 
---