Shaping Tomorrow Without Kobe
---
Frontiers Down Finies To Set Up 2016 Japan XBowl Rematch With Obic In Semifinal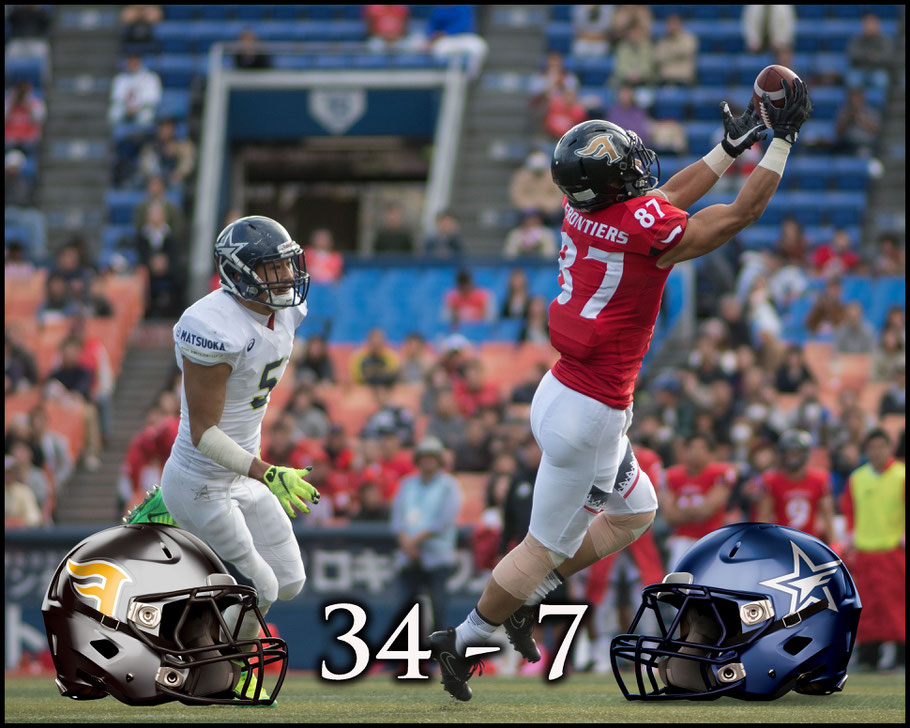 The lights came on at Yokohama Stadium, just as they were going out on Finies hopes for the 2017 season. Fujitsu Frontiers eased past Elecom Kobe 34-7 on November 11th to make the JXB final four for the seventh straight year. The Kawasaki-based side will now meet Obic Seagulls, the team they defeated in last year's X Bowl, on November 26th at Fujitsu Stadium  .
Frontiers were rarely troubled by a Finies team that had put 47 points on Black Eagles in the wild card round.
20 - 0 up at halftime Fujitsu added another pair of TDs in the third quarter before Jordan Canzeri got Kobe's lone score with just under 5 minutes left.
Canzeri was one of the few bright spots for Kobe, gaining 80 yards on 19 carries, but with the Finies offense having little success in the air, Fujitsu were able to limit the standout halfback's damage to that single TD.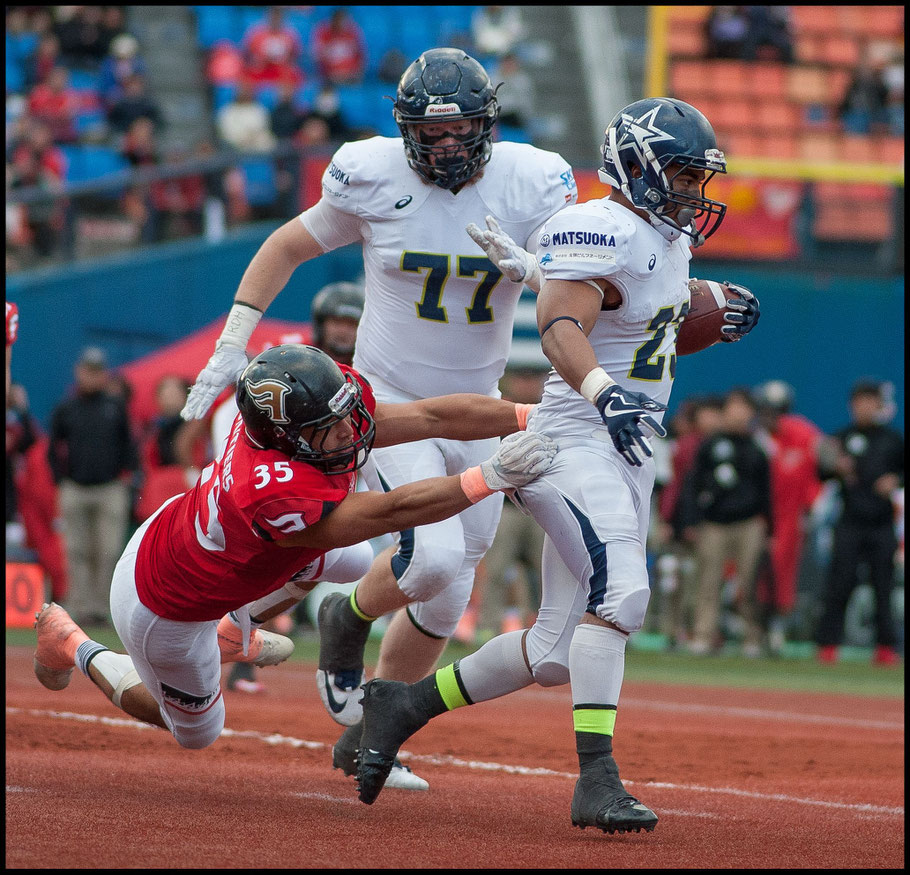 The Frontiers' defense made a statement early on when DB Atsushi Fujita picked off a pass on the game's third play.
Their offense needed just four plays to turn that interception into points with RB Kosuke Kamiyama finding pay dirt from 2 yards out. If that score was through a gap Moses would be proud of, the hole the Frontiers' O-Line opened up for the RB's second score of the day tore through the fabric of space and time. 
Fujitsu QB Colby Cameron had a good outing, completing 16 passes for 202 yards and two scores. Five men had more than one catch with Sei Kyo leading the way on four grabs for 49 yards and a score.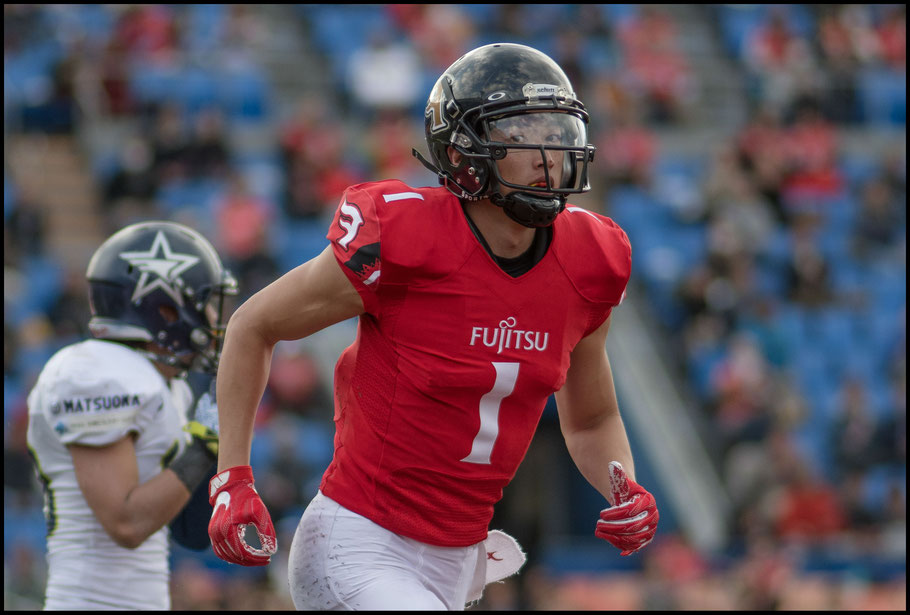 Having Kyo back has made a big difference to the Frontiers offense. He made a nice move to lose his man and fight his way to the 2 yard line after the catch to set up Kamiyama's early score. Later in the game he got wide open in the end zone for a TD.
Behind the best line in Japanese football Cameron now has a range of dangerous targets downfield at all levels. It's a case of pick your poison for Frontiers' opponents. If they keep dropping deep to cover Kyo, Clark Nakamura and TE Yuji Mizuno they risk Gino Gordon (when he returns) ripping off long runs out of the backfield. 
---
---
On the other side of the ball Trashaun Nixon had his best day of the season so far with three sacks and a batted down ball that could easily have been a pick six. On a weekend when defenses shone, Nixon's performance stood out enough to see him voted XLeague player of the week by fans. The New Mexico State man is once again hitting his stride as the season reaches its climax. The same could be said for the Frontiers in general. The champions look like a serious threat to retain their title and despite Obic's heavy defeat of Rise, have to be considered slight favorites for that semifinal next weekend.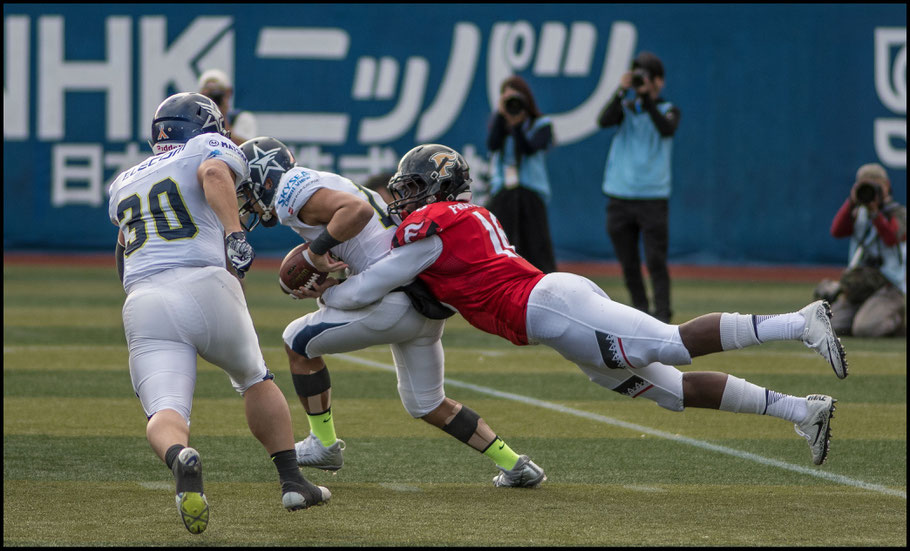 The Finies, despite the big score in this game, have a very good aggressive defense. They intercepted Cameron once but could have had one or two picks. It'll be interesting to see what they do in the offseason on the other side of the ball. Canzeri, if he returns, will continue to be the feature back and they have a couple of decent receivers, so if they can find a way to get the passing game going against the bigger teams, they should take a big step forward in 2018. If you are a believer in the old adage of getting the ball into the hands of playmakers though then you'll think Shunsuke Wada needs to be involved earlier and more often. Of course Fujitsu have an outstanding defense on the back end, which limited what he could do, but two catches in a playoff game for your best wideout won't get you many wins. 
---
---
Neither will penalties. Finies were flagged nine times for 75 yards. One of those wiped out a 53 yard Canzeri run.
Gavin Farr, the former Elecom lineman, who is in his first year as OC will have plenty of material for his team to work on when they return to training next year.
For the Frontiers, the health of star RB Gordon is the main question heading into the matchup with Obic. The Harvard man injured his ankle in the week six matchup against the same opponent, but what initially looked potentially very serious now seems not to be so, and it's likely he'll be back starting in the 26th. Gordon leads the league with 605 rushing yards but if he's unable to go Fujitsu has a pair of capable replacements in Kamiyama and Kazuki Takaguchi.
- John Gunning: November 11th 2017
---
Fujitsu Frontiers (34) - (7) Elecom Kobe Finies
Photos: Chris Pfaff - Nov 11th 2017: Yokohama Stadium