---

Both teams are 2-0 going into this matchup but don't be fooled by that. Black Eagles struggled to put away Cyclones and Hawkeye - the two weakest teams in the west. Impulse conversly easily beat Finies and Challengers - the two strongest teams apart from themselves. There is only one way this game is going and that's a heavy loss for As One. The only question is by how many points. Given that Panasonic seem to be ironing out their early season issues, the answer is 'a lot!'.  
Prediction: 64-0 (Impulse) 
---

Biggest game of the season so far for both teams. They've both lost to Panasonic and beaten much weaker sides in Cyclones and Hawkeye. Very contrasting performances though and the Fines, despite only beating the Challengers 10-7 in the spring look a safe bet here to get the win. With Big Blue up next for Kobe - an opponent they are unlikely to beat - the importance of this game cannot be overstated. A 2-2 record heading into the final two games against evenly matched opponents would be worlds better than 1-3.
Prediction: 21-14 (Finies)
---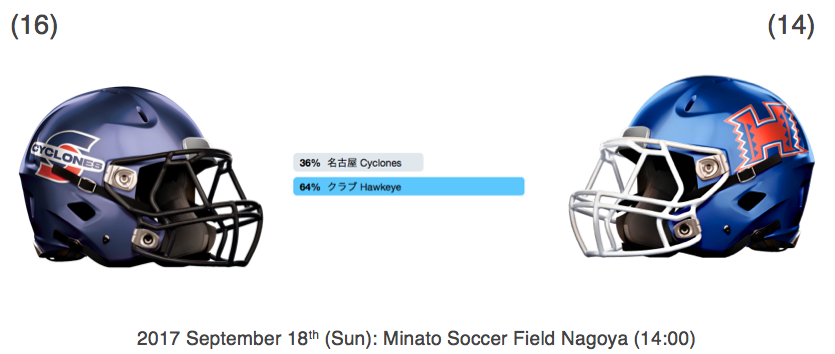 The last time this two teams met the game finished in a 15-15 tie. That's a scoreline you don't see often in football. Newly promoted Hawkeye got the credit for fighting back late to get the tie, but given how the teams have played so far this season, they'll be  hoping to go one better in Nagoya and get their first ever win in X1. The Cyclones did reasonably well in their opener but were blown away 63-7 last weekend by the Fines. Don't expect a high scoring game. The points total for both teams over the four games this season is just 20. That's an average of 5 points a game per team. First team to score twice wins this.
Prediction: 14-10 (Hawkeye)
---

It's a credit to Tokyo Gas that just over a quarter of those voting think they will beat Fujitsu. We don't agree but with the Creators ball-possession run heavy offense, the Frontiers may not get enough of the ball to score heavily so the game may be closer on the scoreboard than many expect. The big question of course is will Tokyo Gas be able to run the ball? It's one thing to have success against the Eagles and Minerva but it's quite another to do it against the champions. Fujitsu have the pace and power with Suzuki and Nixon to contain the outside runs but Creators run a lot of read option stuff up the gut and they are happy enough to get four or five yards each time. They can go long when needed as seen last weekend but Al-Rilwan Adeyemi isn't really someone they should try and test. The four time all-league DB shut down Silver Stars Yuta Hayashi last time out and is more likely to come down with the ball than whomever he is covering. On the other side of the ball Fujitsu can and will score at will, so Tokyo Gas basically need to keep the ball away from them.
Prediction: 31-14 (Frontiers)
---

When you lose 52-0 and then 94% of fans think you'll win your next game it says a lot about the various levels of the teams within X1. Pirates are solidly lower middle of the pack but that's still quite a bit better than bottom, which is where the Bulls are likely to reside all year.
Prediction: 28-10 (Pirates)
---

There had to come a time when no one would think a certain team would win. A bit surprising that Lions are that team since they are definitely better than many others. The nature of Obic's win over the Rise though impressed many people. It may only have been by two scores but it never seemed like they were in danger. No word on whether or not QB Ikaika Woolsey will be back but we don't see the Seagulls rushing him into action for this game.
Prediction: 46-0 (Seagulls)
---

Another huge one for both teams. In the offseason one wouldn't have given Silver Star much hope but as we've said several times this Lixil team isn't what it was last year, and Asahi Beer has been very impressive so far. Even in the loss to powerhouse Fujitsu, Silver Star battled to the end. The big question is whether their American players will finally be available or not. Even without them we think Silver Star will get the upset win here. The game is likely to be decided in the fourth quarter as fatigue begins to hit an Asahi Beer team that lacks depth. The Deers last year were the comeback kings and that quick scoring ability is still there. However it ends up it's likely to be one of the best games of the year so far.
Prediction: 30-27 (Silver Star)
---

Eagles had two games in six days and then none for 20. The scheduling for some teams isn't ideal. It's given them plenty of time to prepare for Minerva though. Not that that'll be a huge advantage as their opponents will have 15 days between their previous game and this one. Given what we've seen so far there isn't a whole lot between these two teams. Both have managed a miserly six points in total so far and shipped over 30. The fans seem to think the Eagles have the advantage but if that's true it's a slight one.
Prediction: 17-10 (Eagles)
---

IBM followed up their historic win over Obic with a thrashing of the Pirates. Only the rain kept them from running up the score more. The Rise killed their own chances with four turnovers against the Seagulls in the second game that day. Again the rain seemed to hamper their gameplan a lot. Big Blue's defense is only getting better but Devin Gardner is one of the most mobile QBs in the league so that should mitigate the pressure somewhat. He needs his receivers and backs to step up though. If the Rise fall behind Gardner can start to try and do too much. On the other side of the ball IBM have shown they can score in many ways but Kevin Craft has thrown a couple of wayward passes in each game so far so if the Nojima secondary are alert there is always the chance for a turnover. Still though we think at this stage IBM just have too much talent and depth for Nojima. A repeat of the Pearl Bowl semi-final result is the most likely outcome.
Prediction: 31-21 (Big Blue)
---