---
JXB MVP Trashaun Nixon Powers Fujitsu To Third Straight Championship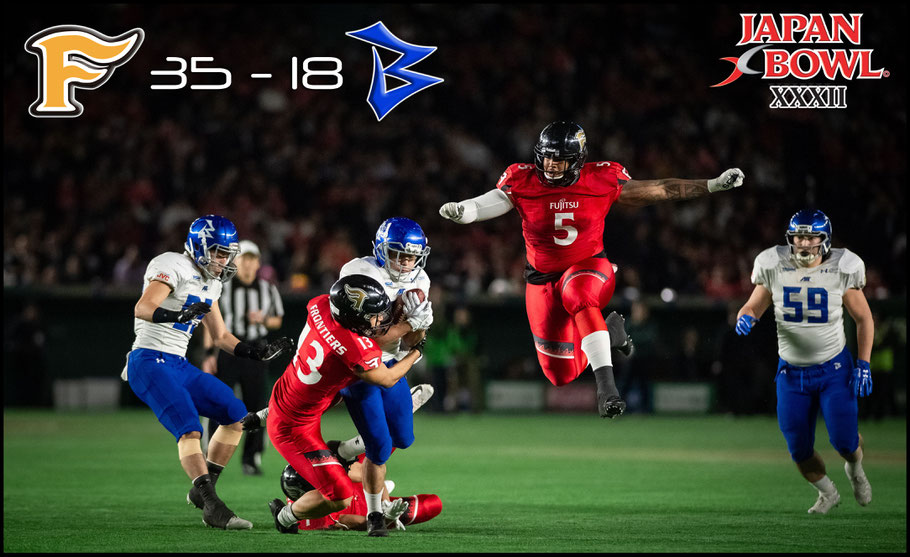 Fujitsu Frontiers won their third straight XLeague championship and fourth title in five years when they beat IBM Big Blue 35-18 at Tokyo Dome on Dec 17th.
RB Trashaun Nixon, with 196 yards rushing and three TDs on 17 carries, was named the game MVP, adding another accolade to the many he has already collected in an incredible season.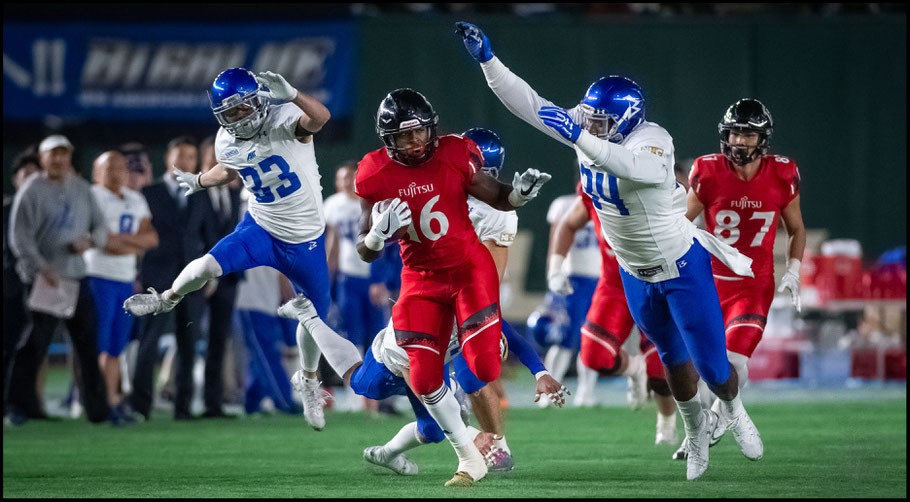 Just before kickoff it was announced that Nixon also won the 2018 season MVP award.  In truth there was little surprise in that, as the former All-X linebacker smashed the season rushing record in his first year playing offense.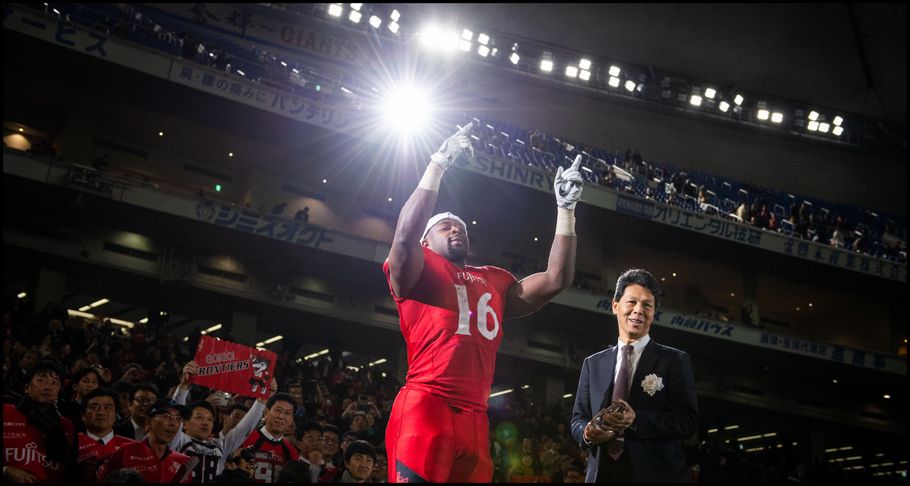 Nixon's dominance and running style elicited memories of Eric Dickerson's rookie year in the NFL. Combining power and pace, Nixon was able to brush off arm tackles at the line and once he reached the second level, his speed meant every run was a threat to find paydirt.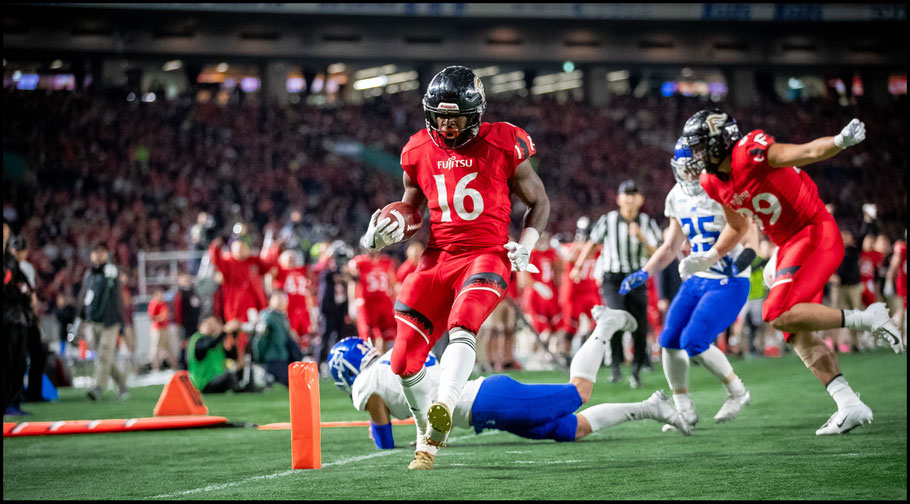 For Nixon the awards were validation of the belief he has always had in himself.
"I came from New Mexico State. Yeah we were Division I, but just about everybody coming out of Las Cruces comes out with a chip on their shoulder, knowing that we could all play at a power 5 level, but not getting the same recognition. Especially this year, I mean hardly anybody believed I could play RB, even after I constantly tried to reassure [them] that it's what I do."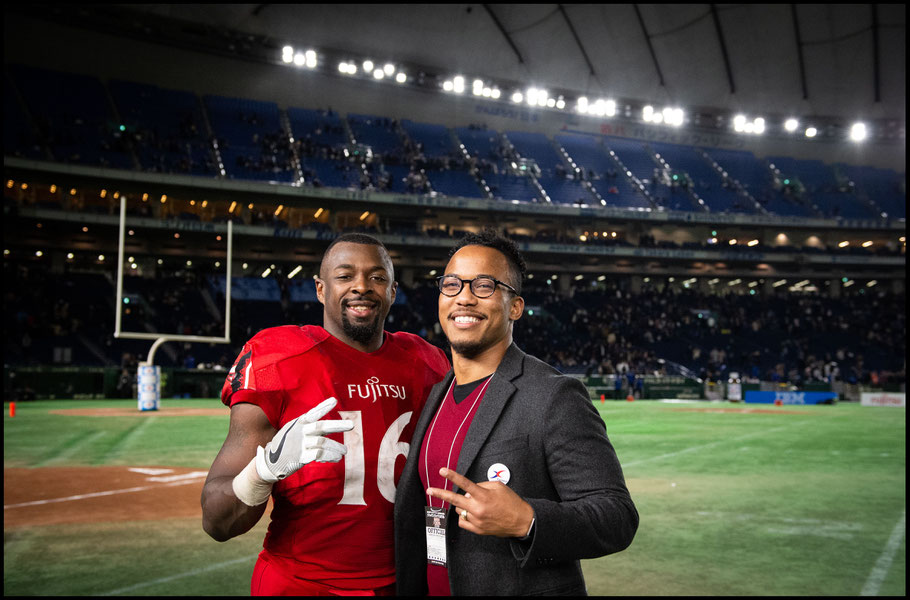 With star WR Clark Nakamura being blanketed by IBM and slot wideout Junpei Yoshimoto missing the game with a hand injury, it fell to Nixon to carry the load.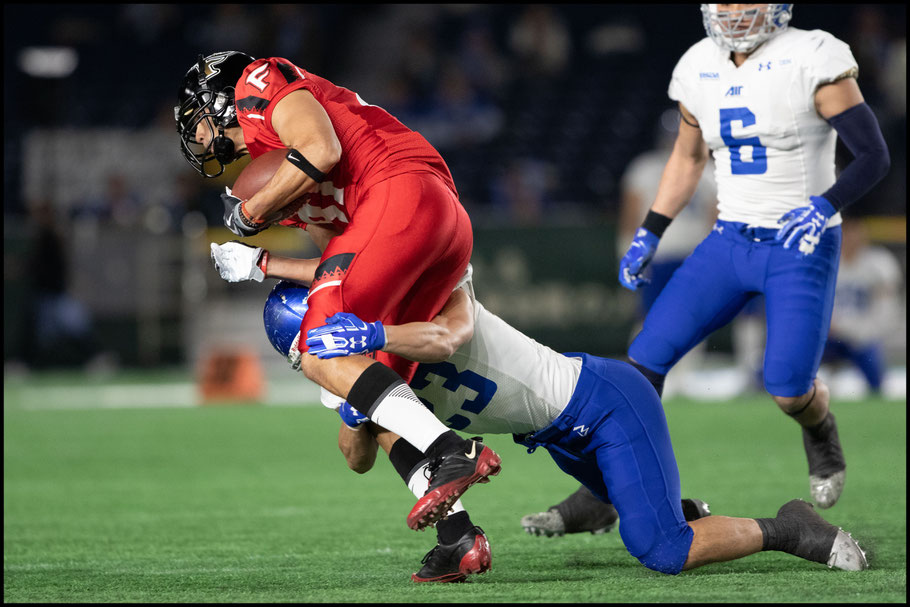 His task was made easier by the usual outstanding play up front by the Fujitsu line. The Keven Lightner coached unit took four of the five Offensive Line slots on the All-X team and probably has 9 or ten players that would be starters on almost any other team in the league.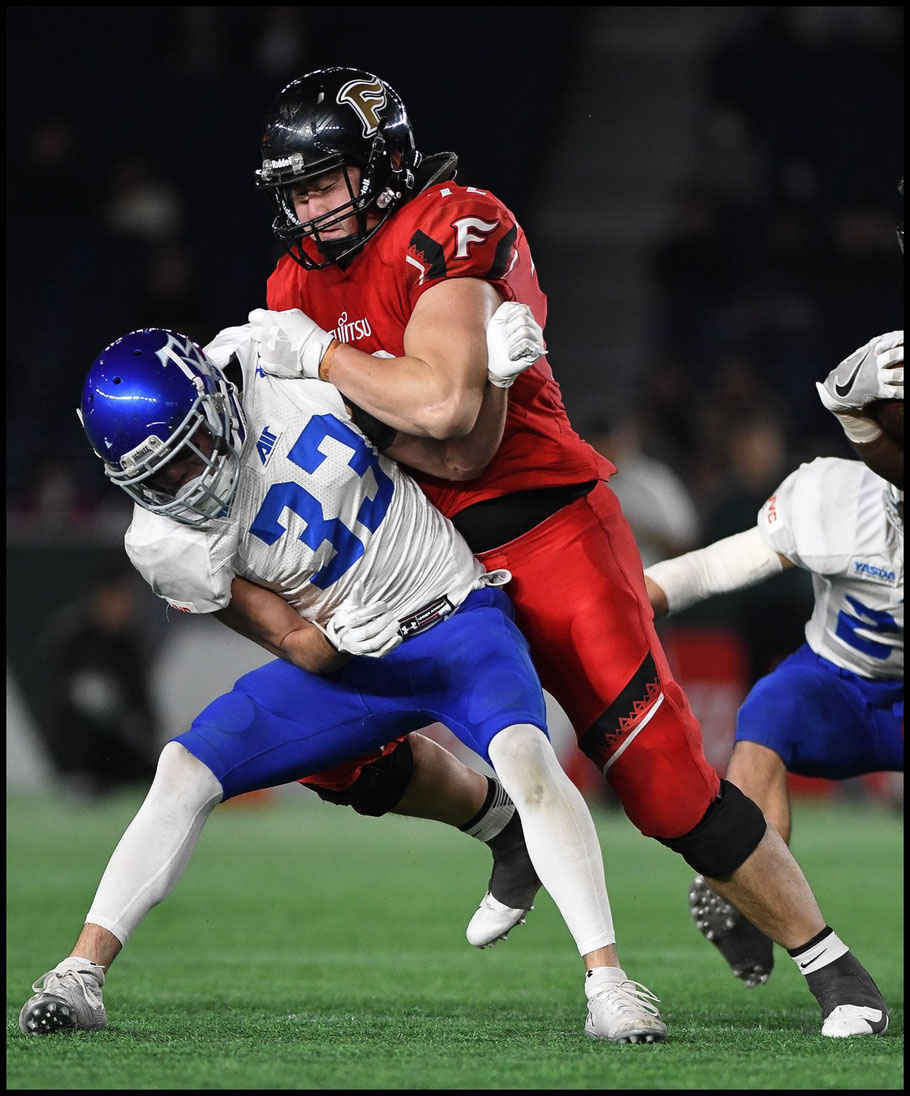 "I think the game went as expected" said Lightner, "I felt we would be able to run the ball well and we were able to establish that early. We knew Coach Tom (IBM DC Thom Kaumeyer) would bring pressure with blitzes so we put a lot of work into that and it paid off. IBM did a good job defending our play action and bottling up our nakeds and bootlegs but didn't slow down the run game. The first run for the TD was a big confidence booster. It was blocked well and once T Nix gets to the secondary he is gone."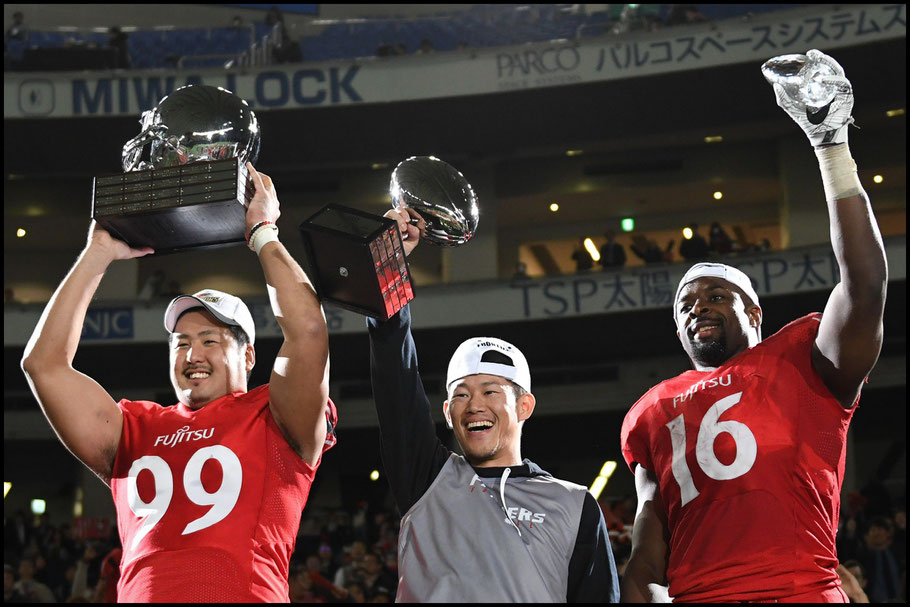 IBM had their chances in the game, but despite some good drives, had to settle for field goals while Fujitsu was finishing possessions with touchdowns.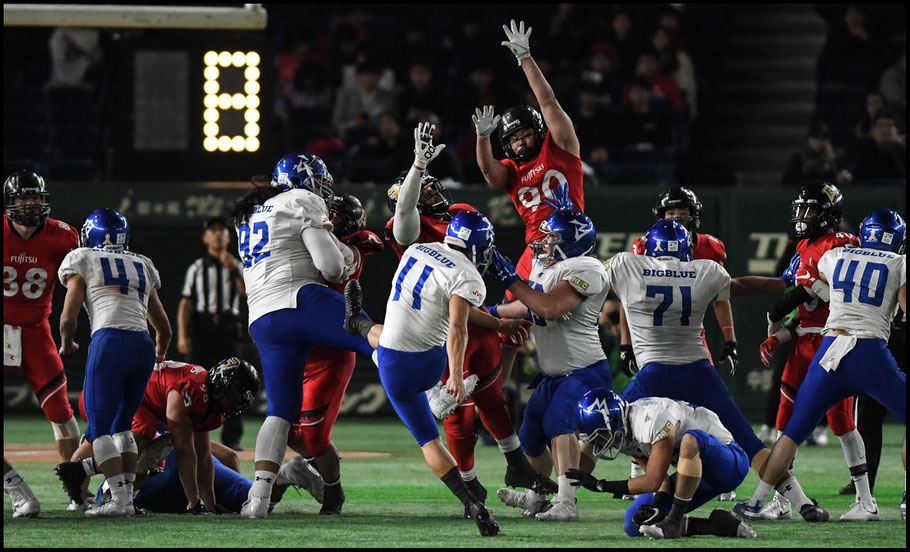 While the game wasn't a blowout like last year, but when Frontiers finished the first quarter 14-6 ahead there was a sense of inevitability about proceedings. Fan posts on social media during the game followed the 'here we go again theme' but Fujitsu players and coaches had no such feelings.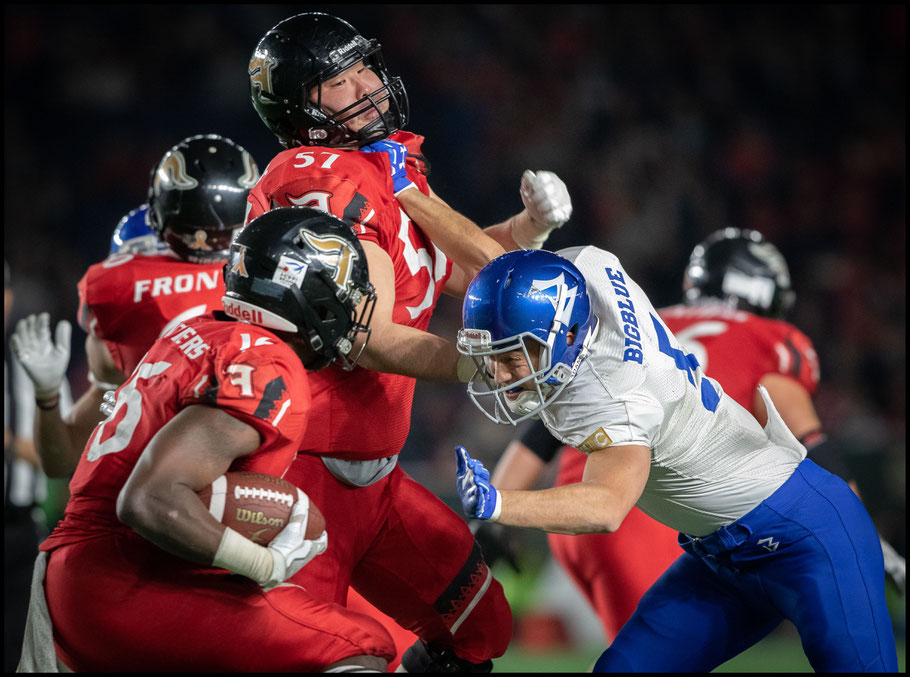 "With an offense like IBM's that can drive the field with such high tempo it's hard to ever feel comfortable with knowing you will win", said QB Michael Birdsong. "I felt good after the 78 yard TD drive in the 4th quarter but again not completely confident until we went out to take a knee to end the game."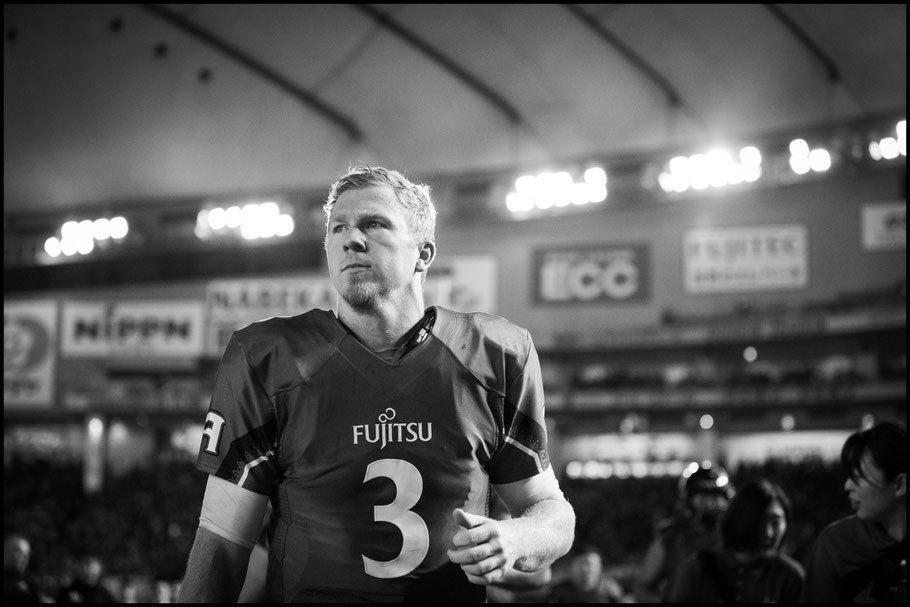 Lightner agreed saying "IBM also has an explosive offense so even though our defense was playing great I never was comfortable until later in the game."
That Big Blue offense totally outgunned Frontiers in the air – at least in yardage – gaining 276 to Fujitsu's 93, but Birdsong passed for one score and ran for another and at the end of the day points are always more important than yards.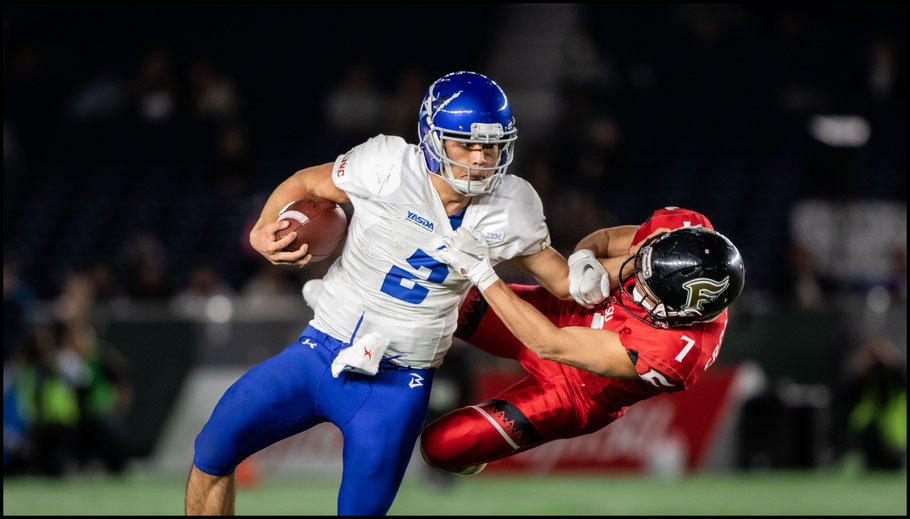 IBM did manage to get in the endzone with a minute and a half left when Kevin Craft, replacing an injured Yuki Masamoto, found John Stanton with a 21 yard scoring pass.
That was too little too late though and IBM was left to a third JXB defeat since 2014. The team is still searching for its first title but has made important strides this year and should be back in the mix in 2019.
Fujitsu meanwhile continue to roll. Their fourth championship puts them third all time, level with Silver Star. 
Obic Seagulls with eight titles and Panasonic Impulse with seven lead the pack.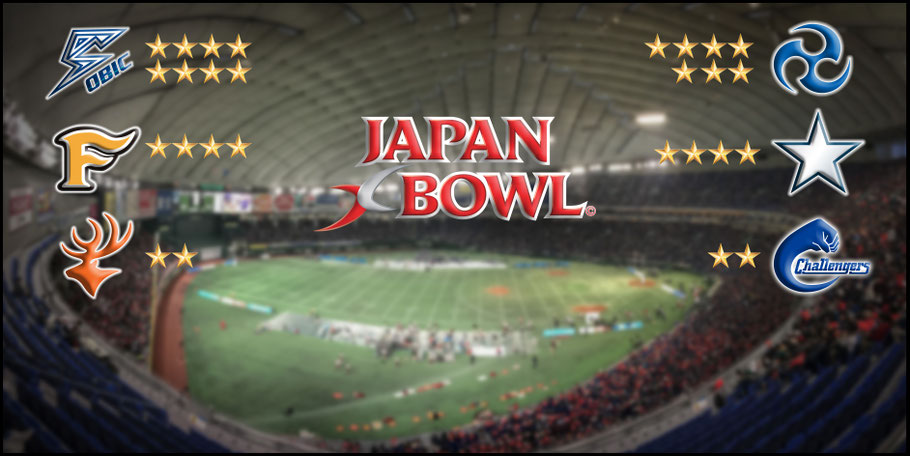 Not that they are taking success for granted though.
 "All the championships are special" said Nixon "I mean whenever you win a championship it's a great accomplishment, but this one is very special, I don't think nobody believed that we would be back, I mean when you lose your star quarterback and star running back it's hard to believe that, but we did it so I'm happy about that! It doesn't feel any different on the opposite side of the ball, I'm just glad we got it done."
Frontiers now take on Koshien Bowl winners Kwansei Gakuin University Fighters in the Rice Bowl on January 3rdat Tokyo Dome to decide the overall national champions.
Fujitsu beat Fighters 30-17 two years ago in the same game. Overall the Kansai University is 1-10 in the Rice Bowl with their sole win coming in 2002. The XLeague sides have pulled away in recent years and it's been a full decade since a college team won, but Frontiers won't care about any of that. The team exhibits a singular focus and it's that ability to block out all distractions and prepare correctly that has them the champions that they are.
---