---
Fiery Wideout Anas Hasic Helping Finies Rack Up Yards, Scores & Victims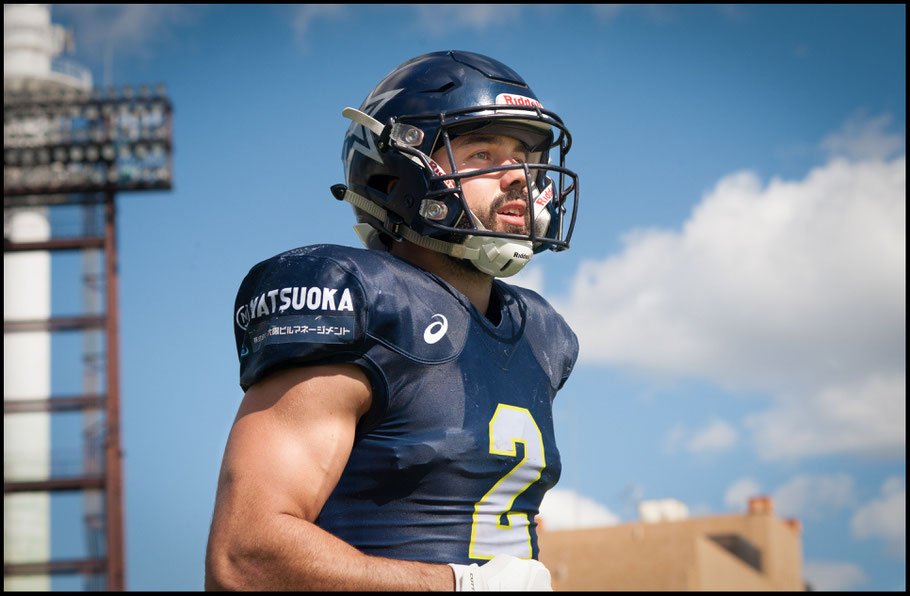 Anas Hasic is making a name for himself in the X-league. 
Nas, as the wideout likes to be known, joined Elecom Kobe Finies a year after signing with the NFL's Kansas City Chiefs, and with five games under his belt, is the league leader in catches, receiving yards and touchdown receptions.
Getting off to a blistering start against Panasonic Impulse in one of the toughest games on Finies schedule, Hasic caught both Kobe TD passes in the first half of a close, hard fought game.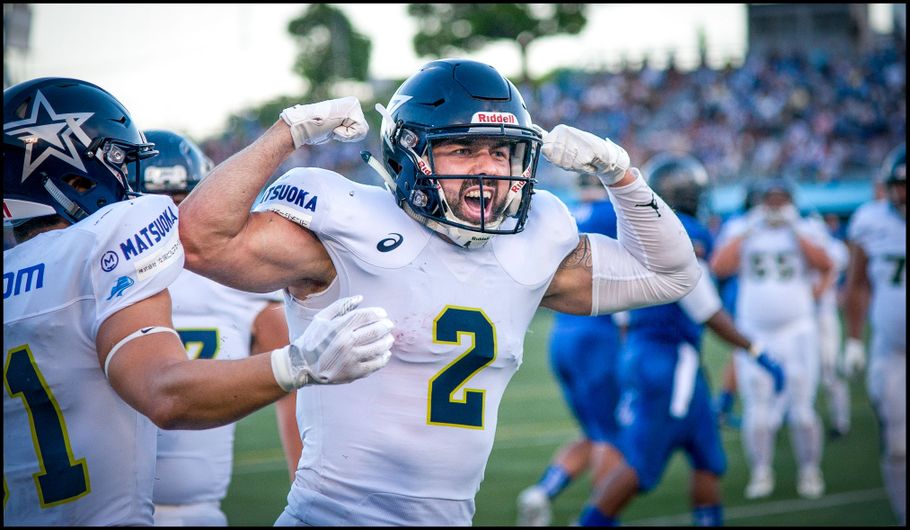 Finies took a 14-10 lead into the half of that game but in the end, would succumb to the relentless Panasonic juggernaut. 
Hasic, who had said before the game that he wanted to play a good team in the first week, got his wish and made the most of it. He flashed quick hands and a deceptively physical style of play to make the TD catches look easy. 
Adding a handful of first down receptions he was still fighting for every opportunity when time ran out on the Finies near upset.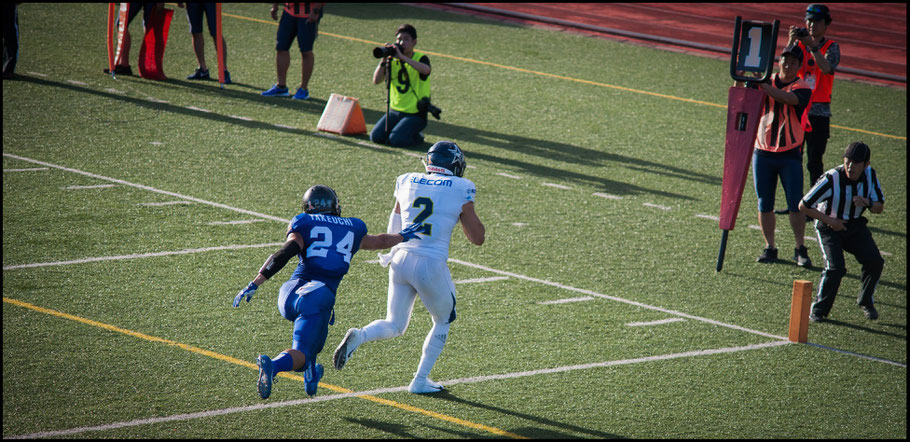 Hasic just pointed at the scoreboard speechless when ask for an interview after the game. Obviously disappointed, he shook off the suggestion that it was a great start saying only, "It wasn't enough."
Not enough for the Finies to get a win perhaps, but enough to serve notice to the league. The cadre of three new American players for the Finies are top-level athletes that were the stars of the game every time they were on the field.
Hasic, along with DL Calvin Benjamin and QB Cody Sokol joined the Finies this spring, as a result of connections to Kobe's third year DB Sean Draper.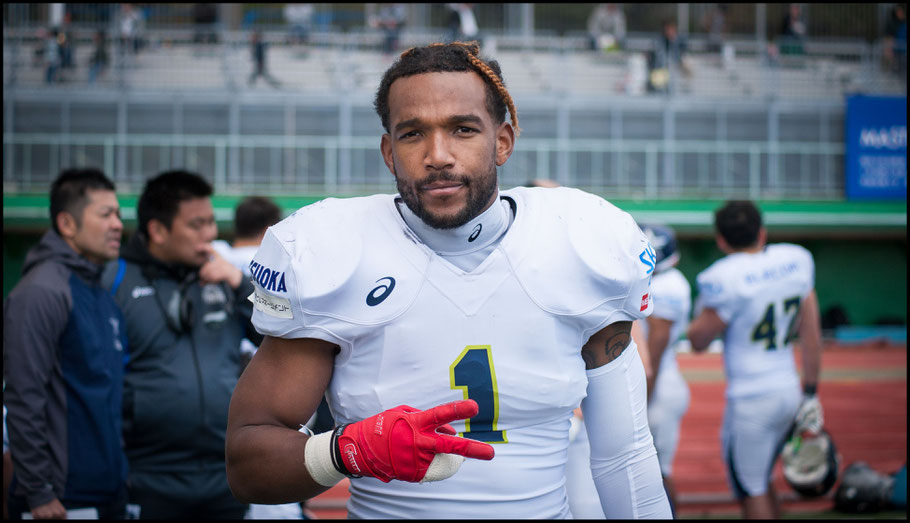 Hasic who sat down for an interview the week before the Panasonic game explained, "Sean knew that Elecom needed three Americans and he had played with Cody 'cause they both played at Iowa. So, he brought Cody over and I knew Cody from junior college at Scottsdale. So, he hit me up and was like 'What have you been up to? Are you still playing? 
"I was fresh off of a broken shin. So, I'm not in the best shape. I've been training. I've been working out." And I was working at Google, so I was in a great place, but I was like 'I'm interested.' Then we needed a fourth American a defender and I was like I know a great guy. One of my very good friends was just cut by the Packers. So, Sean brings Cody, Cody brings me, I bring Calvin. So, four buddies here."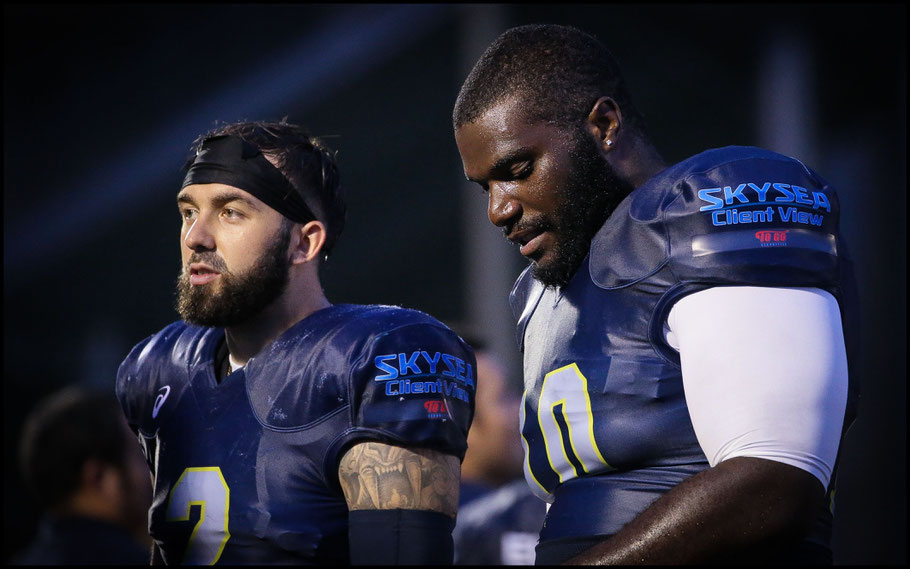 The Finies have all four American players living together near Oji stadium. "I live with Sean and Calvin, then Cody and his family are on the floor below us." Hasic likes the living arrangements. "It's good. It's what we need. Looking at some of these teams [which have American players with several years' experience together] whatever dynamic we can get we need."
Hasic is happy to be in the X-league. "In terms of how much they take care of us and support us this the second-best league in the world besides the NFL"
Like many teams in the X-league, the Finies have limited opportunity to practice.
 "Teams like Panasonic they can get time off during the week to train and practice because the players work for Panasonic", Hasic explains, "but we're kind of like a club team. A lot of our guys work but not for Elecom and they can't get time to practice during the week"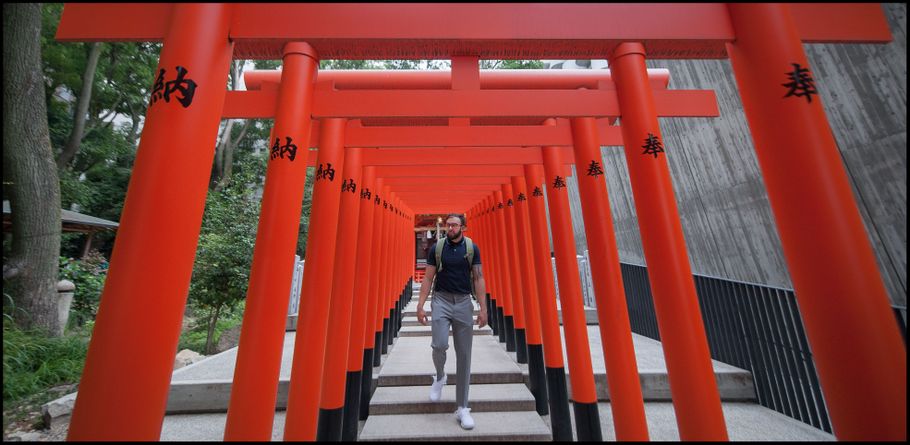 Those aren't the only inconveniences. Recently Hasic went all the way to Osaka for a haircut but finding the barber closed, had to head back home to Kobe. He laughed recounting the story, "It's different over here 'cause the barbers in the states kind of know how I want it but I asked my barber to razor my beard right here and he says 'No, no, I don't razor,' but then five minutes later he's got a razor out working on the back of my head. So, it's like communication…sometimes it's hard to get around Japan when you don't speak Japanese."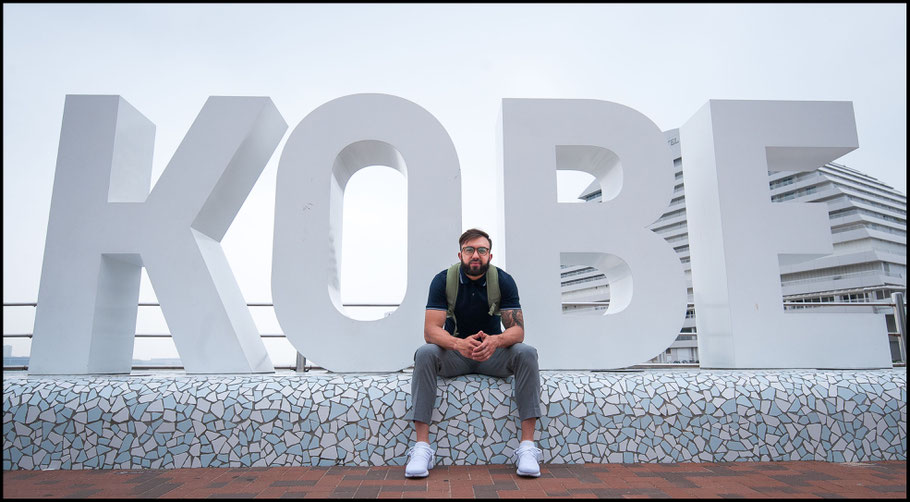 Apart from communications difficulties Hasic gets on well with the people in Japan. 
"If they can help, they'll try. And they'll especially try to accommodate you if you try to use a little Japanese. I know a couple of words. When I first got here I was like 'I'll learn a little bit' but it's hard. I speak Croatian, so my brain doesn't want to learn another language. Even in high school in the states I had a hard time with foreign language courses."
Recruited out of high school, Hasic has faced challenges every step of the way. "I was an All-American and I was going to go to a university, but I was missing a Spanish course actually, so I couldn't go to university. I couldn't accept scholarships. So, the following spring I ended up going to Junior College. I played two years of Junior College football.
"I got an associate degree in general studies, but I missed some math classes, so it wasn't a degree that many universities accept. I ended up going to [North Carolina Central University] a historically black college. It was okay, and I had a good junior year. It's a good school with great people but it was in North Carolina and I'm a west coast kind of guy and I just didn't fit in. So, I took the year off – red shirted technically, kind of – and ended up at University of West Florida for my senior season."
---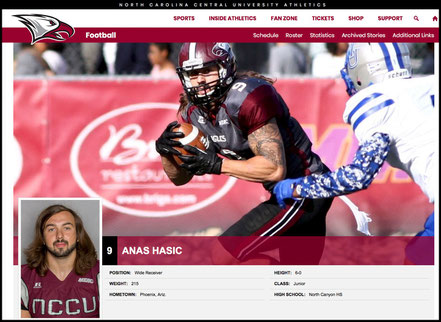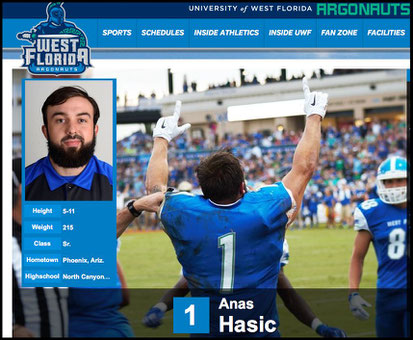 ---
Hasic thrived at UWF in Pensacola and ended up being the first ever player from the university to be signed by an NFL team. "It's a D-II school. Football was a new program for them and I was the only senior on the team. The team went on to play for a national championship in their second year so it's a great place. It has great facilities. It's on the beach, really nice place.
"We beat our ranked rival Florida Tech where I did my pro-day. It was a great time." Thinking back on the path that led him to the Finies Hasic said, "That was two years ago. Then I didn't do much but train for pro-day, get signed by the Chiefs, get cut by the Chiefs and then I was recovering from an injury. I had a job for a few months then I got the call from Elecom.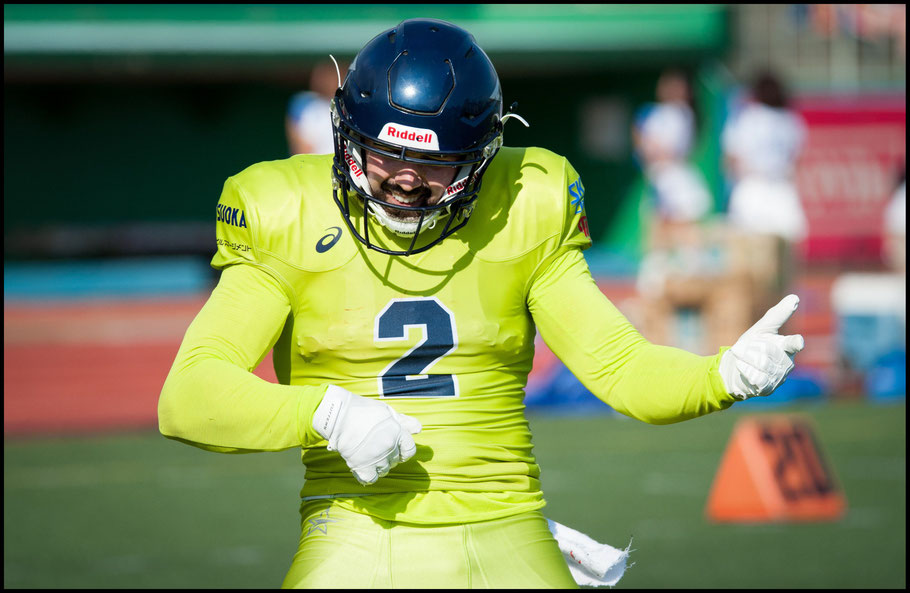 Despite having a decent job, Hasic wasn't going to turn down the chance to play again.
"Competing is way too fun and the money is great. Football is a chess game. It's very calculated. But where I'm from you have to be a dog to get what you want. You have to assertive."
Where he is from is not your typical football heartland.
"I was born in the ex-Yugoslavia during the war, in Zagreb, and lived there a little bit as a kid. We moved to Germany for about a year and they weren't taking refugees. Then the United States took us in and after six years of legally living in the U.S. we took a test to become citizens. So, we (Hasic, his mother and father) are U.S. citizens. 
"I'm proud to be American. I've come from a lot worse, and there are countries around the world that are a lot worse. [In America] people are living, people are happy. We have food, we have water."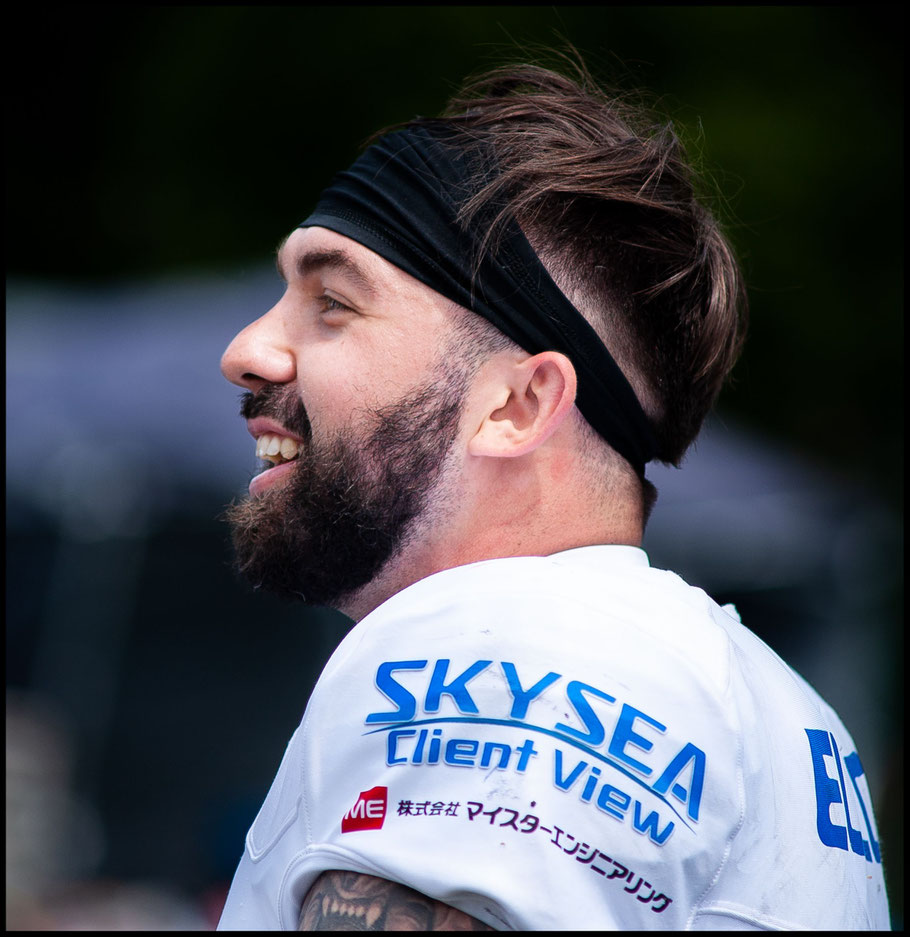 Hasic has no time for what he see as the overly negative American media, "I don't ever buy into the social media. There are fans commenting on the really popular athletes' pages saying, 'you're trash' and they're hecklers online. I don't watch TV. I read. I watch game film. I play video games, but TV is just a propaganda machine. It's nothing but bad news, usually. So, I just try to protect my brain from that."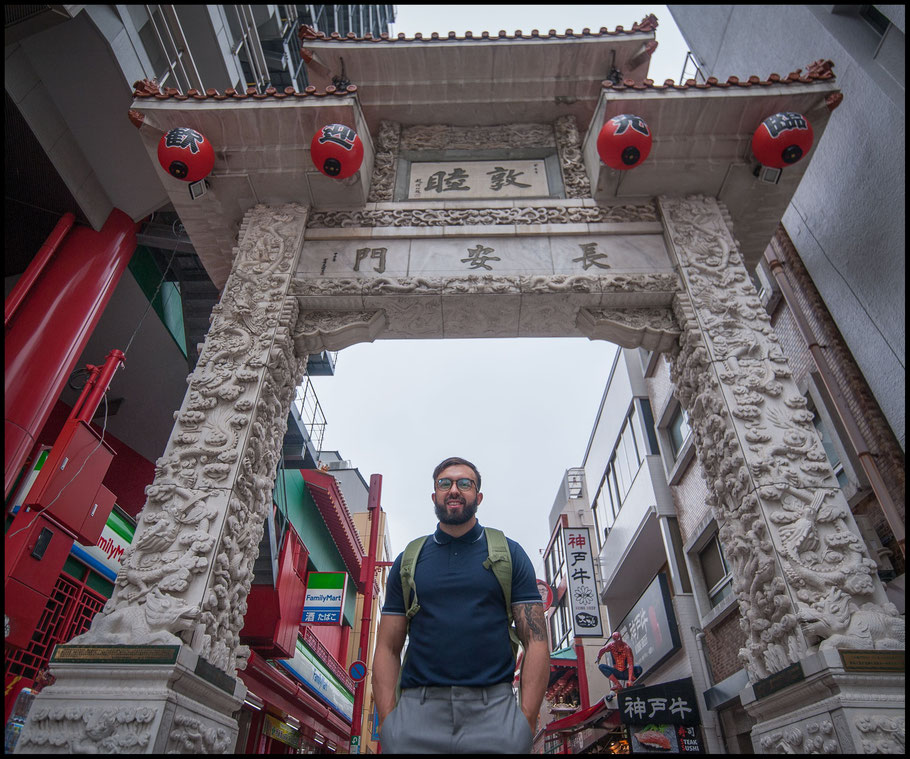 He's also concerned about protecting his brain on the football field, saying of chronic traumatic encephalopathy, "CTE is a very real thing and I've had a concussion, but I'm definitely done after a second one because I'm a psychology graduate and I've studied neuroscience. It's a scary thing when you have guys like Junior Seau and Aaron Hernandez whose suicides are attributed to CTE. In my position and with modern helmets I can protect myself. I think with head injuries we know what's at stake."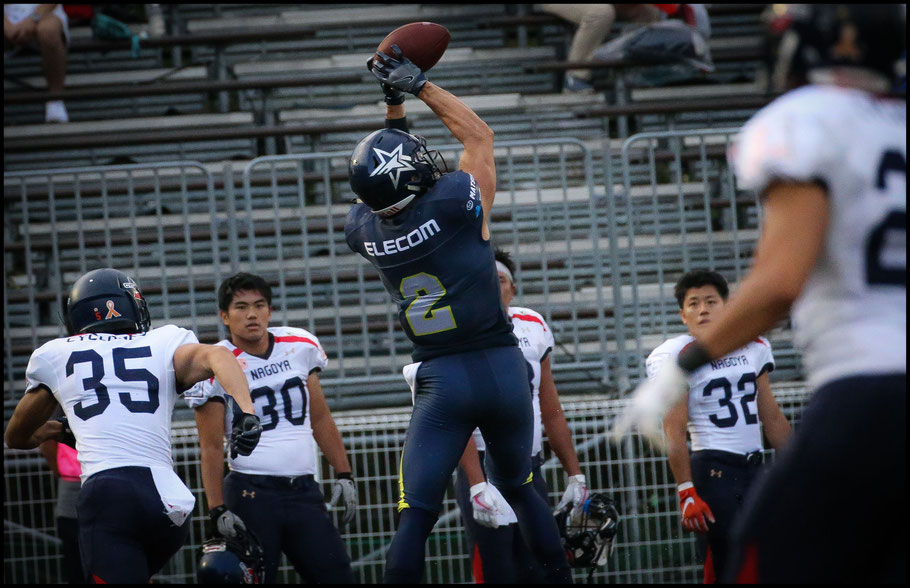 It's not clear what's at stake after this year with the Finies. Hasic says it's possible that a huge season would put him on the radar for NFL teams and after five games he's turning heads in the X-league but Nas is a difficult man to pin down. One wide eyed teammate called him an athletic freak and he certainly put on a show in his debut. After the loss against Panasonic, Hasic was giving a hug to one Panasonic player and continuing the in-game trash-talk with another. He wouldn't give post-game interviews and was ready to leave the stadium before the coach had given his wrap-up speech. 
A born competitor, his fiery temperament was on full display in subsequent games as well, and Hasic has had an at times difficult relationship with officialdom and league authorities in Japan.
It brings to mind his description of his college career, "I did a lot of bouncing. It was all self-inflicted. Just issues. Wanting to play but things not going the way I wanted to so, I'd end up somewhere else."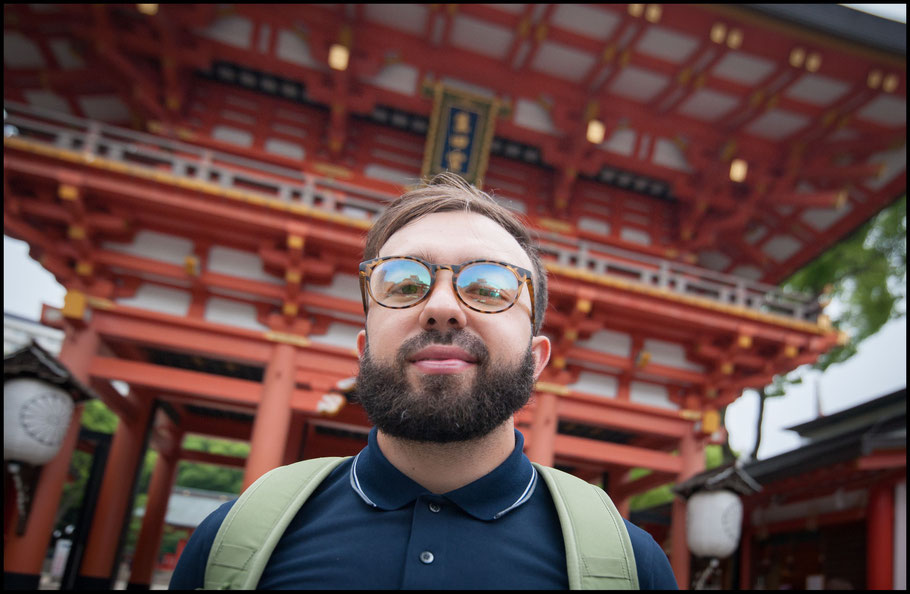 Hasic is a man constantly on the move. At 180 cm and 92 kg, his muscular frame and bearded face stand out in Japan but he's as hard to catch up to off the field, as he is to defend on it. After a few failed attempts to meet him for an interview he sent an apology by text, "I'm just very bad with scheduling, I just like to do stuff randomly." 
Luckily the Fines schedule isn't random. After five games in Kansai, Elecom play their regular season finale in Kawasaki next Sunday (Nov 21st), which will be the first chance Kanto area fans have to see the fiery receiver in person. 
It might not be the last though as the 2018 Finies are a team with firepower and one that could make it to the semifinals or even the JXB if they can find a solution to some of the holes that they have. After racking up ridiculous numbers through week three, the team came back to earth with a bang against Japan's most successful side - Obic Seagulls, getting shut out 24-0. 
Finies righted the ship the following game but know that they will need to scheme well and play almost perfectly if they are to down powerful sides like Obic and Fujitsu Frontiers.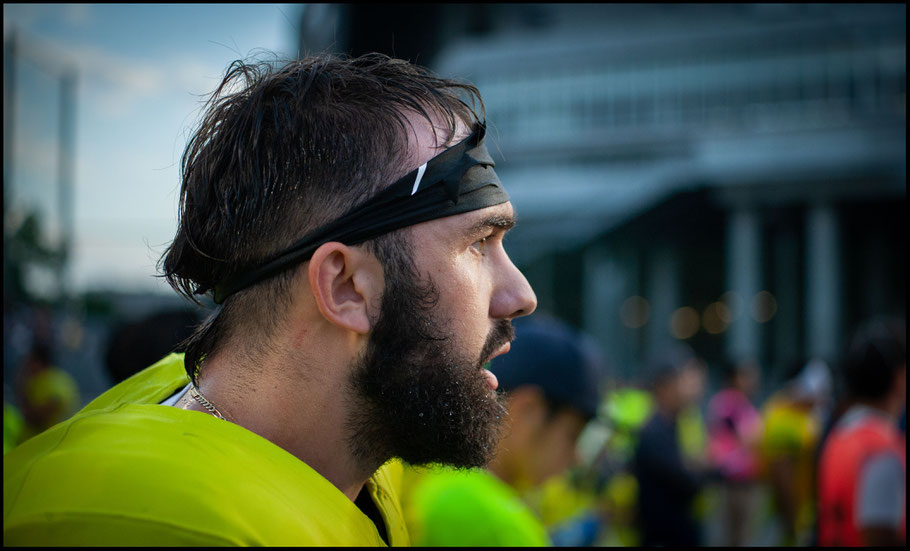 Hasic, if he can keep his TD and yards lead for one more week, is also a good bet to give Finies just their second ever All-XLeague player. It's a shocking stat, but since 2000 LB Mutsumi Takahashi, the teams current Defensive Coordinator, is the only Finies player to have been named to the all star team.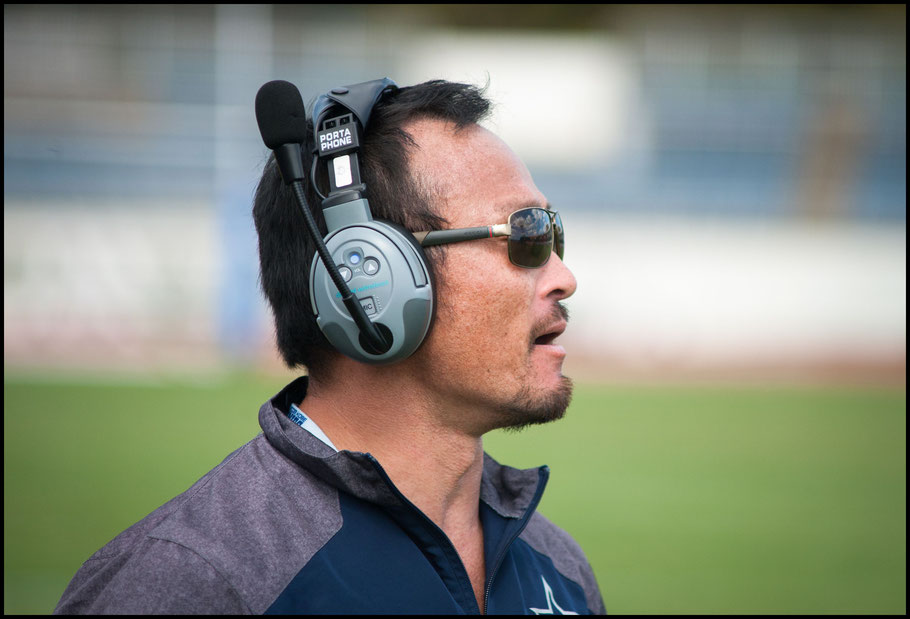 Regardless of  whether he makes All-X or not, Anas Hasic is definitely something to see - that is if you can find him.
One thing is for sure though; you'll have no doubt when he's on the field.
- Tony Chestnut : Oct 14th 2018