You Come At The King, You Best Not Miss
---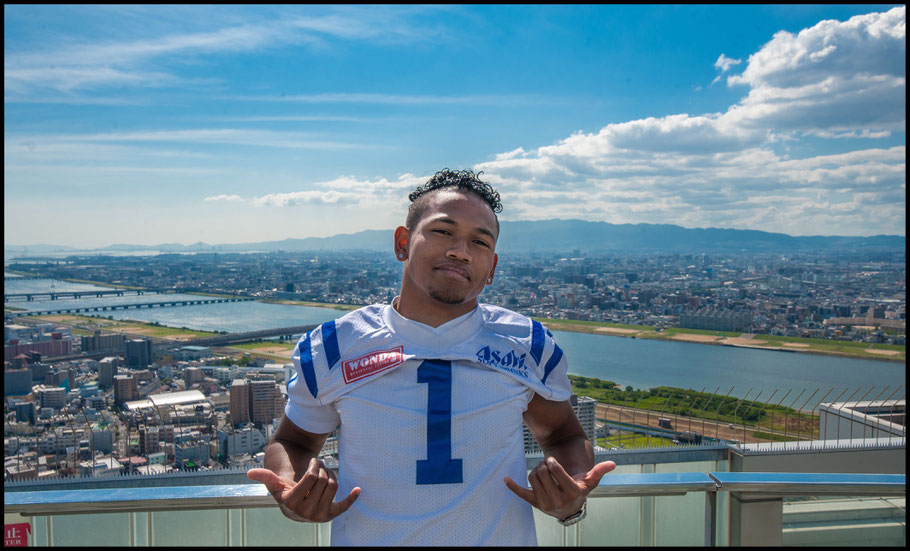 In the second of our series of interviews with XLeague players we talk to Asahi Soft Drinks Challengers WR Donnie King.
The former Rainbow Warrior is the longest serving foreign player on the Challengers roster and the only American holdover from last season.
He's joined this year by QB Alex Niznak who has moved over from Brazil's Recife Mariners.
It'll be the first time for King to play in Japan with an American signal caller and he's relishing the opportunity.
"I am a guy who likes to run and I'm a guy who likes to beat someone man to man. So having an American quarterback is a great thing for me. There's nothing wrong with a Japanese quarterback. But an American QB can actually throw it a little bit farther and a little bit harder. So for me being a wide receiver, it's a great opportunity and I'm very excited for it. I've actually got overthrown. That [hasn't] happened in a very very long time. Alex actually overthrew me in the Amagasaki Bowl cos I misjudged his arm."
It's not just arm strength either where Niznak makes a difference. The Central Michigan man is actively involved in the playbook. Work visa issues meant Niznak had to sit out the spring tournament but he was active on the sidelines calling plays and offering advice.
King is excited about that saying "he works very well with the Japanese Offense Coordinator, Fujii and also has input from last years quarterback so it's a really interesting offense. I'm telling you, you guys need to be excited. You guys are going to be entertained. It's going to be a Challengers side no one has seen.
That much was obvious in the games Asahi has played so far. King was heavily featured and used on some creative reverses against the Black Eagles. One went for a 44 yard gain.
"The reverse was really because, like Alex just wanted to be like, 'Hey, you know what we just gonna do this', I was like 'Okay'. But I was gassed because Alex decided to run the ball all the way from the 60-yard line. (Laughs) And I was just like, 'Are you joking'?!!
It should be noted that a few foreign players in Japan on certain teams like the Challengers regularly play both ways as well as on special teams so conditioning and gaining match fitness can be tough going early in the year. 
"I was actually supposed to play corner [last season] but the way things worked out...it just depends how the season goes. Even now I know how to play corner but it's more of the fact that they need me on offense. And I'm already playing special teams. So for me to play corner too would be like I guess you could say a little too much. I'm always down for the grind don't get me wrong, but we have good corners right now."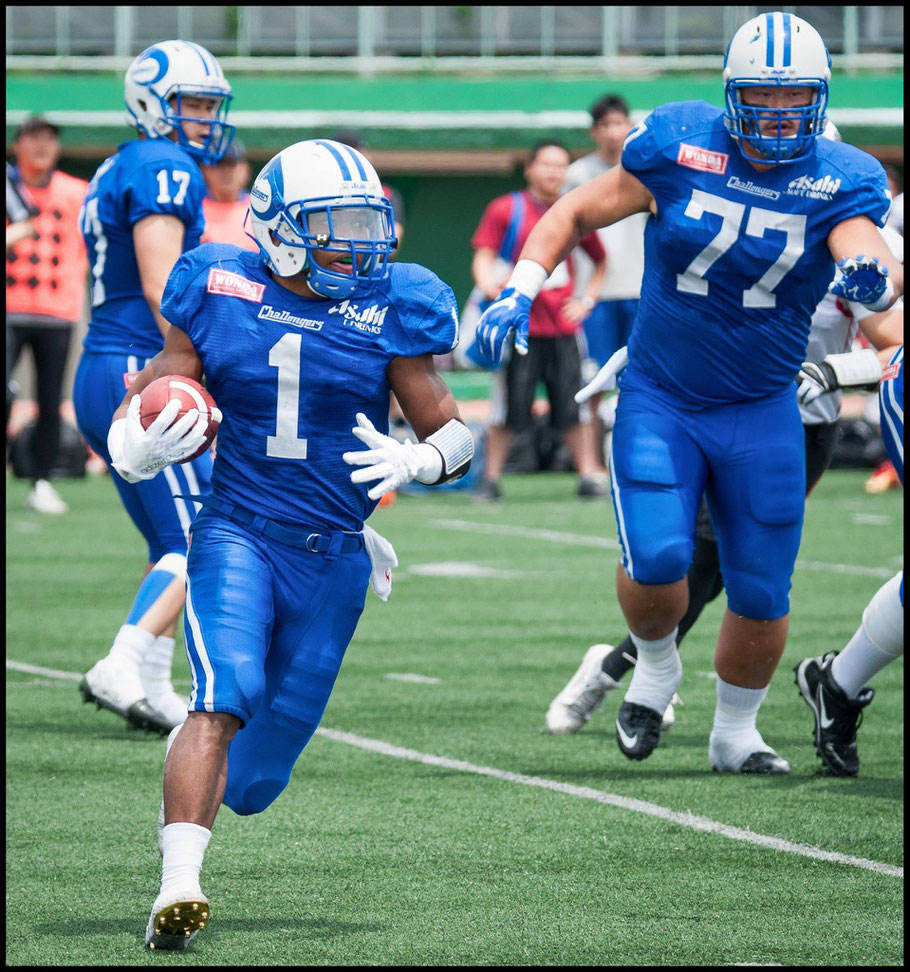 Of course King has spent several seasons in Japan so at this stage he knows what to expect and how best to prepare, but just how did a business major end up playing football in Japan?
"I finished college and I knew I wanted to play football so I was debating between China, Japan and trying out for Canadian football. China was actually starting an Arena Football League. One of my coaches had a connection through China. So, they sent me the email "hey we want you to try out" I talked to a few teams and they wanted me to come up but the deciding factor was, do I wanna learn Chinese or do I wanna learn Japanese?  Living in Hawaii, tourism you know. Japanese is the way to go. I actually really enjoy Japanese people. Y'know living in Hawaii you get a lot of tourists and most of them are Japanese. It was more of a future plan for me along with enjoying myself in the moment. I wanted to continue playing football but wanted to do something towards my future so I actually had contact with one of my former teammates [who] played in Japan the year right before I came and he was telling me a little bit about it then he got me connected with Challengers. [They said] 'we can't promise you anything but we can give you a fair tryout' so luckily I was allowed to come up. I packed everything, I mean I got two suitcases and it was pretty much 'you're going to Japan, you don't know anyone and you're going to try out for this team'. I came to Japan and tried out for the team and Matsumoto our head coach said "you know what I want you part of the team" and we went from there.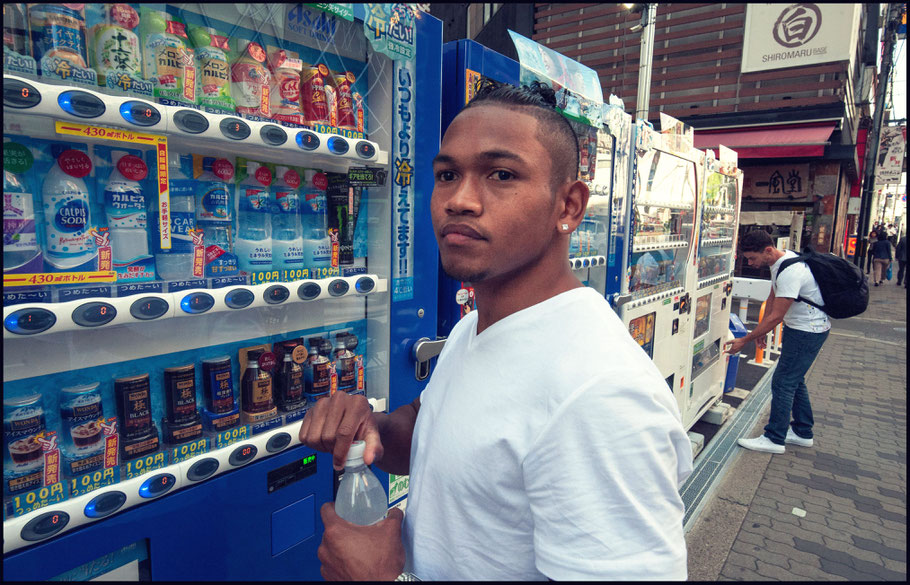 For King the 2017 season comes after a difficult time personally. His mother passed away last month at the age of 58. He will honor her throughout the season by wearing his hair in the style she liked. "I have naturally curly hair I'm putting into kind of a Hawaii style. My mom always said she likes my hair when it's long. She didn't really like when I cut my hair into a fade. [To pay] tribute to my mom I'm actually gonna just grow my hair out for a while. That's why I've actually put it in the Hawaii hairstyle. My mom just always liked my hair curly cause I have naturally curly hair and, so, it's just something for her."
King, like many Hawaiians, places a great importance on 'ohana'. He even chose his jersey number because of a family member. "Number one was something special I believe to my dad as well, who's [had] the biggest impact in my life. One God. He's a very religious person. I'm not spiritually religious but I do believe in God. And it's just something that I could do for him. To him, [the jersey number] doesn't matter but to me, it feels like I'm giving something to him."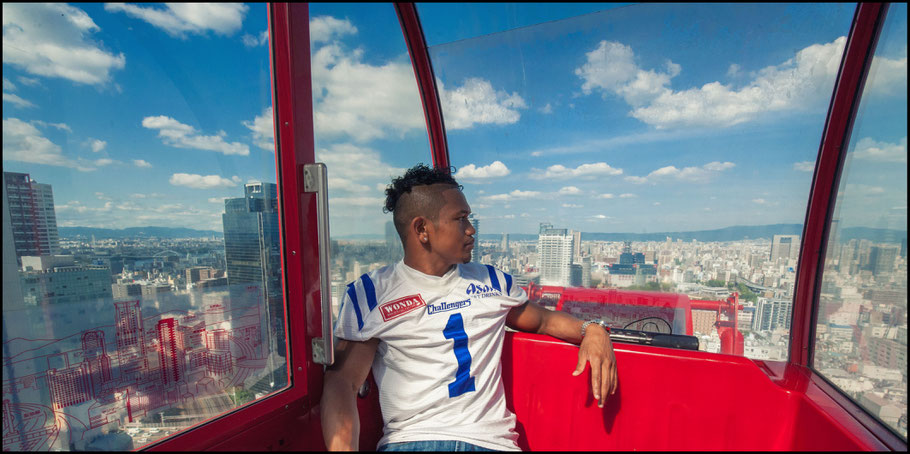 King as a veteran third year player also has added responsibilities on the team.
"I'm pretty much like sempai to the younger guys. For the foreigners I tell them this is how you catch the train. I mean it's very hard to catch the train in Japan especially if you [aren't used to] trains. I have to make sure I show up to the extra practice. We have an extra practice and the coaches like when I'm there. Off the field I have to make sure I'm working out, I have to make sure that the younger guys -just make sure everyone stays out of trouble, take them out things like that, just kinda have fun. Right now it's Alex - but Alex is Alex so I don't need to hold his hand - he has his own goals. So it's just things like that. I've actually taken in one corner and he's labeled as my one kohai. My first kohai. His name is Kai There's no one above him. He's just my first kohai cause when I first came me and him talked. And I took him with me to go do, I would say a DK work up (laughs) and he died. (laughs) He died but the best thing about him is he didn't quit."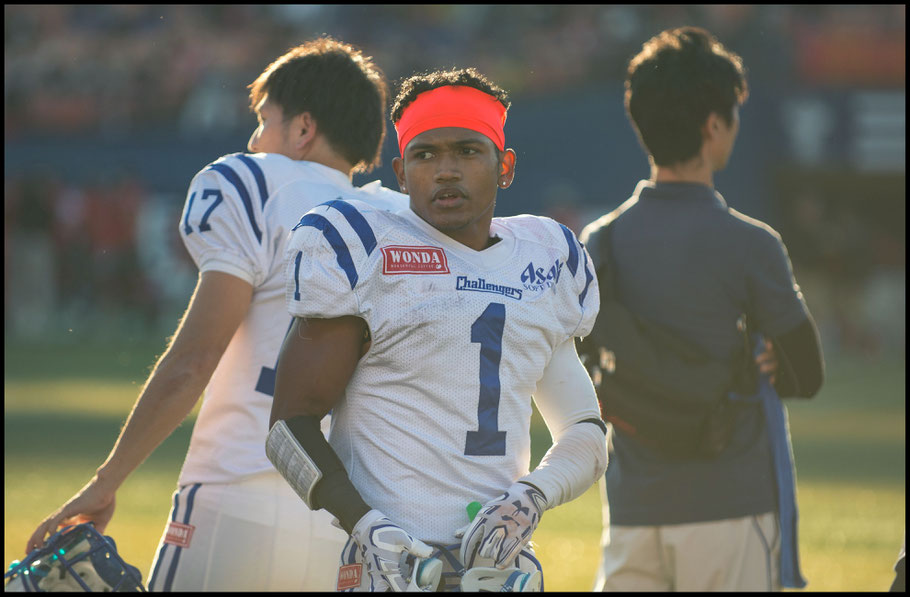 That willingness to work hard and put the team and others first has ensured a smooth transition and been a big part of King's success in Japan. When asked about what kind of advice he'd give players preparing to come to Japan he said.
"The first thing is to learn Japanese, First reading. You can always pick up on speaking when you're here, but, learning how to read is pretty important. Second thing is you have to have the mindset of 'I'm going to do it for a long time.' Cause it's not just, for me. I've already committed that I'll probably be in Japan till I'm thirty. Maybe a little bit longer. If I can stay till longer then I plan on being here even longer, hopefully playing football until I leave. Or if I ever leave we'll see. I really enjoy the Japanese lifestyle I love ramen out here. But after that number three would be, be open minded. You're in another country, there's a different culture set, different core values. Japan is a bit different from America,  and that's just something you have to accept. But besides that there's nothing really, you gotta have the mindset of going out there to do my best. So as long as you always do your best in everything I don't think you can fail."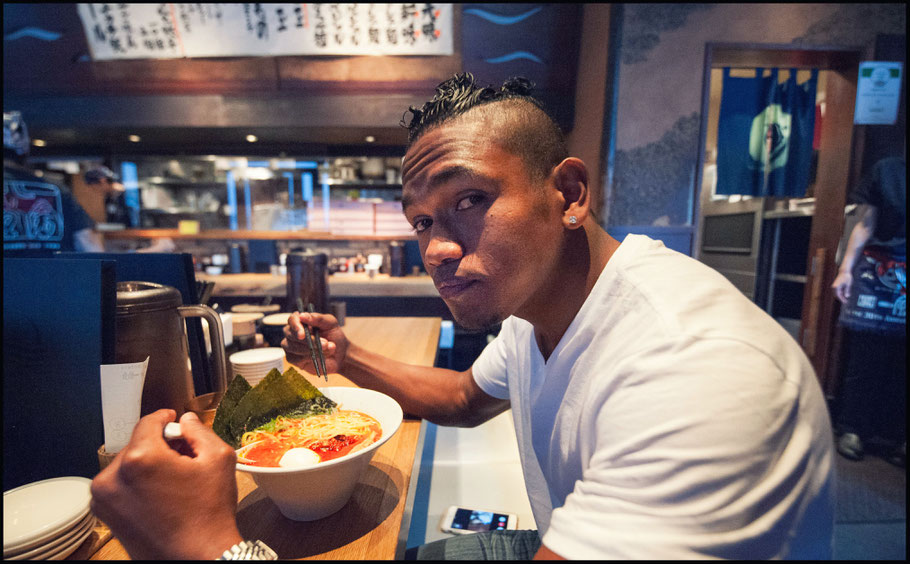 King hasn't completely acquiesced to the Japanese way of doing things however. "Well for me when I first got here, like I said, I love to talk smack. As practice goes I talk smack. At first, they didn't catch on to why I do it, but it's just to raise the competitiveness - not saying it's not competitive - it's [just] a different atmosphere because it's a little bit more friendly. Japanese people are really like quiet. But you realize now the teams that have Americans, there will be Japanese that are a little bit different than most other Japanese. And those are the guys who hang out with the Americans. Like I said my kohai Kai, I had to coach him up man, I had to coach him up on his style, he was dressing a little weird. (laughs) I'm like man, you can roll your socks up a little bit higher you can let it sink you know. You can tape up to here don't just be plain be different. Have your own style, have your own swag. So, Kai actually has his own swag now. It's funny cause someone actually made a comment like 'Kai dresses good', I was like 'oh yeah cause he's my kohai. He looks more American now right?' and they looked at him and said: 'yeah more American'. The way you carry yourself you can tell he's an American, or you can tell like he hangs out with Americans. Watch any game and you're gonna realize that there are certain guys that look different. And those are the guys that are influenced by Americans in a positive way cause it's about being unique."
When asked if he brought a little bit of an edge, a little of color to the game and to the team, King laughed and said.
"Oh man, me being me being dark skinned I definitely bring color." 
 - John Gunning: July 23rd 2017