---
Obic's Defensive Superstar Kevin Jackson Retires After 14 Sterling Seasons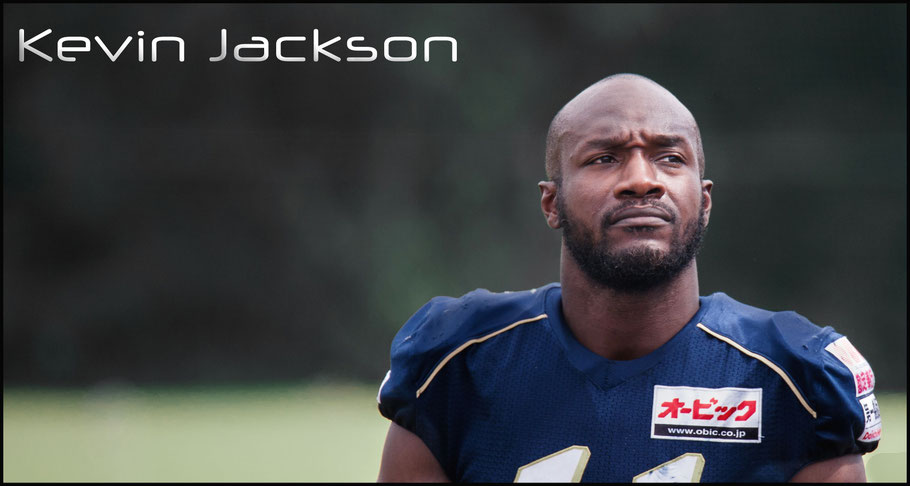 For the past 14 years, the big defensive end wearing No. 11 for the Obic Seagulls wreaked havoc on opponents, making sacks, harassing quarterbacks, and even getting the occasional interception. Not to mention the blocked kick here and there. 
As the X-League has evolved and became more competitive through the years, and American players increasingly came (and went), few if any have been more of a consistent presence on such a high level as Kevin Jackson.
The 37-year-old Jackson decided to make the 2018 season his last, it was recently announced on the Obic website. 
His retirement ends arguably the most distinguished career in league history and deprives the league of one of its most popular stars.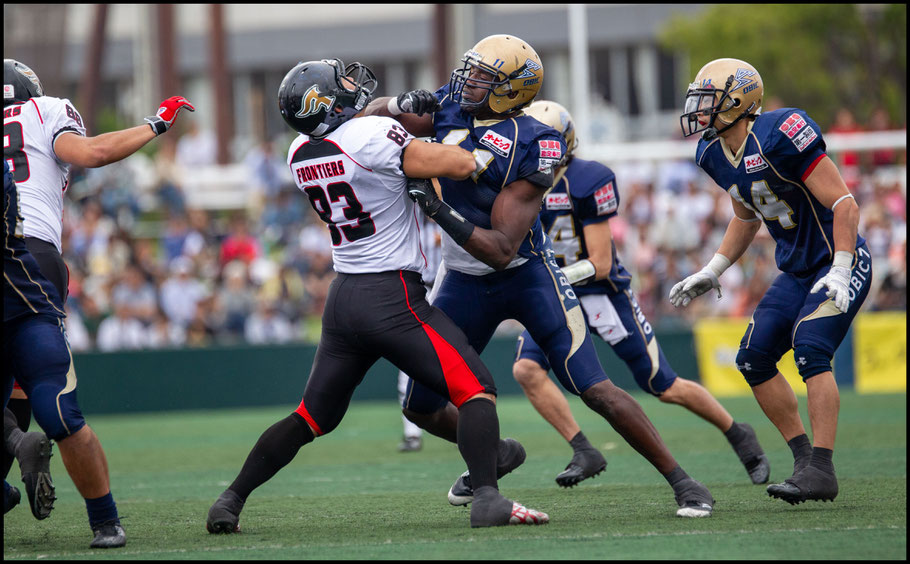 "Last year was when I actually gave it serious thought," Jackson says in an exclusive interview with Inside Sport: Japan. "Prior to that, there was no doubt I was going to come back."
Jackson says he leaves the field with no regrets, and takes with him a long list of accomplishments. While helping Obic win five X-League championships, including an unprecedented four in a row from 2010-2013, he was selected a record 10 times to the All X-League team, and was twice named MVP of the Japan X Bowl.
"As far as regrets, not really," Jackson says. "I think I played as hard as I could for the last few years. It would have been nice to win any of the last few seasons. But at the end of the day, I won five times, man. The first one when I came here, then four in a row. It probably would be different if I didn't win at all and then ended it after 14 years."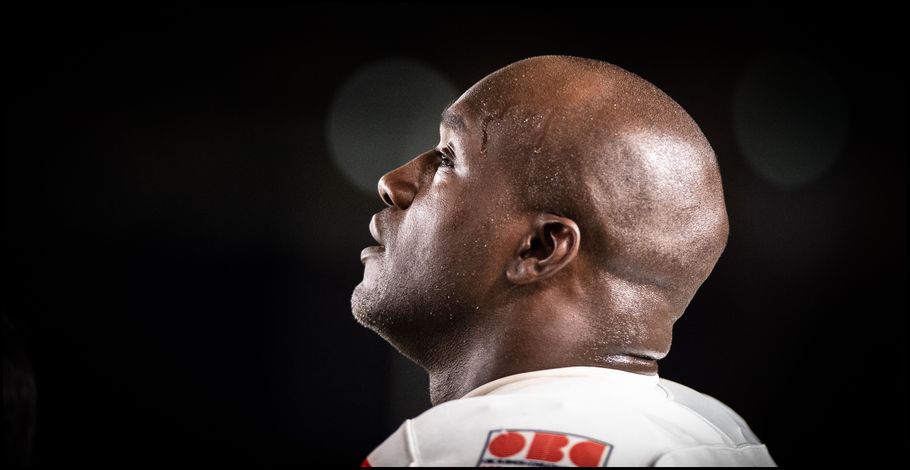 Jackson, a California native who played at the University of Hawaii, will remain with Obic, taking a job as a defensive and special teams coach. With the team now five years removed from its last league championship, Jackson sees the need for becoming a coach as outweighing the contribution he could still make on the field.
"After giving it some serious thought, [my wife] Mao and I thought it was the right thing, not only for me, but for the team," Jackson says. "I'm coaching this year, and I strongly felt that there was a need for me to be behind the scenes."
Jackson said he never considered doing the "Kevin Craft thing," referring to the IBM quarterback who last season became the Big Blue's head coach, while remaining as an active player on the roster. 
"Honestly, I never had any real interest in coaching. But, where we're at right now, we just do a terrible job of managing situations. In key times, I think if we had some people doing a better job behind the scenes, we could have done a lot better. I really think that's where we need some help more."
Jackson found success as quickly as he gets into an opponent backfield, winning a championship in his first year in Japan in 2005. That year, he also started his run of 10 straight All X-League selections and was named Japan X Bowl MVP for the first time.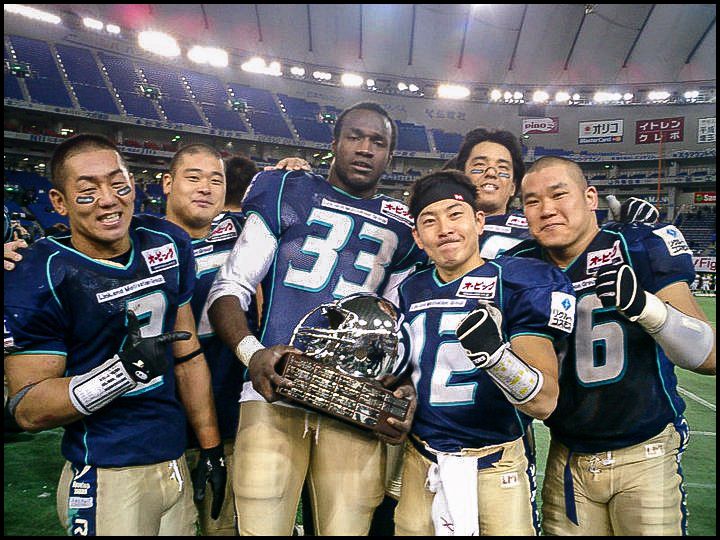 Like many ex-pats in Japan, Jackson stayed far longer than he ever planned. He acknowledges that had he not met with such success so early, his career might have veered down a different path.
"I thought it would be a one-off thing, like a year, two at the most," he says. "It kind of started off with a bang when I got here. We went undefeated that entire year and we won the championship. I think I had a lot to do with that, and the team showed appreciation and made an effort to keep me around after that."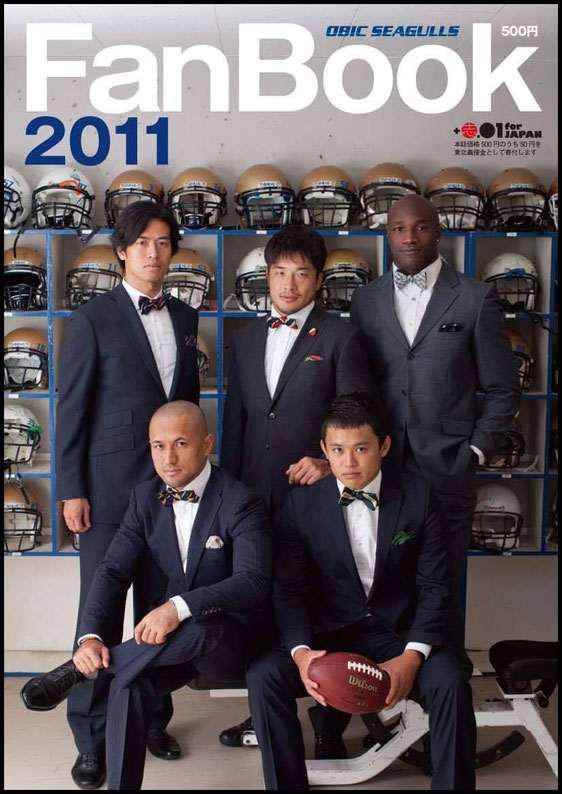 After finishing up at Hawaii, Jackson attended the Green Bay Packers' mini-camp, but when that didn't pan out, he returned to Hawaii to continue working out for another possible shot at the NFL. But then fate sent him the opposite way across the Pacific.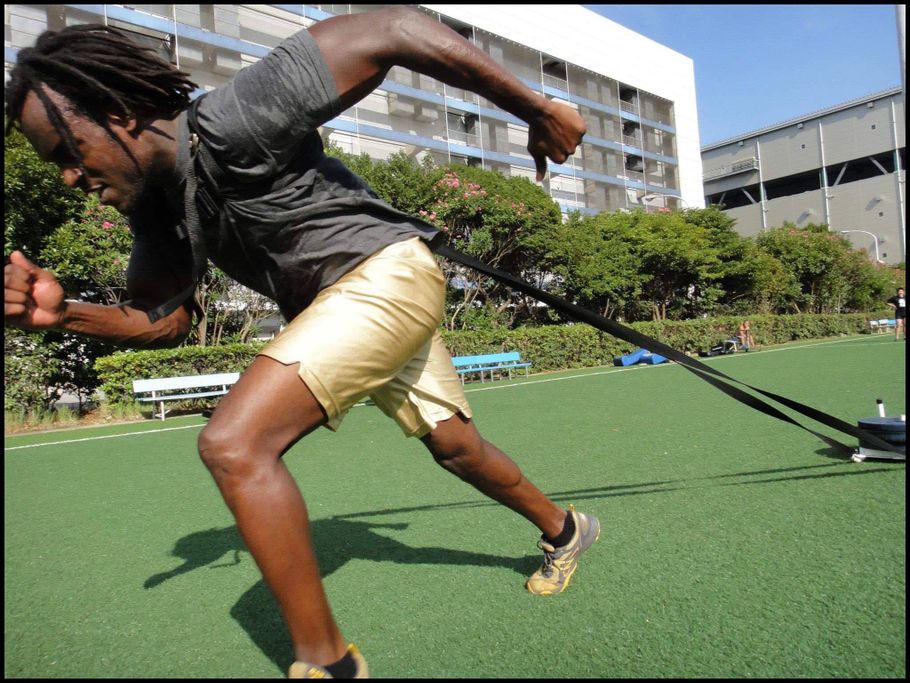 His roommate in his final year at Hawaii was a Japanese coaching intern named Kazuki Omura, a Seagulls coach at the time who is currently assistant HC at Kwansei Gakuin University. It was Omura, having returned to Japan, who enticed Jackson to join Obic, although he did not need much convincing. As an Asian History major, Jackson had visited Japan a number of times and was eager to return.
In doing so he became the Seagulls' first ever foreign player. "I was all up for the challenge of doing something a little bit out of the ordinary," he recalled in an interview on the Obic website.  
At 193 cm, Jackson was among the tallest players in the league, creating nightmares for quarterbacks trying to throw a pass over him. At 108 kilograms, he could more than handle himself against offensive linemen.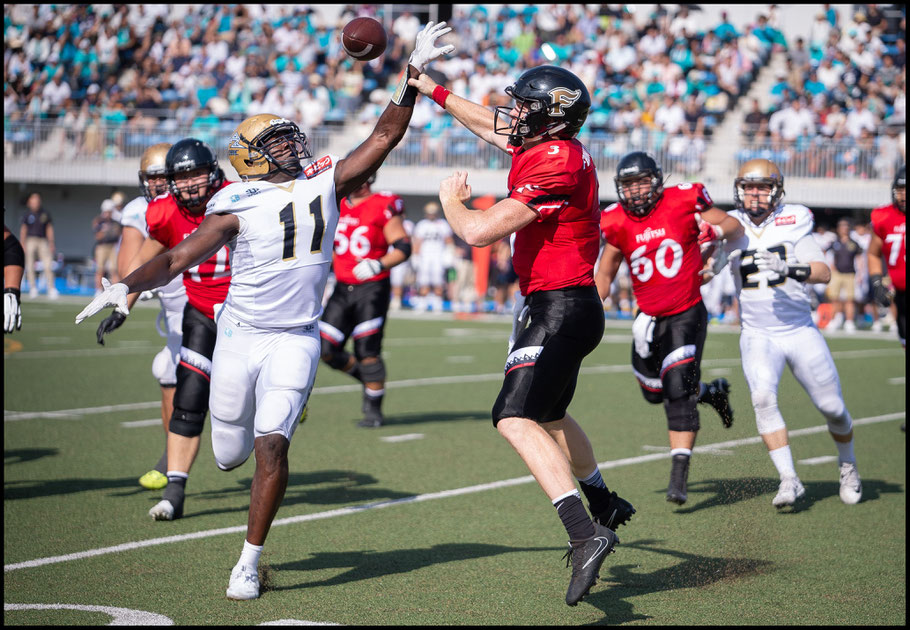 He finished his career as the second-leading tackler in Obic history - his 266 ½ tackles left him one behind former linebacker and current head coach Naoki Kosho - with a team-record 38 sacks, according to the team website.
Jackson also knocked down 37 passes, and had six interceptions. And in an homage to William "Refrigerator" Perry, in 2008 he was inserted into the backfield in short-yardage situations and scored four touchdowns on six carries for a total of 10 yards.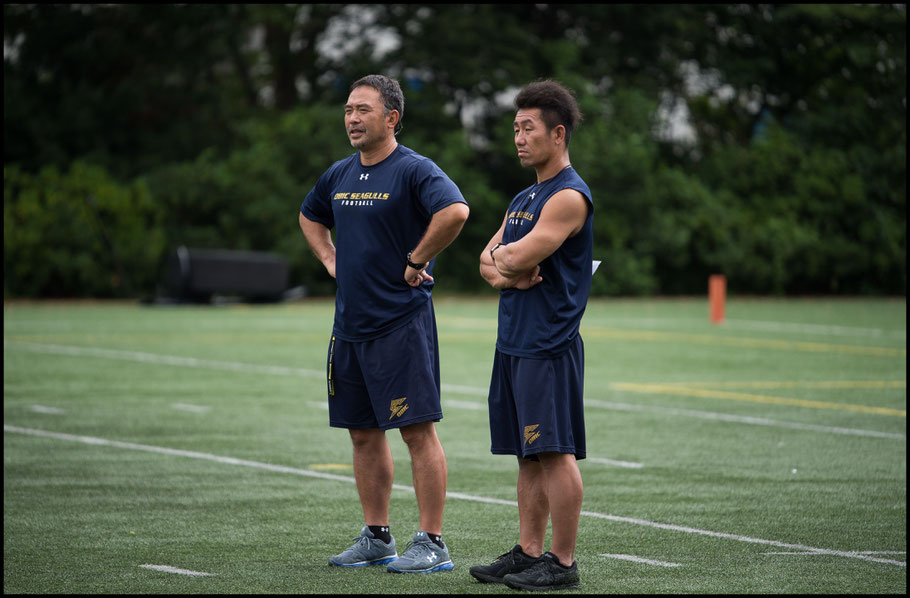 But ability is not the only requisite for success in Japan. What endeared Jackson to fans, foes and everyone else was his humble and friendly nature. Every year, the Seagulls, based in Narashino, Chiba Prefecture, play a "home" game in the city's stadium, and any reporter who wanted to speak with Jackson after the game knew it was going to be a long wait, as seemingly every one of the thousands of fans who showed up wanted a photo with the star.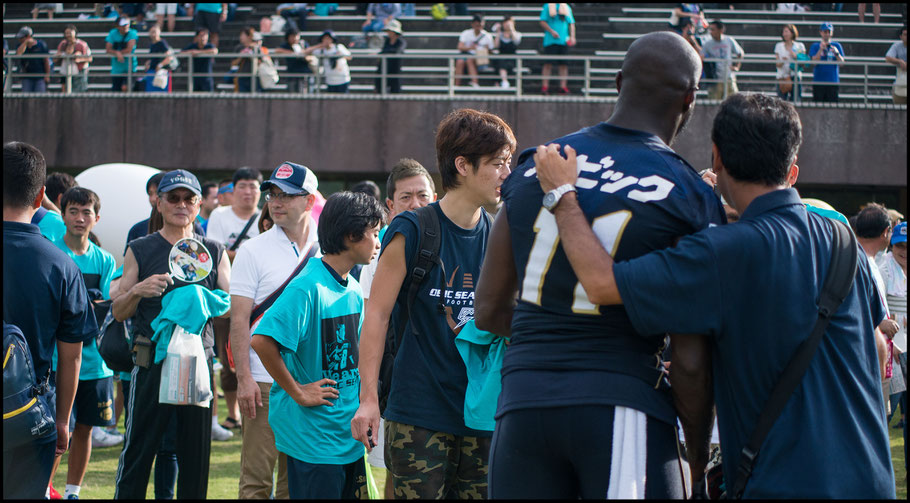 "One of the first names you hear of when you come to Japan is Kevin Jackson," says Fujitsu Frontiers cornerback Al-Rilwan Adeyemi, who has made the All X-League team in all of his six seasons. 
"From his play on the field to his involvement in the community, Kevin has always done it the right way. He's often one of the guys Japanese GM's point to as an example of how to approach living and adapting to Japanese football."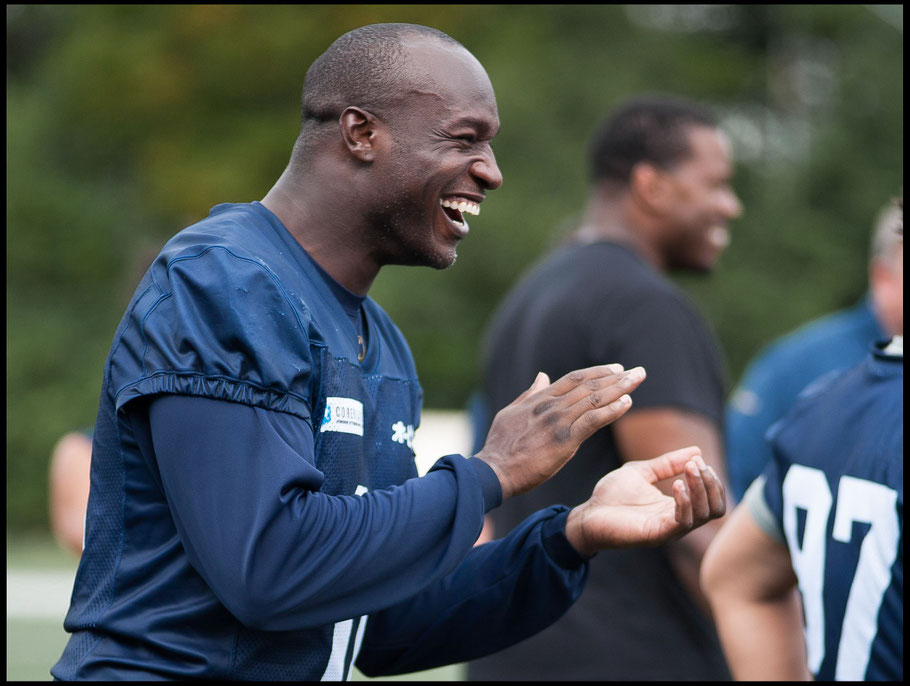 By sticking it out for 14 years, Jackson also provides a template for American players out of major college programs who come up short in their bids to make the NFL. 
Japan, they now find, is a viable means of remaining in the game.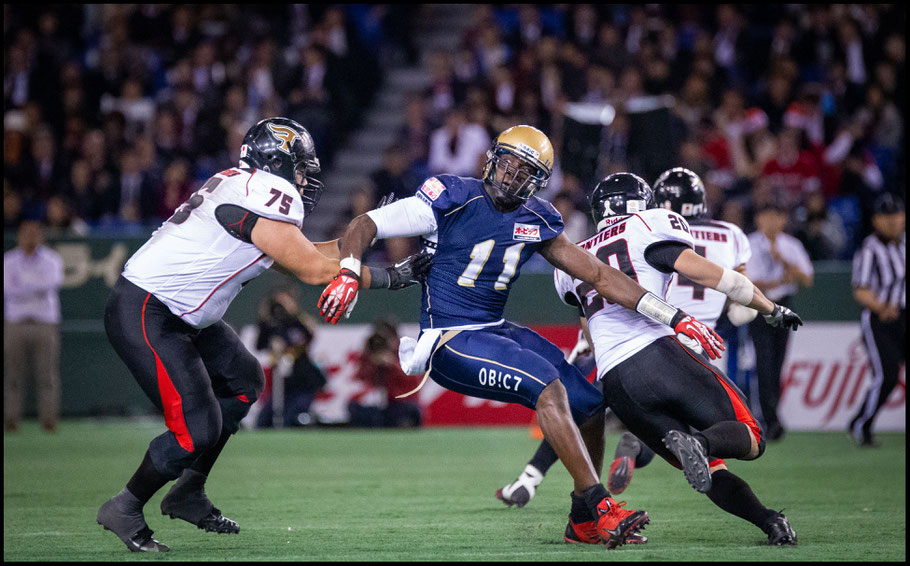 "His longevity in Japan has made it possible for Americans who come over, to see this as a real opportunity to further your playing career, rather than a one-year bridge gap back to the U.S.," Adeyemi says.
In recent years, Adeyemi's Frontiers have been the bane of Jackson and the Seagulls, often knocking off Obic en route to four championships in the past five years, including a 16-3 win the 2016 Japan X Bowl - Obic's lone title game appearance since their 2013 championship.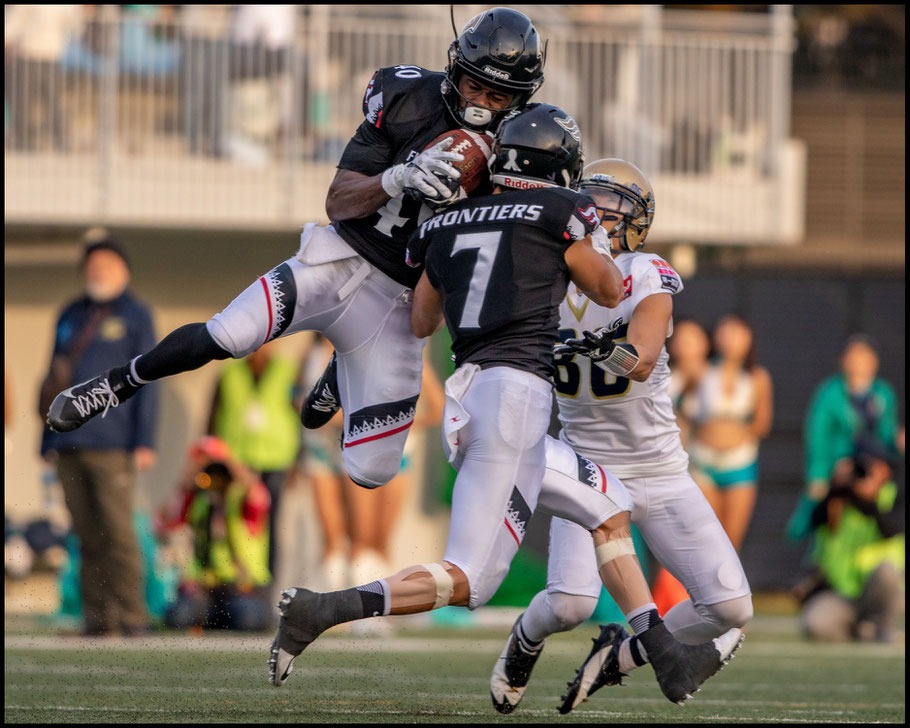 But when it comes to getting under Jackson's skin, the main irritant was the Panasonic Impulse. In his debut season, Obic defeated Impulse (then known as Matsushita Denko) 25-16, only to lose to them four years in a row at some stage of the season behind their star quarterback Tetsuo Takata.
"We had four seasons in a row, we'd lose close games down in Osaka," Jackson says. "We just could not get over the hill with Panasonic. They had a really good thing going on offense during that time. It wasn't so much about hate, it was the challenge of playing them."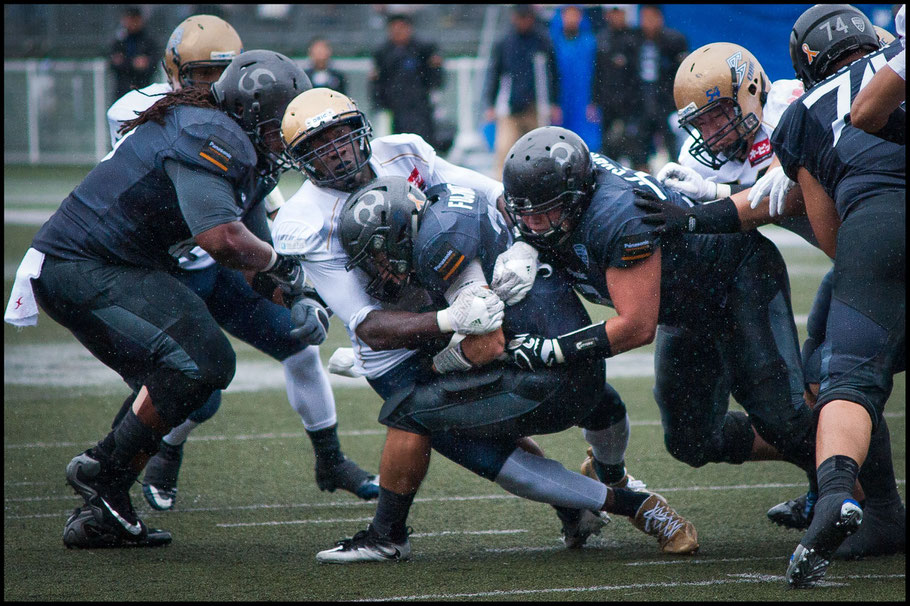 Asked about his fondest memories as a player, Jackson seemed stumped to name anything specific. There are just too many, and not just what occurred on the field. 
"There's tons of highlights," he says. "It's not so much the plays, it's the having good times with the guys. The away-from-football stuff. We had a chance to go overseas a few times as a team, hanging out, playing exhibition games in Europe and places that I didn't think I would ever go to. We've been to Australia a bunch of times."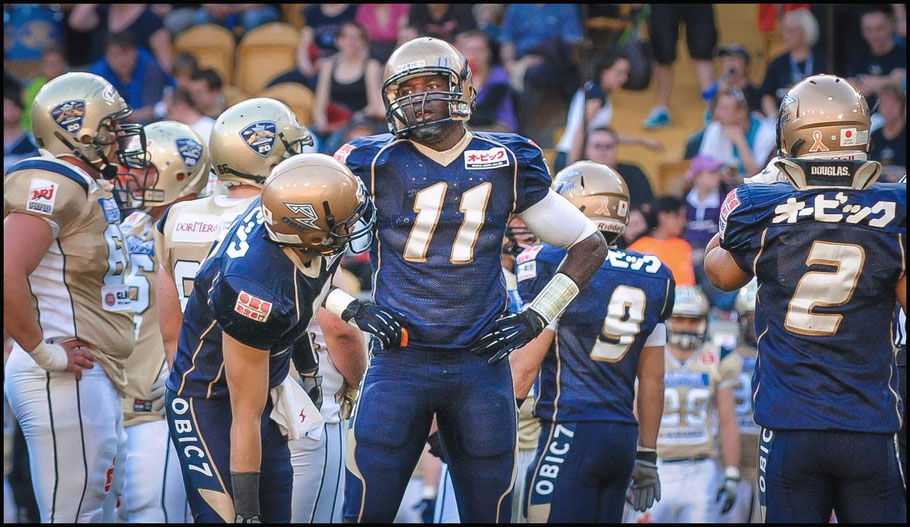 Through the years, Jackson has seen his share of teammates come and go. And while he treasures his relationship with all of them, he singles out two 30-something Japanese compadres who particularly impressed him but stood out for different reasons.
"For pure skill, talent-wise" there is wide receiver and kick returner Noriaki Kinoshita, who has dazzled the league with his speed and agility, and also made a name for himself in NFL Europe.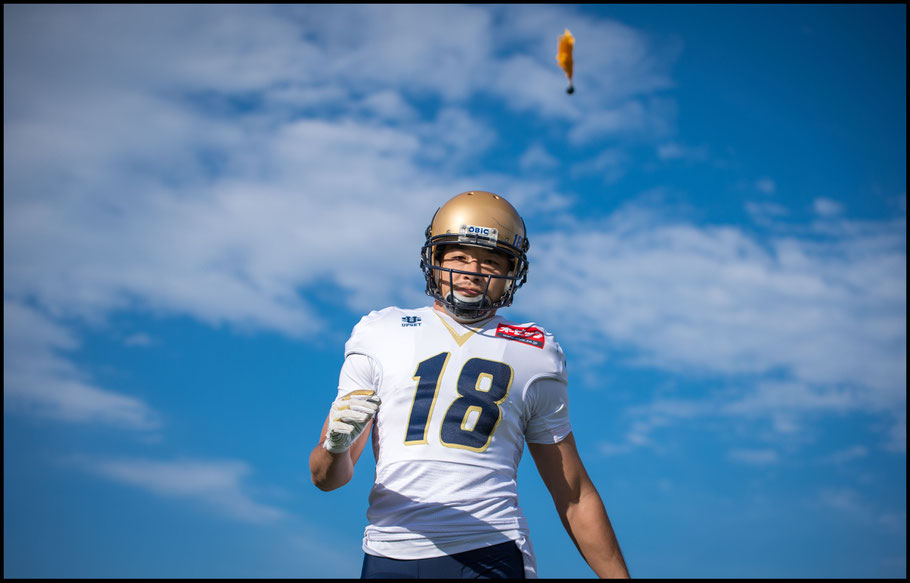 "When he first joined us in 2011, obviously he was just so much different from any Japanese player that I had seen before," Jackson says. "This is a guy who kind of got lost in the shuffle. He was the special teams MVP of NFL Europe, and was on the practice squad of the Atlanta Falcons for two seasons.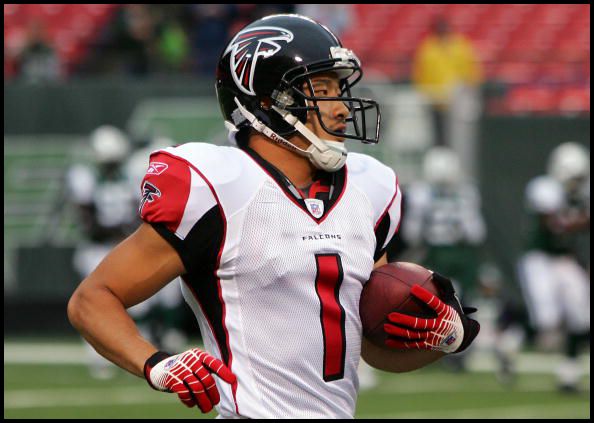 "That kind of gets forgotten. This guy, when he came, was amazing. Stuff he was doing, he was heads and shoulders above any Japanese player that I had been used to at that point in time."
The other player barely comes up to Jackson's shoulders, but quarterback Shun Sugawara stood tall when it counted most. A stocky 173 cm and 83 kg, Sugawara belied his lack of physical attributes with a fierce determination and confidence that produced an inordinate number of winning drives.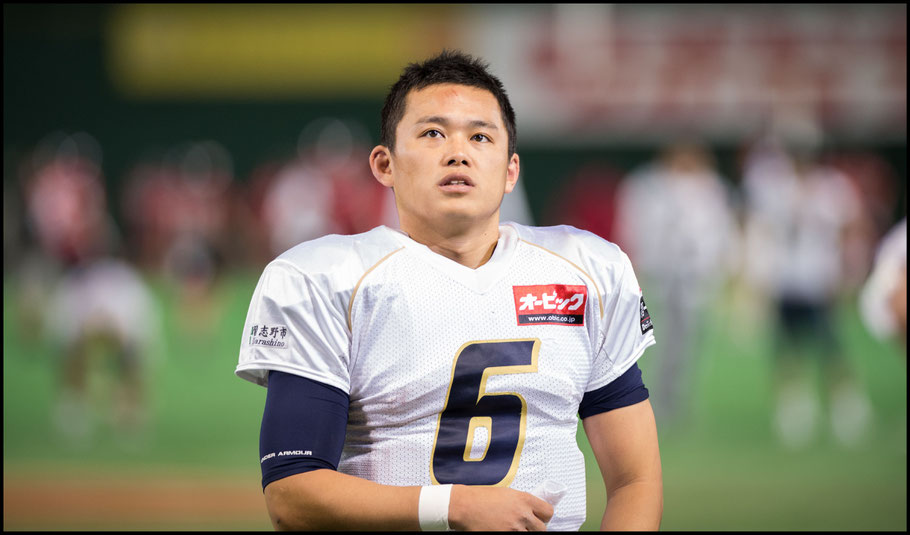 "Undersized, doesn't really have a strong arm, but just has a huge heart," Jackson says. "That guy willed us to a lot of wins in that stretch where we were winning a lot. That guy just stays composed, and makes good stuff happen. Physically impossible for someone not as gifted. He was a leader."
While Jackson will now be providing his form of leadership from the sidelines, he says he doesn't expect to miss being on the field (we'll check again after the season starts). 
"I don't think I'm going to miss playing at all," he says. "I'm going to be coaching, so I'm going to be in the game, and I'm going to be checking up on a whole host of things, making sure we're prepared. I don't think I'll have time to sit back and think about things I would have if I was still playing."
---
- Issur Danielovich: March 18th 2019