---
Brave Blossoms Driving Rugby To New Heights In Japan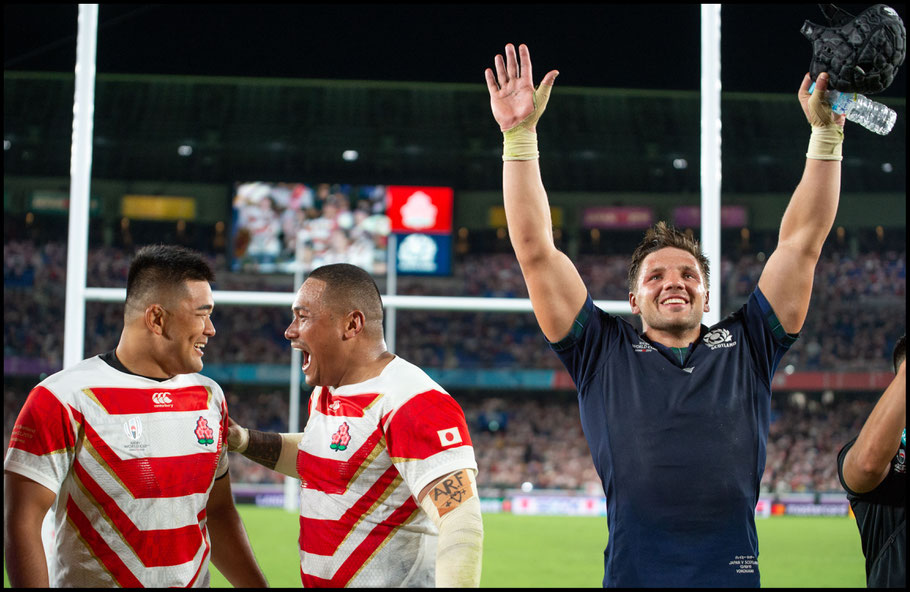 Incredible. Mind-blowing. Sensational. 
Those words best describe the form of the Japanese national rugby team as it advanced into the Rugby World Cup quarterfinals for the first time ever. 
A tier-two nation heading into the tournament, Japan's toppling of both Ireland and Scotland in the pool stages saw it accepted into the big boys club. 
The Brave Blossoms have also shot up to number seven in the world - Japan's highest ever ranking 
It's an incredible achievement for a team that pre-tournament was seen as no real threat to either of the Northern Hemisphere sides in Pool A. 
A perfect four wins out of four for the Asian nation has propelled the side into the hearts of the Japanese public as well as creating a multitude of foreign fans. 
Not bad for a side that was once on the receiving end of a 145-17 World Cup trouncing at the hands of the All Blacks.
No.8 Kazuki Himeno said, "We managed to have good training, preparation and recovery. We sent the message to the world that Japan has the quality to break into Tier 1. It was a massive thing for Japanese rugby. It's pleasing to see the excitement throughout Japan. I hope the rugby culture takes root."
So, what has brought about this titanic transformation from a submissive, underachieving style of play to one that is decisive, dynamic and clinical? 
Full credit must go to Japan's coaching staff; head coach Jamie Joseph alongside assistant coach Tony Brown. 
Those two New Zealanders first combined successfully in 2015 when they helped engineer a stunning come-from-behind first-ever Super Rugby title victory for the Highlanders. 
Since the serious training for the 2019 Rugby World Cup started back in February, Joseph and Brown have been patiently molding their charges, with matches against Super Rugby B sides followed by two grueling fitness conditioning camps and a successful Pacific Nations Cup campaign.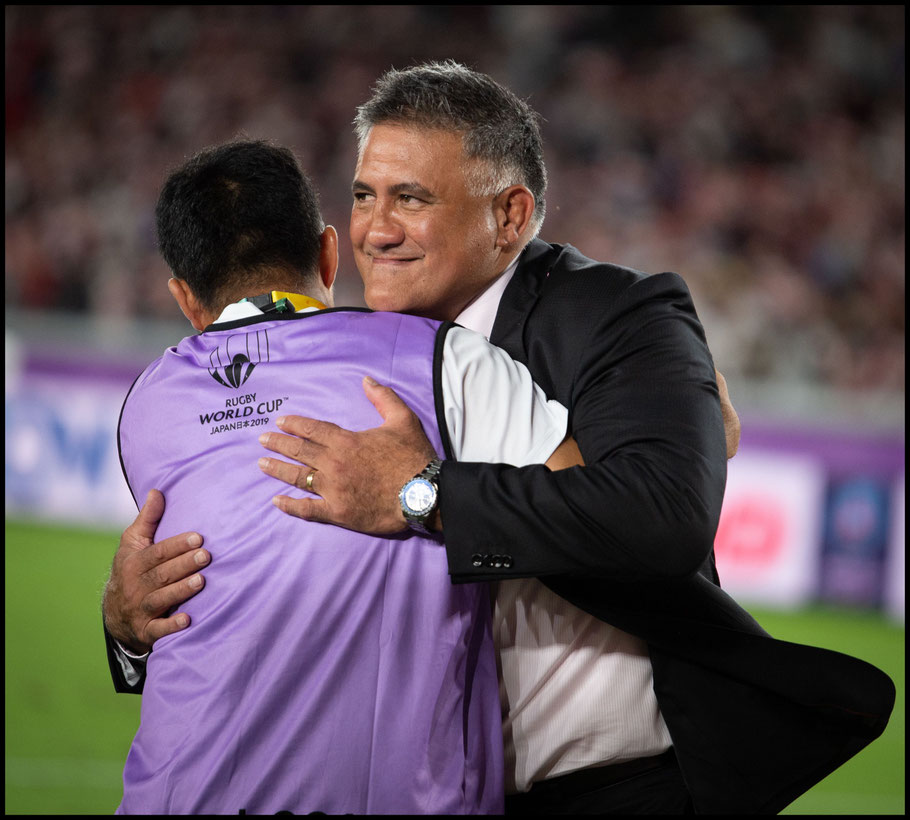 Their stratagem has triumphed and both Joseph and Brown should be recognized for their ingenuity and vision.
For to watch Japan play now, is to witness blistering pace out-wide, barnstorming runs up the middle, and a bullish defense that will not yield easily. 
Himeno added, "We've been honing our rush defense throughout the past three years. We have a clear image of applying pressure to the opposition and getting the ball back. We want to keep ourselves on the front foot."
Even that unnerving little bug called "pressure" that sometimes gets under player's skins and gnaws away at one's self-belief, has been nonchalantly squashed by Japan.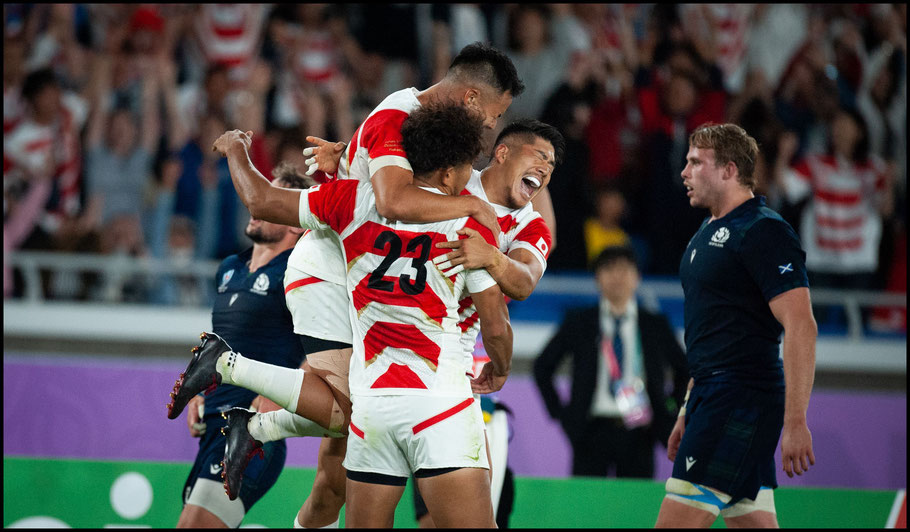 Apart from the opening spell against Russia, the tournament hosts have looked nothing short of cool, calm and collected. 
Former Brave Blossom sides would have wilted under the weight of expectation, leaked tries at crucial moments or made horrible decisions close to an opponent's tryline. 
But not this team. 
High-tempo play, magical offloading, and attacking close to the rucks, has seen Japan score some truly beautiful tries. 
Led by their talismanic captain Michael Leitch, the Brave Blossoms have forced the rugby world to stand up and admire their unwavering samurai spirit, producing results that have reinvigorated the sport in Japan and in the rest of the world.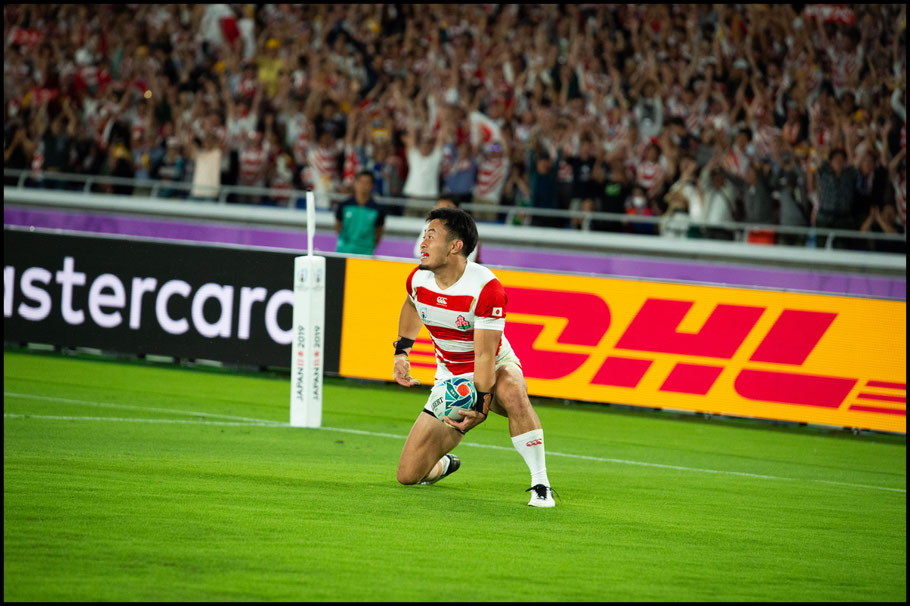 Defense coach Scott Hansen said, "We're very privileged to coach this team. This team is very passionate about representing Japan and understands the responsibility they have to inspire the younger generation."
It's far from one-man team as well, as Leitch's leadership skills have allowed many of his teammates to shine brightly on the international stage. 
Players such as winger Kotaro Matsushima who currently is top of the try-scoring table with five (alongside Josh Adams of Wales.)
Then there's Kenki Fukuoka, a player of diminutive stature, but one that possesses the pace and agility to outstrip any defense in the world. 
In the centers, Timothy Lafaele is having a blinder of a tournament, showing an innate ability to read the game and set up his outside backs with deft passing or smart kicking. 
Yu Tamura has cemented his place at flyhalf with the 30 year old contributing 48 points with the boot-the most by any other kicker. 
The tight five have also been rock-solid for Japan with grizzled veteran hooker Shota Horie providing stability in the scrum alongside Keita Inagaki.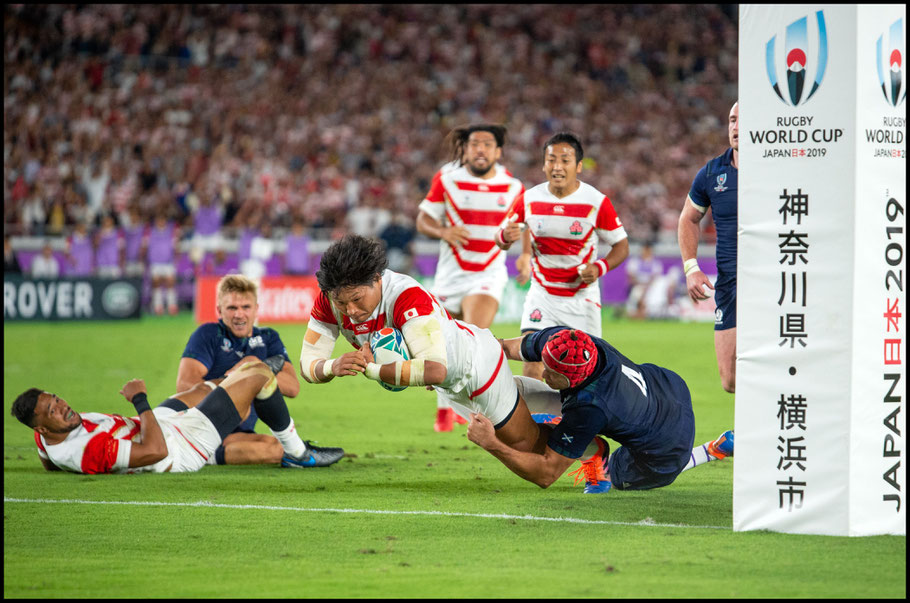 The pairing of locks Luke Thompson and James Moore, both averaging more than 13 tackles per game has provided Japan with a near impenetrable defensive line around the breakdowns. 
Added to that are two powerful ball carriers and tackling machines in the form of backrowers Himeno and South African-born Pieter Labuschagne.
Hansen is full of praise for his team's commitment to defense saying, "I've been very pleased with our defense and scrum throughout the tournament. All the work that's been put into it, if you look at the conditioning, it's allowed us to maintain our defense right through the game and we saw that against Scotland last weekend."
Overall, Joseph has found the perfect mixture of mobility, brawn, and experience (not to mention a diverse range of nationalities) to launch his team into uncharted territory with a chance to write history.
It will all come to a head tomorrow night at Tokyo Stadium as Japan prepares to take on world #5 South Africa; kick-off at 19:15. 
Hansen remarked, "Leading up to South Africa, they're a fantastic side, they have physicality and it's a case of how we approach that momentum. It will be a massive challenge."
The Springboks will be hoping to put the "Brighton Miracle" finally to rest and instead, focus on repeating their emphatic 41-7 victory in a warm-up match against Joseph's men early September. Japan though will have other ideas and the Brave Blossoms are optimistic of upsetting South Africa for the second time because quite frankly anything is possible at this World Cup. 
Hansen said, "Every day we come together and we talk about being confident in our game. We feel on our day we have the ability to beat anyone in the world."
---
- Todd Phillips: Oct 19, 2019