Natsu Basho 2017: A New Dawn?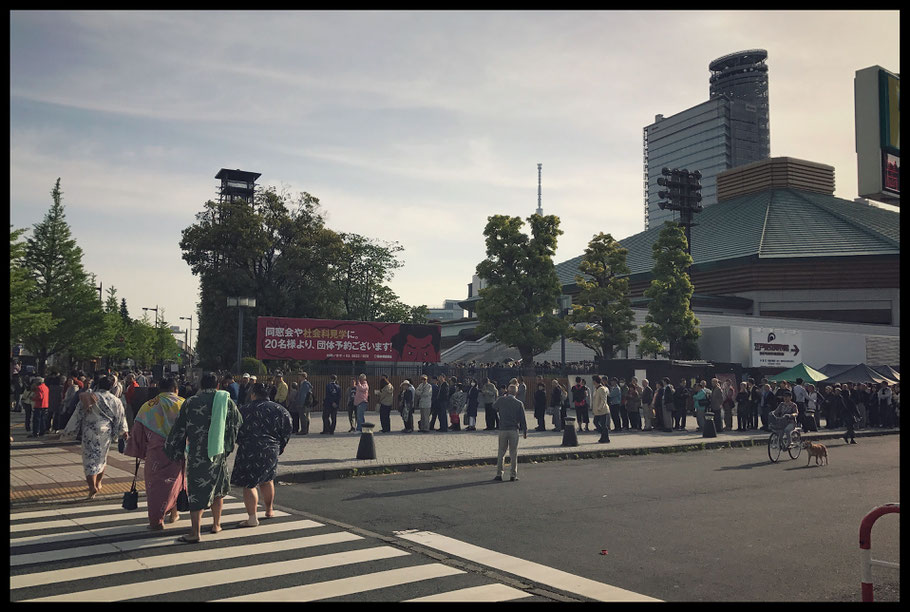 When tickets went on sale for the Summer Grand Sumo Tournament in April, they disappeared in a flash. Within an hour, Tokyo's Kokugikan was sold out for all fifteen days as the Kisenosato-effect continues to take hold of the Sumo world.
The 30-year old's back-to-back Emperor's Cup wins seem to have brought a level of enthusiasm for Sumo in Japan that has not been felt, perhaps, since the 1990s when Sumo last had four grand champions at the same time.
Couple that with the ageing of the Mongolian yokozuna and the surge of promising young blood in the salaried ranks, and there is a growing sense that Sumo in Japan is entering a something of a new era.
Heading into day one, Kisenosato will no doubt again be the focus of the upcoming tournament. The injuries he sustained last tournament are lingering, however, and there are serious doubts surrounding his chances of winning it all for a third basho running.
Yokozuna Hakuho, whose last yusho came a year ago, will also be in the spotlight. This tournament marks his 59th as a yokozuna, equalling that of the late Chiyonofuji and the second most all-time.
Mongolian powerhouse Terunofuji, who Kisenosato defeated twice on day 15 of the Haru basho, is suffering from injuries aggravated during a bout against Kakuryu. His hopes of yokozuna promotion in the coming meet appear to be compromised by them.
With Kisenosato having moved up from ozeki and Kotoshogiku down, sekiwake Takayasu is looking to fill the void. The 27-year needs 10 wins to reach Sumo's second highest rank. With confidence at Taganoura-beya currently high, many are tipping Takayasu to get the job done.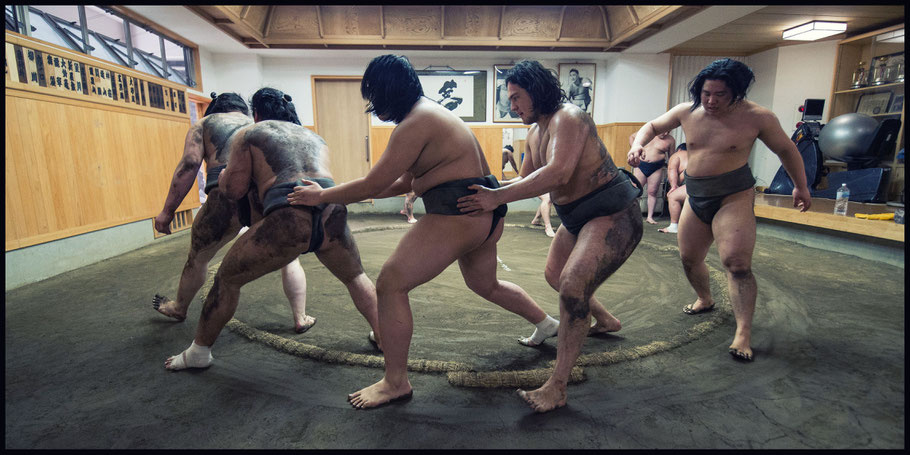 Fiery youngsters Chiyonokuni, Chiyoshoma, Daieisho, Takakeisho, and Ura will all fight from career high ranks, while promising young guns Onosho and Yutakayama (ex-Oyanagi) will debut in the top division.
Further down the banzuke, Sadanoumi has dropped to juryo for the first time since March 2014. The Kumamoto native has had difficulty earning a winning record of late, and will be looking to regain form against some of Sumo's promising youngsters currently on the ascent. Daiamami, Rikishin, Terutsuyoshi, and the touted Asanoyama, are all at career high ranks.
For his part, 27-year old Kyokutaisei is also at a career high rank, while 19-year old Takanohana-beya recruit, Takagenji, makes his debut in the division.
It is no coincidence that many of the names mentioned above belong to young rikishi – as the old guard begins to break down due to age and injuries, a new generation is beginning to come through.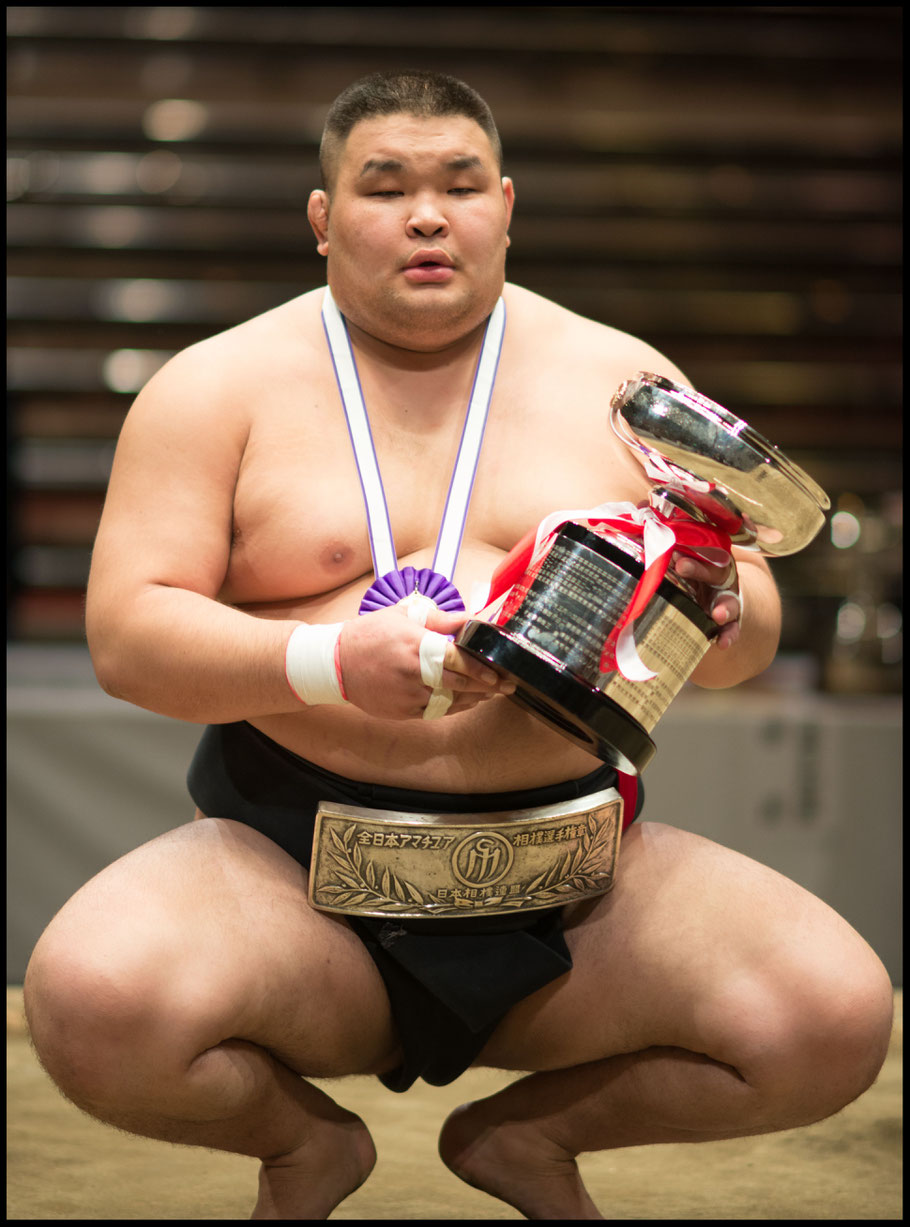 We might add Shodai, Takanoiwa, Hokutofuji and perhaps Ichinojo to the list of young talent. Further down, the 180kg amateur yokozuna, Mitoryu is another newcomer to watch.
Kotoshogiku's drought-breaking yusho to begin 2016 could be said to have kicked off this 'new era'. The 33-year old's performance caught everyone off guard, sending a jolt of energy into the Sumo world.
His victory was a sign of how unpredictable Sumo was about to become.
So who will emerge victorious in the upcoming meet? No one really knows, and that make it an exciting time to be a Sumo fan.
- Jordan White: May 14th 2017
---
Kisenosato Wins Title After Dramatic Playoff 
New Yokozuna Downs Ozeki Terunofuji Twice on Final Day Despite Serious Injury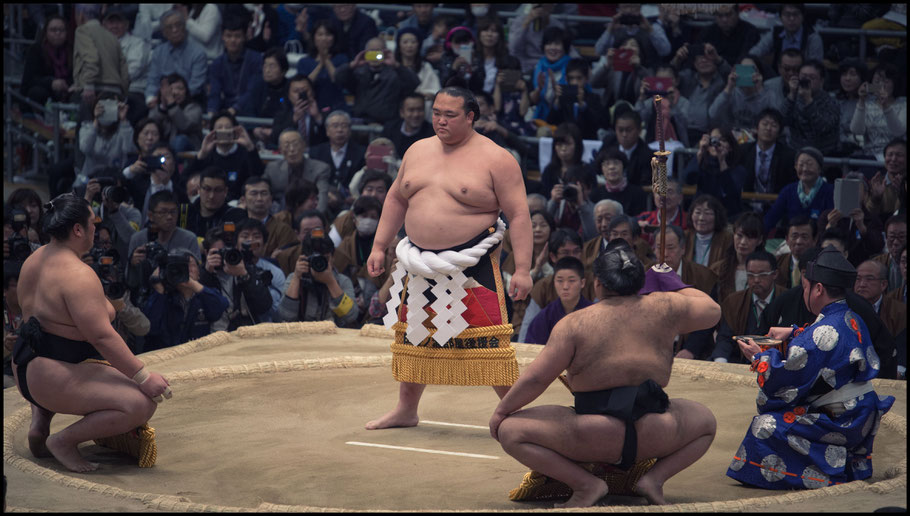 Kisenosato's January promotion to yokozuna made this year's Osaka basho one of the most highly anticipated tournaments in recent times.
In a incredible display that will be remembered for years to come, Kisenosato powered his way through injury to claim a valiant come-from-behind yusho.
The Ibaraki native's campaign began with 12 consecutive wins. With fellow yokozuna Hakuho pulling out injured and with Harumafuji and Kakuryu suffering early defeats, Kisenosato looked a sure bet to take back-to-back titles.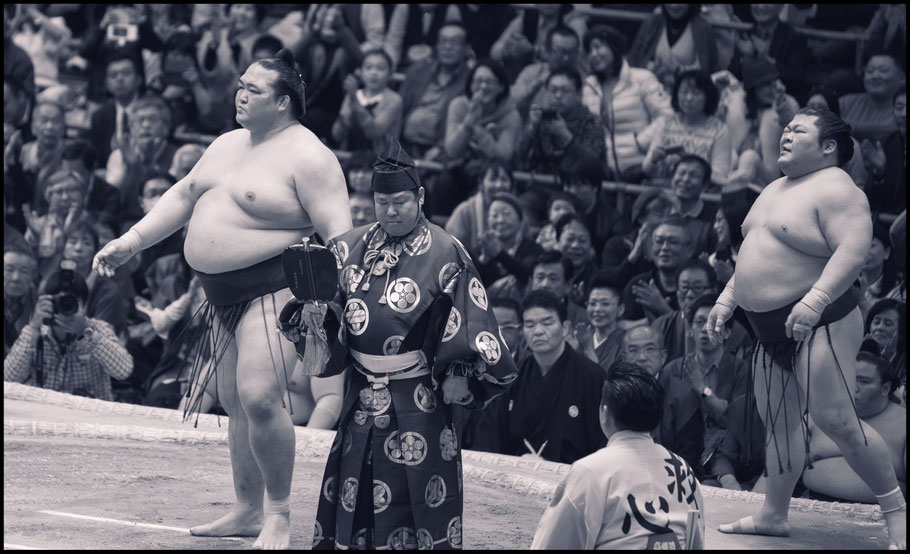 However, the dream looked to have been derailed on day 13, when a determined Harumafuji blasted Kisenosato out of the dohyo and onto his shoulder. The 30-year old   winced in pain and took a long time to get up as the crowd fell silent.
Against all expectations, a taped-up Kisenosato returned the following day to face Kakuryu, but could offer little resistance and was driven out of the ring with ease. It seemed Kisenosato's campaign was over.
Emerging from his shadow was the resurgent Terunofuji, who had suffered only one loss at the hands of a powerful Takayasu. The kadoban ozeki was back to his best, and his second career yusho looked almost certain.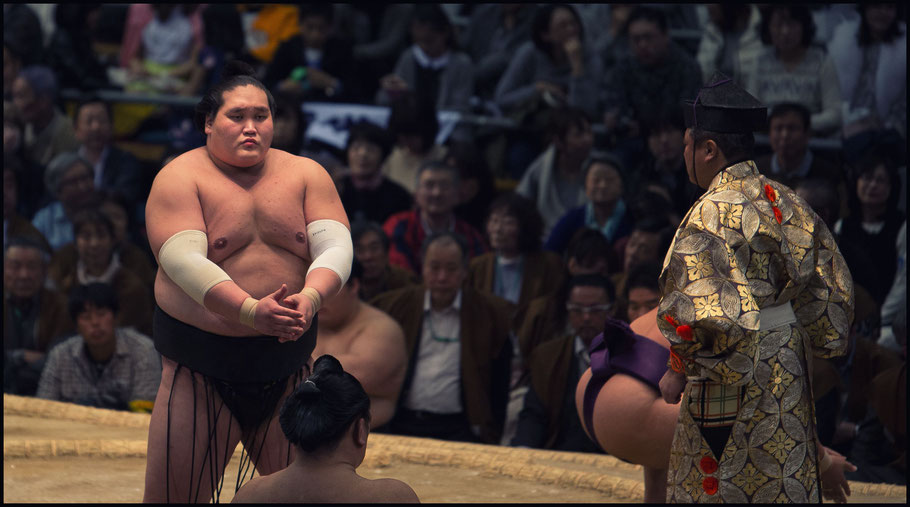 A one-armed Kisenosato would have to beat a formidable Terunofuji twice on day 15 to take the Emperor's cup.
Compromised by injury, the yokozuna attempted to dodge the ozeki with a henka at the tachi-ai. It was poorly executed though, and a battle for a belt grip ensued. The experienced Kisenosato managed to disrupt Terunofuji's plans, before setting him off balance and pushing him down to the clay to the astonishment of the spectators.
In the playoff for the yusho, Terunofuji instantly secured a highly advantageous double hand inside position and immediately drove Kisenosato towards the bales. At the very last second, the yokozuna put everything into a desperate kotenage. Incredibly, he succeeded in throwing the 185-kilogram ozeki over the bales. The crowd erupted. Terunofuji could not believe it. Victory had slipped between his fingers.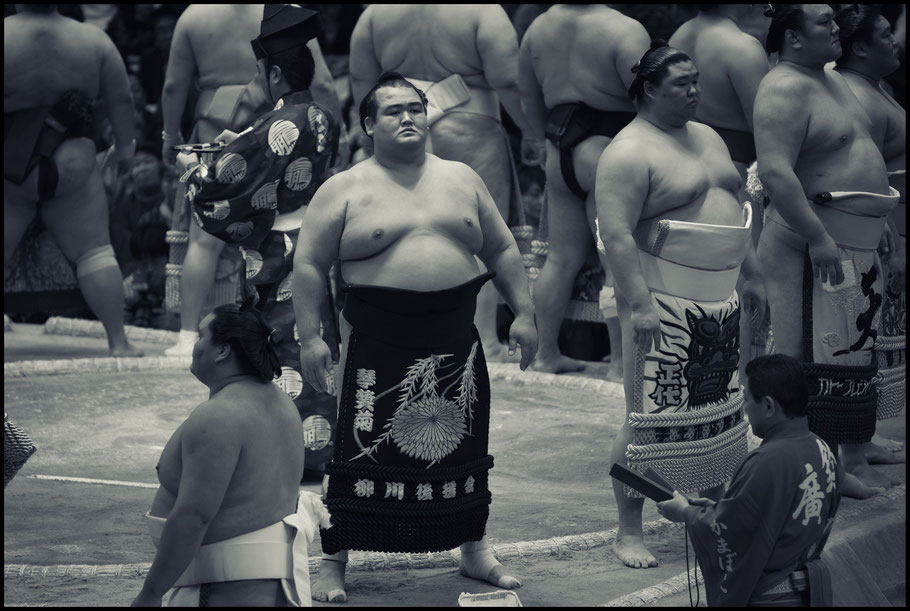 With his second consecutive yusho, the battered and bruised Kisenosato became one of only four yokozuna since 1949 to win their first tournament at the rank, and the first since Takanohana 22 years prior.
The new yokozuna broke down into tears during the national athem.
"I told myself I wouldn't cry today", the visibly emotional Kisenosato said.
Reflecting on his efforts, he said, "there was an invisible power at work."
When accepting the weighty Prime Minister's cup, he grimaced in pain.
"I want to focus on the medical treatment, and show a healthy body in the summer tournament", he said of the injury.
The dramatic events capped what was an exciting tournament on all levels.
For his part, Terunofuji can look forward to a potential yokozuna promotion of his own if he can take the yusho in summer. Meanwhile, the in-form Takayasu won his third outstanding performance prize and will be battling for ozeki status in May.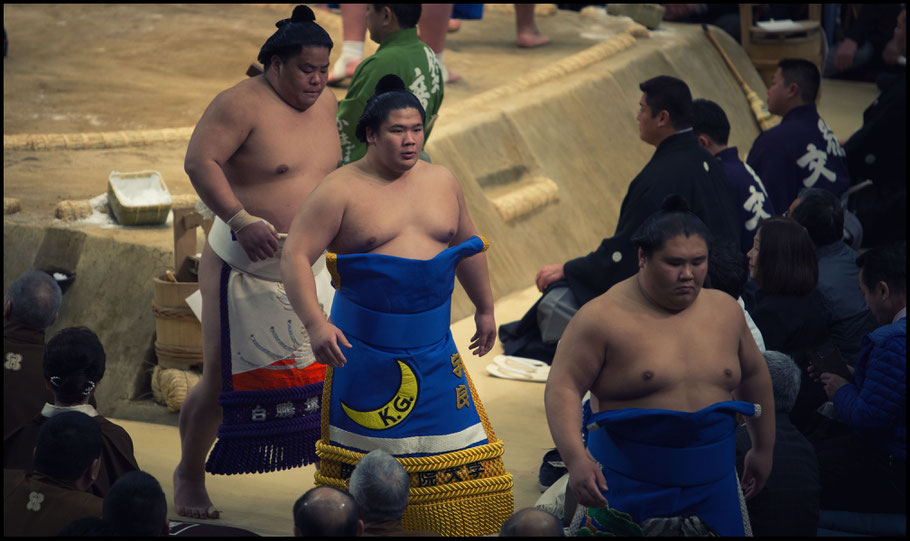 Further down the banzuke Takakeisho earned his first fighting spirit prize, while division debutant and crowd favourite Ura scraped through with a kachikoshi in his hometown.
Fighting from his lowest rank since January 2010, Tochiozan was in the yusho race until being dealt four consecutive losses in the closing days, while Juryo January champion Daiesho continued his good form with a solid performance.
Veteran Toyohibiki won the Juryo division after a three-way playoff against Osunaarashi and newcomer Asanoyama. The 32-year old will return to Makuuchi in May, while Onosho will make his debut there. It is possible that highly touted prospect Oyanagi will join them. Further down the banzuke, 22-year old Terutsuyoshi confirmed his place in Juryo for summer with a solid nine wins.
This tournament though will long be remembered for Kisenosato's gritty display of yokozuna spirit. It was the kind of come-from-behind, against-all-odds victory that sports fans worldwide live for.
- Jordan White: March 27th 2017
---
2017 March Tournament Preview
Sumo's Spring tournament in Osaka is just around the corner and all eyes are on newly crowned yokozuna Kisenosato. The Ibaraki native's promotion has drawn a lot of attention to a sport that had not seen a native born grand champion promoted for nearly 20 years.
An estimated 18,000 people attended Kisenosato's first dohyo-iri at Meiji Shrine in Tokyo. Around 50,000 were said to have attended his homecoming parade in Ibaraki. The Osaka tournament sold out in under two hours.
Yet, with the duel obstacle of yusho and promotion cleared in one fell swoop, the sport's 72nd yokozuna faces a new kind of pressure. The role carries with it a heavy responsibility to perform. For Kisenosato, the burden is compounded by being the first native Japanese yokozuna to compete since Takanohana retired in 2003.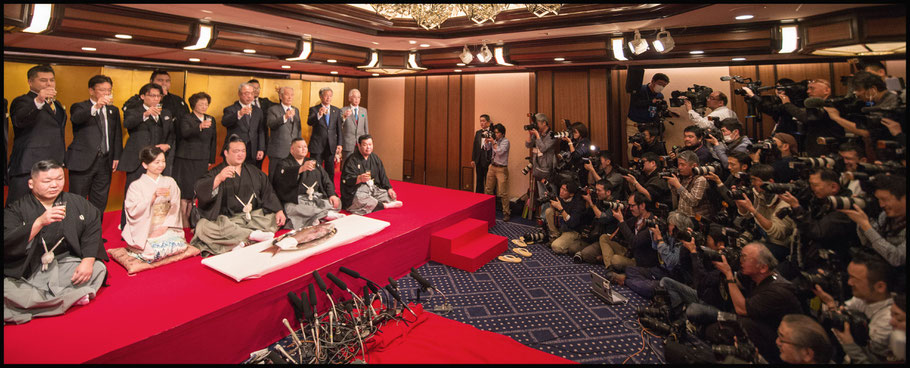 All this posits the question of how well he responds to expectation. Indeed, the long-standing criticism of Kisenosato has been a perceived inability to deal with high pressure situations.
But he is not alone in feeling the heat. After a disappointing start to the year, Kotoshogiku lost his ozeki rank and will be fighting to recapture it in Osaka. The 33-year old needs a lofty 10 wins to do so, and failure may spell retirement for the veteran.
The stakes are also high for Terunofuji, whose injury troubles are compromising his potential. A losing record in the coming meet will see him too drop from ozeki.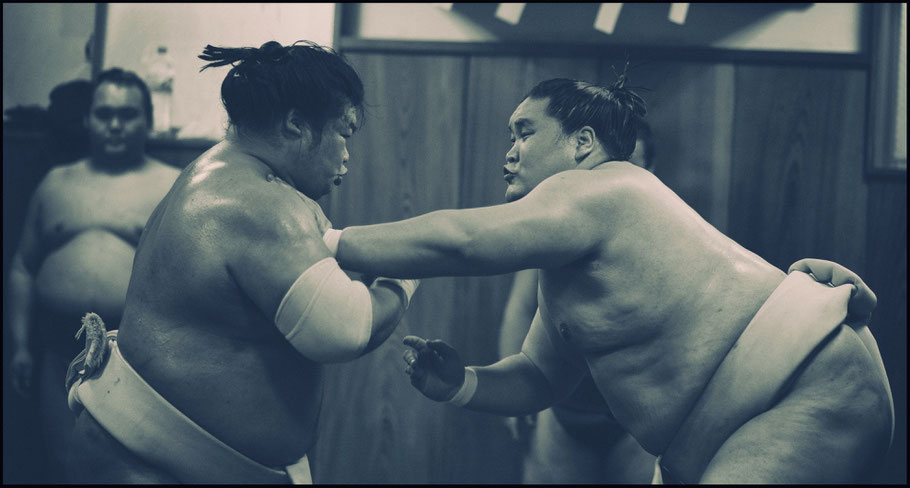 Joining Kotoshogiku at sekiwake is Mongolian late-bloomer Tamawashi, and Kisenosato's stablemate Takayasu. Both have been in good form of late and will look to exploit the vulnerability of the banzuke's top end, where injuries are currently rampant.
Young guns Mitakeumi and Shodai occupy the komusubi spots. Shodai drops from sekiwake after a 7-8 performance, while Mitakeumi rises from maegashira 1 off the back of an impressive 11-4.
Another gritty youngster, Hokutofuji, will fight from a career high maegashira 5 after a solid 9-6 at the Kokugikan. It will be just his third appearance in the top division. The 24-year old is yet to register a makekoshi since entering professional Sumo exactly 2 years ago.
Meanwhile, Sokokurai and Takanoiwa have been rewarded for spirited performances in Tokyo, leaping to career high rankings at the maegashira 2 slots.
Further down, the exciting and unpredictable Ura makes his top-division debut at maegashira 12. The Osaka native is joined in makuuchi from juryo by Kyokushuho, Tokushoryu and January's cup winner Daieisho. They replace Gagamaru, Chiyootori, Chiyotairyu, and the injury plagued Osunaarashi.
Given the circumstances, it is not surprising that the coming tournament is one of the more anticipated in recent memory. Yet, while it is tempting to get carried away with developments at the top, each and every rikishi is fighting his own battle.
One such man is juryo 14 Terutsuyoshi. Born on Awaji Island on the day of the Great Hanshin Earthquake in 1995, the 22-year old will be returning to his home tournament for the first time as a sekitori.
A relatively light rikishi at 116 kilograms, Terutsuyoshi broke into juryo on the back of a makushita yusho in Fukuoka last year.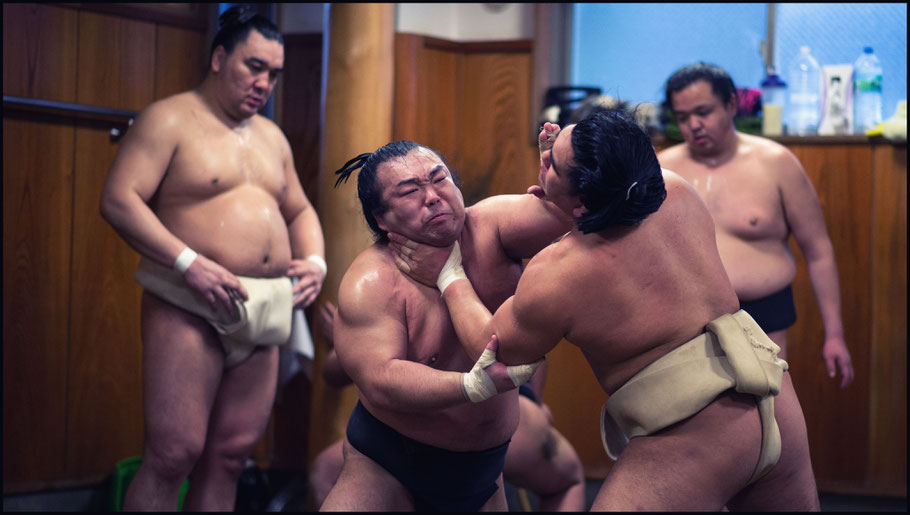 "It's tough because I have to wrestle 15 times", he said of life at the salaried ranks. Rikishi below juryo are only required to wrestle 7 times a tournament.
He is not without help. Training at Isegahama beya with the likes of Harumafuji, Terunofuji, Takarafuji and Aminishiki, as well veteran Shunba (who is making his makushita debut at age 35) the youngster is in good hands.
"They give me good practice", he remarked. "I feel it's a blessing".
Being born on the day of the earthquake in the very region it hit hardest, the coming contest holds an extra meaning for Terutsuyoshi. Osaka, which neighbors Hyogo prefecture, of which Awaji Island is a part, was not immune to the damage of one of the most significant natural disasters in recent memory. As such, Terutsuyoshi feels something of an obligation to his fans in the region.
"I want to do sumo that puts a smile on everyone's face", he said.
When asked about his goals for 2017, he was hopeful. "I'll concentrate on training, aim for makuuchi and do my best".
The Osaka basho gets underway on March 12.
- Jordan White: March 7th 2017
---
2017 January Tournament Review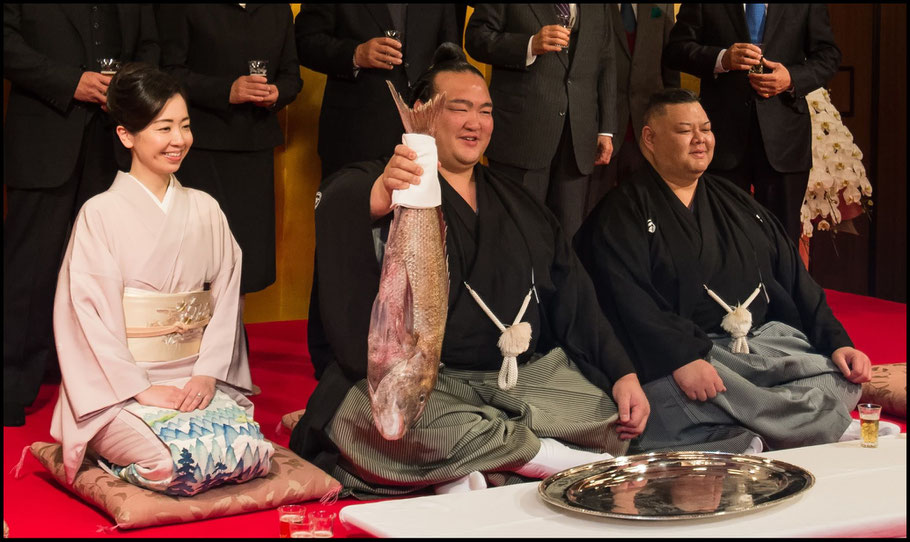 Yokozuna Kisenosato: two words that Sumo fans in Japan and around the world have longed to see side-by-side. For those fans, it has been a long wait.
Nearly two weeks have now passed since the Ibaraki native clinched his maiden Emperor's Cup, becoming the third Japanese rikishi within a year to do so. For some, it came as a surprise. Many believed that he would never overcome the ever-elusive hurdle. Yet for others it was the fulfilment of Sumo's strongest and most consistent ozeki's destiny - it had to happen eventually.
Only a year prior, ozeki Kotoshogiku stunned the Sumo world by breaking 10 years of Mongolian domination and claiming his first Emperor's Cup. Later in the year, ozeki Goeido left fans bewildered with an incredible unbeaten performance, also his first yusho.
Nobody foresaw either of these occurrences, given the inconsistency of the two ozeki in the past. There was a sense that Kisenosato should have been the man to do it. It was supposed to be him.
2017's first tournament begun amid uncertainty surrounding the physical health of yokozuna Hakuho and Harumafuji, and excitement over the rise of youngsters Shodai and Mitakeumi. Kotoshogiku was kadoban again, and Kakuryu was looking to repeat his championship efforts in Fukuoka two months prior. 2016's talk of "yokozuna Kisenosato" appeared to have largely disappeared.
For Kakuryu (5-6-4), there would be no repeat. After 3 consecutive wins in the opening days of the tournament, his sumo completely disappeared. He would pull out on day 11 citing injury, joining Harumafuji (4-3-8) who dropped out on day 7.
Meanwhile, ozeki Kotoshogiku was in desperate need of wins. For the seventh time since promotion in late 2011, the Fukuoka native was in danger of losing his rank. In the past he had been able to scrape through, but this time it was not to be. The 33-year old was forced out of the dohyo by an in-form Tamawashi (9-6) on day 12, handing the aging ozeki his makekoshi (5-10). The crowd fell silent.
With 2 yokozuna out, Kotoshogiku struggling, and fellow ozeki Terunofuji (4-11) still hampered with injuries, the stage was set for another showdown between Sumo's "final boss", Hakuho, and his nemesis, the perennial silver medallist Kisenosato.
Yet there were others nipping at their heels. The young and spirited Mitakeumi (M1) secured sanyaku status for March with a strong 11-4 performance, adding a technique prize for good measure.
Clever veteran Sokokurai was also in form, carefully amassing a top-division personal best of 12-3, earning him the runner up spot and a technique prize of his own.
Meanwhile, fellow maegashira 10 Takanoiwa (11-4) was pressing his own case for attention. The 26-year old was one win off the pace until day 13, when he succumbed to a crafty tsukiotoshi on the bales from a determined Takayasu. He nevertheless earned the outstanding performance prize. 
Takayasu (11-4) seemed to be doing his Tagonoura stablemate Kisenosato favors. On day 9, Kisenosato lost his sole leadership at the hands of struggling rival Kotoshogiku. With it, Hakuho drew level.  Excitement was replaced by anxiety, as memories of the ozeki crumbling at the last hurdle came to the fore.
But Takayasu, who won the fighting spirit prize, had other ideas. In the very next bout, he hit Hakuho powerfully at the tachiai, stunning the yokozuna and putting him on the back foot. The 37-time champ was unable to recover as Takayasu pursued, forcing him out to the cheers of the sold-out arena. All bets were back on.
Kisenosato (14-1) would hold his nerve. When Hakuho fumbled on day 14 at the hands of fellow Mongolian Takanoiwa, the championship was his. He solidified victory on the final day by outlasting Hakuho's (11-4) aggressive charge, turning him over onto the clay as he rallied against the bales.
During the victory ceremony, Kisenosato could not hold back the tears. Years of heavy expectation placed on him a burden of pressure that until now he was unable to rise above. A few days later, he was pronounced the sport's 72nd yokozuna, the first native Japanese promotion since Wakanohana in 1998.
- Jordan White: Feb 3rd 2017
---
Kisenosato Yokozuna Promotion Announcement
Photos: John Gunning - January 25th 2017