---
Living On The Razor's Edge
Freshly Shaven Parker Helps Jets Complete Vital Sweep Of East Rival Alvark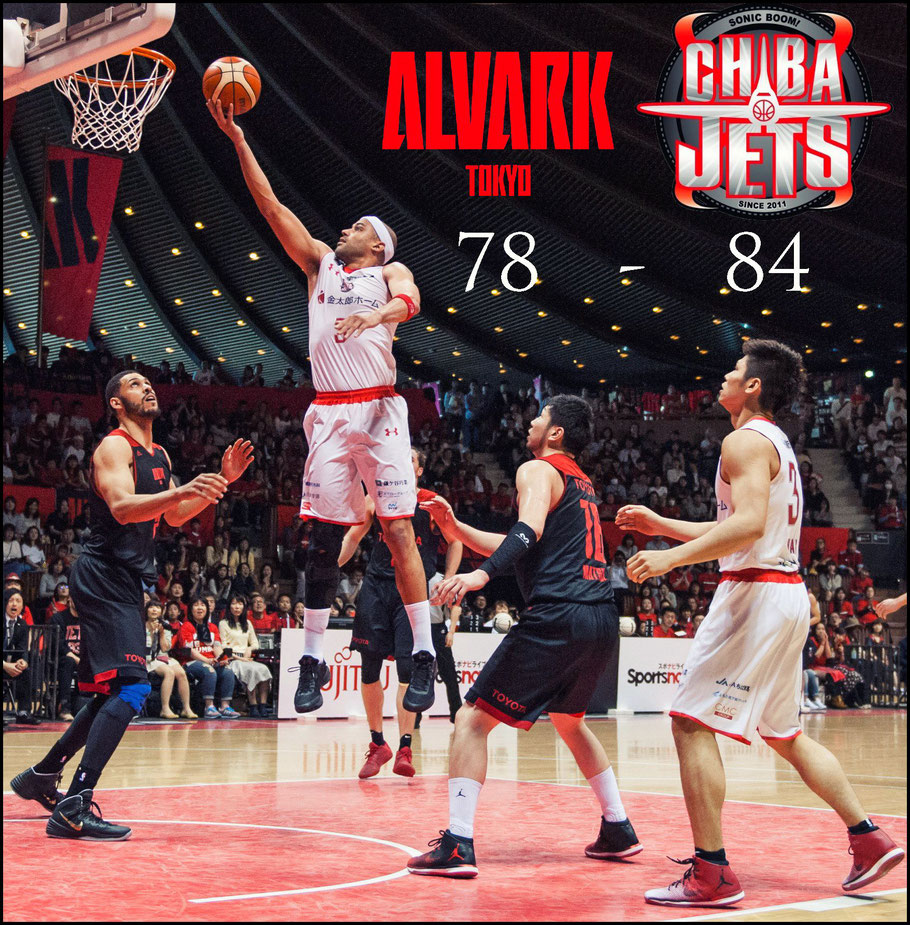 For his fifth wedding anniversary, veteran forward Michael Parker acceded to his wife's wishes and shaved off the bushy facial hair that had been his trademark this season. It seemed appropriate given the close shaves that the Chiba Jets had over the weekend in a quest to improve their playoff situation.
Holding on for an 84-78 victory on Sunday at Tokyo's Yoyogi No. 2 Gym, the Jets completed a sweep of the two-game series with the Tokyo Alvark, the team they are trying to chase down for all-important second place in the East Division. With seven games left, the Jets are now just one game behind the Alvark.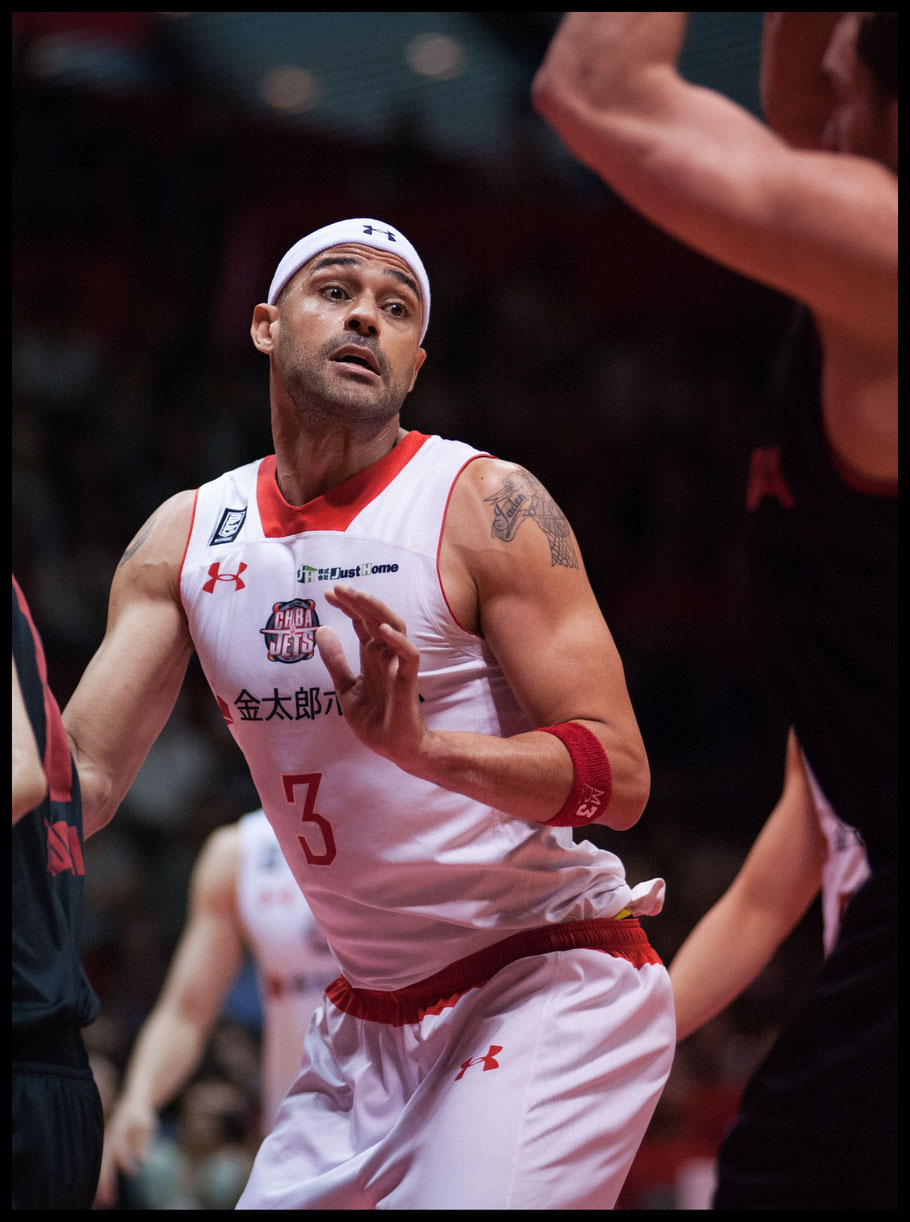 "We knew we needed two wins if we were going to make the playoff race interesting," said Parker, who led the Jets with 19 points, 12 rebounds and four blocked shots. "If it was only one, then basically everyone is locked in after that. So we figured we'd put the pressure on them to see what we could do, and we did it."
Parker sat out almost all of the fourth quarter, and the Jets nearly squandered the double-digit lead that they had built, when he scored nine points to spearhead an 18-4 run in the second quarter. Tokyo twice pulled to within four points in the final two minutes, but Chiba found a way to hang on for the win.
That was in sharp contrast to Saturday's 87-81 overtime victory, when Chiba, trailing by seven with two minutes left, fought back to force the extra period when Tyler Stone's put-back off an offensive rebound with :07 remaining tied it at 73-all.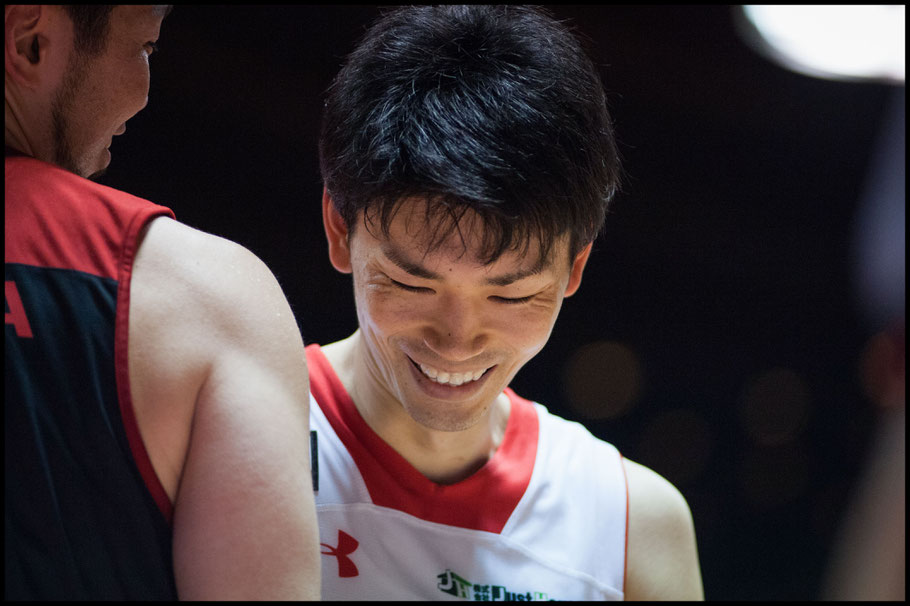 "Yesterday was a crazy game," Parker said. "It almost happened against us today. But that's basketball, that's exactly what happens in basketball. It swings one way, it swings the other way. And once a team catches the momentum, especially with two very good teams, it's over."
Parker said he expected Tokyo to come out fired up after the tough loss, and Chiba responded by raising its game as it did in winning its first-ever All-Japan tournament title back in January.
"After a win like yesterday, you know they're going to come back hard," Parker said. "So you have to match that and we actually raised up. And that's the thing about our team. When we get backed into a corner, I don't why, it happened in the Cup (All-Japan) many times, we always seem to rise up."
Diante Garrett, who scored a game-high 28 points, led the Alvark comeback.
"We just kept fighting," Garrett said. "Coach drew up some great plays and we came out and executed. Guys hit some 3s, some clutch shots that we needed. And it put us in a position to win, and we just came up short."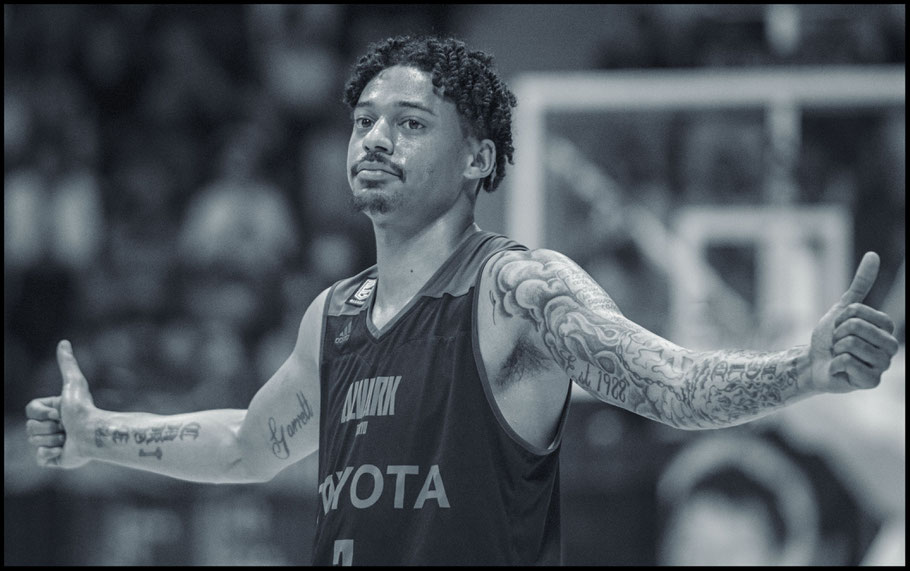 Garrett cited a lack of energy for the team's sluggish start, but there was no lack of intensity on either side as the latest clash hinged on two key incidents amid the pressure-cooker atmosphere before a sellout crowd of 3,258.
The first came in the third quarter. With Chiba leading 59-45, Alvark center Jeffrey Ayres was called for a foul after getting tangled up with Hilton Armstrong, sending him sprawling to the court. The Jets' Ryumo Ono, who finished with 15 points, then verbally taunted Ayres, and the former San Antonio Spurs power forward responded with a blatant bump against the Japanese player's shoulder.
When the referees finally sorted it all out, Ono was assessed a technical foul and Ayres an unsportsmanlike conduct penalty, which gives the opponent two free throws. That helped the Jets take a 66-52 lead into the fourth quarter.
"I saw them going back and forth with each other," said Garrett, who was on the bench at the time. "It's going to happen during a basketball game. It just happened so fast, that nobody could catch themselves before they did a mistake. It happened and we got to move on."
The second key episode came with 16 seconds left in the game, and was less explosive but far more out of the ordinary. After Garrett had pulled Tokyo to within four points with a pair of free throws with :53 left, the Alvark got the ball back and sharp-shooter Daiki Tanaka drew a foul on a 3-point attempt, sending him to the line for three free throws and a chance to cut the lead to one.
Except that in one of those nightmares that players experience once in awhile, each free throw in succession clanged off the rim and bounced out, sewing up the win for Chiba.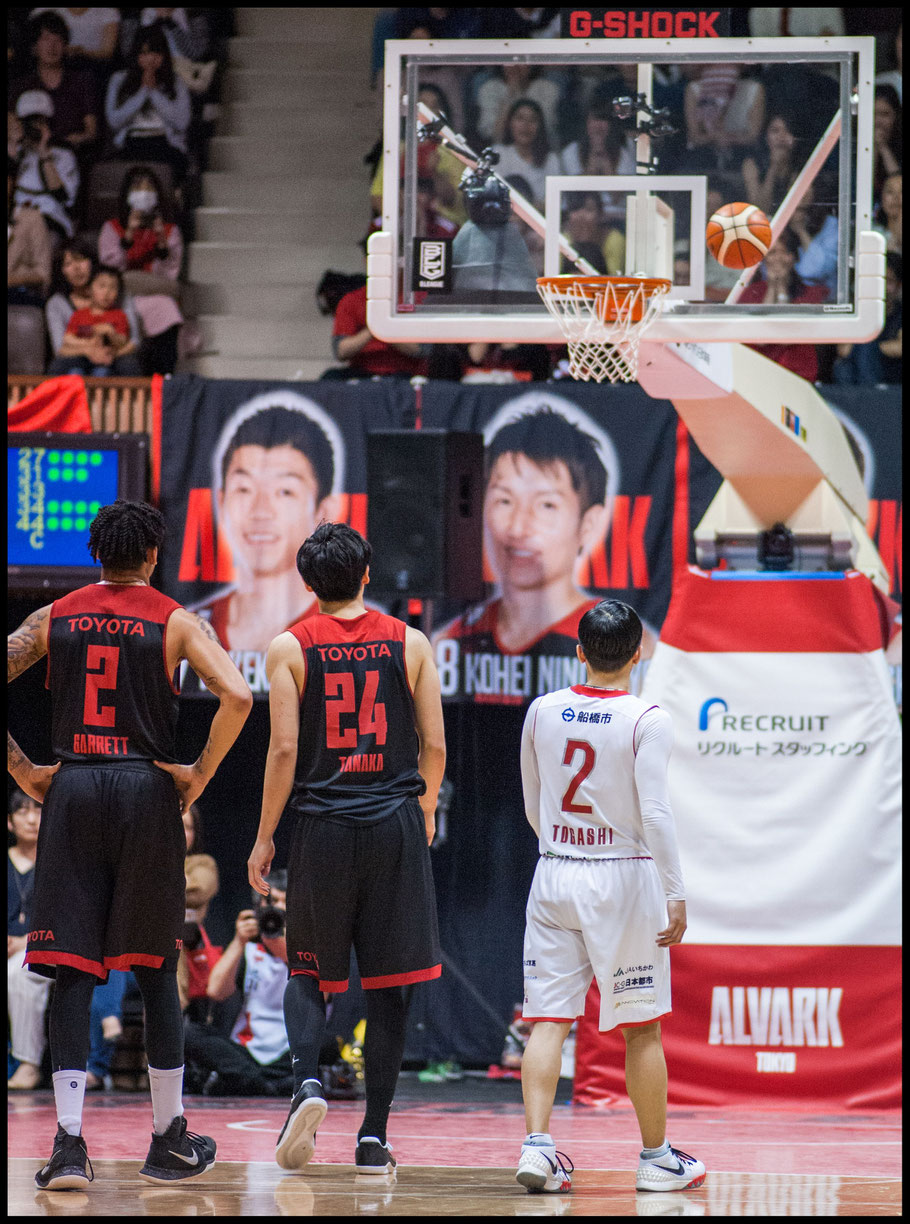 There was compassion all around for Tanaka, who made 4 of 8 3-point attempts and finished with 17 points.
"Sports is sports, and the basketball gods went the other way this time," Toyota coach Takuma Ito said. "This happens. He might think [of the loss] as his fault, but that's not the case. I'm sure he'll reflect on this."
Garrett sympathized with his teammate, saying, "It happens to the best of us. It happened to me this year. I missed a free throw that was in the clutch, and I think that will just motivate him to get better and be ready for the next game."
Said Parker, who joined the Jets this season after a stint with the Alvark: "Daiki's one of the best closers in Japanese basketball. I don't know, it just happens that way sometimes. I guarantee it won't happen again, though, if he's put in that position. He always learns, he always motivates himself, and he won't miss it the next time."
The 35-year-old Parker, who played 28 minutes, said he normally sits out the fourth quarter, but was ready to come in if things got out of hand.
"Right now, the timing of it, if it's not super, super close or game-changing, I don't really play in the fourth quarter too much," he said. "I haven't really done it. I played a pretty solid 20-something minutes. I'm there, not as a back-up, but I'm there in the fourth quarter as an insurance policy."
The East has been the most competitive of the three divisions this season, and that has raised the stakes exponentially for the final placings. The Tochigi Brex are on top with a 42-11 record and a magic number of three to clinch the title, with the Alvark second at 38-15 and the Jets at present owning the top wild-card spot at 37-16.
The difference between second and third place is immense, as the second-place team will face a second-place from another division, which inevitably will have an inferior record, while the third-place finisher will be paired against a division winner--quite possibly the Brex.
"There's five top teams in this league," Parker said. "For me, it just sucks that the way the divisions are set up, because you have three of the top five teams in the same division. It's actually better to finish second than to finish first in some ways, which is weird, but it's really the truth."
While the Alvark and Jets, who split their season series 3-3, finish up with nearly identical schedules, the Alvark have a slight advantage in that they only face the Brex once more, at home, while the Jets have two games against the leaders in Tochigi.
For his part, Garrett is confident Tokyo can come out on top.
"Personally, I think we're for sure going to push forward and end the season real good before the playoffs start," he said. "Everybody on this team has confidence that we're going to be winning all these games. We got to have that kind of confidence."
- Ken Marantz: April 17th 2017
---
Keeping The Sunrockers Rollin' 
Sacre Shines On Both Ends Of Court In Leading Sweep Of B-Corsairs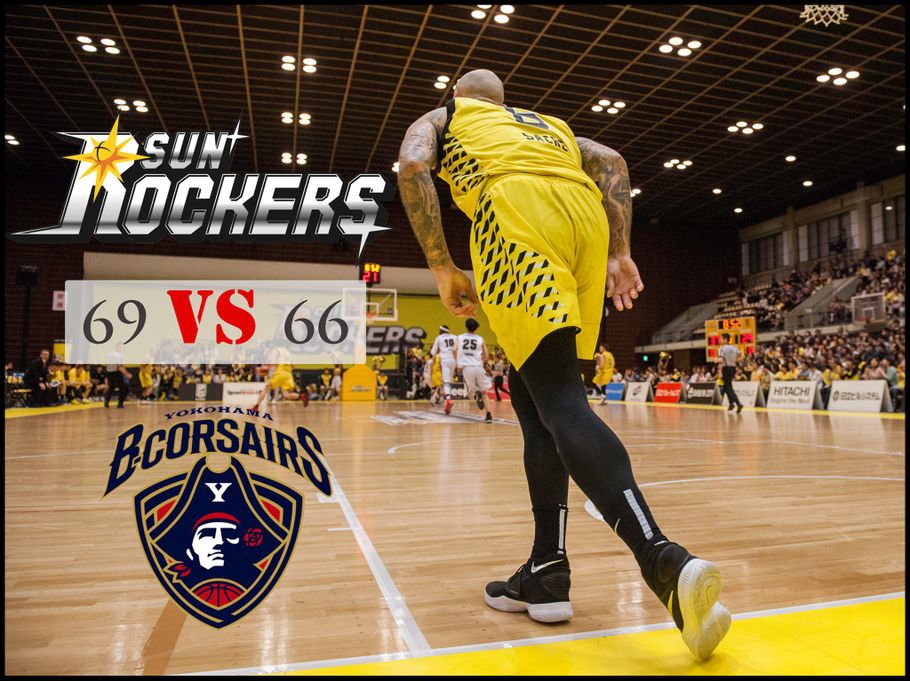 At this point, it seems a good bet that the Shibuya Sunrockers will get into the playoffs one way or another. And if center Robert Sacre keeps having games like he did on Sunday, there's no telling to how far they can go once they get there.
From blocking five shots to scoring a game-high 28 points, Sacre left his mark on both ends of the court as the Sunrockers completed a vital sweep of its two-game series against the Yokohama B-Corsairs with a 69-66 victory before 2,012 at Tokyo's Aoyama Gakuin Memorial Hall.
"Today was, of course, a game that we had to win," Sunrockers head coach BT Toews said. "There was just no way we could drop this game. In a game like this when a player like Sacre is on the floor, he really earns his money so to speak. I'm not saying he did it by himself, but this is where we need that kind of player to step up."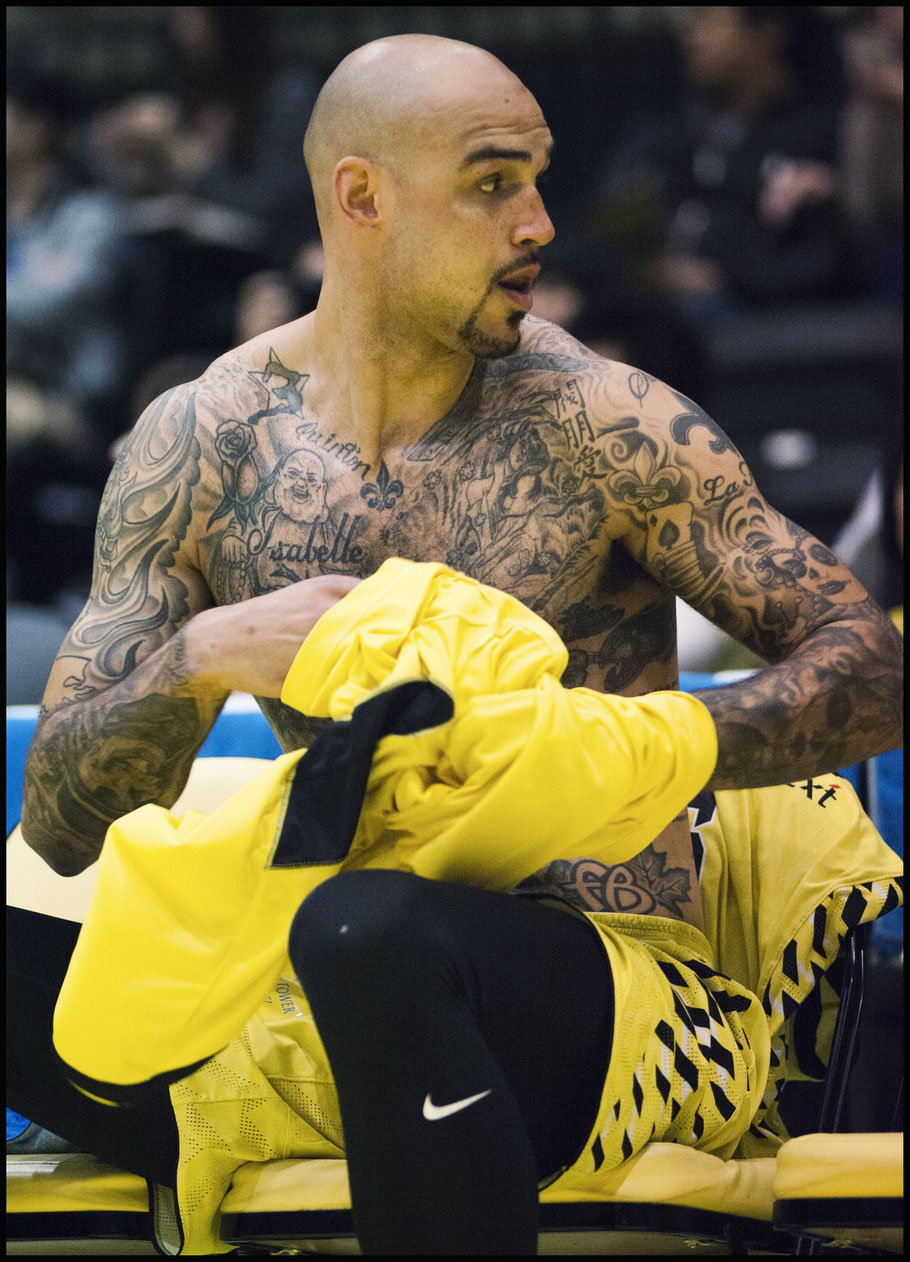 With nine games left in its season, Shibuya is locked in a fierce battle for a playoff spot, with seven teams still in contention for four remaining places. With the weekend sweep, the Sunrockers not only became the leader for the second wild-card spot, they improved their chances of overtaking the San-En Neophoenix for the more preferable second place in the Central Division.
Shibuya, at 26-25, is now just one game behind San-En, which dropped both of its games to the Kawasaki Brave Thunders, who have already clinched the division title. The top two teams in each of the three divisions automatically qualify for the playoffs, with the next two teams with the best records earning the wild cards.
"In my own mind, I'm looking at second place," Toews said. "I just think that that's the right way to think. If you start looking at other conferences or we start looking at 'this many wins' gets us a wild card, I just don't like playing, practicing or thinking like that. If we get first or second in our conference, we get to go to the playoffs and we have a chance to get to the final. So right now, what's right in front of us is second."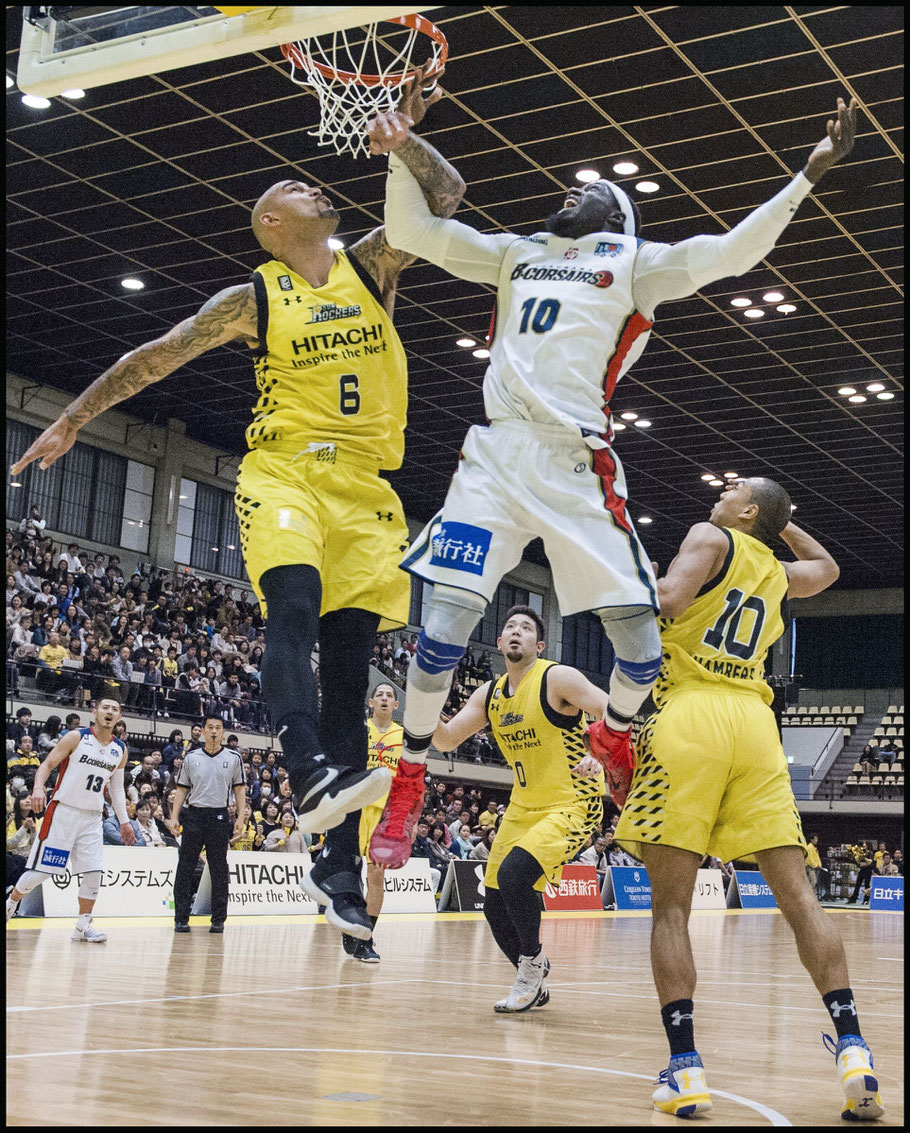 Of more immediate concern for Toews was that the two victories over Yokohama could not have been more different. In winning 78-62 on Saturday, the Sunrockers pulled away with a big third quarter and were boosted by 3-pointers, hitting 12 of 28 shots from beyond the arc. On Sunday, they allowed the B-Corsairs to rally to tie the game in the third quarter, and made just 4 of 23 3-point attempts.
"The way we did it both days was not ideal, not looking like a team that's headed to the playoffs," Toews said. "And honestly, I can't give you just one reason why. But a lot of it has to do with what I think is poor execution, especially offensively. The second thing is turnovers, suddenly at crucial moments, which we thought we were over that problem."
Jumping out to a 23-16 lead after the first quarter in which they had five steals and forced six turnovers, the Sunrockers went into halftime up 35-29. They stretched the lead to 10 points midway through the third quarter, but with four minutes left, Sacre went to the bench, and the B-Corsairs struck like pirates on the high seas.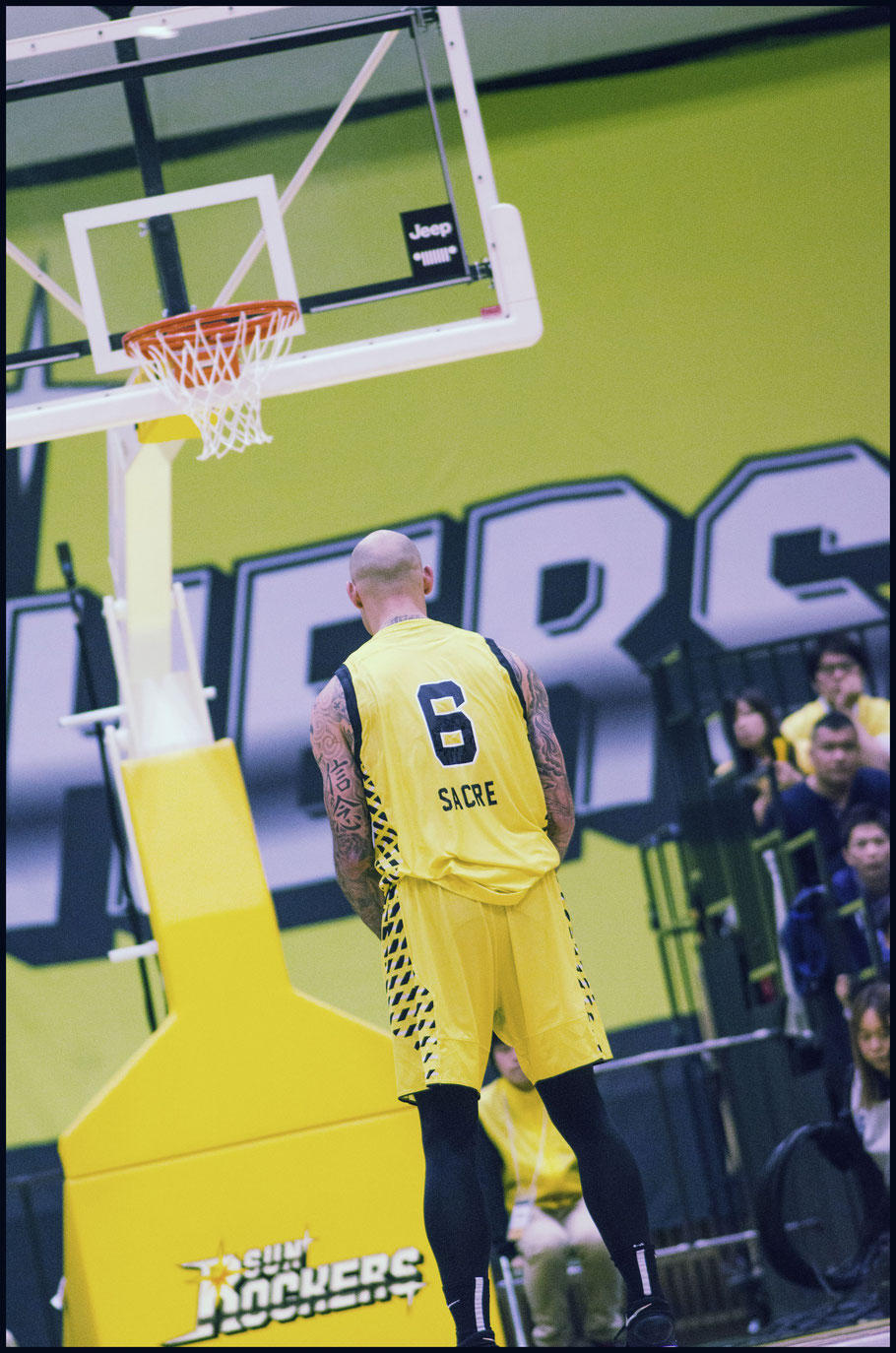 Led by Jason Washburn, who would finish with a team-high 14 points, Yokohama put on a rally that closed the gap, and Masayuki Kabaya's driving layup with :03 left knotted the score at 47-47 going into the final period.
Sacre, who also grabbed 10 rebounds, said his breather was according to plan.
"I already talked to coach about that, he knew exactly when to rest me and thought it was the perfect timing," the former Los Angeles Laker said. "Coach and I, we can talk to each other, and we know when to play me and when not to play me. So it was just perfect."
For Toews, as long as they didn't let Yokohama run away with the game, he was content to give Sacre a well-deserved rest and let his other players play under some pressure.
"If we're playing (top teams like) Kawasaki or Toyota (Tokyo) or Tochigi, and we smell a comeback from the other team, then it's probably time to change players or take a timeout. But this is good experience for our players to find a way to fight back in the game on their own. And quite frankly, my timeouts are not very good anyway, so it's good for them."
With Sacre returning in the fourth quarter, in which he scored 10 points, the Sunrockers went on a 10-2 run to take a 57-49 lead. The B-Corsairs fought back to within one point with 3:39 left, but the rest of the game went all Shibuya's way.
The turn of the tide was completed when Yokohama failed to score after getting the ball back on a video reversal of an out-of-bounds play, and Kenta Hirose nailed a 3-pointer with zero on the shot clock to put Shibuya up 67-58 with :36 left.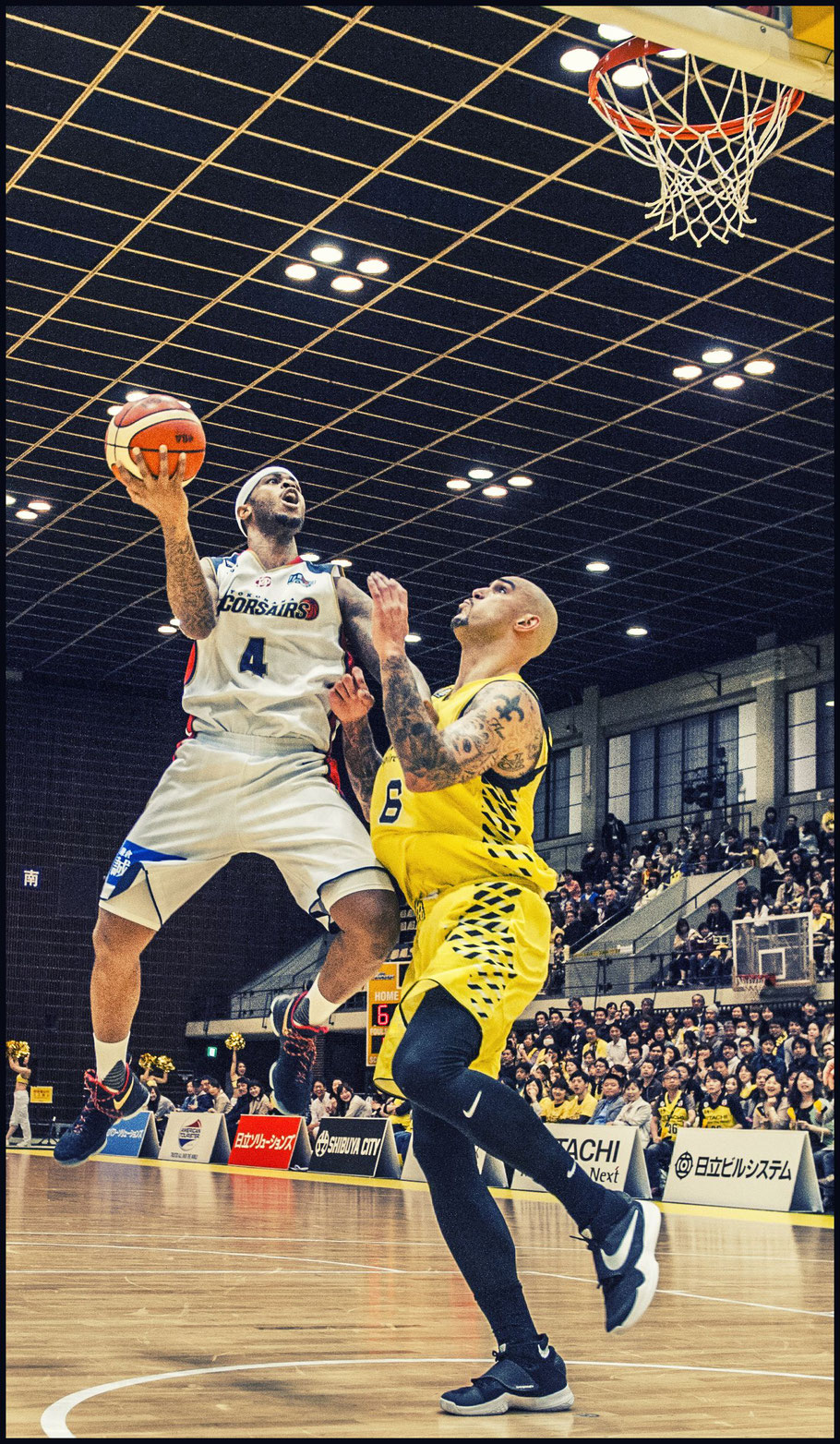 "We just wanted to keep the momentum going (in the fourth quarter)," said Yokohama's Jeffrey Parmer, who had 11 points. "(The 10-2 run) kind of zapped our confidence a little bit, especially after playing so great in the third quarter. They had all of the momentum in the fourth quarter."
Sacre, who played four seasons with the Lakers and joined the Sunrockers in midseason, showed his athleticism and ability to influence a game in the first quarter. The B-Corsairs' Takuya Kawamura stole the ball and appeared to have an open lane to the basket. But as he went up for an easy layup, Sacre seemed to come out of nowhere and block the shot.
"I was just trying to do everything I can on both ends," Sacre said. "I really just focused on keeping our team in it. Anything I can to win the game, whether it's stops or scoring, that's all that matters."
Parmer gives kudos to Sacre as the driving force of the Sunrockers.
"They've definitely been playing better since he got here," he said. "He kind of changed the dynamic of their team. They're going to need that, especially they're trying to get the last spot in the playoffs. They're a good team, especially with him there."
While the B-Corsairs are out of the playoff picture, they certainly have something to play for, as they are currently one of the bottom four teams that will enter a playoff to avoid relegation to the second division. They still have a chance of avoiding the playoff altogether.
"We're just trying to fight hard every game," Parmer said. "It's a battle. There are no easy games. So we're just trying to stay consistent in what we do, whatever we do in practice, just try and bring it to the games.
"We have a stretch run of about 10 more games left, so we just have to get as many wins as possible, and hope that some other teams that are neck-and-neck with us lose a couple."
For Parmer, the fight also at times is with a perceived bias by the officials against former bj.League teams. He noted that on Sunday, this accounted for the Sunrockers, a former NBL team, making 17 of 23 free throws, while Yokohama only went 5 for 9.
Parmer, who spent his previous years in Japan with bj.League teams was asked his thoughts on the possibility of the playoffs being absent of former bj.League teams.
"I've been talking about this with previous teammates all season," he said. "You can kind of see that a lot of these refs are from the NBL, so...."
So it's not a difference in talent? "No it's definitely not, because all of these teams have talent."
- Ken Marantz: April 10th 2017
---
The Old Man And The Three
Hokkaido Marksman Orimo Still Firing Away, But Even He Has His Off Days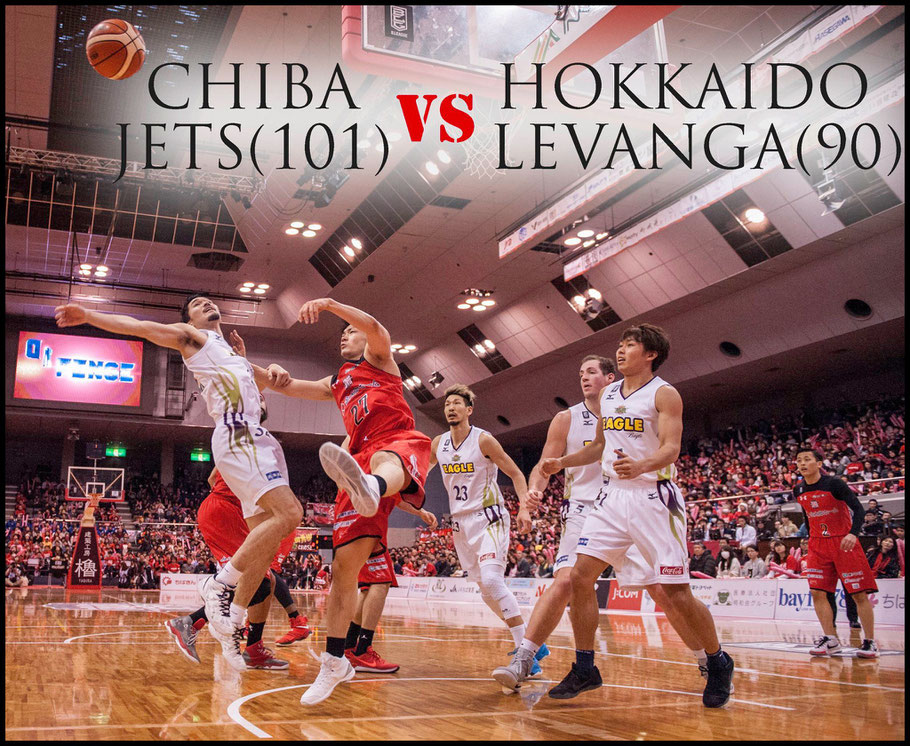 Like he had done so many times in his career, Takehiko Orimo lined up the 3-point shot and sent it arching toward the basket. This one would be off the mark, missing the chance to cut the opponent's lead to five points with just over a minute to go. His team would never get closer.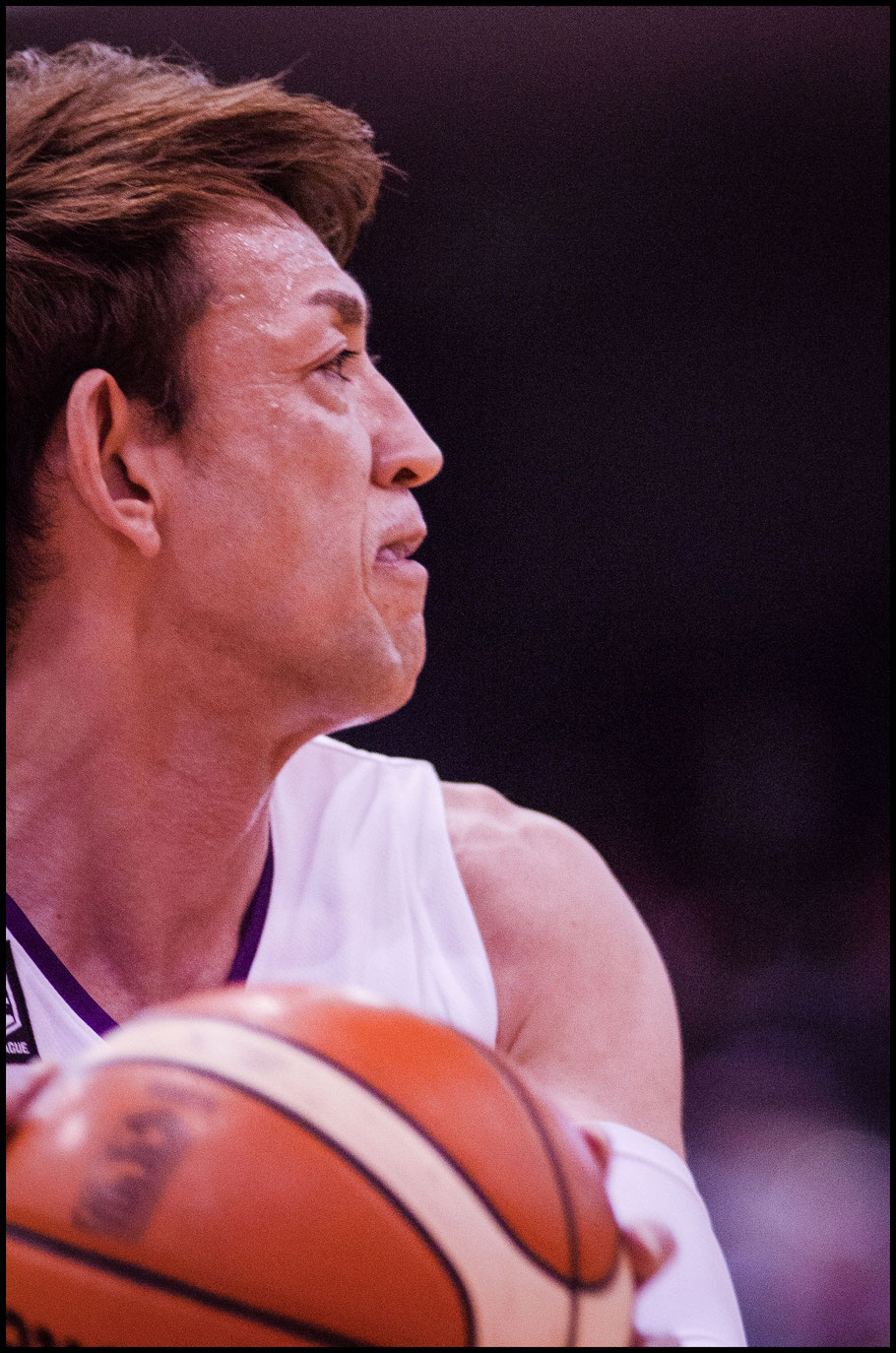 Just a normal play in a normal game. But Orimo is not your typical pro basketball player, as much as he would prefer to be considered just one of the guys. Not when you are literally twice the age of some other players in the B.League.
"That's just amazing that someone can play for that long, he's 46, that's crazy," said the Chiba Jets forward Michael Parker, after his team defeated Orimo's Levanga Hokkaido 101-90 on Sunday before 5,218 at Funabashi Arena to complete a sweep of the two-game weekend series.
"He's still out there giving it a go. He still can shoot, that's the crazy thing. It's very fun to watch him play, because he's actually out there competing. It's not like he's out there at a lower level. He's actually out there competing, and hitting shots. And he'll elbow you and stuff like that, too."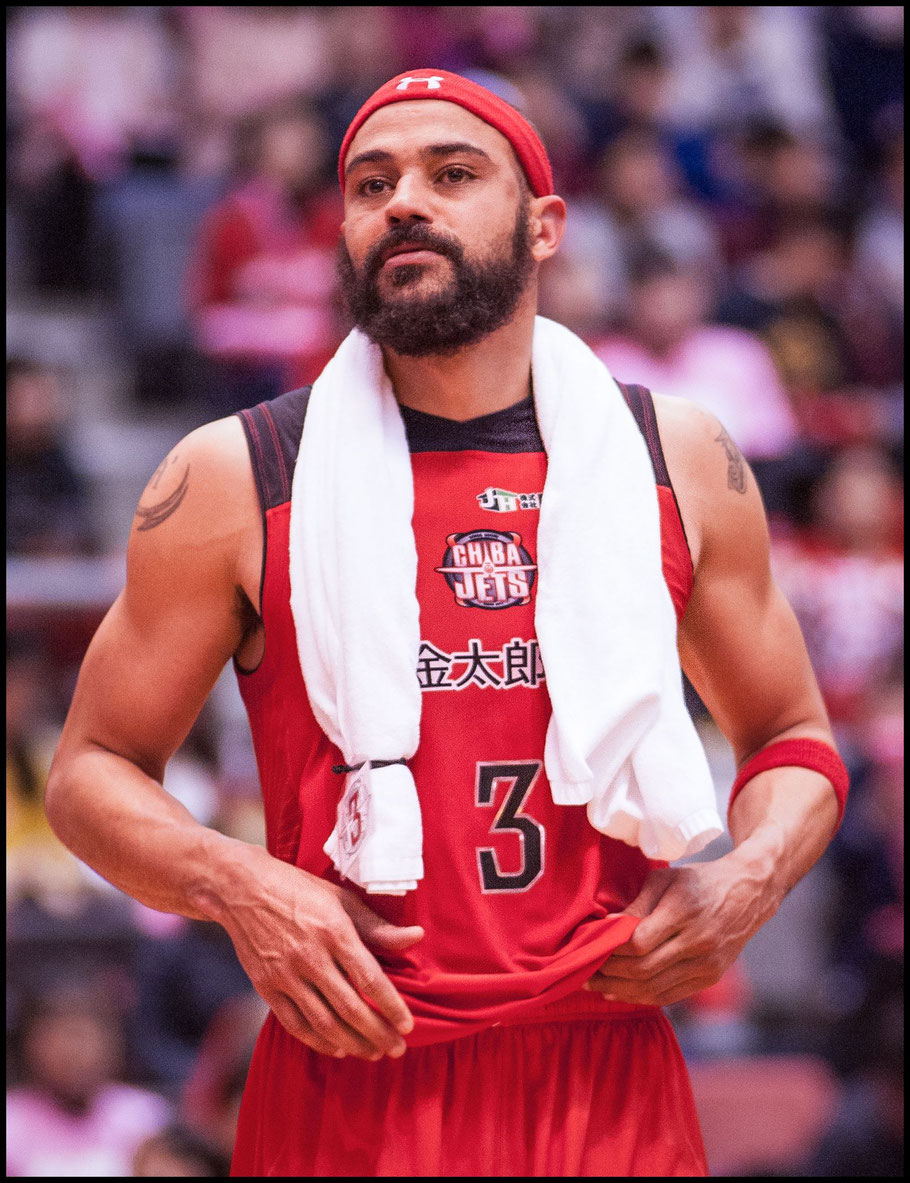 Orimo, a 190-centimeter sharpshooter who starred with Toyota in the old Japan Basketball League and was a staple of the national team in the late 1990s and early 2000s, has pulled his weight on a team hit hard by injuries this season, appearing in all 47 games and averaging 9.2 points and nearly 16 minutes per game.
And while he had an off night against Chiba, missing all four of his 3-point attempts and finishing with six points while playing 17 minutes, the Saitama Prefecture native has shown over the course of the season that he has not lost his touch by shooting 46.7 percent (43 of 92) from 3-point range.
His longevity has drawn comparisons to other Japanese athletes defying their ages, such as soccer player Kazu Miura, who recently scored a goal in Japan's second division at the ripe old age of 50, and Olympic ski jumper Noriaki Kasai, who at 44 extended his own record for oldest ever to make the medal podium at a World Cup meet.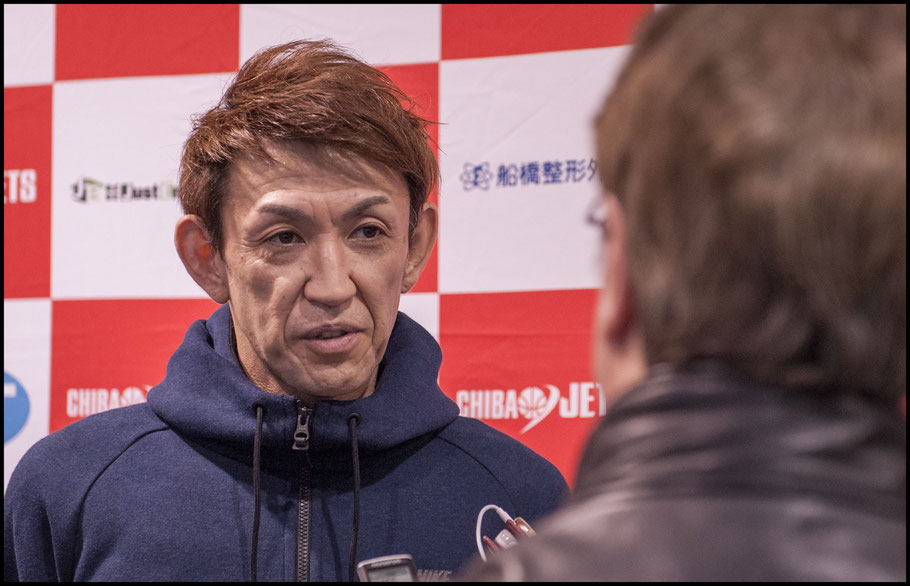 "Of course, I'm the oldest player in the B.League," said Orimo, who will turn 47 in May. "My age is my age, but that's irrelevant for a professional player. I just want to keep being able to be competitive with the younger players."
Orimo's situation is even more unique in that he holds a duel role with the Hokkaido club, which he joined during its formation as Rera Kamuy Hokkaido in 2007 after 14 years at Toyota. In addition to coming off the bench as a shooting guard, he also calls the shots off the court as the managing director.
Asked how he balances the two jobs, Orimo replied, "I clearly separate the job of team representative and being a player, without leaning more toward either role. I think of them as two distinct things. Practice is practice and I focus on working out hard with the young players. That's how I can handle the load."
Hokkaido center Daniel Miller said Orimo does a good job of separating his jobs.
"He's able to do both. He's very professional about how we carry ourselves. But then he can be good teammate and joke and laugh with everybody. He's ready to play every time he's on the floor. He's good at his double role, and it's great being on his team."
Orimo's situation also puts him in the unusual position of being both a player under head coach Kota Mizuno and his boss. But Orimo clearly delineates the two's responsibilities, and yields the play-calling side to a colleague 12 years his junior.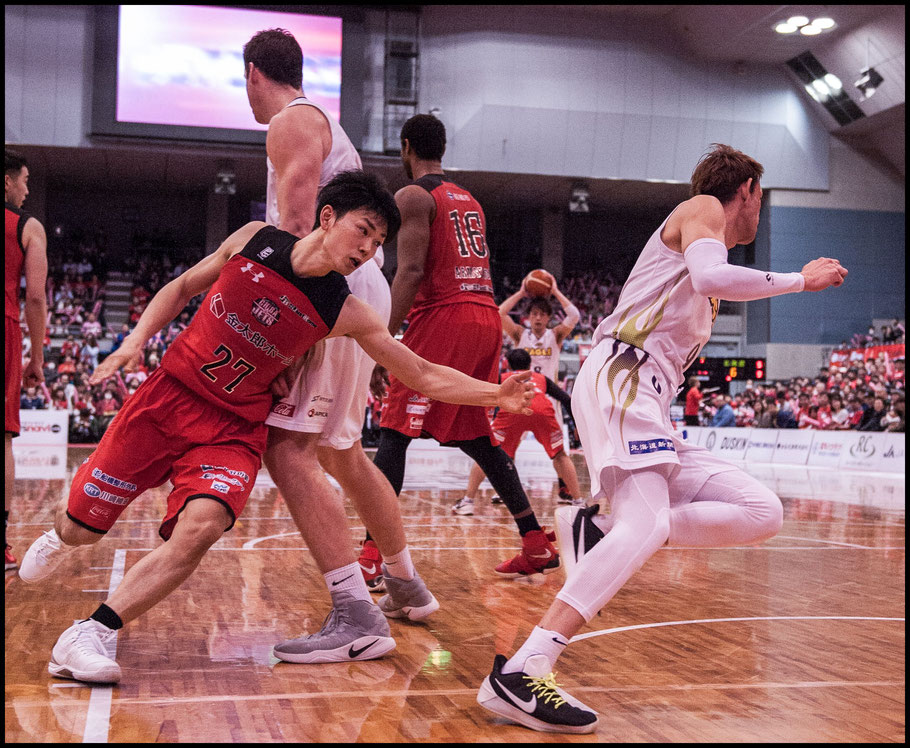 "From my position as representative, there are times it's difficult for him," Orimo said. "But players don't make judgments on themselves. I told this to the team, and I don't say anything [about the strategy]. I go along with the head coach's orders. I think it has worked out well."
Orimo was a standout at Nihon University before joining Toyota (now the Alvark Tokyo) in 1993. He led Toyota to its first-ever championship in the 2001-02 season and was named the league MVP, and was on the teams that won back-to-back titles in 2005-06 and 2006-07. He was a six-time Best V selection, including four straight years from 2002 to 2005.
On national team duty, Orimo helped Japan win the bronze medal at the 1994 Asian Games in Hiroshima, and bronze and silver medals at the 1995 and 1997 Asian Championship, respectively. Since then, Japan has only won one medal at either event, a silver at the 2014 Asian Games. Orimo was also a member of the Japan teams at the 1998 and 2006 World Championships.
In November last year, Orimo reached an unprecedented milestone in Japanese basketball when he scored his 9,000th career point in a game against Chiba.
"He's a legend," Chiba point guard Yuki Togashi said. "When he's playing, he doesn't look like he's 47. I respect him and I play against him like any other player."
On Sunday, Orimo looked just like any other player having a bad day, capped by his missed 3-pointer with 1:09 left and Levanga trailing 94-86 in a game they never could get a handle on. Coming off the bench for the first time midway through the first quarter, Orimo had his first shot blocked, then lost two turnovers before coming out after less then three minutes.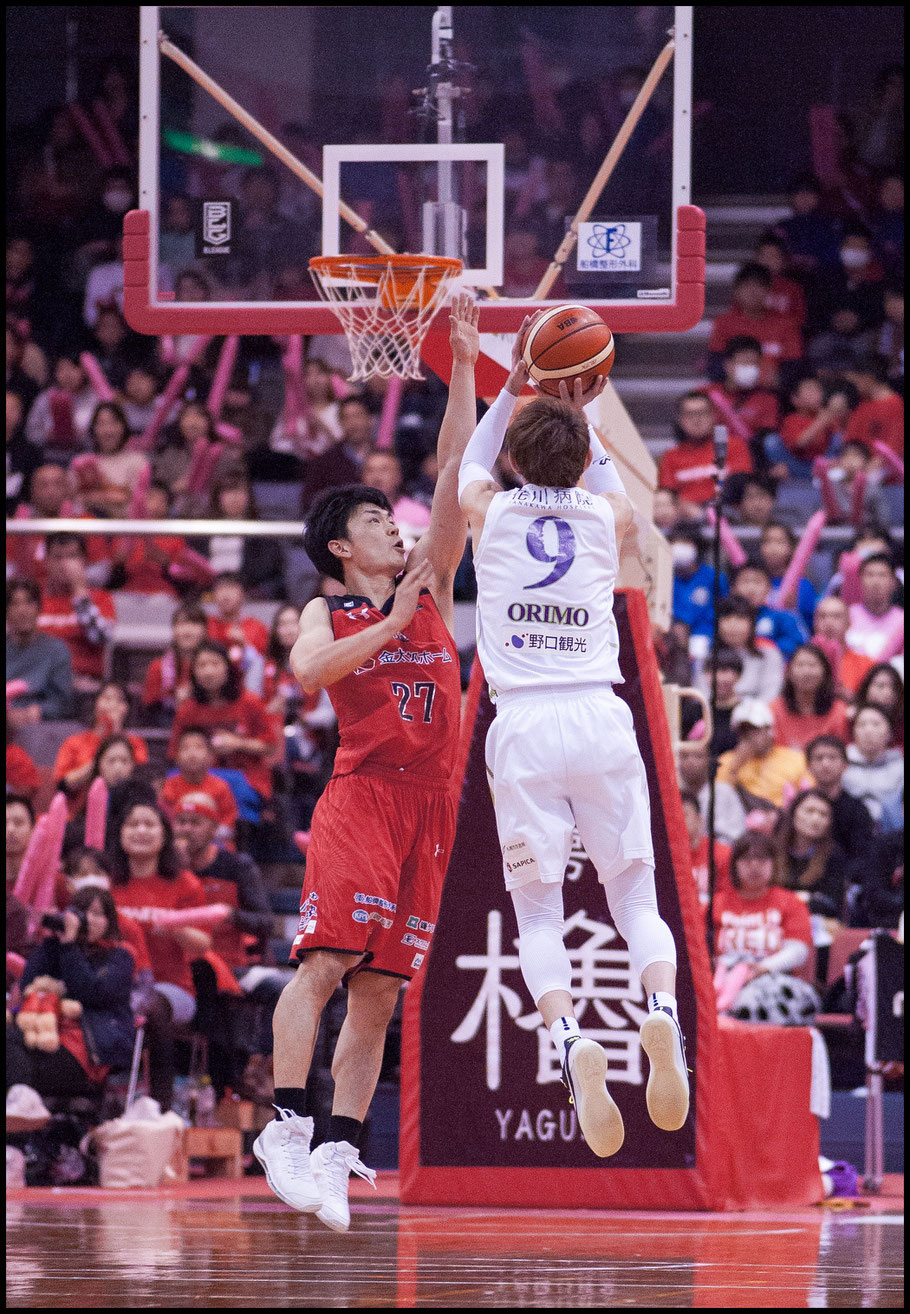 "The feeling was right, but my shots were long, all of them," said Orimo, who had four assists and a steal. "It's bad for me to miss a shot like that [at the end]. Earlier in the first quarter, I had some turnovers and we suddenly fell behind by 10 points. We couldn't get into a rhythm and the first half was over before we knew it."
The host Jets came roaring out the blocks, scorching the Levanga for 32 points in the first quarter before going into halftime up 51-40. They had a nearly perfect first half, making 12 of 13 shots from the field and 6 of 11 3-pointers, while going 9 of 9 from the free throw line and taking advantage of eight steals and 10 turnovers.
"That's just stuff we've been working on," Parker said. "It's just all coming together all at the same time. It actually feels really good."
After pulling away in the third quarter to take a 19-point lead into the final period, the Jets allowed the visitors to pull no closer than eight points before holding on for the win. The score that was a near repeat of Saturday's 98-88 victory, in which Orimo made both of his 3-point attempts and had nine points in 12 minutes.
"We played hard, we're a good team," said Miller, who led Hokkaido with 27 points. "It was a good game for a little bit. It's hard to stay with a team that's either making a basket every time or getting a foul called to shoot free throws every time. That seemed like the story for the day. We just got to keep playing no matter what, we got to gets things to go our way next time."
Togashi and Ryumo Ono led Chiba with 22 points each, while Parker added 16 and had four steals.
The Jets improved to 33-14 and lowered their magic number for clinching a playoff berth to three with 13 games to go. But they have more than a wild-card berth in mind, as they remain within striking distance of the top two teams in the highly competitive East Division. The Brex Tochigi are on top with a 38-9 record, followed by the Alvark at 36-11.
"At this point, you got get every win," Parker said. "You just have to battle it out and see what happens at the end. It's just kind of crazy that our division has three teams [in contention], and basically all of the other divisions have one. I don't necessarily like how that ended up shaping up. But that's just how it is."
Hokkaido, now 17-30, seems in a safe enough spot to avoid having to play in the relegation playoffs for the second division, assuring it remains in B1. But Orimo the executive is taking nothing for granted.
"Naturally, our thinking is that we have to at least keep our place in B1. We haven't exactly pulled away from the lower teams, and there are still a number of games left. We don't know what will happen."
In other action Sunday, the Seahorses Mikawa become the first team to lock up a division title, clinching the West championship with an 89-66 victory on the road over the Evessa Osaka to earn the 10 million yen bonus.
This coming weekend, the Kawasaki Brave Thunders can sew up the Central Division crown with either a win over the Yokohama B-Corsairs or a loss by the second-place San-En NeoPhoenix in their home series against the Albirex Niigata BB.
The top two teams in each of the three divisions automatically qualify for the playoffs, with two wild-card berths going to the next teams with the best records.
- Ken Marantz: March 28th 2017
---
Chiba Jets (101) -v- (90) Levanga Hokkaido
Photos: Chris Pfaff - March 26th 2017
---