---
Brex Clinch Crown In BLeague's Most Competitive Division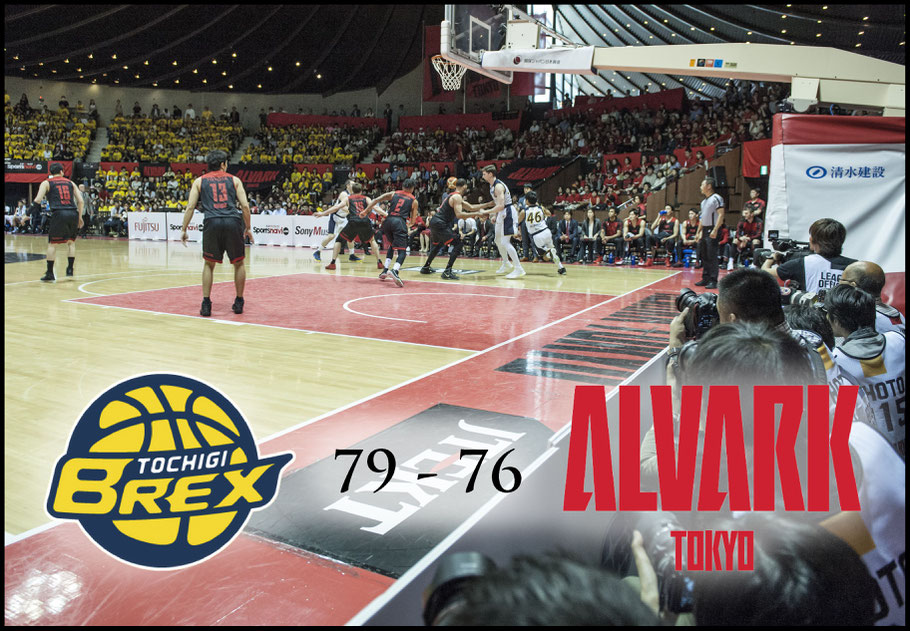 Having missed their chance a few days ago, when they were dealt back-to-back losses in a weekend series for the first time this season, the Tochigi Brex, despite missing two veterans, put it all together to finish off the title race in the B.League's East conference.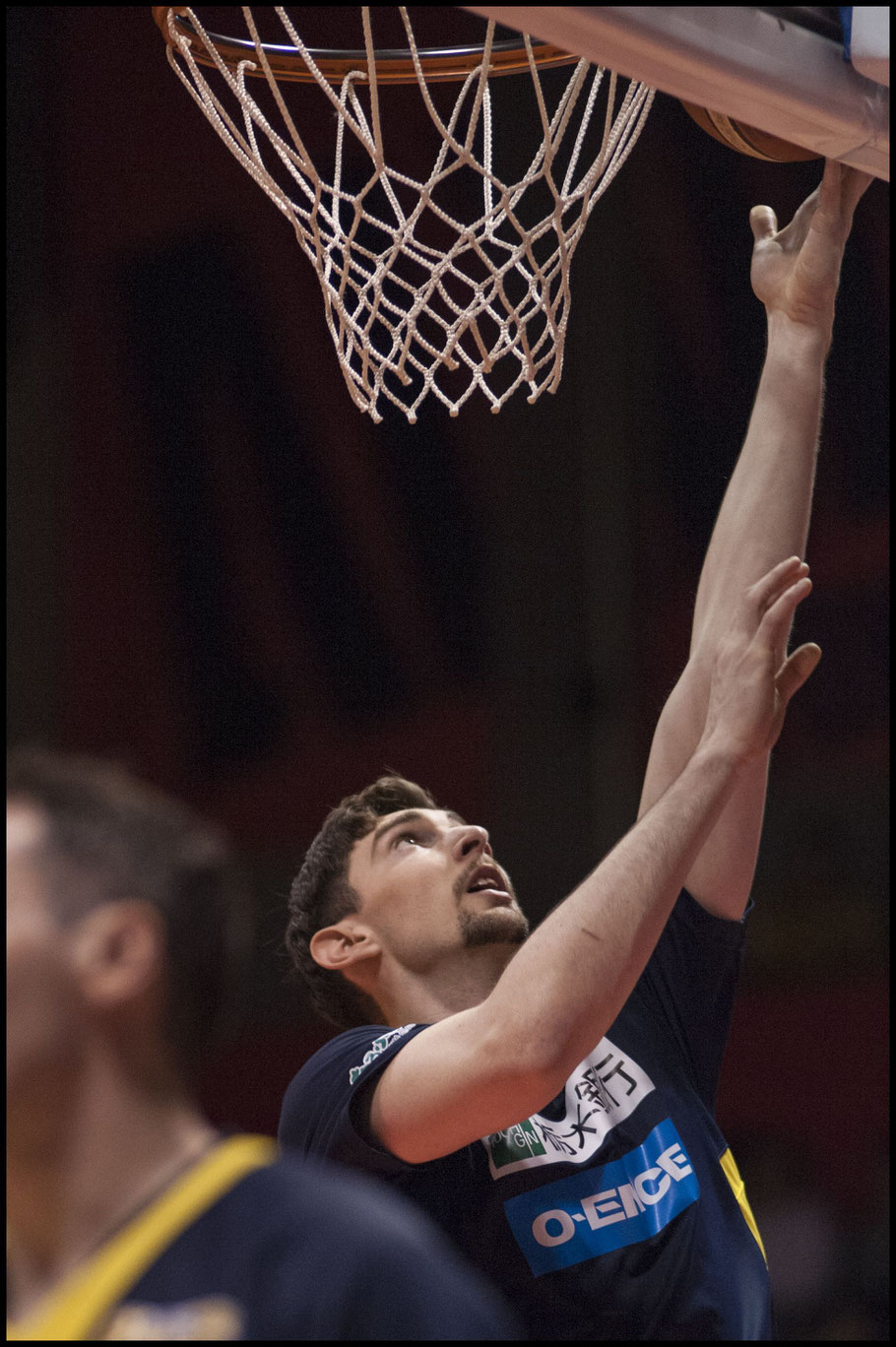 Ryan Rossiter scored 23 points and Hisanori Watanabe sank two key pairs of free throws over the final 26 seconds as the Brex held on to edge the Alvark Tokyo 79-76 on Wednesday and clinch the championship with two games remaining in the regular season.
The victory before a crowd of 3,246 (a significant portion clad in Brex yellow) at Tokyo's Yoyogi No. 2 Gym was a testament to the depth of Tochigi's bench, with a number of players stepping up to fill the voids left by injured point guard Yuta Tabuse and power forward/center Jeff Gibbs.
"It's a good sign for us going into the playoffs. We're getting confidence in our bench," Brex head coach Tom Wisman said.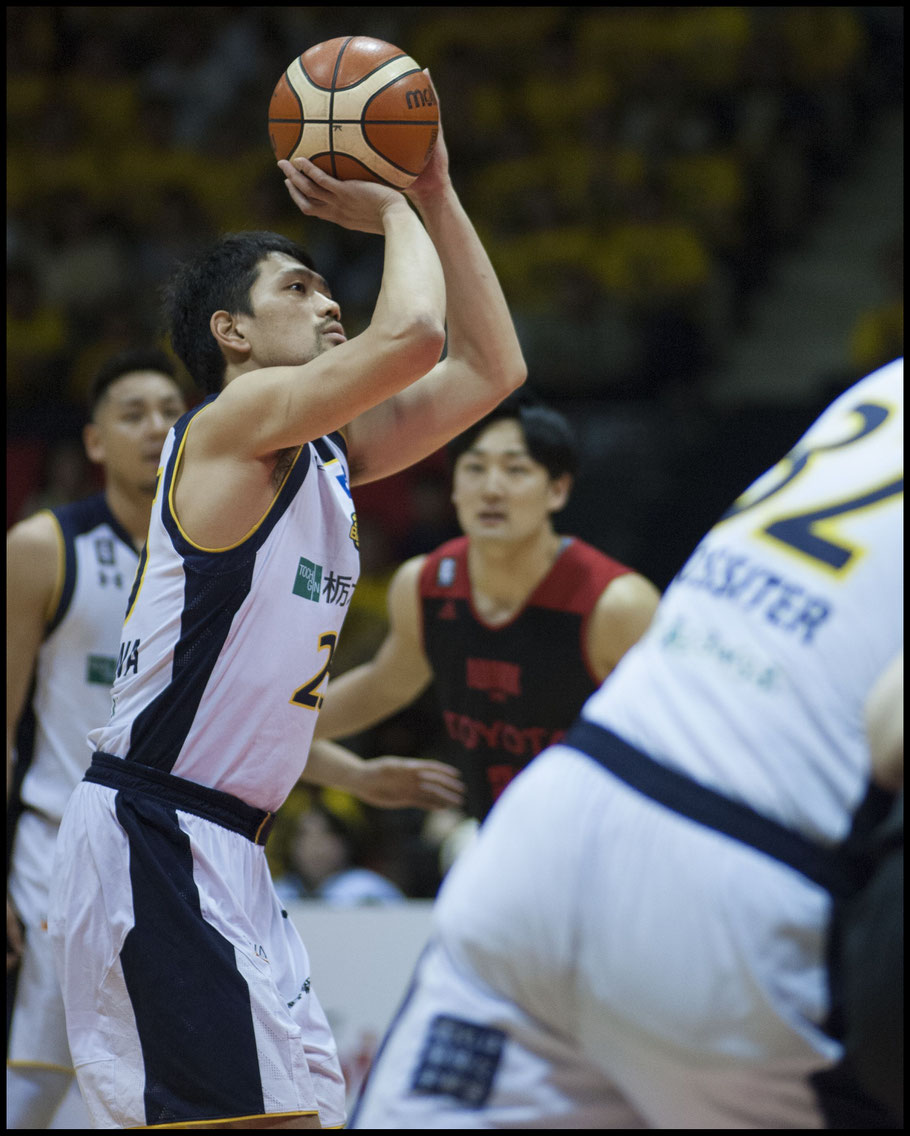 Takatoshi Furukawa, who averages 11.1 points per game, made all four of his 3-point attempts and finished with 18 points, while Yutaro Suda added 14 off the bench.
"That's an advantage we've had of being able to play people into being contributors," Wisman said. "Suda stepped up big time with the 14 points tonight. The last couple of games, also, he made big shots for us.
Wisman also noted the contribution of Watanabe filling the role of point guard, and Tommy Brenton's burly presence in the lane, where, playing just 21 minutes he tied Rossiter with a team-high nine rebounds.
"To do it with Jeff and Yuta hurt is a lot more special, it shows that we're a good team," Rossiter said. "We stick together when we need to."
Another big factor, Wisman pointed out, was that the team shot an unusually high 8 for 17 from outside the 3-point line, while holding Tokyo to 5 for 22 shooting.
"It was nice for us to shoot well from the 3," he said. "That's not usually us. We're the team that gets outshot."
Diante Garrett led Tokyo with a game-high 28 points, which included a layup off a steal that put the Alvark up 72-71 with two minutes left in the game. That was the first time they led since scoring the opening basket of the game as they rallied after trailing by 11 five minutes earlier.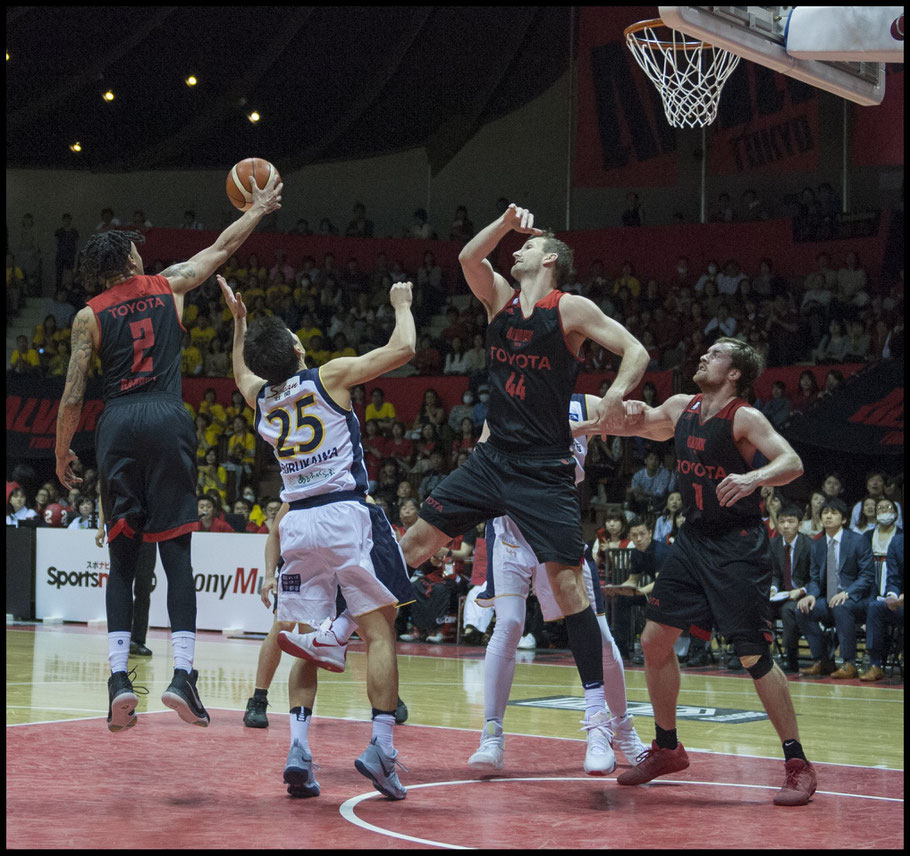 Rossiter hit a second-chance jumper in the lane to regain the lead for the Brex, who opened up a 77-73 lead when Watanabe sank two free throws with :24 left. Garrett drained a 3-pointer to cut the gap to one, but Watanabe was sent to the free-throw line again and hit both shots to make it 79-76 with :16 left.
"Nabe's free throws were huge, in a pressure situation," Wisman said. 
Tokyo had a chance to send the game into overtime, but Jeff Ayres' 3-pointer from the left side, while on line, fell short and only grazed the rim.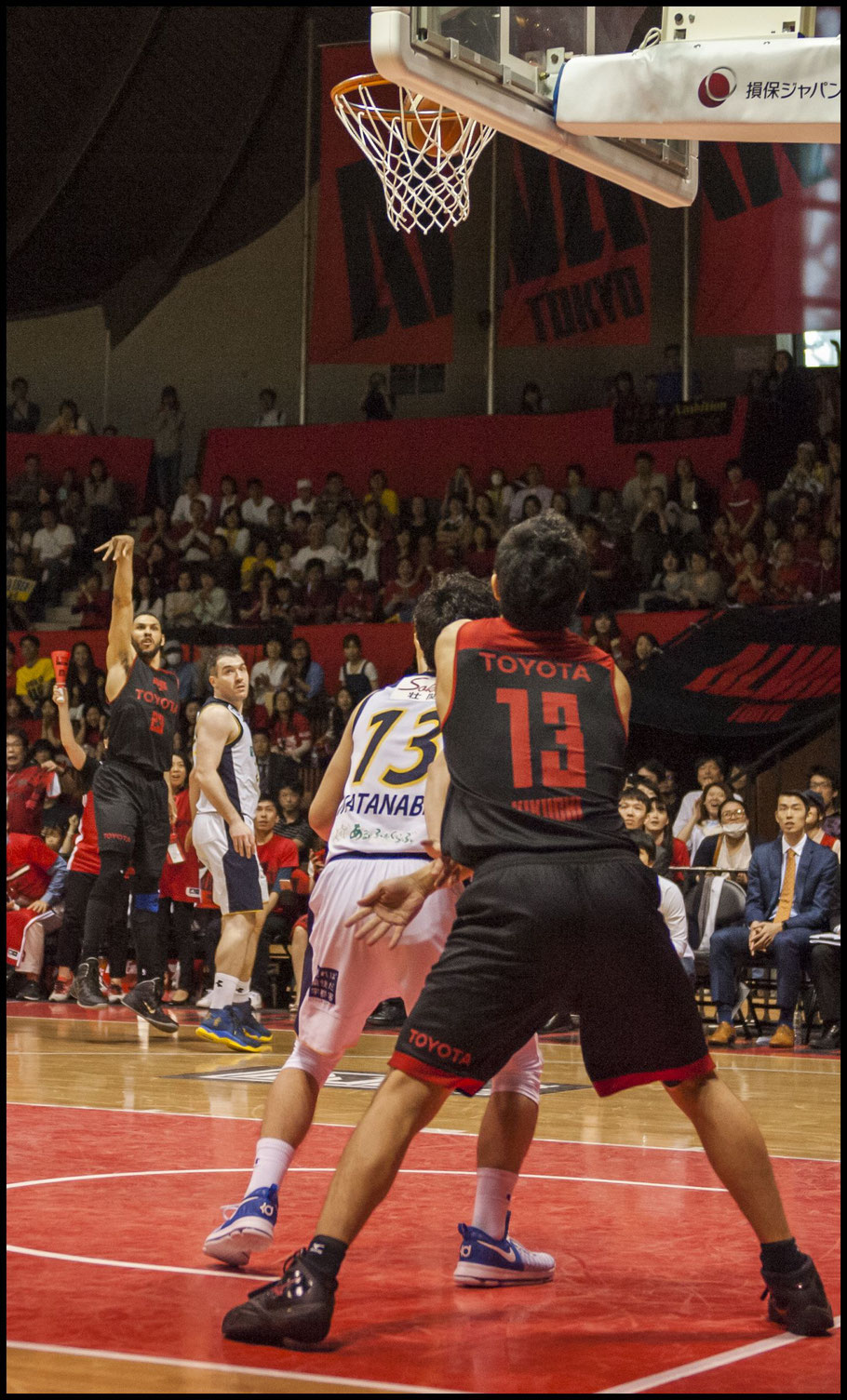 For the Alvark, the loss puts them into a precarious situation. They are now tied with the 42-16 Chiba Jets for second place in the East. Both teams have clinched playoff spots, but the team that finishes third (to earn a wild card) will have to play a division champion, quite possibly the Brex.
Tokyo, however, holds the tiebreaker if the two teams finish with identical records. Tokyo finishes the season this weekend at Akita against the Happinets, while Chiba travels to Sapporo to face the Levanga Hokkaido.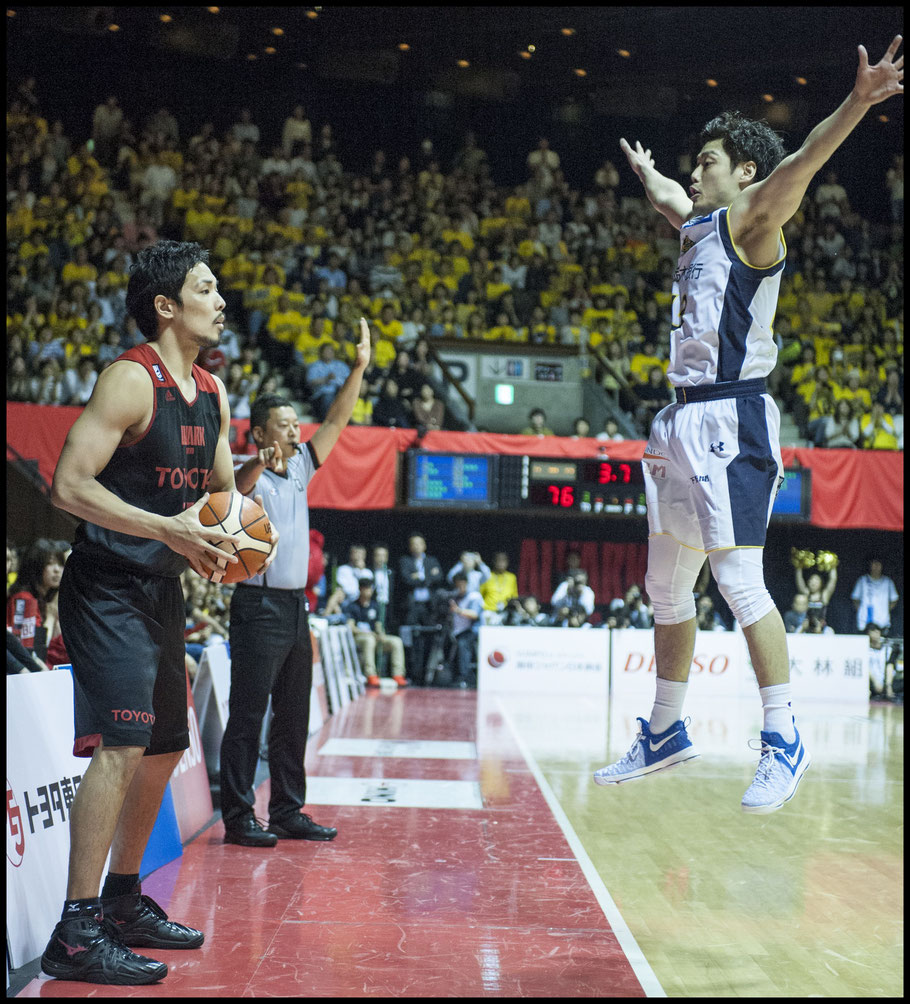 Wisman, for his part, has a decision to make on how much he wants to put into the final two games on the road against Sendai. The Brex still have a chance to secure the No. 2 seed in the playoffs, which could mean avoiding a possible match-up with the Alvark or Jets in the opening round. He could opt to give more rest to Tabuse, who his nursing a sprained ankle, and Gibbs, who missed the last four games with a hyperextended knee.
"We haven't decided who will play this weekend," Wisman said. "It's the 59th and 60th games. We have a couple of 36-year-olds that have small injuries now ... We may keep them out, just to give them extra time. But we may want to play them some minutes to get them back in the game."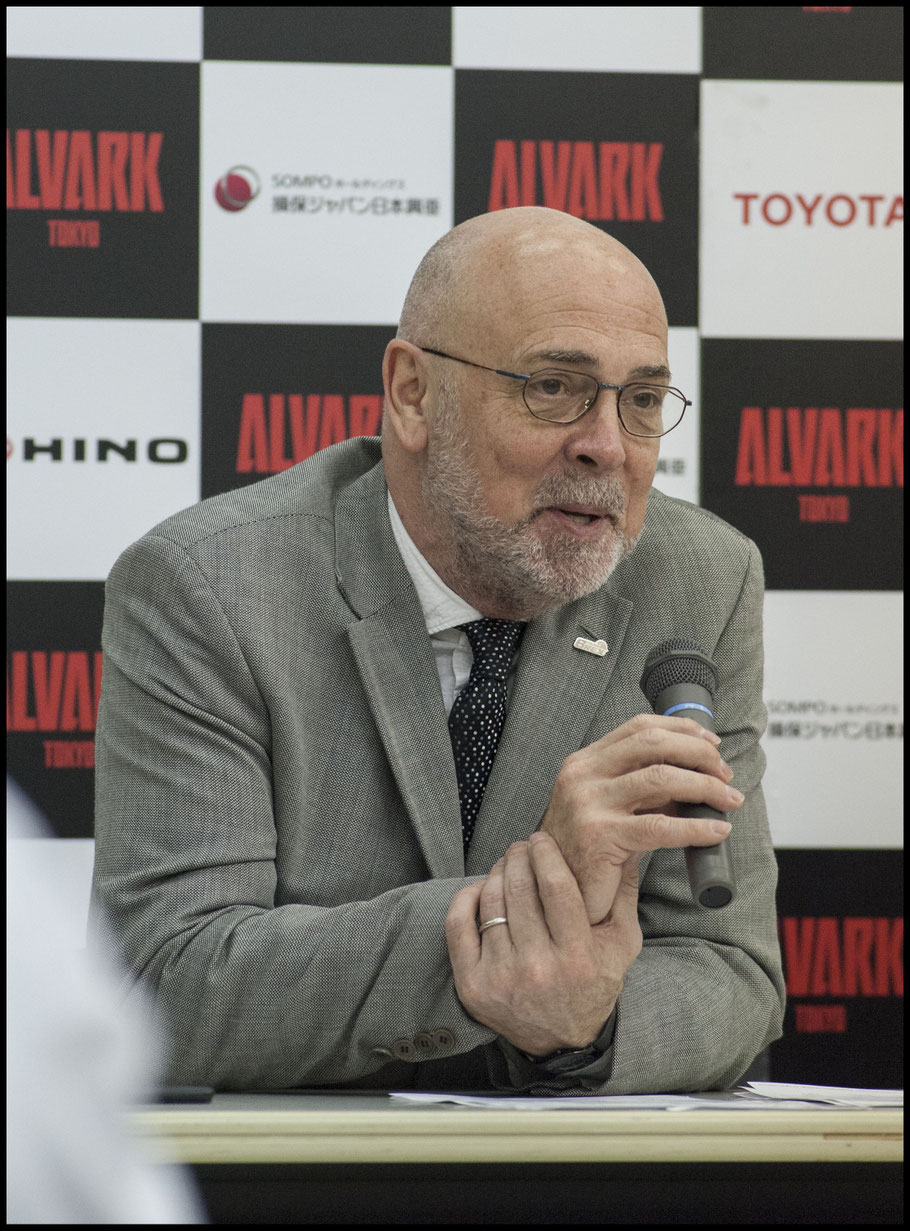 Regarding Gibbs, Wisman added: "He should be able to go this weekend if we decide to play him. But he'll definitely be ready for the playoffs, we feel."
Earning the division title at Yoyogi held special significance for Wisman, as it was on that court that the Brex won their lone championship in 2010 in the Japan Basketball League, which became the National Basketball League before merging with the rival bj.League to become the B.League this season.
In the final season of the NBL, the Brex finished second in the overall standings, but were ousted in the semifinals of the playoffs by the Toshiba Brave Thunders (now Kawasaki) 2-1 after winning the first game of the series.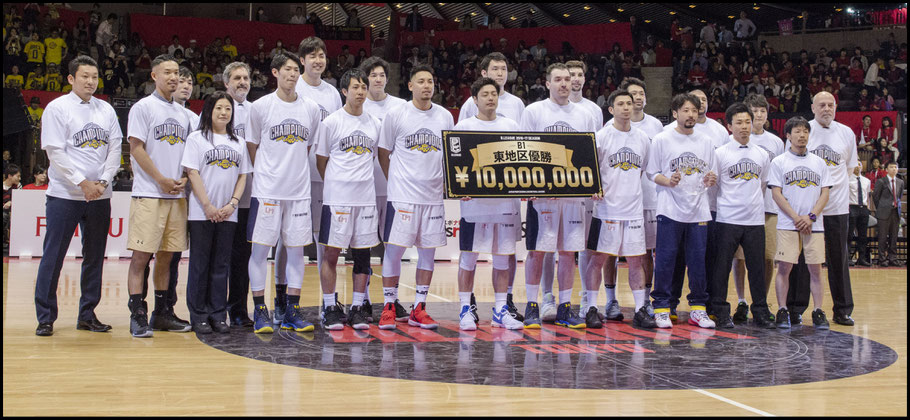 "We're ready to go," Rossiter said. "We feel we have some unfinished business from last year, we're just really excited to get going."
Wisman, who is in his second stint as Brex coach, said he feels good about giving their rabid supporters a division crown (which also earned the team a 10 million yen bonus), but has no intention of stopping there.
"You saw a lot of yellow out there in the crowd," Wisman said. "We have people that travel to all of our games, wherever we are, Okinawa, Hokkaido. We have some very loyal and great supporters, and we're happy to give them this championship.
"This is not really the championship that we're after. It's nice to have this one. It's a hard-earned one, because this is a very tough conference. But nothing's done yet; we still have a lot of work to do. But our fans are there with us, and we're happy we could give them this."
Meanwhile in the race for the only remaining unfilled playoff spot, the Osaka Evessa and Ryukyu Golden Kings both were dealt defeats, meaning their battle for second place in the West Division will be decided when they go head-to-head on Saturday and Sunday.
About an hour after Ryukyu fell 69-62 on the road to the Nagoya Diamond Dolphins, Osaka failed to take advantage and lost 88-81 at home to the Shiga Lakestars.
Osaka heads into the weekend with a 28-30 record, with Ryukyu trailing at 27-31. The Evessa lead the season series 5-1.
- Ken Marantz: May 3rd 2017
---
Tochigi Brex (79) - (76) Alvark Tokyo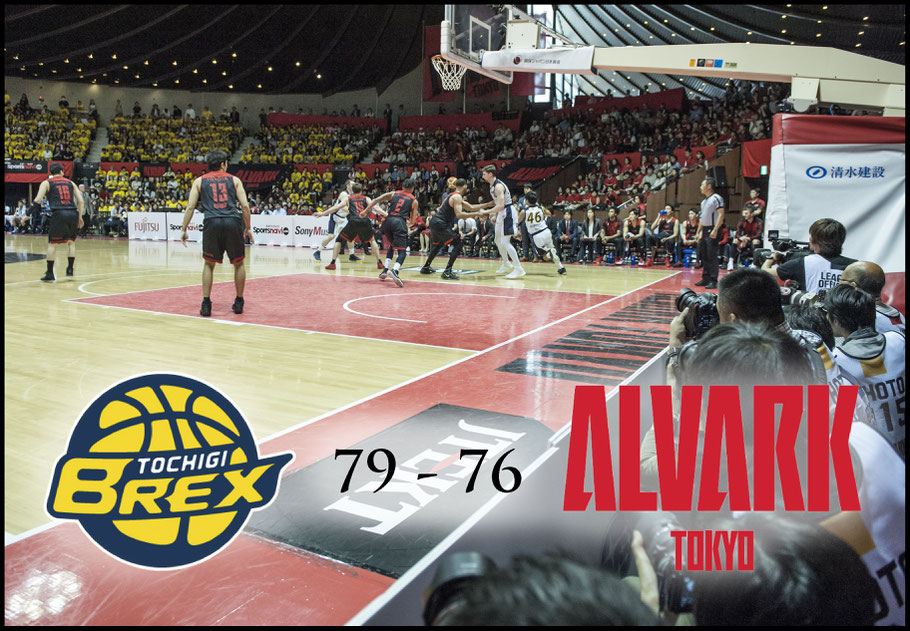 Photos: Chris Pfaff - May 3rd 2017: Yoyogi #2 Gym
---
SeaHorses Mikawa (90) - (85) Hannaryz Kyoto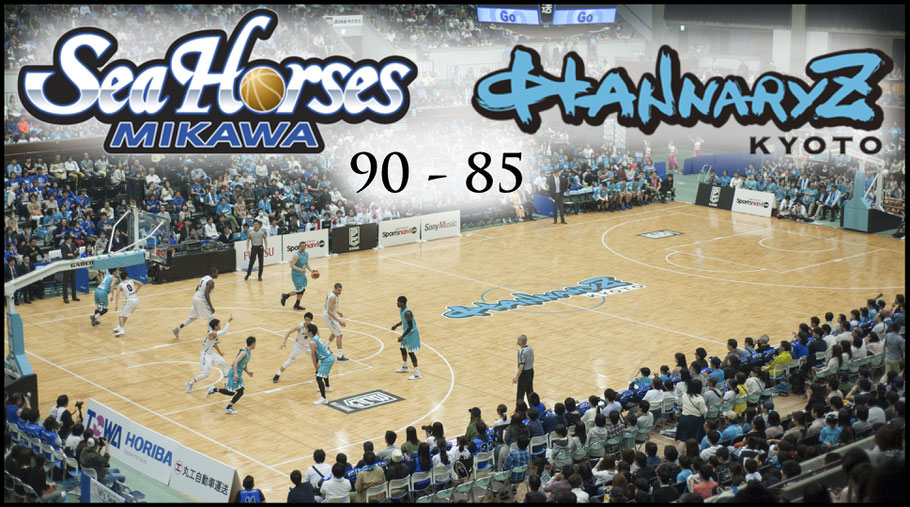 Photos: Lionel Piguet - May 3rd 2017: Hannaryz Arena
---
Plus Ça Change. Osaka Maintains Upper Hand In Race For Second Place In West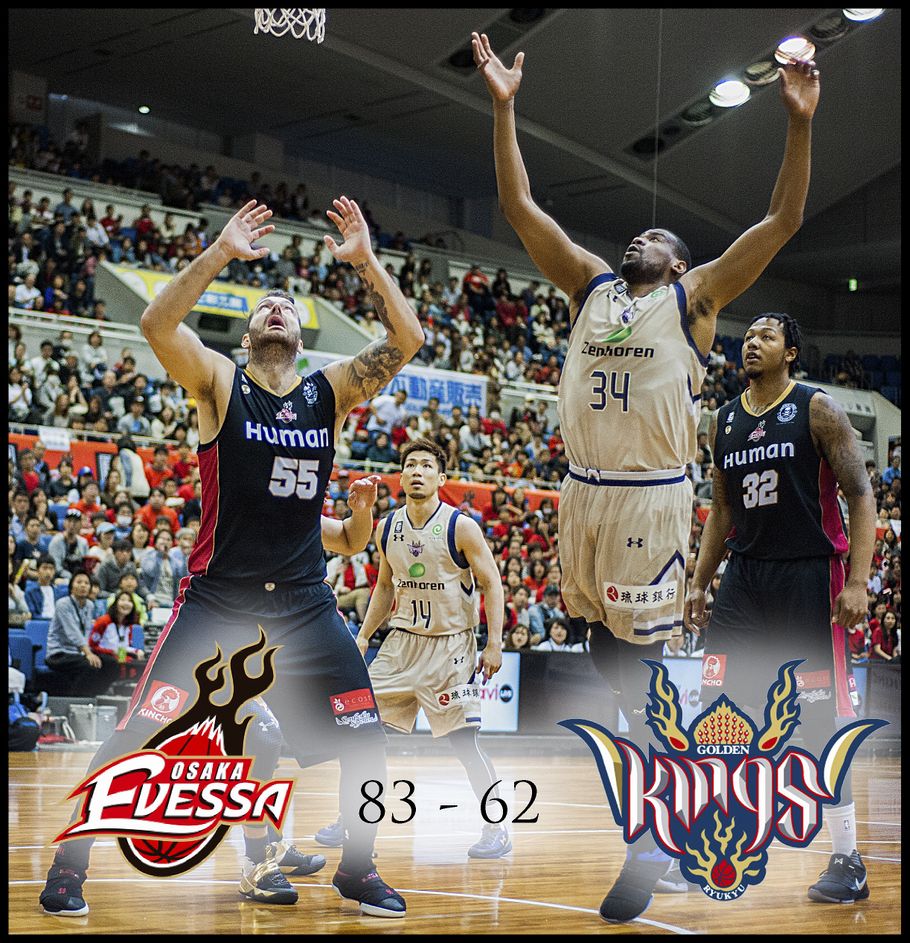 The two teams battling for second place in the West Division ended the weekend right where they started it.
The split of the two-game series between the Osaka Evessa and Ryukyu Golden Kings increased the prospect that the race will come down to the final weekend of the regular season, when in a quirk of fate, they face each other in a head-to-head showdown.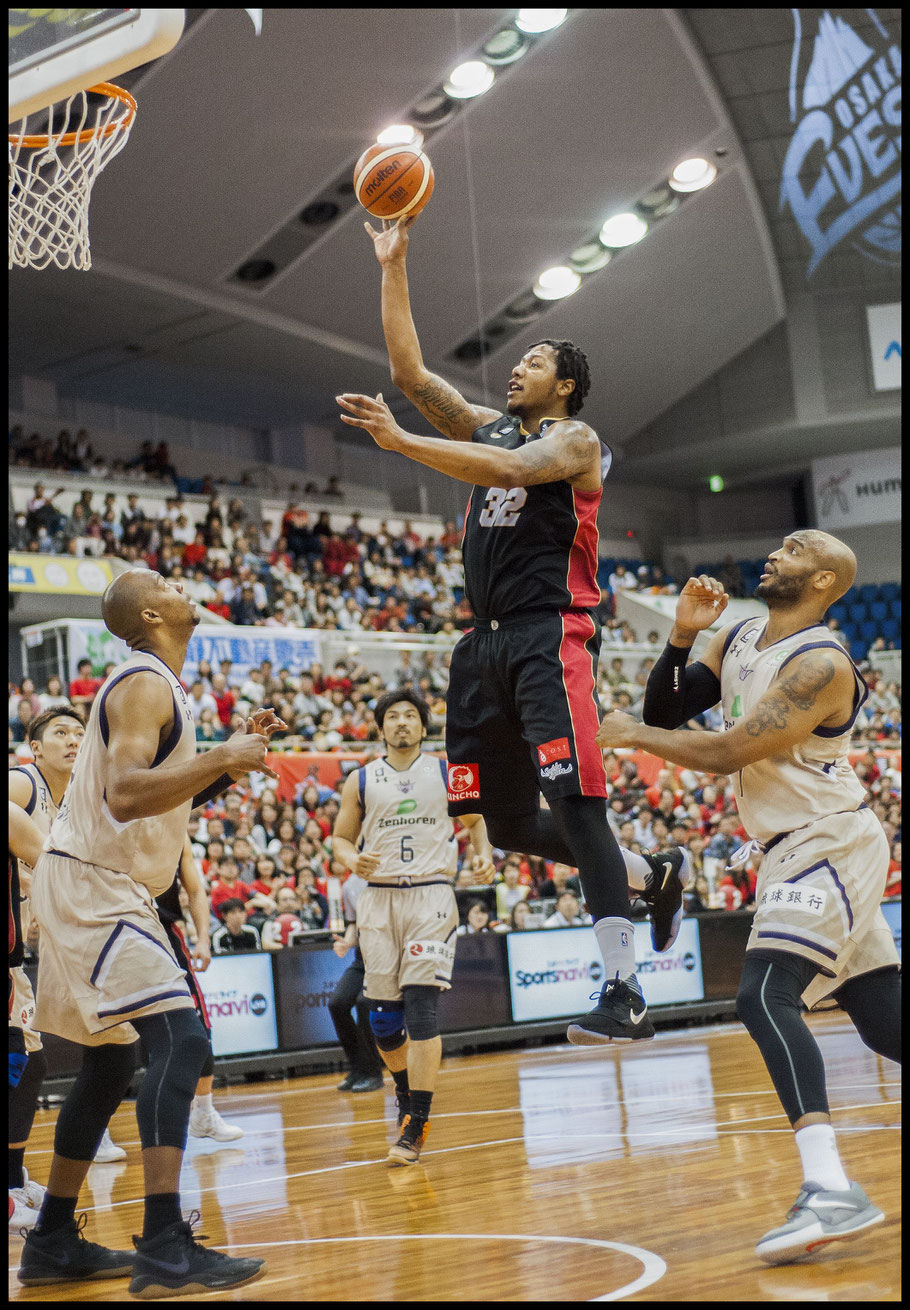 Osaka, which went into the series on its homecourt of Fuminkyosai Super Arena with a one-game lead in the standings, maintained that margin with five games remaining by riding a big first-quarter lead to a 83-62 victory on Sunday.
Xavier Gibson scored 20 points and Takuya Hashimoto added 14 as the Evessa reversed Saturday's 84-69 loss, in which they saw the opponent shoot out to a 16-point lead in the first quarter that they never relinquished.
"Yesterday, even when the opponent missed a shot, we didn't get the rebounds, and we were late on our double teams. There were soft spots in our play," Osaka head coach Dai Oketani said on the team website.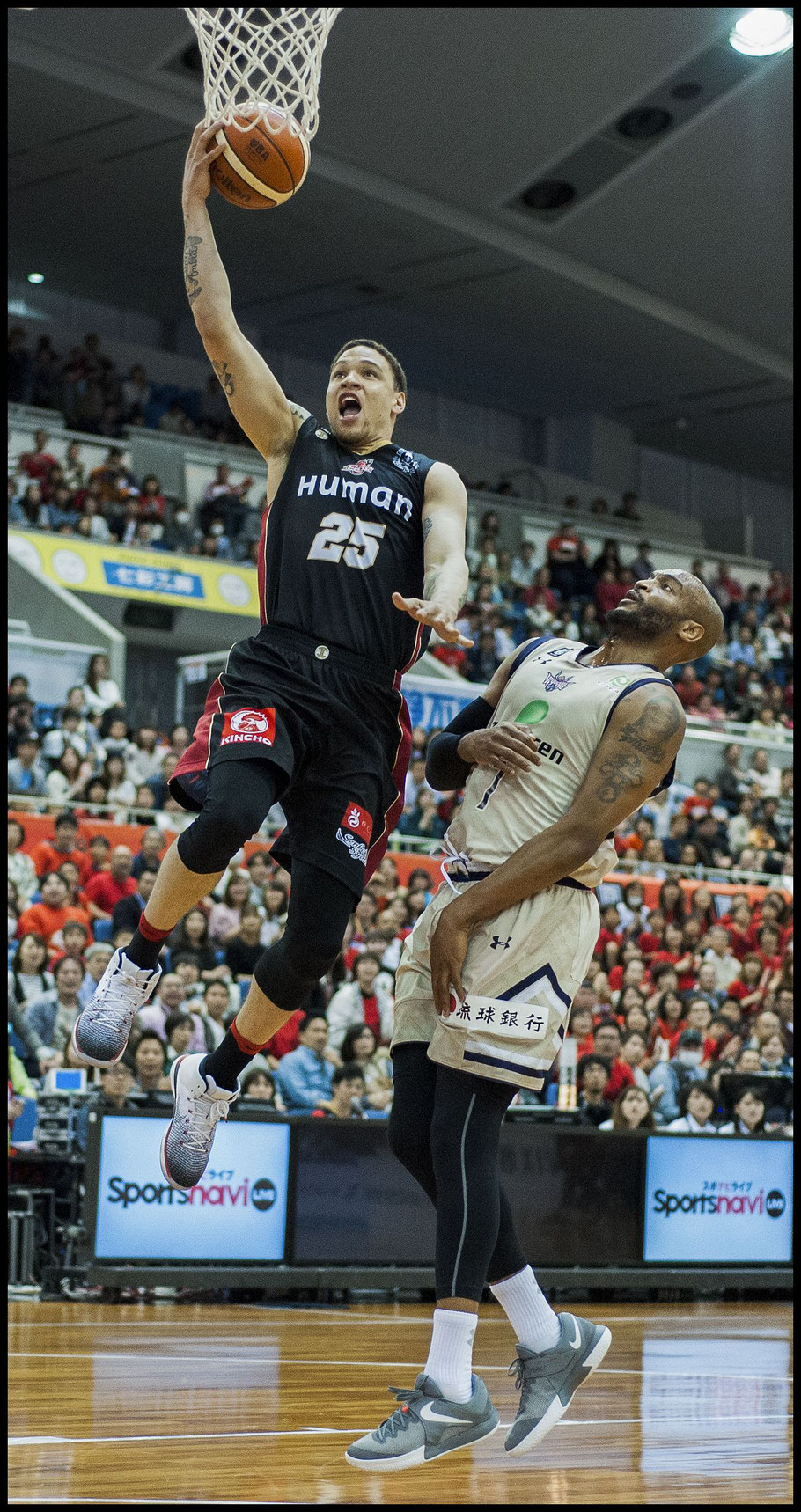 "We didn't really change anything strategy-wise. It's not like we made any adjustments to our transition game, setting picks and rebounds, it was that we didn't do those well in those three areas yesterday. That was a big factor why we could hold Ryukyu to 62 points today."
Osaka stormed out of the blocks and, when Josh Harrellson sank a 3-pointer with 3:50 left in the first quarter, the Evessa went up 21-4. They took a 27-8 lead into the second quarter, when the Golden Kings cut the margin to 12 points, but could never got any closer the rest of the game.
In fact Osaka, which went into halftime leading 38-22, even managed to outscore Ryukyu in both the third and fourth quarters.
"We were more aggressive defensively on the pick and roll," Osaka's Richard Roby told Inside Sport: Japan. "Yesterday they were better than us on the pick and roll, but today we wanted to be more aggressive and it worked." Roby scored 12 points while playing just over 10 minutes.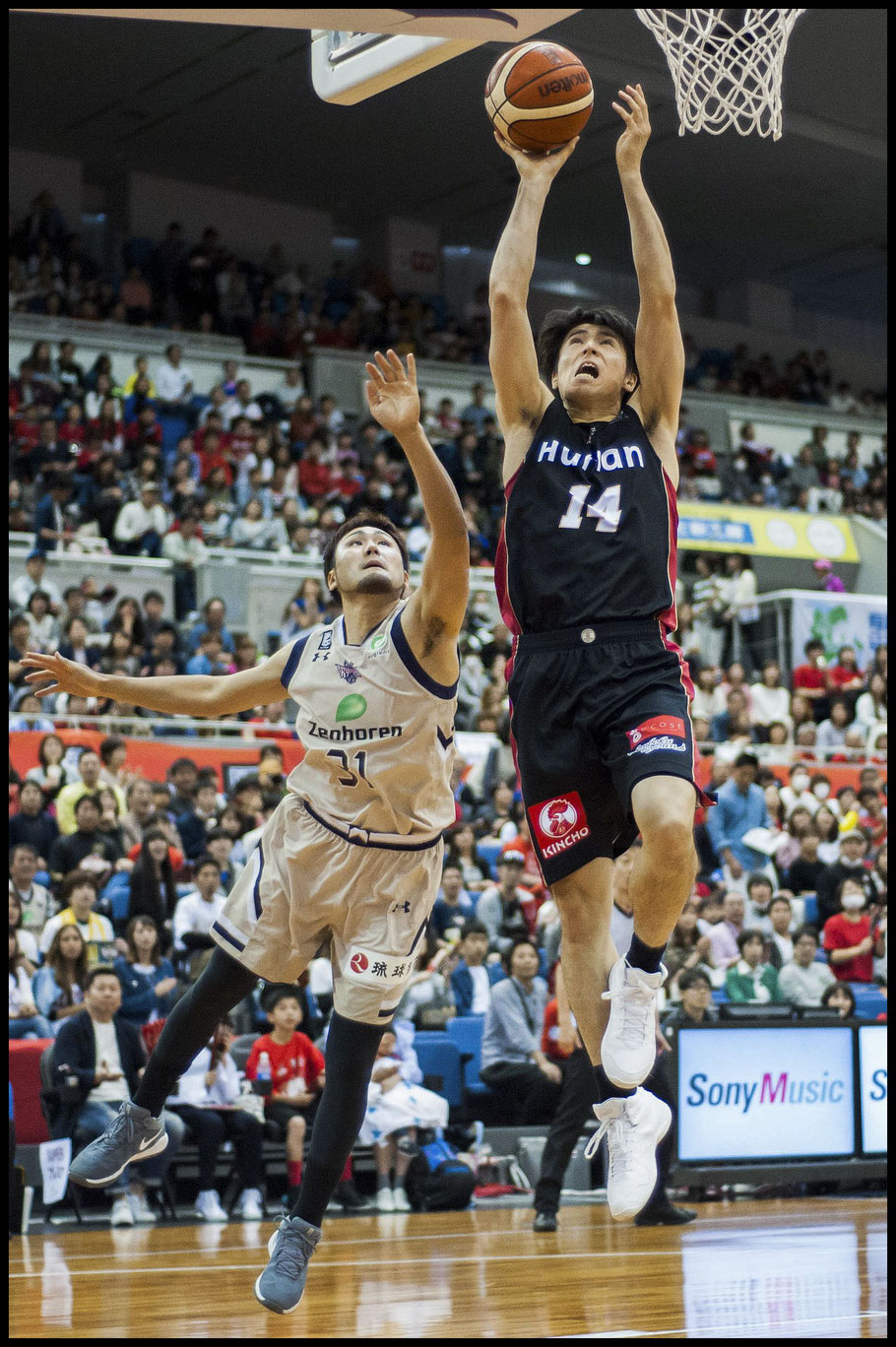 Oketani said the biggest factor was the performance of his Japanese players, in particular Takahashi, who also had three steals.
 "On offense, yesterday we did not have one Japanese player in double-figures," Oketani said. "This time the two Takahashis (Takuya and Naoaki) scored in double figures. That was a big plus for us.
"In particular, Takuya found many different ways to create points right from the start, by posting up, getting passes off a screen, then turning and going on the attack. That showed the progress he is making."
Shota Tsuyama led Ryukyu with 17 points and Reyshawn Terry had 16. Shuhei Kitagawa, who led the Golden Kings on Saturday with 19 points, took just two shots (and missed both) Sunday.
The Evessa had a slight edge in rebounds, 43-39, but also forced 18 turnovers. They negated 11 turnovers of their own with an equal amount of steals.
"Yesterday we were the imposer, but today they were the imposer," Terry said. "That's the good thing about playing two days in a row, you can adjust the team after the first day and vice versa. Today they played well and kept the momentum."
Osaka faces a major challenge in the upcoming weekend, as it takes on the Seahorses Mikawa, who have already clinched the West Division title but still have the incentive of securing the top seed in the playoffs.
More than likely, second place will come down to the season-ending series between the Evessa and Golden Kings May 6-7 in Okinawa.
"We gotta continue to get wins and it's in our hands right now," Roby said.
Terry remains confident that Ryukyu can overcome the odds and secure the postseason spot.
"We gotta take every game one at a time, there's still a lot of basketball to be played, so we have to do what we can do and control what we can control," he said.
- Ken Marantz: April 17th 2017
---