Pirate Ship Sinks In Blue Lagoon
---
Dominant IBM Outclasses Pirates In All Phases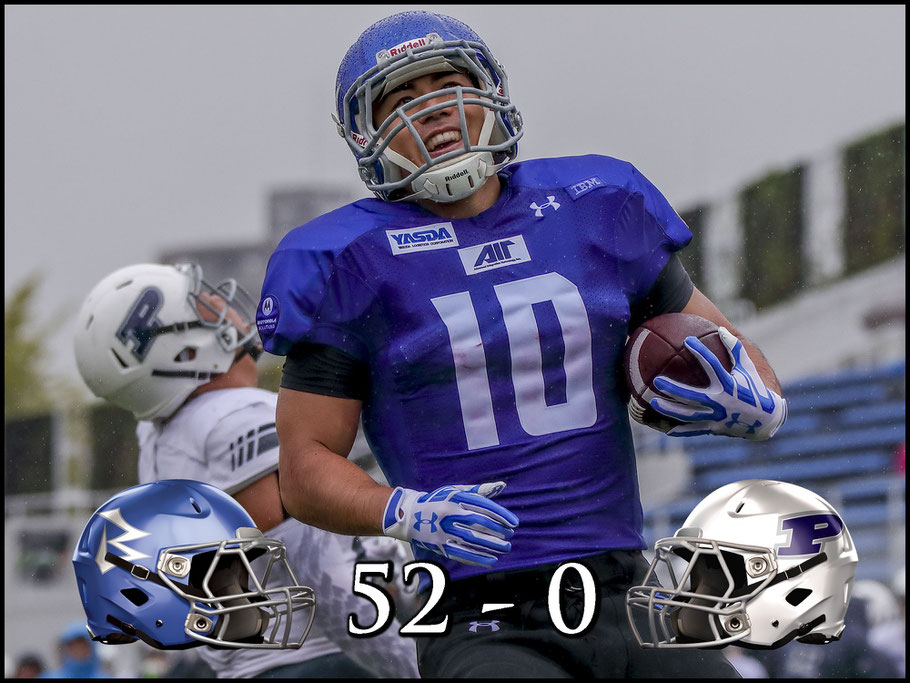 ---
---
Big Blue set the tone early in their rain soaked, second-round matchup with the Meiji Yasuda Penta-Ocean Pirates. James Brooks batted down a pass on the first play from scrimmage and fellow DL Charles Tuaau put a big hit on the QB on the second. The Pirates had to burn a time out before the third play, and you just knew it was going to be a long day for the Hachioji-based side.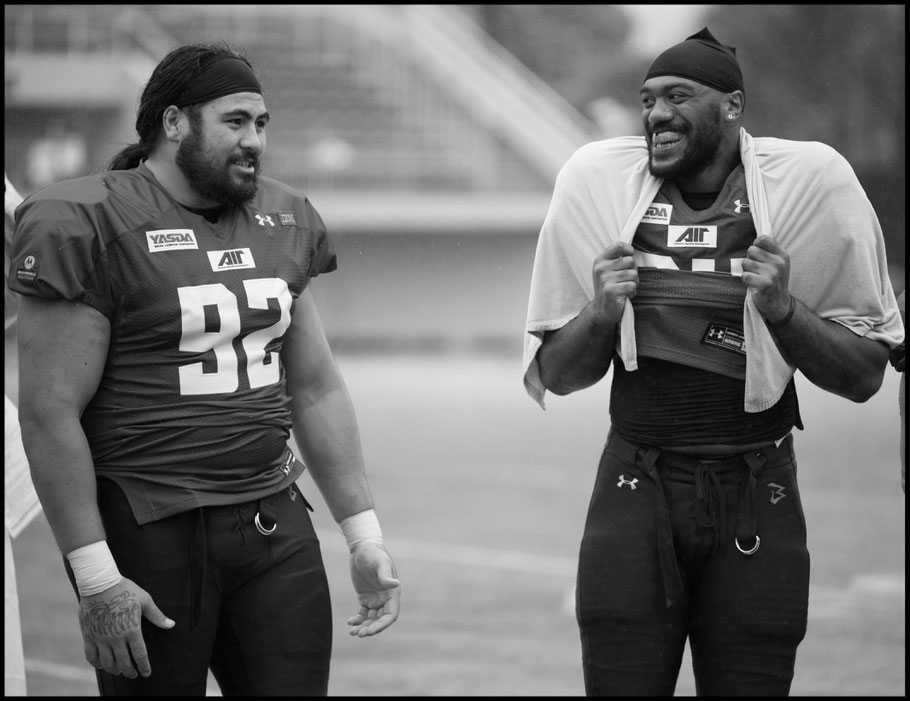 The only worry going into the game for IBM was whether there would be an emotional let down after their historic first ever win over Obic Seagulls in the season-opener.
That concern was soon laid to rest as Big Blue came out firing on both sides of the ball.
John Stanton had a quick catch over the center for a first down and then another two plays later for a 35 yard gain to the Pirates ten yard line as IBM got their high tempo offense going early.
That was it on the day for Stanton though. The XLeague week one MVP,  was never going to repeat his 183 yard 2TD performance in such inclement weather. Big Blue wisely kept the ball on the ground rushing 37 times for 264 yards and six scores.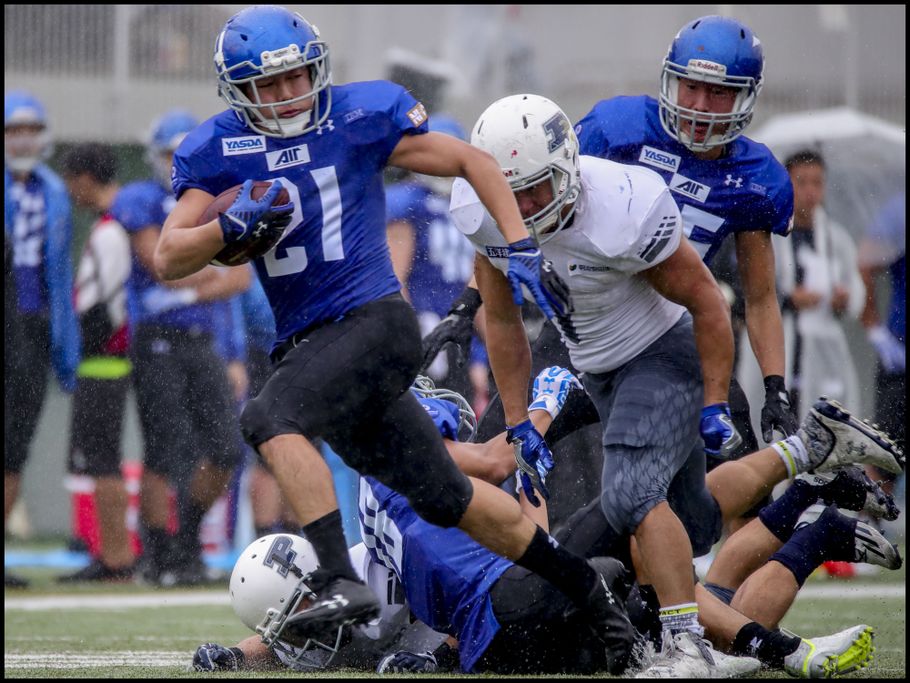 Feature backs Tomokazu Sueyoshi and Ryo Takagi of course saw plenty of the ball but IBM decided most of the workload would go to Ryuki Ito. The rookie out of Tokyo University of Economics had 16 carries for 174 yards and a score.
IBM's two headed monster in the backfield has become a three-headed one it would seem. Add to that Stanton and deep-threat WR Takeshi Kurihara as well as a defense that is improving game by game and IBM are going to be difficult for any team to stop this year.
That defense is putting pressure on opposing QBs on almost every snap. The sheer size and power of Brooks and Tuaau mean both need to be double teamed on almost every play. That's a task made all the harder by the fact that they move around constantly, both inside and out.
Even if you somehow manage to contain the Americans, you still have to handle Yuki Fukuoka in the middle along with LBs Kevin Coghlan and Shogo Nakatani all of whom are adept at bringing pressure.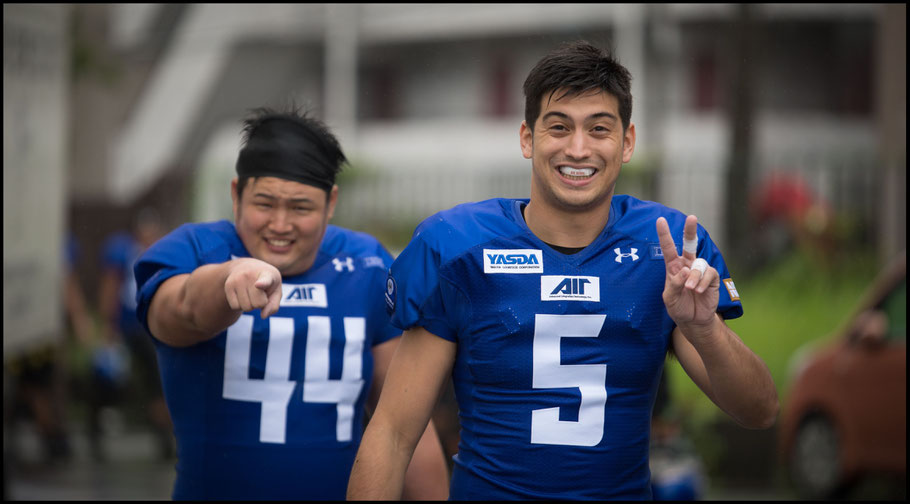 This IBM team is built to score in a hurry then get after you when you try and pass the ball to catch up.
Pirates didn't do themselves any favors either. On their second possession a snap went way over the punters head and ended up being recovered at the one yard line by Big Blue. The drive had taken seven plays before the miscue and that was as good as it would get for the Pirates all day. They had ten possessions with most being three and out. Somewhat surprisingly they only went for it on fourth down once all game. Drops and miscommunication on routes killed what few chances they had.
The treacherous conditions didn't slow down IBM QB Kevin Craft however. The UCLA man went 12 of 19 for 207 yards and a score including a beautiful 41-yard spiral to Kurihara just before the half.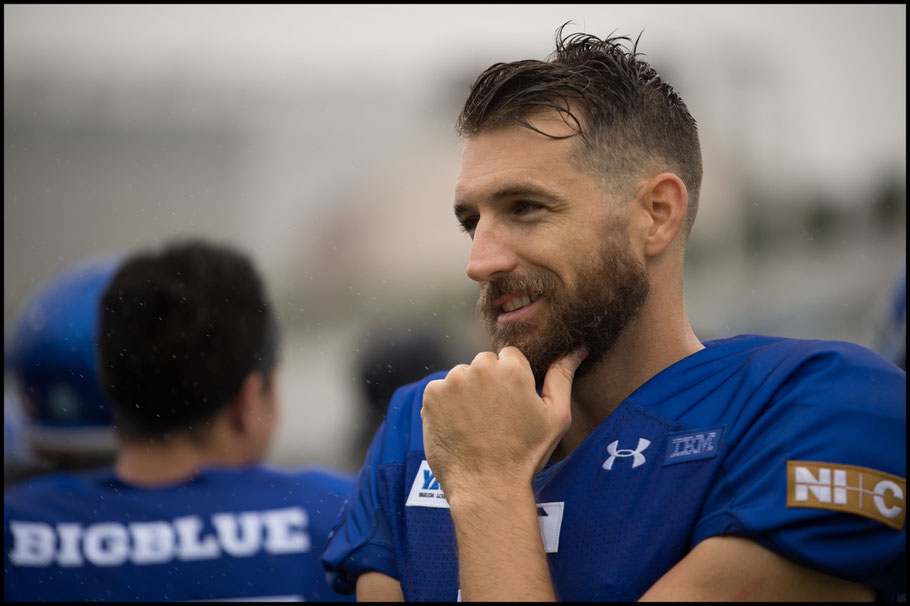 Not everything went smoothly for Big Blue. James Brooks was a victim of his own success on kicks, several times he barreled  through but just missed the ball (one went through his hands) and caught the kicker.
Head coach Shinzo Yamada had to remind him on the sideline to be careful at one stage. Books afterwards admitted that he knows that's something he's got to be aware of as his size and physicality can lead to him getting flagged easier than smaller players. The 195cm tall man somehow managed it on one play pirouetting away around the punter in a move rarely seen on a football field.
The game followed the pattern above most of the way through with Pirates not taking advantage of the limited chances that came their way and IBM's defense, in particular Tuaau, causing them all kinds of trouble up front. Big Blue aren't scheduled to meet Fujitsu in the regular season which is a pity as that trench battle would be fascinating to watch. They do have a Nojima side up next though that, despite being shut out by Obic, can score quickly and it'll be interesting to see how IBM's big front deals with the Rise's mobile QB Gardner.
- John Gunning: September 17th 2017
---
---
---
IBM Big Blue (52) - (0) Meiji Yasuda Penta Ocean Pirates
Photos: John Gunning・Sachiyo Karamatsu  - September 17th 2017: Fujitsu Stadium