Comeback Kings Ride Again
---
Lixil Channel Their 2016 Selves To Down IBM in Wild Finish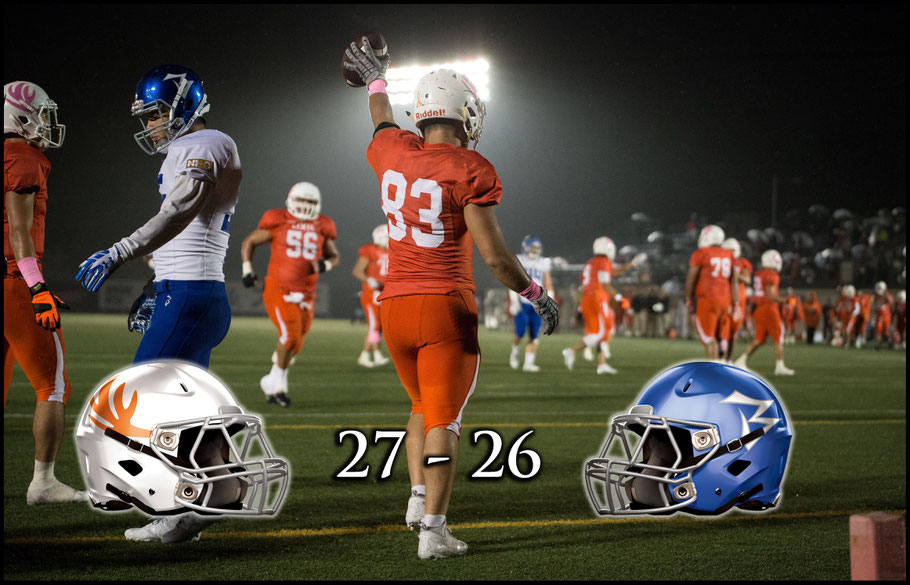 Lixil Deers scored a touchdown, recovered the onside kick, scored another TD,  then forced a fumble on IBM's final possession to edge Big Blue 27-26 at a dark and rainy Amino Vital Field in Chofu last night.
Deers QB Shohei Kato was the hero of the day returning to lead three fourth quarter scoring drives after being knocked out of the game early by a massive Charles Tuaau hit.
Kato drew Lixil to within six points with 2:30 left, when he capped a thirteen play 75-yard drive with a short TD pass to Satoshi Ishige, perfectly placed over the outstretched hands of a jumping Kevin Coghlan.
Daisuke Aoki then hit a textbook onside kick that bounced along the ground to the right, popped up into the air near the sideline, was tipped forward by Naoki Maeda and recovered by Ishige.
Six plays later RB Yuki Shirakami scored untouched straight up the middle from ten yards out and Lixil had another miracle comeback to add to their collection.
For most of the game that seemed a most unlikely outcome as IBM were firmly in control. The fact that they were scoring field goals rather than touchdowns was a concern however. At several points in the game the thought "how is this not already over?" sprung to mind.
Credit to Lixil's defense though. Their speed on the edges meant they were able to recover and limit the damage from some of IBM's more creative plays, and by holding Big Blue to field goals they kept the gap manageable enough to allow the last quarter heroics. Two first half interceptions also meant Lixil were only a single score behind at the break.
---
---
Surprisingly, given the conditions, the teams elected to pass early and often. Both sides saw their first drive stall on a failed 3rd and 9 attempt but while Big Blue kicked a field goal, James Brooks, as he has so many times in the past, elevated and blocked Aoki's 22 yard effort. That saw the veteran kicker head to the sideline and start practicing adjustments. Those were obviously successful as he hit all five kicks thereafter including a 49-yarder later in the game - no small achievement given the weather.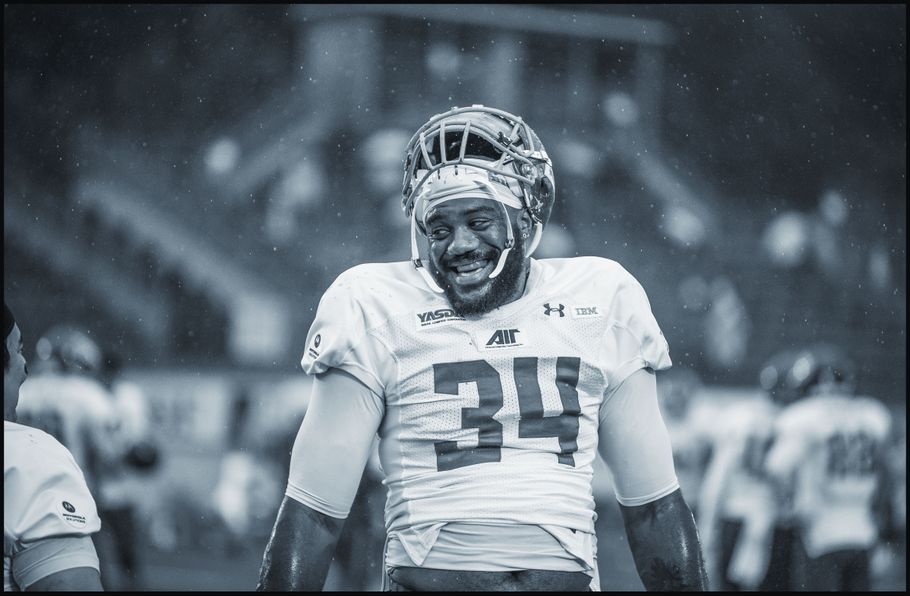 IBM's defense (the last three minutes aside) was effective throughout the game. Tuaau on the play after the bone-crunching hit on Kato laid another lick on Shirakami that ended the first quarter and Brooks' ability to elevate on kicks forced Lixil into trying a fake field goal on 4th and 5 that didn't even come close to succeeding. Deers got revenge for that right before the Ishige TD when Kato goaded Brooks into jumping offside on 4th and 4 setting up first and goal.
Big Blue's offense, while still racking up the yardage, hasn't been as clinical as it was early in the season. That's inevitable when a lot of people are playing hurt, but in a year when teams like Nojima and Panasonic seem to be able to score at will, the ability to get touchdowns late on in tight games could be crucial.
---
---
With the two teams below them in the standings facing off next Sunday, IBM will avoid having the play in the Wildcard round and are expected to get the win in week six against a Challengers team that has struggled to score in 2017.
Lixil meanwhile, despite the win, are still the lowest ranked of the teams that have three points. Next week they have a huge matchup with Elecom Kobe Finies. The loser of that game will have to face a Battle Nine team in a Wildcard game on November 5th, while the winner gets a week off to recover and prepare for the quarterfinals. 
- John Gunning: October 15th 2017
---
---
Lixil Deers (27) - (26) IBM Big Blue
Photos: John Gunning - Oct  21st 2017: Amino Vital Field