---
Former Alabama State Hornet Makes Nest Across The Pacific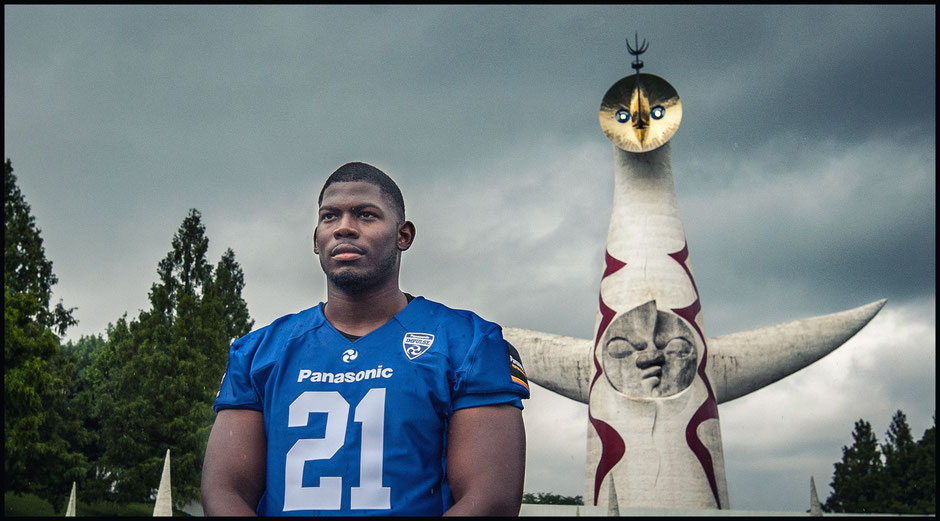 "Get used to walking"
That's Panasonic Impulse DL Carlton Jones' suggestion to any players thinking of coming to Japan. "Get used to walking because you are going to walk everywhere."
The Alabama State University man has just started his third season with the XLeague powerhouse and he's got plenty of advice for those looking to follow in his footsteps, and not just for off the field.
"Work on your endurance, cos the practices are longer. It doesn't matter how strong you are. It matters more about your endurance, because if you can bench 500 pounds but you can't run a mile it's gonna weigh down on you, it's gonna hurt you more than help. Endurance is gonna help more"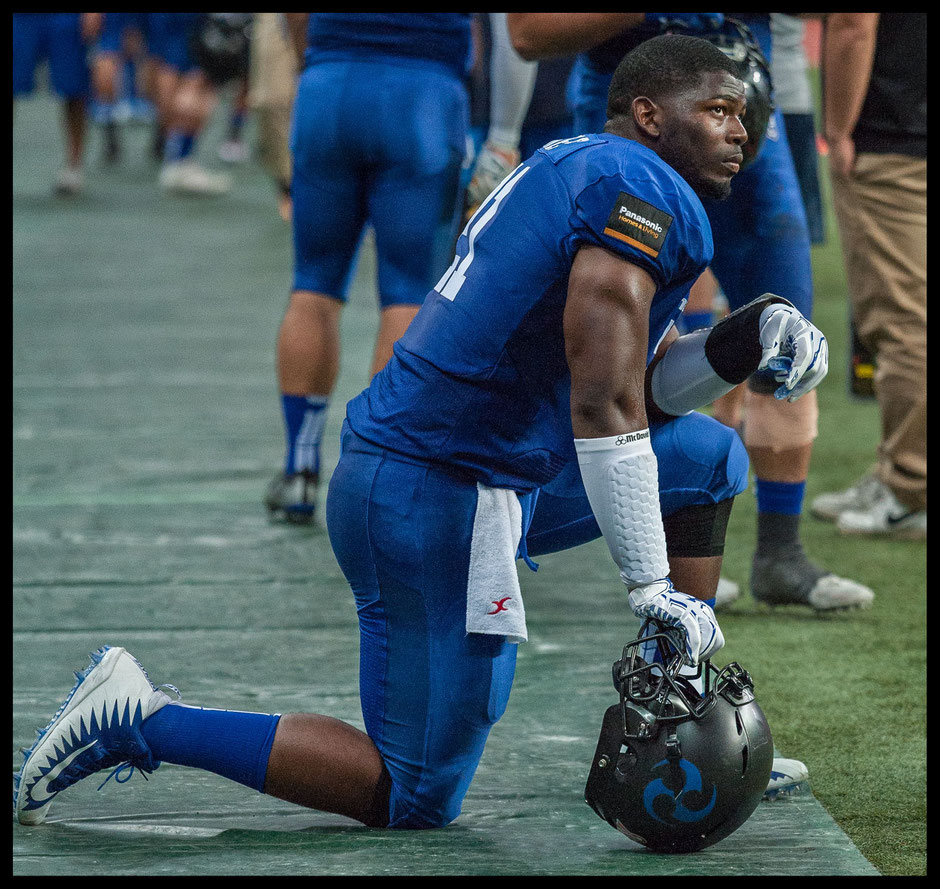 Long training sessions are intrinsic to Japanese sport in general not just football, and with summer temperatures just shy of 40 degrees and humidity at 90% they can test the fittest of players.
"Japanese players have [the best] endurance in the world. They can run all day. In America, [practices] would probably be two and a half hours at the most, and then you're done. You're done with everything. Out here two and a half is like the least amount of time."
Not that Jones is complaining. He plays for a team and organization in Panasonic that he described as like "family" saying "They take care of their people".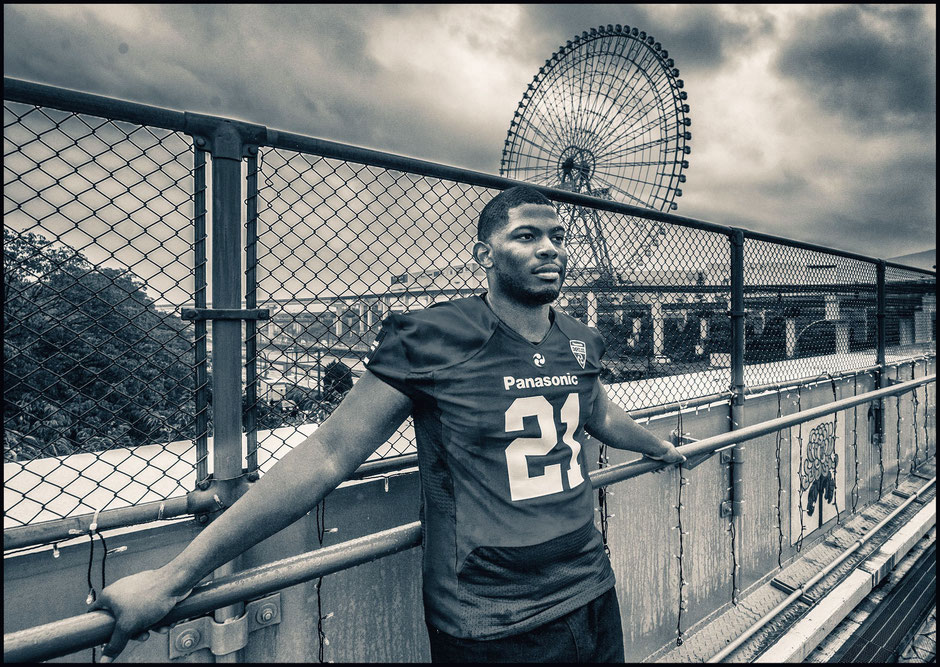 The 2017 version of that 'family' is one Jones is excited about, pointing out that the teams imposing defense was returning intact but with more depth, which should provide cover in the case of injury.
The former Hornet has also been reunited with an old rival and, for the first time, they will be on the same sideline.
Quarterback Benjamin Anderson, who played for Nojima Sagamihara Rise in 2015 returned to the XLeague in the spring and led Impulse to victory in the Green Bowl. Jones and Anderson matched up directly over several seasons in college football.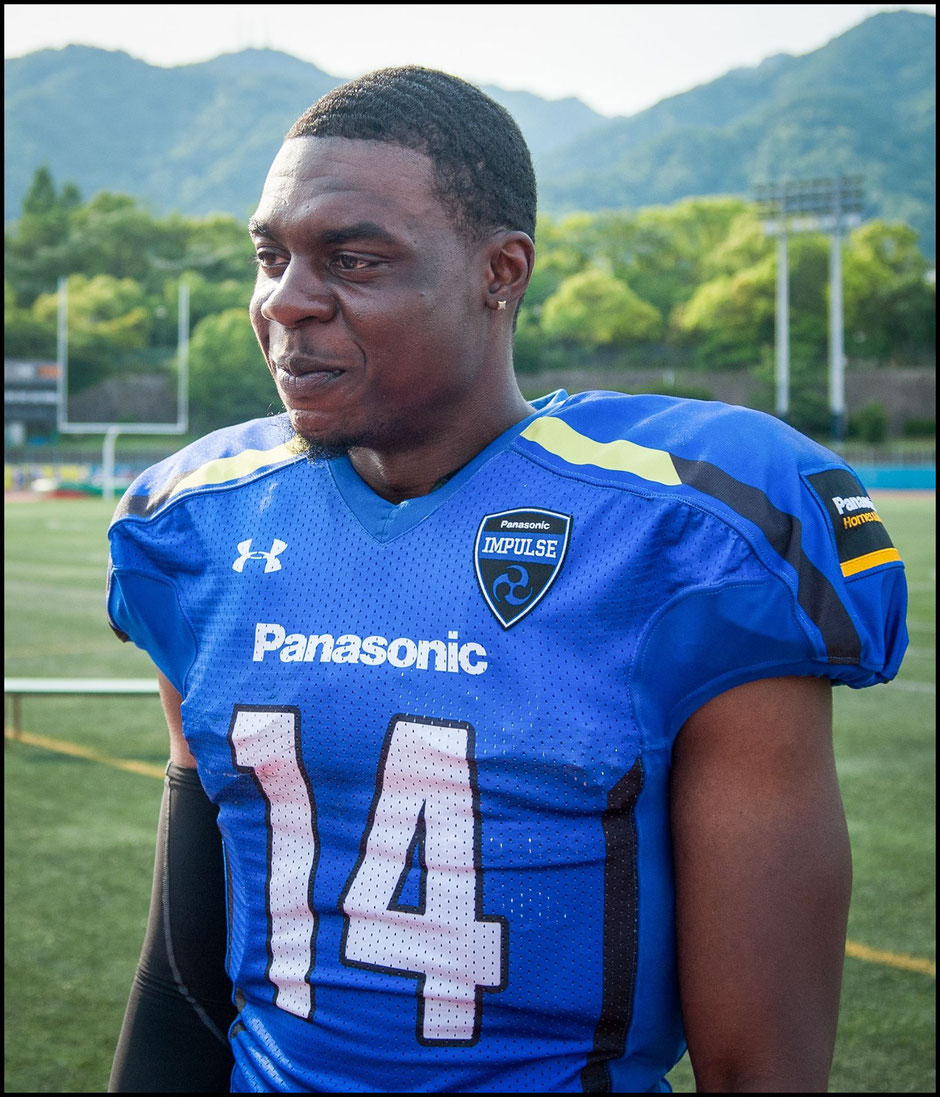 QB Benjamin Anderson joined Impulse this year - Lionel Piguet, Inside Sport: Japan, June 4, 2017
"He actually went to my brother's college and my cousins college (University of Arkansas at Pine Bluff). We played him. That was like one of my personal rivals and I played him all four years, I beat him three out of four years and he beat us one year. The year he won, he won the championship and he was the player of the year."
When asked if he ever sacked Anderson, Jones laughed and replied "Of course. That's on my highlight tape".
They are on the same team now, and it's one that has ambitions of going all the way.
---
---
Impulse have been national champions four times, with their most recent title coming in Jones first season. That run concluded with a dramatic late hook and lateral thrown by QB Tetsuo Takata in the championship game that helped down his alma mater Ritsumeikan University Panthers 22-19.
Takata is still on the team and while Anderson figures to get the bulk of the snaps, expect to see the 35-year-old veteran under center from time to time. In Panasonic's opener against Elecom Kobe Finies he completed 3 of 7 passes for 20 yards and carried the ball twice.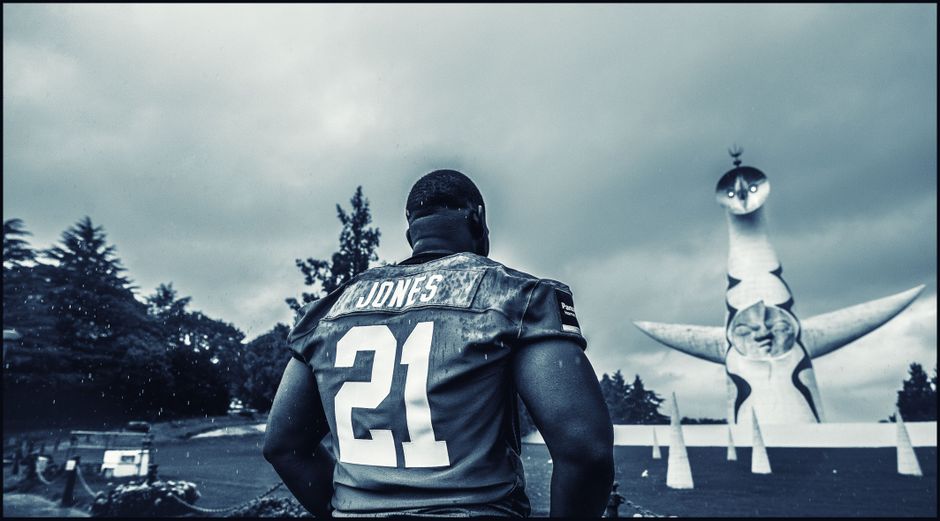 As far as Jones is concerned having two very different signal callers gives Panasonic an edge, comparing it to having to face a team fielding both Michael Jordan and LeBron James.
The old saying "if you have two quarterbacks you have none" doesn't seem to apply in the XLeague with several of the top teams sharing snaps among different men. IBM give Kevin Craft rest when they can by bringing in ultra-mobile Yuki Masamoto and Obic Seagulls have shown that they can score either with either rookie Ikaika Woolsey or veteran Shun Sugawara.
Andersons' history with Jones (and OL Edmond Davis – who also went to Alabama State) has helped him fit in quickly. Jones and Davis joined Panasonic at the same time, along with DB Emory Polley.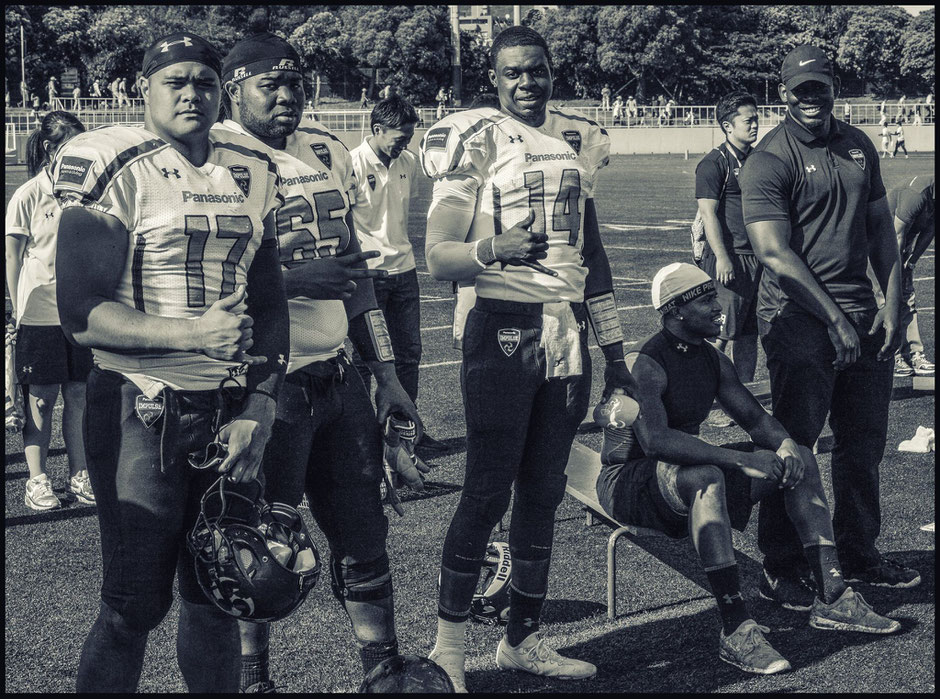 All three were recruited together. Jones remembers the initial approach. "It was like 6: 30 in the morning and I got this little ten digit phone number calling me and I was like 'what is this?' and then this guy was like 'hey you wanna play football in Japan'? And I was like 'this is a scam no way, there is no way there is football in Japan' and he was like 'look it up'. And he invited me  Edmond and Emory [and] we all decided to [accept] That was how I ended up in Japan."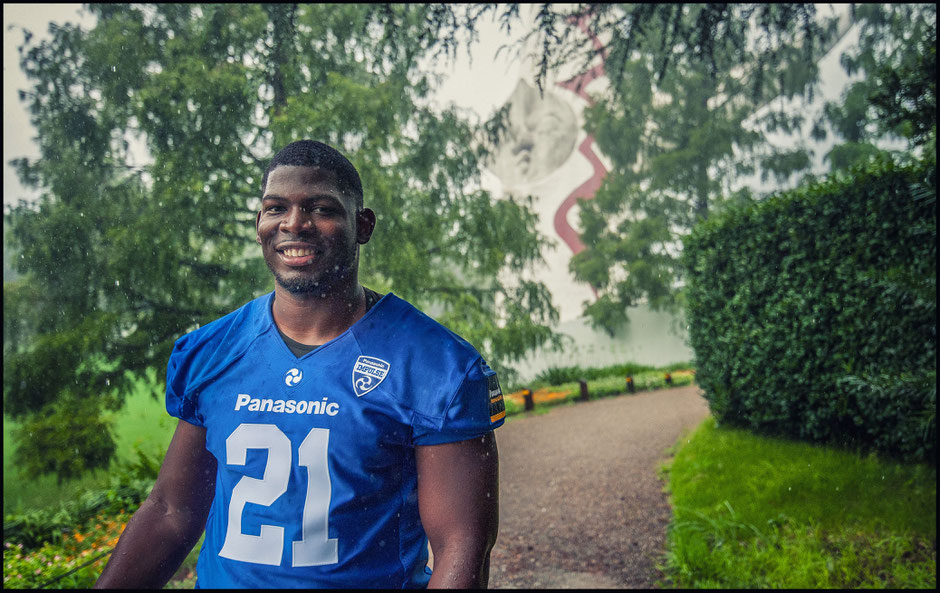 As with all the American players here, the fact that Jones still has the opportunity to play football is something he appreciates. For many, once the door to the NFL or CFL had closed, they started getting on with their lives only to find that opportunity lay across an ocean.
"Before I came, I had interviews - actually I had an interview with IBM. The week [Panasonic] called me I had an IBM interview. I did that then I had an interview with Boeing. That was a job I really liked but football was the better option…way better option."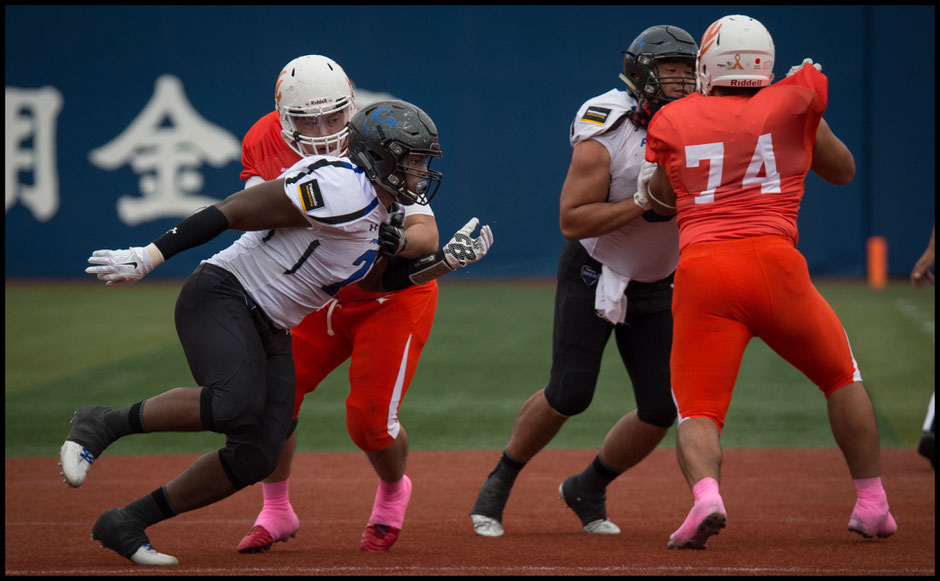 Having lived, gone to school and worked all his life in Alabama coming to Osaka was a real eye-opener for Jones. "The culture shock was crazy like when we first got off the plane it was so many people like walking around and I was like there's not that many people like walking around from where am from. And then its really crowded and like I'm used to space and like everything wide open and then… the houses …I live in an apartment and it is like really small, like I hit my head when I go cook, I hit my head a couple of times, so I had to get used to the small ceilings."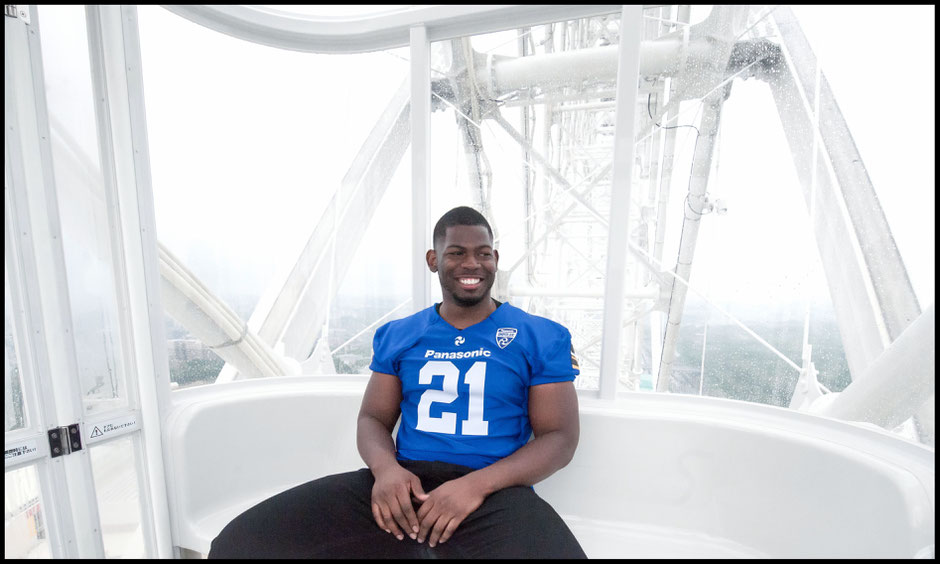 A couple of years later though and he's much more accustomed to the differences. Twice weekly Japanese classes provided by the team have helped a lot in that regard.
That's not to say there aren't some things that will always feel different. Southern food isn't something you'll find much of in western Japan but Jones cooks himself and he says he brings "all my seasoning and stuff back from America so I am pretty good, I know how to adjust. Anytime you want some home cooking, I got you." On the field as well things are different and there isn't much trash talking according to Jones "unless you're American". He laughs and adds "I mean Colby Cameron did a lot of talking in the XBowl. It just made the game so much funner and better, raised the level of everybody else."
That's an acquaintance he'll soon renew. Panasonic face Fujitsu on October 1st at Yanmar Field and Jones can't wait. "It's always a great game when you play the Frontiers. Panasonic versus the Frontiers? That's like Golden State and the Cavaliers!"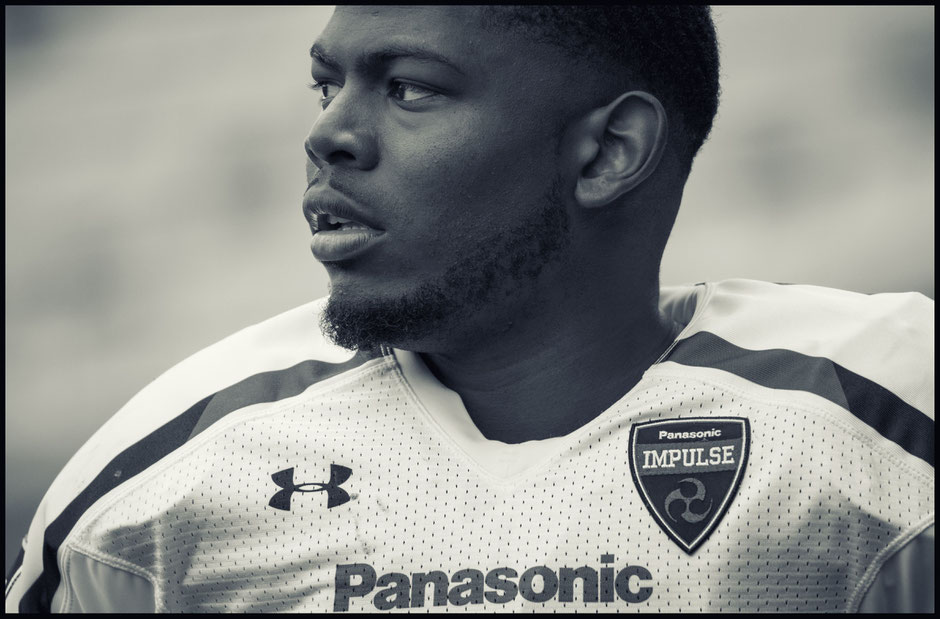 That matchup is part of a tough stretch to close the regular season that sees Impulse face Fujitsu and Obic, the only teams to beat them last year. Jones isn't worried though and when asked if he expects Panasonic to go all the way he replies. "Of course. That's the mindset you gotta have."
- John Gunning: September 6th 2017