---
Released by Obic, QB Woolsey Aims To Spark Tokyo Gas Creators' Promotion Push
The pass zips through the air the 20 or so yards to the wide receiver, who reaches back and makes a nice catch. After the play, quarterback Ikaika Woolsey goes up to him and, after a word of praise, offers a tip on how he could have made the reception easier.
"That play is more of a comeback to the outside of the sideline," Woolsey explains later. "He kind of ran inside like it was a hook. So I was just telling him if you run the right route, it will be a lot easier catch for you. One thing with a lot of receivers is that they basically understand the scheme of things and where the ball needs to be."
Such teaching moments have become common for Woolsey, who considers that a vital part of the job as he begins a stint with the Tokyo Gas Creators, one that both he and the team hope can lift the club out of its long span of mediocrity.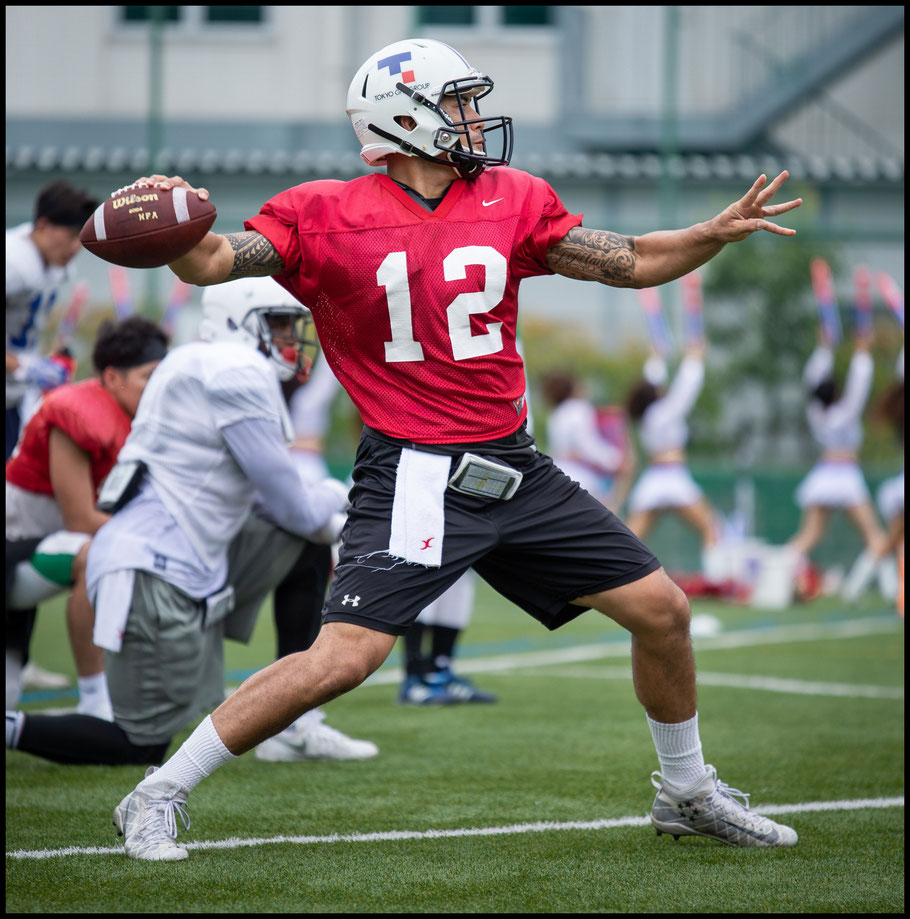 It marks Woolsey's second season in Japan and his second team. He played in 2017 with the powerhouse Obic Seagulls, but despite leading the team to a Pearl Bowl championship in the spring, never gained the full confidence of team management and was released after the fall season.
"They felt that they wanted to go a different direction," Woolsey says. "At the end of the day, it is a business and they're in control of that. That chapter is done, and on to new chapter and new beginning."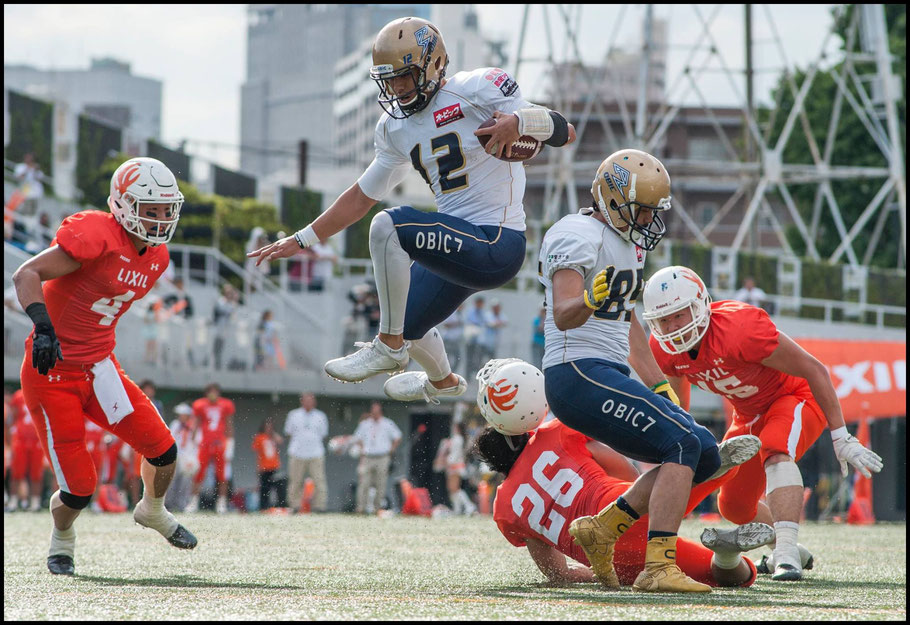 Since earning promotion to the XLeague's top tier for the 2003 season Tokyo Gas has never won more than two of five divisional games, and in the two seasons since the change in format, went 3-3 and 2-4 in the regular season.
The 24-year-old Woolsey began his integration into the new offense this spring in the Pearl Bowl tournament, and showed promise by leading Tokyo Gas to its first-ever victory over Asahi Beer Silver Star - albeit a 24-23 win in overtime that ended when the Creators' holder scored a game-winning 2-point conversion on a botched extra point attempt.
Still, a win is a win, and it bodes well for Tokyo Gas' attempt to elevate itself from its current established place in the Battle 9 - the lower half of the XLeague's top tier - into the upper Super 9. 
"It always feels good to play football, doing something that you love," says Woolsey, a California native who attended Hawaii University. "Tokyo Gas gave me the opportunity, so I took full advantage of it. It's definitely a work in progress with our team, and I know that, so I'm doing whatever I can to help the players, not only on the offense and defense, but everyone in the organization."
The 183-centimeter, 95-kilogram Woolsey was the lone foreigner on the team in the spring, but the team has boosted the ranks for the fall season, allowing it to field the maximum of two imports on both sides of the line. 
Defensive lineman Rich Ellebie, who did not play in the spring, returns for his second season. Last year, he became the first foreign player actively recruited in Tokyo Gas history. This season, the Creators turned to Europe to bring in running back Andre Whyte and linebacker Demetrius Eaton. 
Like Woolsey, Ellebie and Eaton were XLeague castoffs, having both spent time with the IBM Big Blue. He knows his American compatriots also understand the critical role they need to play in helping raise the level of their Japanese teammates.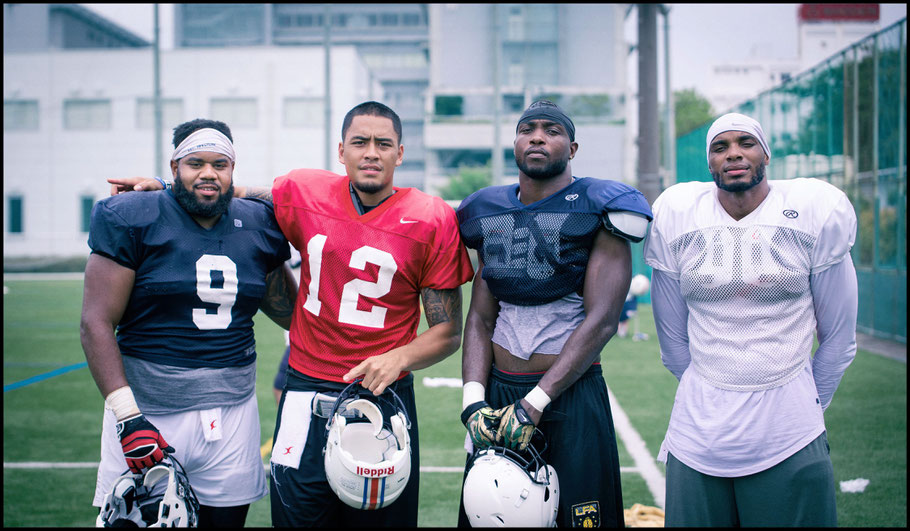 "It's night and day," Woolsey says of having a contingent of Americans. "Not only with games, but also with practices. Because you have other guys on the team who can help you out, we got Meech (Eaton) and Rich helping out on defense, and also helping out on special teams. It definitely makes it a lot better for us and also helps the other coaches out here, so we can really put our best foot forward and get ready for the fall season."
One key to Woolsey's success will be to connect with his receivers, both literally with his passes and figuratively in terms of communication. He knows he left behind one of the league's best receiving corps at Obic, and will need to use all of his wits and skills to bring the Creators' receivers up to speed.
"They've progressed a lot since I've been here, coming in the spring," Woolsey says. "But I think one thing we need to focus on is just making sure we do our job every play. With our receivers, they're good receivers, but in the past, they just might not have had the proper coaching coming from high school or college."
Tokyo Gas' second-year head coach Masato Itai was one of the league's top receivers when he was starring with the Kajima Deers. But Woolsey knows the coach does not always have the time to focus on a single position.
 "He's not always there to focus on the receivers. I took it as my job to be like a receivers coach. They're definitely taking that the right way, they all come out with positive mindsets and want to work, so that's the most important thing."
In two Pearl Bowl games this spring, he completed 24 of 48 passes for 225 yards and two touchdowns with one interception, although there were a number of dropped passes among the incompletions that he hopes to avoid this fall.
Eaton, in the short time he has observed Woolsey in practice, says the quarterback displays the natural leadership qualities demanded by the position.
"You can just tell how he's vocal with the guys, helping everybody in every facet on the field," Eaton says. "Even if it's on defense or special teams, he's always giving his input. That's just a testament to the type of guy he is."
Olympic Pedigree In Water, Not On Land
Growing up among four siblings in California (he was born in Rodeo and attended Salesian High School in Richmond), the main sport in the Woolsey household was swimming, and for good reason.
Woolsey's grandfather, Bill Woolsey, was a two-time Olympic medalist, winning a gold in the 4x200 freestyle relay at the 1952 Helsinki Olympics and a silver in the same event four years later in Melbourne.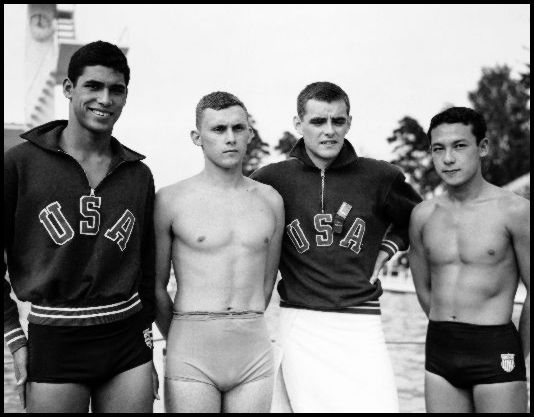 "He's a pretty well-known name in Hawaii," Woolsey says with admiration. "He's definitely the superstar of the family. He taught us how to swim, we swam competitively all the way up to high school."
While he kept up the family tradition of competing in the pool, his first love was actually baseball, which he played in high school along with football. But success on the gridiron eventually led him to pursue that sport further. According to his bio on the University of Hawaii football website, he was rated as the No. 7 pro-style high school quarterback nationally by 247 Sports. 
After a semester at City College of San Francisco, he started his college career in earnest at the Hawaii. After redshirting his freshman year, he appeared in 35 games from 2013-2016, completing 338 of 684 passes for 4,233 yards, with 24 touchdowns and 28 interceptions. 
The move to Hawaii would have further implications, as it put him in the sphere of influence of the XLeague, which has deep connections to the Pacific island state. A graduate assistant his freshman year was Inoke Funaki, who played quarterback for the Elecom Kobe Finies and is currently a coach on the team.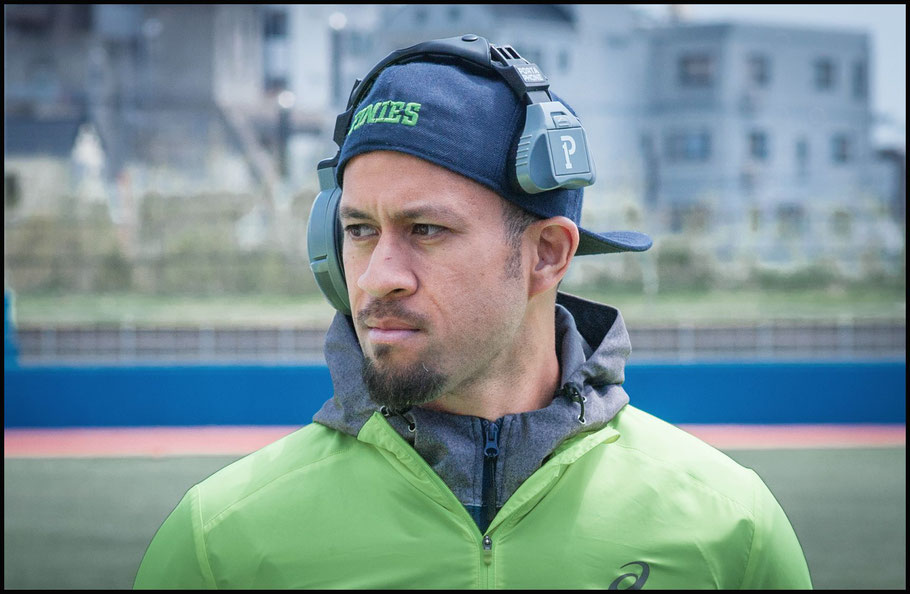 The two became close and kept in contact, and the subject of playing in Japan came up. "I originally planned to go down to Osaka to play for the Finies," Woolsey says.
But then one of his head coaches at Hawaii, former NFL lineman Chris Naeolea - an uncle of Obic Seagulls defensive end B.J. Beatty - contacted him about an opening on the Seagulls, who were looking for a replacement after former UCLA quarterback Jerry Neuheisel left after one season. 
Woolsey made it a complete quartet of Hawaii-linked Americans, joining Beatty, Hawaii native Kai Maiava and Hawaii U. alum Kevin Jackson.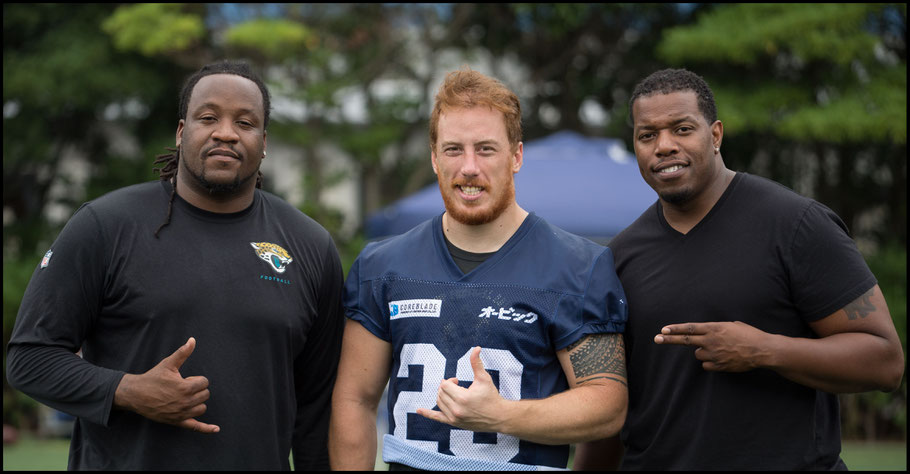 The reaction of his family when told of his decision to venture the opposite direction across the Pacific to continue his career was typical. 
"They said, 'They play football over there?' That was the first thing obviously. But they were excited for me. Anytime I could keep furthering my career in football, to make money off of it now, my parents were pretty excited for me.
"And they always wanted to come to Japan, now they have an excuse. Whenever they have a chance, they come here. They love this place. The culture, the food, just everything about it, they just really like it."
Prior to coming to Japan, Woolsey's only trip outside the U.S. came when Hawaii faced Cal-Berkeley in a game in Australia. He uses his free time to get in some sightseeing and "just kind of take in the culture and see everything. It's pretty beautiful obviously. It's beautiful and crazy at the same time."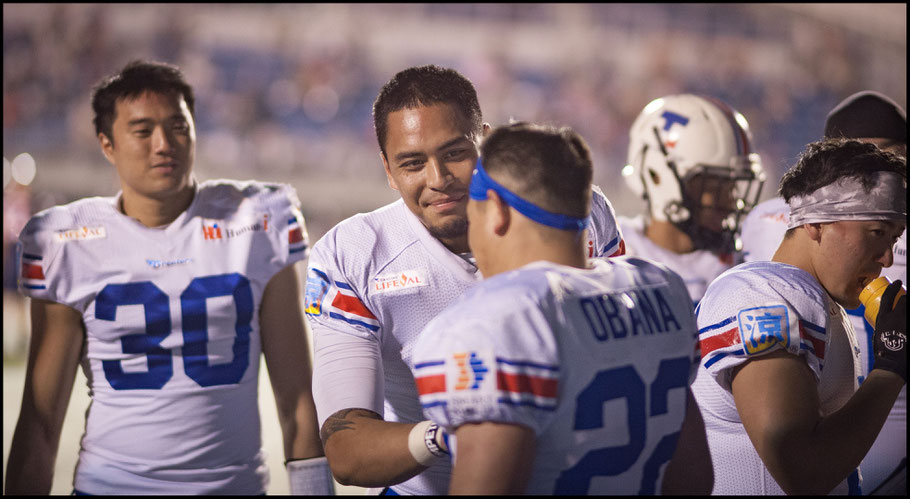 The downside to joining a powerhouse in a marquee position is the elevated expectations. And in Obic's case, it was multiplied as the team becomes more desperate to end a title drought that followed an unprecedented four straight championships from 2010 to 2013. 
Woolsey showed potential by leading the Seagulls to the Pearl Bowl title, but injured his foot in the championship game and ended up missing the first three games of the 2017 fall season. 
---
---
Known for his powerful arm, the knock on Woolsey has been his accuracy, and the stats from that season bear out that notion somewhat. He finished with 31 completions in 61 attempts for 404 yards, with three touchdowns and two interceptions. But by having to share time with veteran Shun Sugawara, the quarterback during the dynasty years, Woolsey was always under the gun, and was quickly yanked at the first sign of trouble.
Perhaps his fate was sealed when the team finished the regular season an unconscionable 3-3, then was knocked out of the playoffs with a 7-0 loss in the semifinals to eventual champion Fujitsu Frontiers.
Woolsey insists he feels no bitterness toward Obic, and even went to watch this year's Pearl Bowl final, in which his replacement, Skyler Howard, led the Seagulls to a 28-2 victory over the IBM Big Blue. 
"I don't really like to dwell on the past, because whatever you could do is done now," he says. "They wanted to go a certain way and obviously we parted ways, and now I'm here. My main focus is being with Tokyo Gas and making them the best team that I can."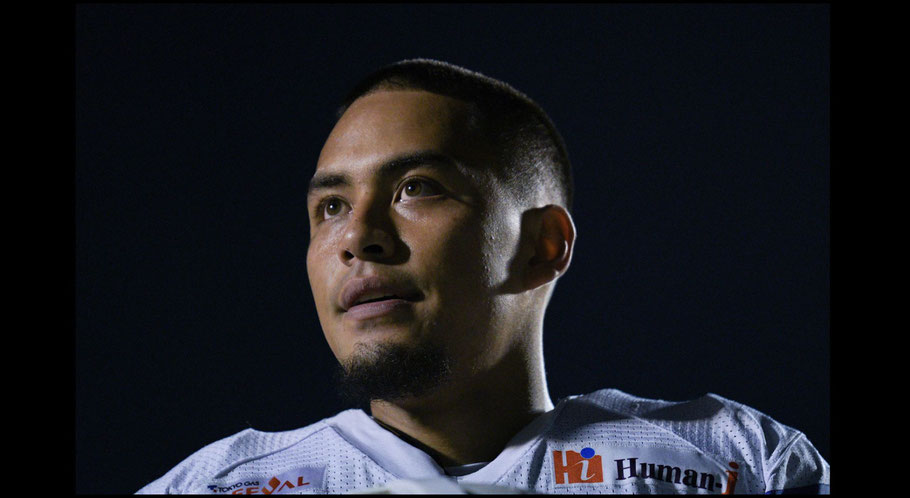 With the league planning to tweak the format again and create a "Super 8" for the 2019 season, Tokyo Gas is hoping its foreign contingent can help it make the cut. The key will be how the Creators fare against its three most formidable regular-season opponents, the Lixil Deers, All Mitsubishi Lions and Meiji Yasuda Penta-Ocean Pirates.
"I think it's very realistic," Woolsey says. "We finally have four foreigners…it's the right step in the right direction for this organization. That being said, we have to go out there and do what we can and help the team and make sure we walk away with Ws."
- Ken Marantz: August 25th 2018